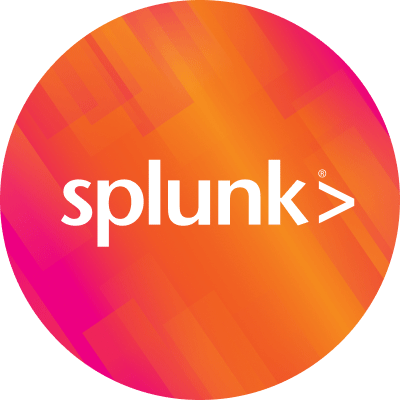 By Splunk April 04, 2018
UPDATED 6/26/2020: Splunk Insights for AWS Cloud Monitoring and Splunk Insights for Infrastructure will formally reach end-of-life on June 30, 2020. Customers who have already purchased Insights will continue to have support and maintenance per standard support terms for the remainder of contractual commitments. To learn more, read our blog here.
---
Today at AWS Summit San Francisco, we are announcing the availability of Splunk Insights for AWS Cloud Monitoring "Pay As You Go" on AWS Marketplace! Start a free 15-day trial and then use it for less than $2/hr through an hourly pricing model via AWS Marketplace.
This hourly offering comes provisioned for 10GB of indexing volume per day, which is generally sufficient capacity for an average AWS environment. You can also purchase an annual contract (with a discount to list price) through AWS Marketplace private offers by contacting sales. As the ways you can try and buy software evolve, so do the ways you can get insights from Splunk!
Splunk Insights for AWS Cloud Monitoring AMI delivers an analytics-based approach to cloud monitoring by providing end-to-end visibility into a customer's AWS infrastructure, delivering real-time awareness of performance, health, configuration, security and infrastructure spend.
How does it do that?
Splunk Insights for AWS Cloud Monitoring provides a complete view of your cloud, including:
Asset Usage and Monitoring. Track resource inventory and changes and get deep visibility into all your cloud assets and changes to your assets from AWS Config and AWS CloudTrail data sources. Splunk's AWS Topology Map gives you a graphical representation of your current AWS deployment. It allows you to view the topology and resource relationships by account, region, VPC, tag and time—and get a historical playback of how your environment was built. Pre-built dashboards allow customers to view EC2 instance utilization metrics, EBS footprint and usage details, S3 traffic volume, VPC traffic flow, ELB latency, Lambda activity and CloudFront CDN latency. Visualizations allow for both holistic views (by account, region, tag and time) and individual instance layers, down to the raw search and original metrics.
Billing, Cost Usage and Optimization. Splunk's AWS cost management capabilities begin with your current and historical AWS instance inventory and extend into an in-depth view of used and unused resource cost, cost by account, and cost by service. Interactive capacity and budget planning dashboards (Monthly & Historical Billing, Budget and Reserved Instance Planner, and Capacity Planning) allow you to properly assess cost versus budget over time. You can monitor the costs and usage of your assets, get insights on how to optimize your costs as part of running cloud or host migration to AWS cloud. In addition, the Reserved Instance Planner helps you better plan your reserved instances by letting you view existing resources and providing optimal resource recommendations with estimated annual savings based on historical or predictive usage data.
Security: Auditing and Compliance Management. You can view AWS audit activity, unauthorized users, key-pair and security group violations, VPC traffic source, out-of-band instance provisioning, security assessment findings, compliance checks and AWS instance changes.
Monitoring and Troubleshooting. Dashboards leveraging the Splunk Machine Learning Toolkit provide additional insight and recommendation capabilities for Reserved Instance cost optimization, EC2 sizing, ELB health, Security Group orphans and Elastic IPs inactivity. Splunk's Resource Timeline view allows you to compare and correlate AWS Cloudwatch, CloudTrail, Config Rules and Inspector events in an interactive time-series ribbon. By analyzing events from a holistic view, you can dramatically accelerate time to insights and speed of issue resolution. Anomaly detection has also been applied across security and billing data.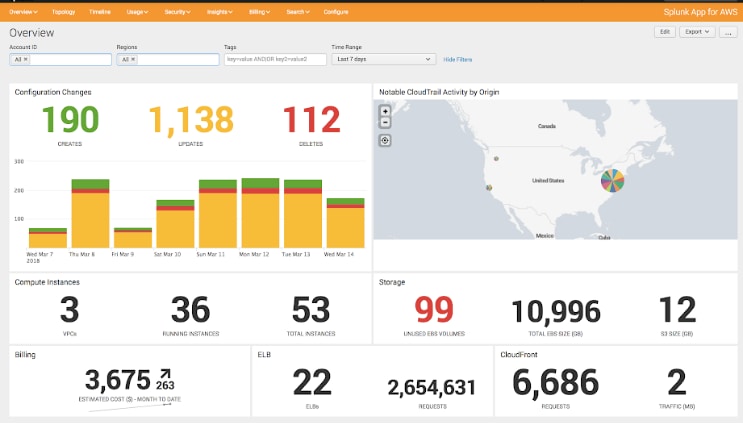 Splunk Insights for AWS Cloud Monitoring integrates with AWS CloudTrail, AWS Config, AWS Config Rules, Amazon Inspector, Amazon RDS, Amazon CloudWatch, Amazon VPC Flow Logs, Amazon S3, Amazon EC2, Amazon CloudFront, Amazon EBS, Amazon ELB and AWS Billing to provide in-depth visibility and rapid insight into your AWS environment.
As you migrate workloads to the cloud—or monitor your existing footprint within AWS—Splunk Insights for AWS Cloud Monitoring helps you monitor how you scale instances and workloads that are constantly changing, as well as how you connect data with application metrics for holistic monitoring. Splunk software gives you a complete picture of the assets and health of the entire cloud infrastructure including all your nodes, transactions and users in one single platform. This enables you to know what you have deployed in your AWS infrastructure, the usage, and if any devices are unpaired or orphaned.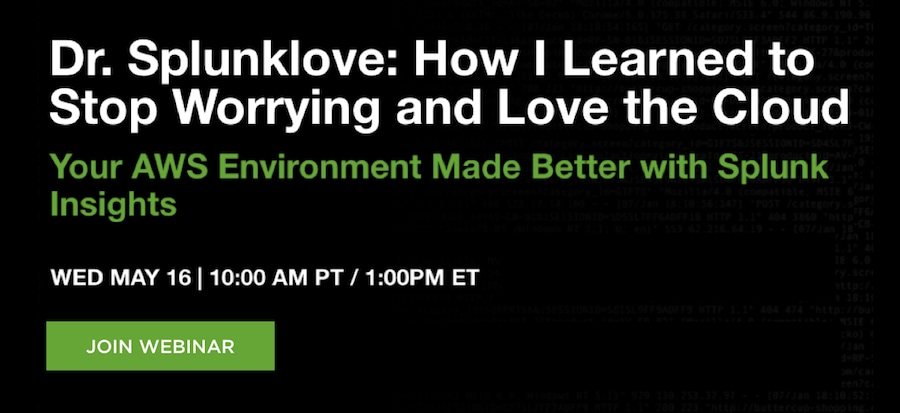 Want to learn more? Register for the May 16th webinar "Dr. Splunklove: How I Learned to Stop Worrying and Love the Cloud" to hear from a cloud-native customer how they use Splunk software to get operational, security, and billing insights into their AWS environment.
Or are you ready to get started today? Here are three ways:
Try a 15-day free trial on AWS Marketplace
Check out the Splunk Insights for AWS Cloud Monitoring product page
Happy monitoring!
----------------------------------------------------
Thanks!
Kara Gillis