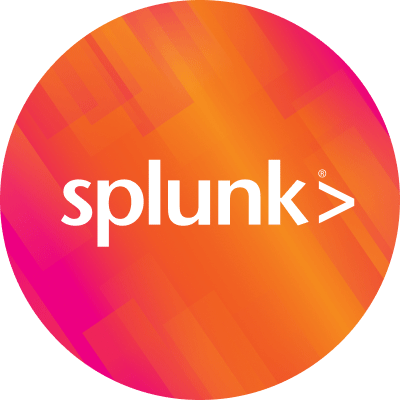 By Splunk February 09, 2018
We're fired up from MKO, our first-ever marketing kickoff! In January, we brought together 170 Splunk marketers from around the globe to our Santana Row (San Jose, Calif.) office and came away inspired after spending three days with the team and setting the course for the fiscal year 2019.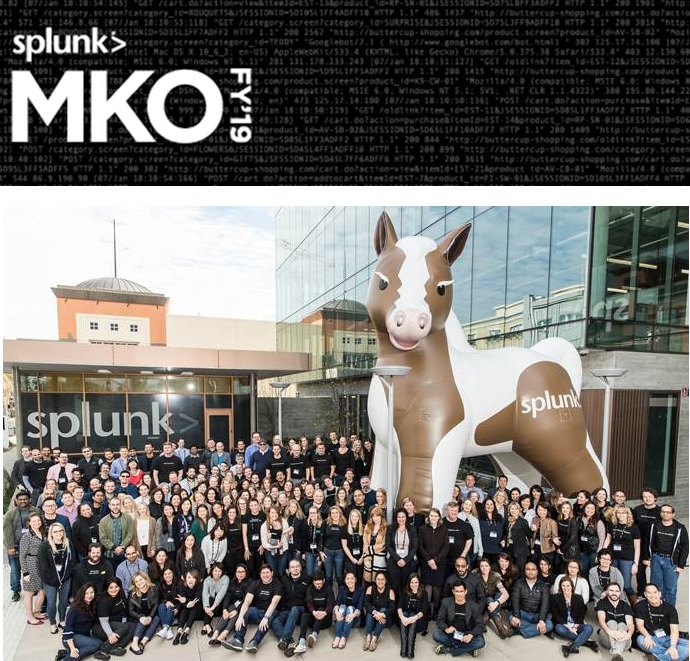 Transformation is inevitable at high-growth companies like Splunk. In fact, change itself is a major catalyst for growth and success.
At MKO, we were incredibly fortunate to hear from an inspiring panel of marketing experts from Amazon Web Services, CloudKettle, DemandGen, Plex and RSA, about lessons learned in their careers filled with change and growth.
There is always room to grow, and that has been true for us over this past year. A large part of the Splunk platform's success is due to its versatility. We continue to be amazed by all of the unique ways our customers are getting answers from their machine data—everything from solving IT and cybersecurity challenges to speeding application delivery, improving customer loyalty, and so much more.
The Imperative for Change
But, we're not content to sit back and rest on our laurels. We know that change is necessary to keep the momentum going and stay ahead of the competition. In our estimation, the reasons for change can be summed up in four main categories.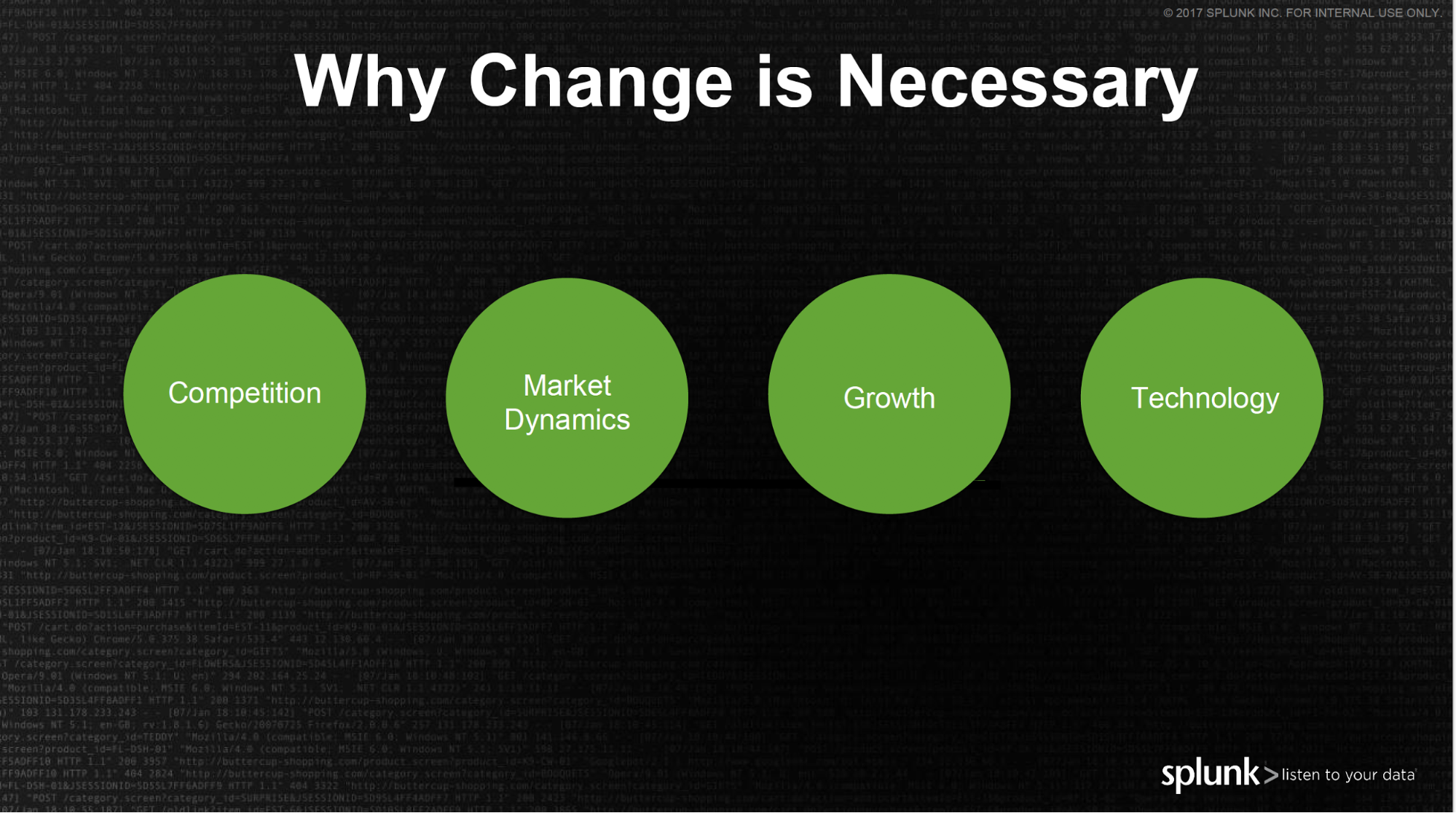 1. Competition
We've all heard about digital transformation. What works for today's business may not work tomorrow. Case in point: No industry wants to miss the inflection point the way the taxi industry did when it failed to capitalize on the ride-sharing trend.
2. Market Dynamics
The same is true when it comes to new or changing business requirements. One example of that is GDPR, the General Data Protection Regulation, which goes into effect in May 2018 and is designed to protect EU citizens' data privacy and security in an increasingly data-driven world. At Splunk, we are helping our customers use machine data to support GDPR compliance—and avoid fines.
3. Technology
And then there's technology innovation. It's astounding when you think about the pace of change in the tech sector, from the moment when a little device called the iPhone was announced just 11 years ago to Splunk's remarkable path, from a startup in 2003 to an IPO in 2012. And today, as we begin 2018, we proudly offer our 14,000+ customers a range of solutions—both on-premises and in the cloud.
4. Growth
Change is coming to all of us, so it's best to be prepared. Here at Splunk, we're also investing time in talent acquisition so we can scale our business. Unfortunately, we know that not all job candidates will be a good fit for a position or accept an offer with us, so we have to plan accordingly. That means if we want to hire 1,000 new Splunkers, we are looking at something in the neighborhood of 160,000 resumes, 16,000 phone screens, and 5,000 interview candidates. Recruiting is a classic scale problem and scale problems are some of the most intellectually and practically challenging.
We realize that change is hard and hyper-growth is harder. But, we're committed to keeping the lines of communication open as we experiment with new team structures and marketing strategies.
At Splunk, we think of the company's path in terms of a marathon that our team of employees is running together. So for now, we'll take another swig of water...we're off to the races.