Use Cases
Customer Experience Analytics
Reduce fallout in digital experiences with process mining and interactive observability
Reduce fallout in digital experiences involving customers, patients, citizens and other people.
Discover How Your People Complete Journeys Today

Visualize the pathway of actual customer experiences from event data
Identify Unforeseen Fallout or Unplanned Steps

Find expected and unexpected pathways that people are experiencing that may indicate obstacles
Optimize Conversion Rates Using Data

Use data-driven insights to objectively investigate fallout and obstacles
Why Splunk for Customer Experience Analytics?
Correlate any data across silos on-the-fly without having to retrofit and reshape data to predefined process models.

Adapt to planned and unplanned changes for greater operational agility and flexibility.

Diagnose problems and justify solutions by exploring application data.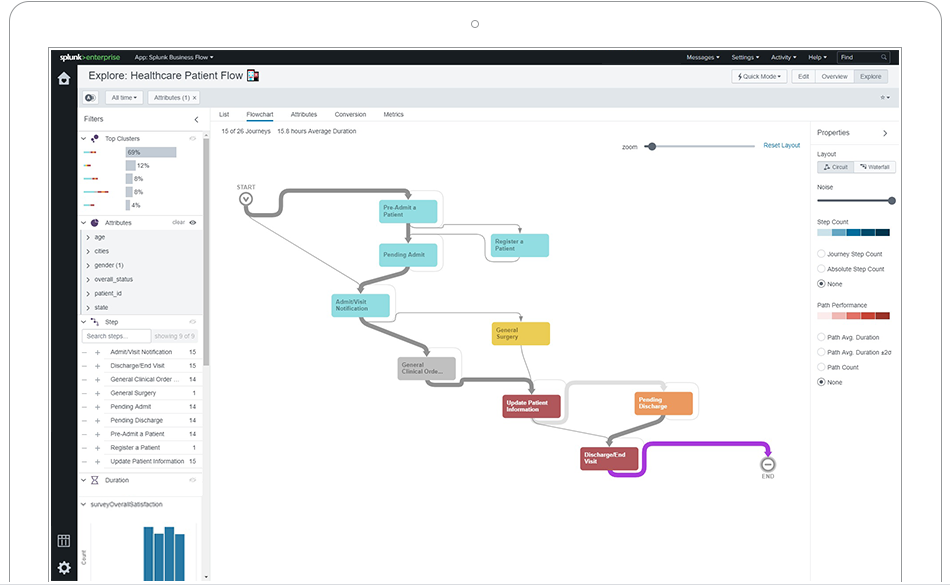 Optimize Customer Process Completion
Improve Digital Conversion Rates
Fallout from core digital experiences can lead to lost customer loyalty, poor service and increased escalations to call centers. Discover critical problems and reduce fallout.

ANALYST REPORT
Use an Analytics- First Approach
Digital transformation can become nothing more than a buzzword unless it permeates to the operational level. See what research director Shawn Fitzgerald, Worldwide Digital Transformation Strategies for IDC and determine if your business process management technology will help you grow and succeed or hold you back.

Financial Services
Need Better Conversion in Payment Transactions? Identify Fallout Now
Boost Asset Health

Retail
Need Better Conversion in E-Commerce Sites? Identify Fallout Now
Keep the Lights On

Communications
Need Better Conversion in Service Activation? Identify Fallout Now
Live Smarter