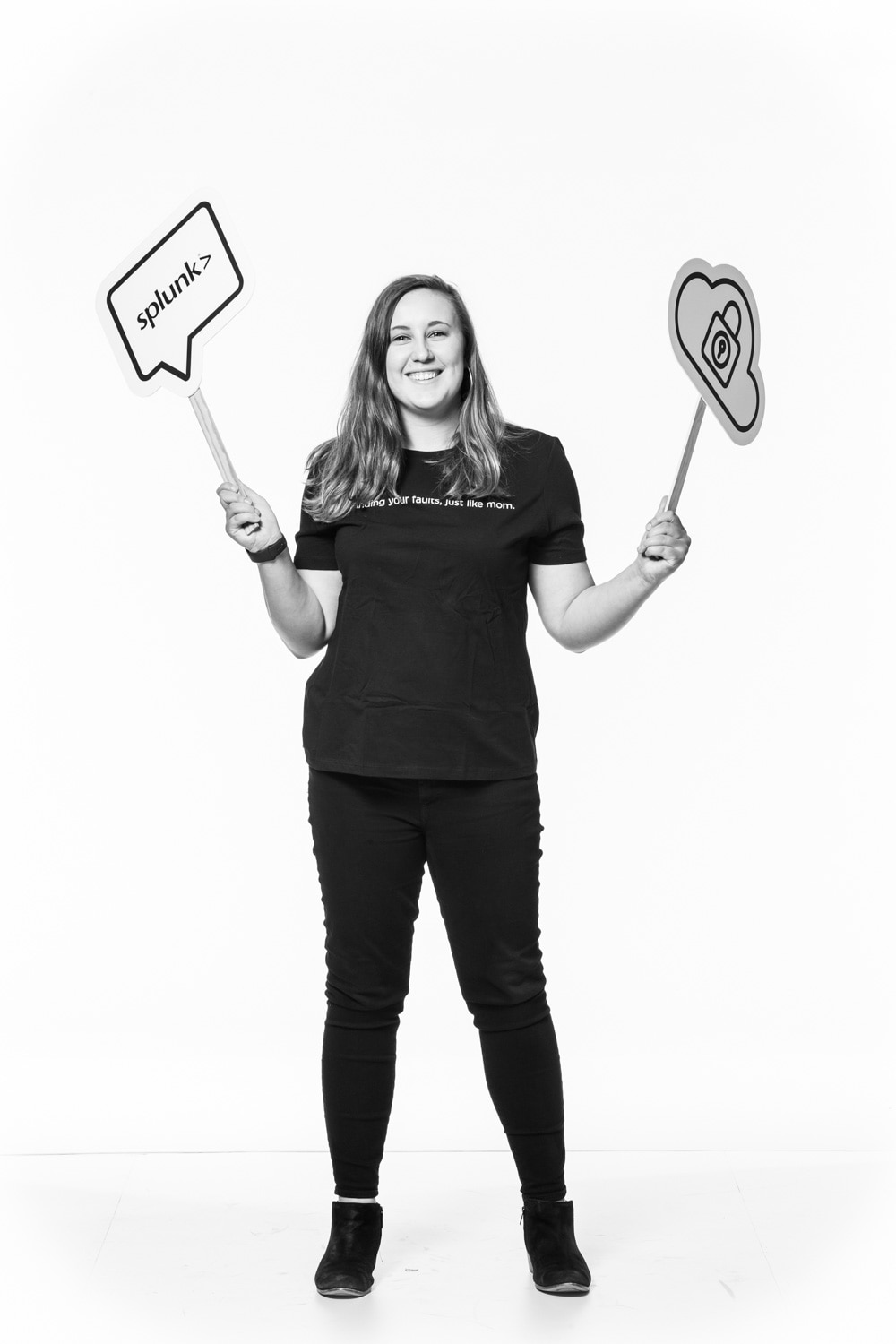 By Annie Wilson October 14, 2020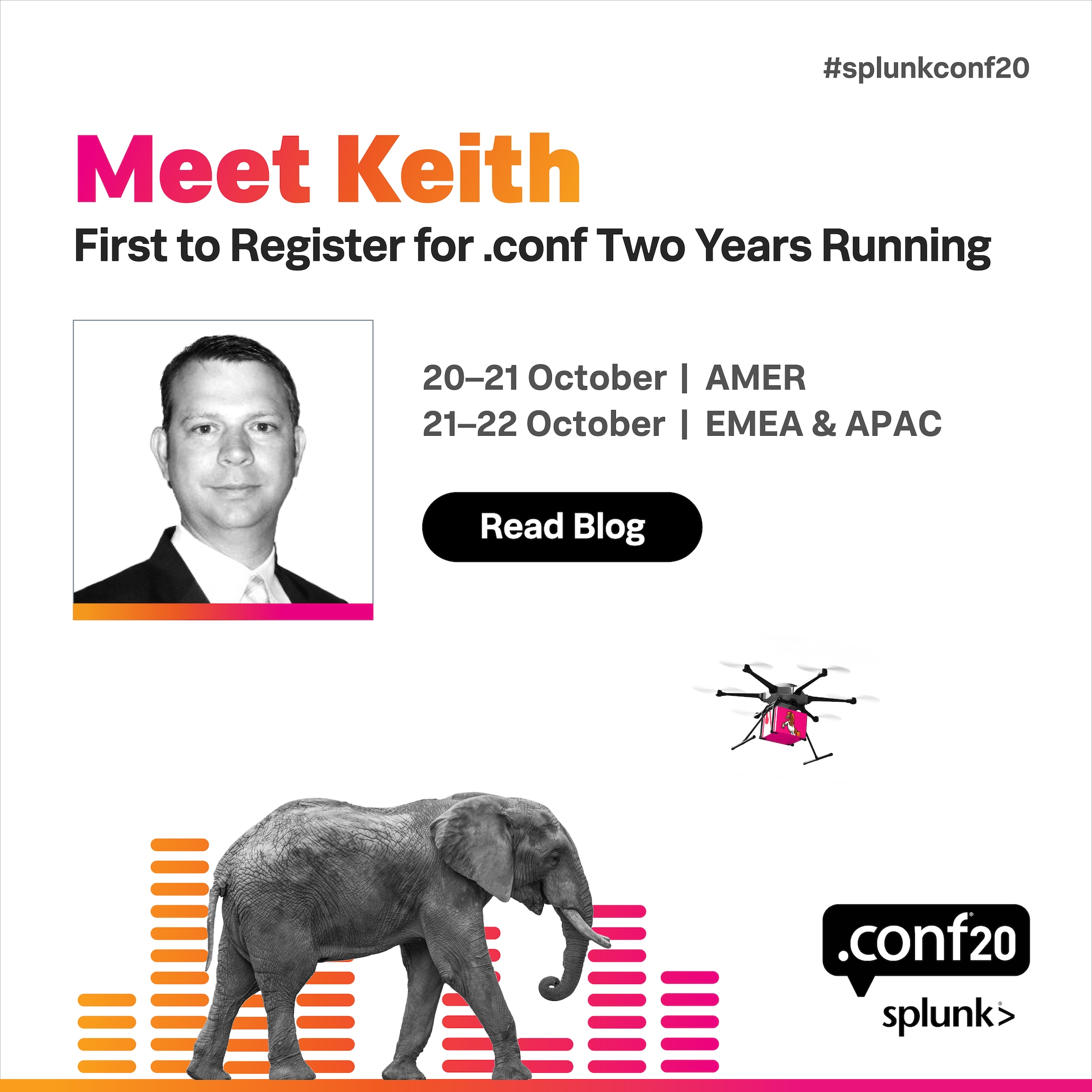 It's .conf time and this year we're excited to roll out our all-virtual Splunk .conf20. We're anticipating a record turnout, with around 20,000 attendees joining us from the comfort of their homes and offices, October 20-21 in AMER and October 21-22 in EMEA and APAC. As always, attendees will connect with industry experts and thought leaders, as well as Splunk's top partners while gaining insight from nearly 200 education sessions and not-to-be-missed keynotes. In between sessions or on their down time — if they have any — attendees will also enjoy several high-profile guest speakers and entertainers. It all adds up to an amazing event that helps users build the skills they need to thrive in the Data Age.
Registration for .conf20 opened July 28, 2020, and like last year, one of our most passionate Splunk enthusiasts, Keith Keimig, senior manager of InfoSec at his company, was on red alert to be the first to sign up. His motivation? This year, it was a side bet with a colleague who threatened to steal his crown. His sales team had sent him a notification that registration was coming online soon, so Keith figured he'd go to the link and hit refresh. To his surprise, the "Register Now!" message suddenly popped up on conf.splunk.com, and once again Keith is our very first .conf20 registered attendee.
Here are a few insights from a two-time first .conf registrant on some of his best memories from the conference, what he hopes to learn this year, and why he makes .conf a priority year after year.
The Splunk marketing team gave you an early preview of what's to come this year at .conf20. Without giving too much away, what are you looking forward to that you didn't expect?
I always look forward to the keynotes and the breakouts. There are some really cool upcoming speakers that you wouldn't think of as typical for technical communities. I'm interested in how they perceive the tech world — and specifically how they perceive and will address the Splunk community. Are they going to address us as "geeks" or as one of us?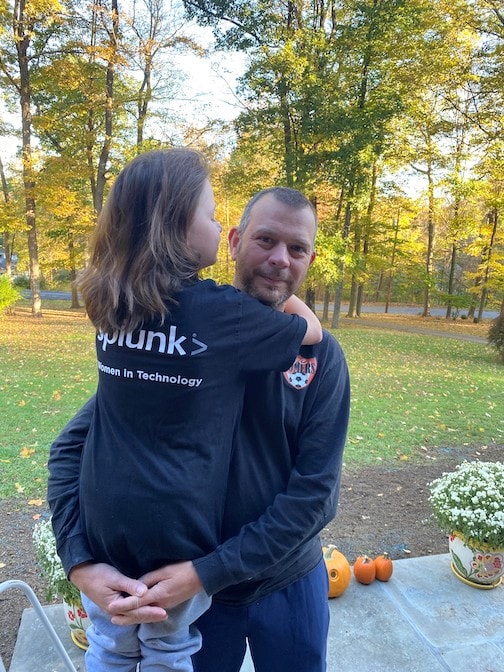 Tell me a little bit about yourself. What's your professional role? Hobbies?
For work, I'm a Splunk engineer. I've been doing information security monitoring and SDM service delivery monitoring for about two and a half years where I'm at now. Before that, I worked at finance and telecom companies. Day to day, I run operations and security related to Splunk. For hobbies, I watch my kids play sports. I have a 12-year-old boy who plays baseball, an 11-year-old boy who plays baseball and soccer, and a seven-year-old girl who plays soccer.
How do you and your organization use Splunk?
We primarily use Splunk for security use cases. We're expanding out to operations, but I would say security is really what we're focusing on. We built integrations with ServiceNow and we've spent a lot of time integrating ServiceNow, CMDB data and change incidents into Splunk. Also, we're using Splunk's power to generate alerts and get to the root of those issues. And we put together a really solid training program that's helped our product within the security space.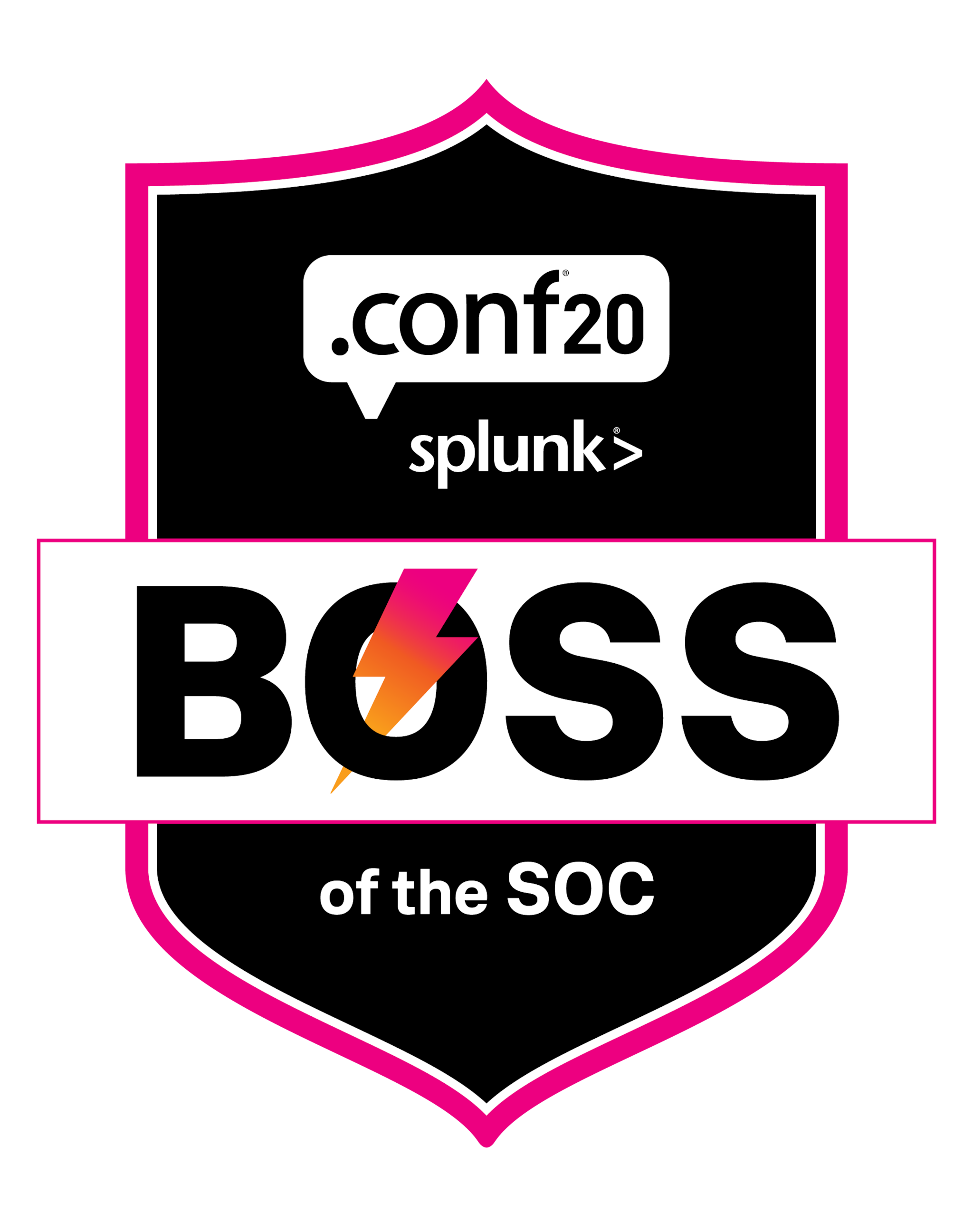 What are you looking forward to the most about .conf20?
I always look forward to Boss of the SOC. It's one of the best learning experiences, where you learn the most in the shortest period of time by actually being on the keyboard. It's also a great team building experience. They give you questions that start out easy and you scale up to something incredibly hard. As a guy who never touched Enterprise Security, I started out not even getting the basic questions. Now our team is well above average. Just seeing that progression is pretty awesome.
I'm also hoping that I have a lot of interaction with Splunk customers and employees. At the end of the day, that's a successful .conf to me. If I don't see any presentations — and I love them all — just the interaction is key to a good .conf.
What are some of your best memories from past .conf events?
Every year, there's a Dell presentation from their Splunk team. When I first attended, I learned a lot of things that helped correct our environment right away. I attended again last year and got a few more takeaways. This year, I'm hoping the Dell presentation is on the docket so I can explain some of my architecture problems, and what they solved — or at least exposed — for me.
How do you make a case for .conf to your organization?
We're lucky. We have training credits, so you don't have to pay for the training or certification while you're there. Really the harder part was justifying it to the other folks. Most hadn't attended a conf. before and didn't know what they could learn. Our first year there, 2018, two of us attended. We both learned a lot and brought that knowledge back to the rest of the company. I think that was the sell for the following year when we brought 17 people to .conf. And this year, even more people can attend from our organization with less time devoted to travel — that's one huge advantage of having it all virtual.
What did you learn last year that you didn't know the previous year?
One of the biggest things I didn't know was finding the people in CloudOps — going to the pavilion and talking with the Splunk support folks. It was a great feeling to work on my cloud challenges and have them help me find solutions. That was huge.
What's your favorite Splunk T-shirt slogan?
I love the "Women In Tech" Employee Resource Group t-shirt. I gave it to my wife. But what I love about it is that it's something to show my daughter and affirm to her that she has the opportunity to excel in the tech world.
---
Follow all the conversations coming out of #splunkconf20!