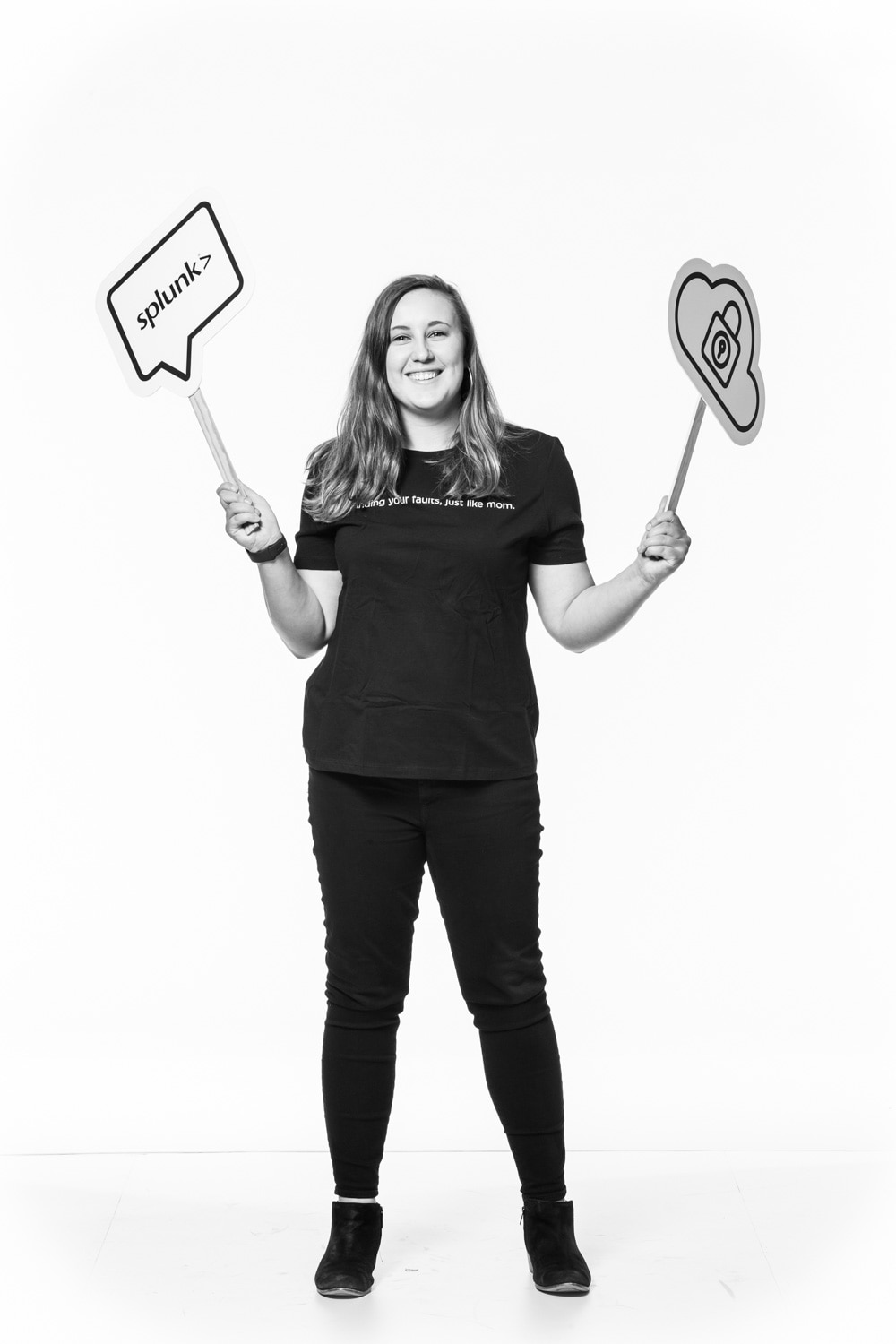 By Annie Wilson August 26, 2019
Here at Splunk, we're getting ready for our biggest event of the year: Splunk .conf19 in Las Vegas. We're expecting 11,500 Splunk enthusiasts to join us this year at the Venetian and Sands Expo for four days of innovation featuring today's thought leaders, Splunk's top partners and more than 300 education sessions. The goal? Empower our users to do amazing things with data and turn data into doing.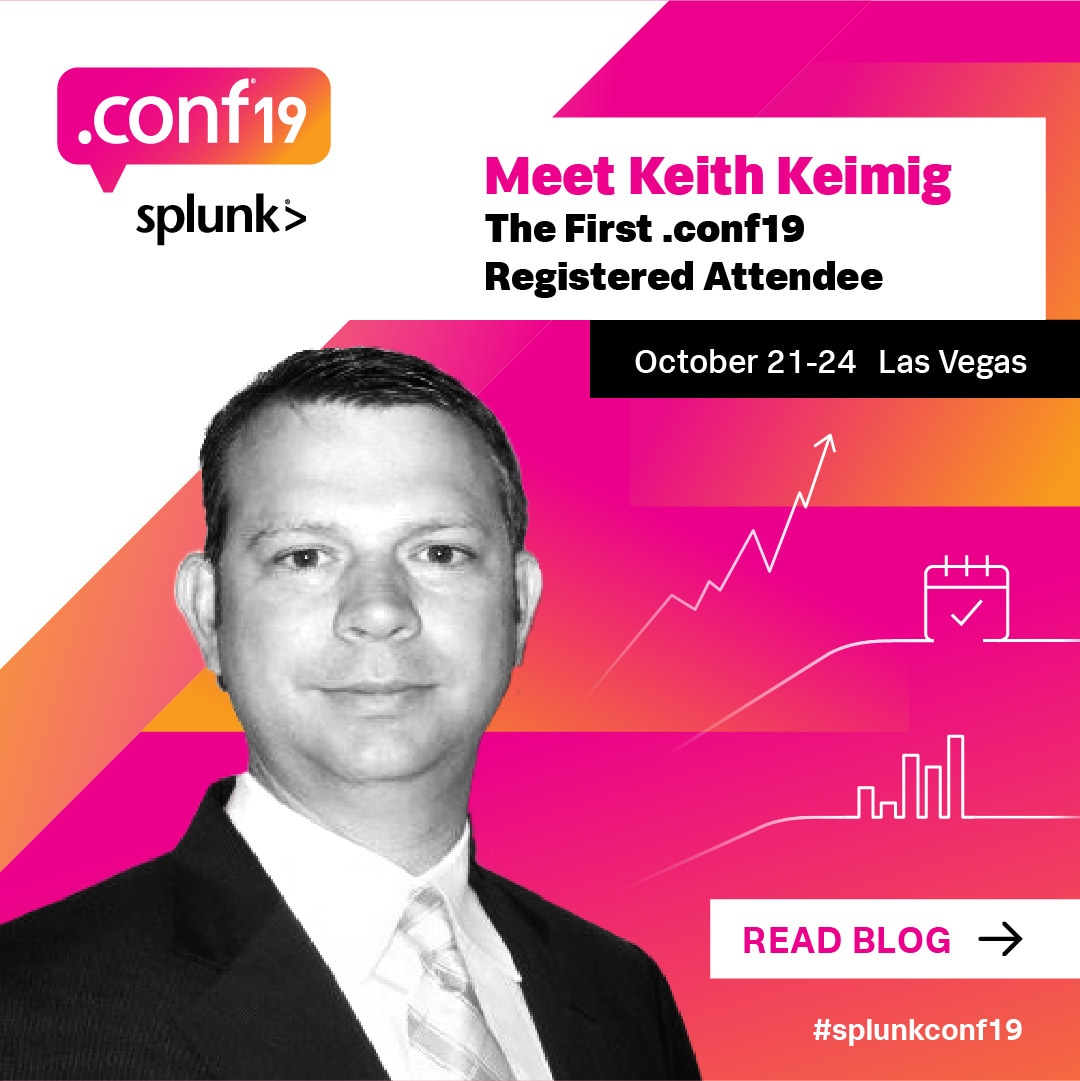 Registration for .conf19 opened May 20, 2019, and if you spent your day like Keith Keimig, Senior Manager of InfoSec, chances are you were hitting 'refresh' on conf.splunk.com until the long-awaited 'Register Now!' message popped up. Keith is our very first .conf19 registered attendee, and instead of hearing it from us, we'll let him tell you why .conf19 is a valuable investment.

Tell us about yourself.
I am relatively new to my role, been here 15 months as a Senior Manager of InfoSec. I play soccer and ice hockey, too. I had some background with Splunk before joining the team and have been using Splunk for 3 years, but this is my first time using Splunk 100% of the day in my role.
How do you and your organization use Splunk?
We use Splunk as a SIEM tool and on the verge of expanding (exploding!) into IT operations and a little bit of business as well.
What were some of your highlights from last year at .conf18?
Highlights are all over the place! I enjoyed the pre-conference training of Splunk University as a way to envelop myself in the product and get further into detail. I also enjoyed the BOSS of the SOC (BOTS) event. BOTS was really cool—to see the entire room of people and work alongside everyone. I learned a lot working through the problems as a SOC analyst! I was lucky enough to meet with individuals that were product specific SMEs (real Splunkers!) and other customers.
I also loved the opportunity to meet customers that were all along the spectrum with their Splunk adoption. Some that were at the same point as me, some way past where I am, and some newbies as well—awesome to see. I am still in contact with a lot of them. I think of .conf as a hands-on interactive experience instead of a lot of slideware. It's an opportunity for mindshare and to get some conversations going. Whiteboarding is one of my favorite "sports."
How did you learn about .conf? What prompted you to attend last year?
I learned about .conf from Brian, my sales rep, who twisted my arm to say "you gotta come." I've attended other conferences, and .conf is now a gold standard to me. There were others that I've attended that were focused more on presentations than customer interactions or customers/partners showing what they're doing and what they've done. That was a significant difference and it stood out from competitive conferences. Everyone I spoke to (customers, partners, Splunkers) said "you've gotta go." The whole community encouraged me.
How did you justify your .conf attendance to your manager?
It was really a decision from our CISO—when he made the decision to invest in the product, I conveyed that I needed to get better at it. The two were just joined together.

What were your main takeaways from the conference? What did you take home with you?
A whole bunch of stuff. Dell had done a presentation on hardware and engineering that just rocked my mind. There was a presentation on Office 365 Azure that I knew I had to follow up on. We were headed down that avenue from a work standpoint and we needed to figure out how we were going to integrate it. I also came out thinking, "Wow, I thought I knew a lot. I learned a lot. But there is really a lot more to learn." There's a lot more that we can get out of the product. I could only attend a fifth of the sessions, and there were a lot of other sessions that provide value. After the conference, I went back and watched some of the replays of sessions I missed.

What would you say to someone who is considering attending .conf but hasn't before?
Go! The value is there. If you're there to learn and gain insight, you're going to get that out of the conference. The value probably won't be what you're expecting. It may be a conversation that you have with a Splunker or someone in an elevator that leads you down a path you hadn't thought of before. There's value all around, everywhere. For example, at Harry Potter last year I found value chatting with folks riding the rides with me.
Any recommendations to someone attending? Whether it's their first time or their tenth?
Register early, get your training and sessions set up. Get your hotel set up—get everything situated so you can get your value when you're there. BOSS of the SOC is also a great program to check out—I highly recommend it to everyone. BOSS of the NOC, I'm assuming would be great too.

What excites you about .conf19 that prompted to you register the first day?
I needed to be able to say to my coworkers: "I'm registered, I'm going, so come with me. We'll make sure we get you value out of it."

What was your favorite session and why?
The Dell session on hardware engineering ("Master the Dark Arts: Demystifying Splunk Architecture")—the speaker was very good and able to educate a crowd of architects down to newbies. He gave the stages at one end to step-by-step—that was exceptional.

If you could Splunk anything in your life, what would you want to find out?
At home, I'm setting up "Splunking my pool"—I want to get a temperature sensor and a chlorine sensor and plug the data into Splunk. I'm right now at the early stages of figuring out how to get those sensors set up.
At work, we are discussing using Splunk to analyze a mini-basketball shooter. The goal is to come up with something that will balance nerdy Splunk stuff and fun—to provide an opening for conversation to potential internal customers.

What's your favorite Splunk T-shirt?
Because Ninjas Are Too Busy (my kids go into ninja mode when I wear it).
Splunk .conf19 is October 21-24, 2019 at the Venetian and Sands Expo in Las Vegas. Register today to network with thousands of Splunk users to swap stories about your technology adventures, whiteboard ideas and share best practices to get your creative juices flowing. Bring your team and get energized with new ideas. With Splunk, you're only limited by your imagination.
---
Follow all the conversations coming out of #splunkconf19!