End-to-End AWS Visibility
AWS Agility + Splunk Visibility = Cloud Success
Splunk Cloud Launches on AWS Marketplace
Security, Visibility and Assurance
Splunk's solutions make it easy to gain end-to-end visibility across your AWS and hybrid environment.
Deploy as software (Splunk Enterprise) or as a cloud service (Splunk Cloud) to gain real-time operational intelligence across your applications and services
Leverage the free Splunk App for AWS (available on Splunk Enterprise, Splunk Cloud and Splunk Light) to gain critical security, operational and cost optimization insights into your AWS deployment
Get the infographic to see how Splunk and AWS enable customer success in the cloud
Customers love having the agility of AWS with the end-to-end visibility of Splunk.
Joint customers can instrument their usage of the cloud and easily see what's being created when and how quickly.
Deep Visibility Into AWS – Security, Operations and Cost Management
The Splunk App for AWS offers a rich set of pre-built dashboards and reports to analyze and visualize data from numerous AWS services – including AWS CloudTrail, AWS Config, AWS Config Rules, Amazon Inspector, Amazon RDS, Amazon CloudWatch, Amazon VPC Flow Logs, Amazon S3, Amazon EC2, Amazon CloudFront, Amazon EBS, Amazon ELB, AWS Personal Health Dashboard, AWS Lambda and AWS Billing – all from a single, free app.
Security

Topology

Timeline

Usage

Insights

Billing
Security
Comprehensive security dashboards allow customers to view AWS audit activity, unauthorized users, key-pair and security group violations, VPC traffic source, out-of-band instance provisioning, security assessment findings, compliance checks and AWS instance changes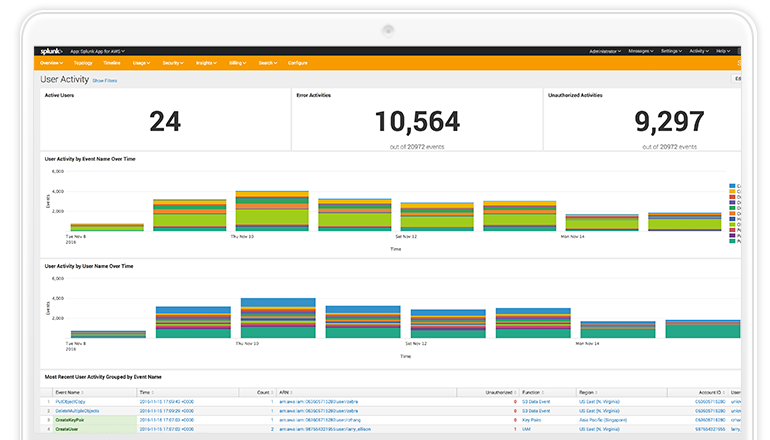 Topology
The patent-pending Splunk Topology view provides a graphical representation of your current AWS deployment. It allows you to view the topology and resource relationships by account, region, VPC, tag and time. This capability also allows you to play back how the environment was built and adds interactive layers of insight for each AWS element.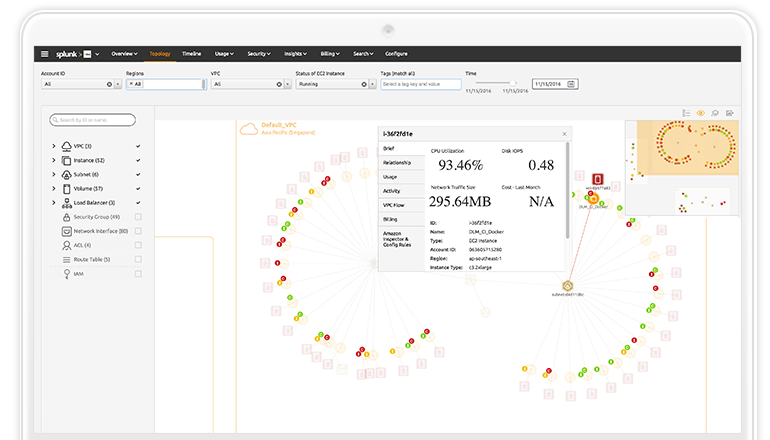 Timeline
The Splunk Resource Timeline view allows you to compare and correlate AWS Cloudwatch, CloudTrail, Config Rules and Inspector Events in an interactive Time Series ribbon.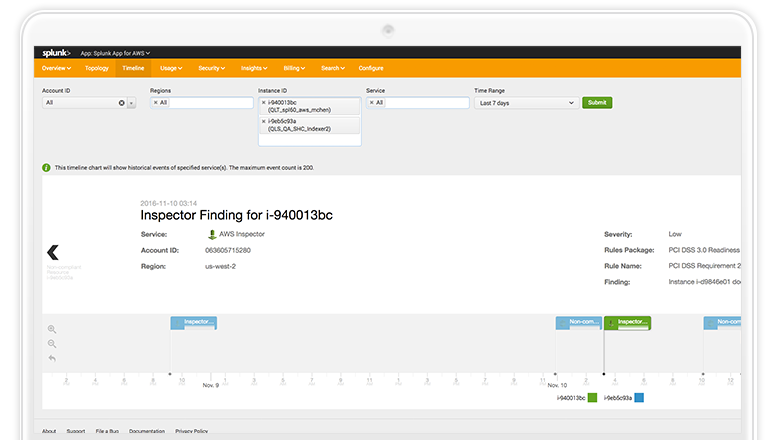 Usage
Comprehensive AWS Operations dashboards allow customers to view EC2 instance utilization metrics, EBS footprint and usage details, S3 traffic volume, VPC traffic flow, ELB latency, Lambda activity and Cloudfront CDN latency.  Visualizations allow for both holistic views (by account, region, tag and time) and individual instance layers, down to the raw search and original metrics.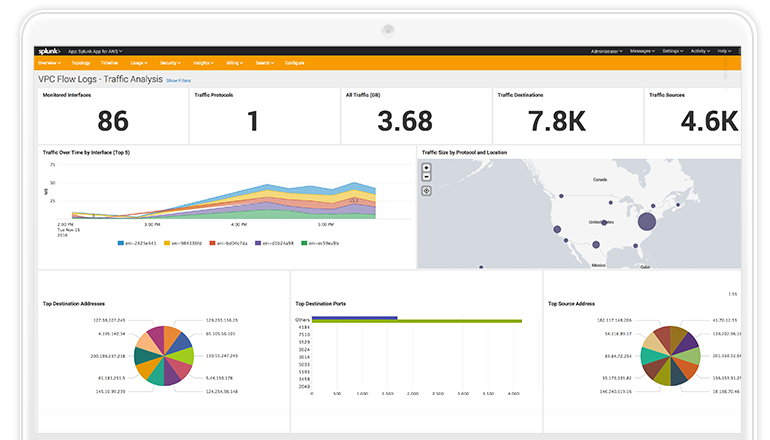 Insights
Dashboards leveraging the Splunk Machine Learning Toolkit provide additional insight and recommendation capabilities for Reserved Instance cost optimization, EC2 sizing, ELB health, Security Group orphans and Elastic IPs inactivity.  Anomaly detection has also been applied across Security and Billing data.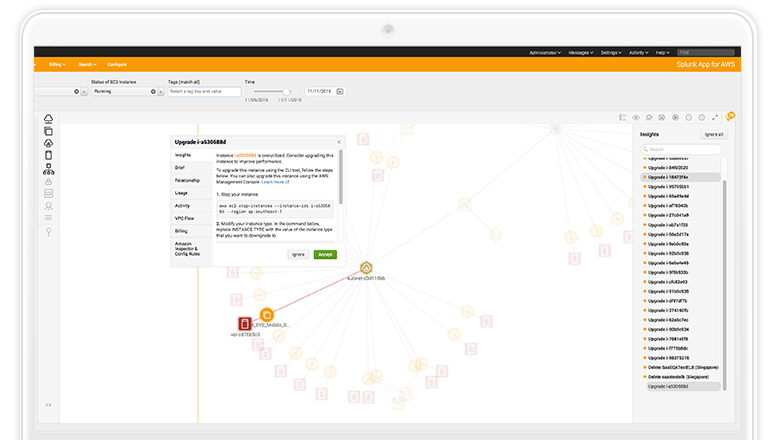 Billing
The Splunk AWS cost management capabilities begin with your current and historical AWS Instance inventory and extend into an in-depth view of used/unused resource cost, cost by account and cost by service. Interactive capacity and budget planning dashboards allow you to properly assess cost vs. budget over time.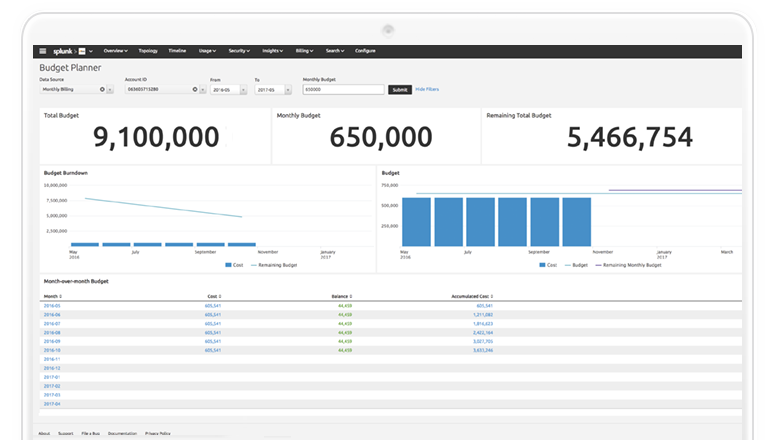 Software or Service – Cloud The Way You Want It
Enjoy flexibility in how you deploy Splunk solutions on AWS.
Whether you prefer cloud services or software, we have a solution for you.
Ask an Expert
Need help with your environment and requirements? Send us your questions and we will get back to you as soon as possible.
If you need immediate assistance, check out our community forum, Splunk Answers.
Contact Us