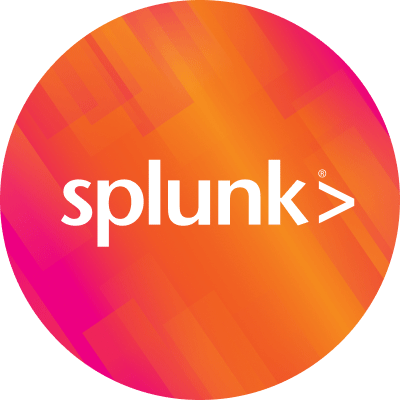 By Splunk June 23, 2020
With the rising needs associated with COVID-19, the challenges of the commercial drug supply chain is more evident than ever. This article features an innovative and progressive technology that uses blockchain to solve the ongoing problem with the drug distribution chain.
Splunk and LedgerDomain
Blockchain platform developer LedgerDomain and UCLA Health have partnered up to tackle the problem of counterfeit and suspect medicines using our very own Splunk App for Hyperledger Fabric (HLF). We have been working with LedgerDomain, who participated in the USFDA's recent pilot program to build an interoperable system to unlock track-and-trace functionality across the entire US commercial pharmaceutical supply chain by 2023.
As of today, the pharmaceutical supply chain faces a multitude of challenges which risk consumers being exposed to drugs that may be expired, contaminated, or counterfeited. This is due to several factors, including the lack of a shared global ledger, resulting in slower detection, tracing, and removal measures.
BRUINChain is a mobile application that is capable of scanning unique drug barcodes. During their journey, drugs must pass a series of checkpoints before they are administered to the patient. New barcodes are routed to a trading partner for verification of authenticity, and is held back from being administered. At any time, the prescriber can view the progress of the drug through the pharmacy into the clinic. Once the trading partner verifies the drug, the drug can be administered with confidence to the clinic and through to the consumer. In the event of a problem, such as a potential counterfeit, the drug would be stickered and physically quarantined for examination. If there is a high risk of illegitimacy, BRUINchain can provide all the data, including dispatchment site, company, and time, needed to notify the FDA and trading partners.
Saving Billions of Dollars
BRUINchain's study is among the first to reveal and implement how blockchain can ensure consumer safety, enhance data security, and save pharmacies billions of dollars in labor and safety stock costs. During the study, our HLF Application formed the backbone of LedgerDomain's analytics, providing detailed insights and examination around how users were interacting with the blockchain. Our application allowed monitoring of performance, visualisations of transactions per second (tps), memory, etc. The insights that the application provided are essential to the study's projection costs and tracing for the entire US pharmaceutical industry.
Since LedgerDomain's announcement of the results from the FDA pilot study, they have been pushing to bring the pharmaceutical supply chain into real-time visibility. In a recent virtual technology summit dubbed DemoPalooza, LedgerDomain ran a live load test of Selvedge, its blockchain application server and analyzed the data on Splunk. It proved that the server was capable of running 165 net transactions per second (329 gross transactions on a single server), compared to 250 per second to meet the needs of the entire US pharmaceutical supply chain in 2024. This was achieved using a single server simulating over 100,000 drugs and 200,000 packages.
The HLF application provides efficient and valuable analysis through dashboards and metrics: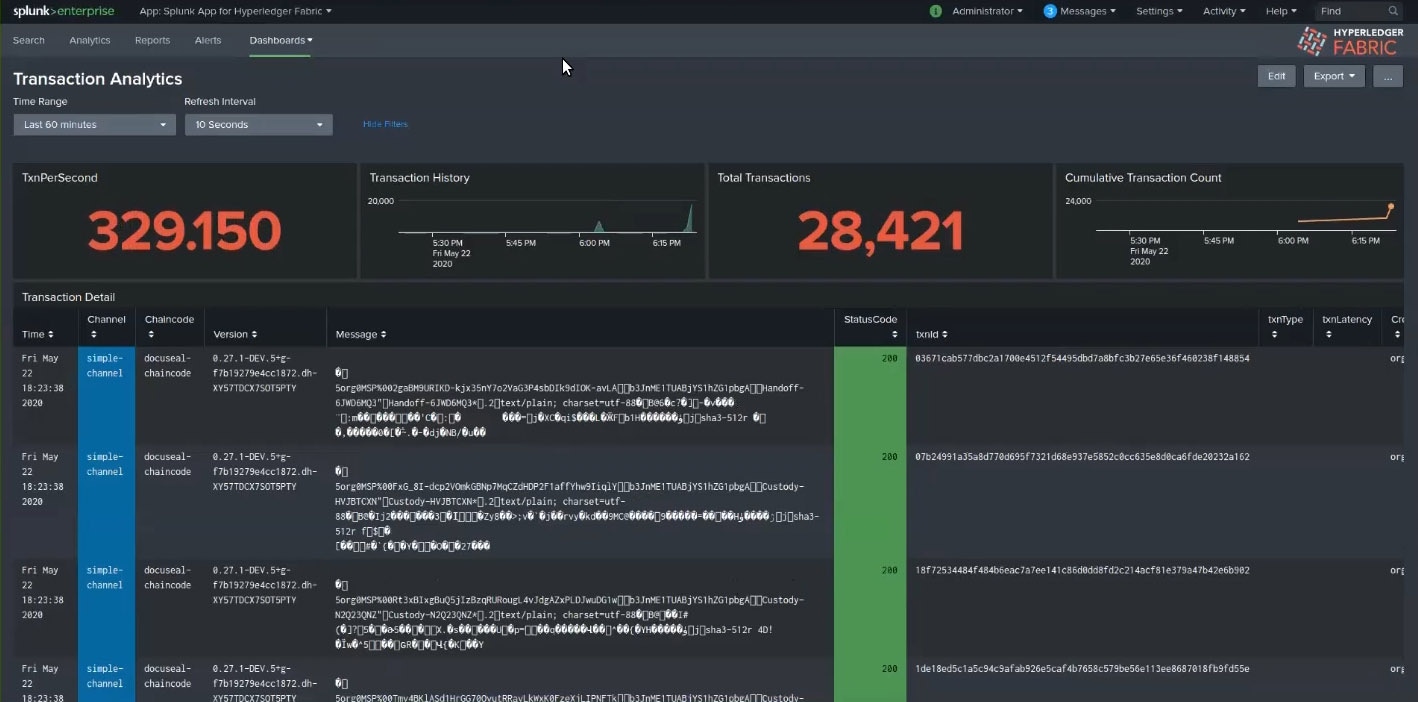 It not only provides a view into the blockchain network itself, but also "full stack analytics" across all application servers and supporting infrastructure. Collecting logs and operational metrics from all layers of the stack allowed LedgerDomain to track resource usage, identity performance bottlenecks, root out bugs, and rapidly evaluate various architectural tradeoffs.
Our application continues to monitor the server for 138 hours of uptime, encompassing 50 million net pharmaceutical transactions before the experiment concluded. We are excited to continue to work with LedgerDomain – which will involve further debugging, monitoring, operational metrics, and load testing – all backed by insights from Splunk and the Splunk App for Hyperledger Fabric.
Blockchain has the ability to redefine how the healthcare industry works – eliminating confidentiality breaches, allowing for safer mechanisms for exchange of electronic health records, tracking pharmaceutical drugs from development to distribution, and more. While there are many challenges such as mass adoption, cultural shift, and scalability issues, having a technology that allows for transparency, tamper-proofing, and enhanced data ownership will have ripple effects beyond specific implementations.
---
This blog post was co-authored by Nate McKervey and Janice Ng.
Janice Ng is currently the Blockchain Product Management Intern at Splunk, and is a rising senior studying Computer Science and Cognitive Science at UC Berkeley. She is the Head of Education of Blockchain at Berkeley, and has co-authored a published research paper on: The Disruptions of 5G on Data-driven Technologies and Applications, under the National University of Singapore. She is passionate about blockchain, computational psychiatry, and the intersection of technology and healthcare.
----------------------------------------------------
Thanks!
Nate McKervey