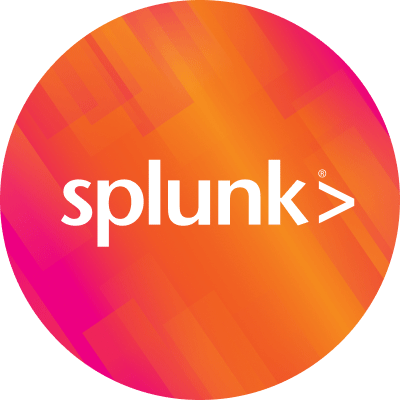 By Splunk February 12, 2020
It is imperative for organizations to monitor performance, security and stability of their blockchain integrations. Splunk makes it easy to achieve this observability, not just with blockchain but with all enterprise infrastructure. Our customers have told us this is simply a necessity for getting to production and also makes application development faster.
Based on Ethereum, Quorum is an open source blockchain platform built for business and backed by strong partnerships such as J.P. Morgan and Microsoft. Like other blockchain solutions, Quorum consists of infrastructure and application components.
In addition to our Splunk App for Hyperledger Fabric,we are pleased to unveil the new Splunk App for Quorum. This app gives you insight into your blockchain infrastructure built on Quorum, and with it, you will get the building blocks and dashboards necessary to obtain visibility and monitoring of Quorum node logs, metrics and transaction analytics from the distributed ledger and surrounding infrastructure!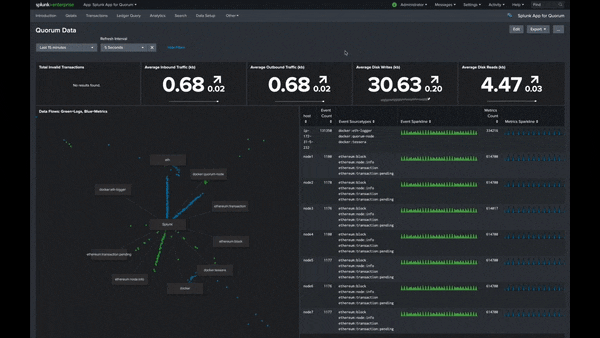 The raw data flow dashboard for Splunk App for Quorum
Analyze and Monitor Quorum Blocks, Transactions and Events
Using Splunk Connect for Ethereum, Splunk ingests block and transaction information from the Quorum ledger and provides insight into operations and actions on-chain. Each field in the block or transaction is being auto-extracted by Splunk making it incredibly easy to ask questions, build dashboards and create alerts.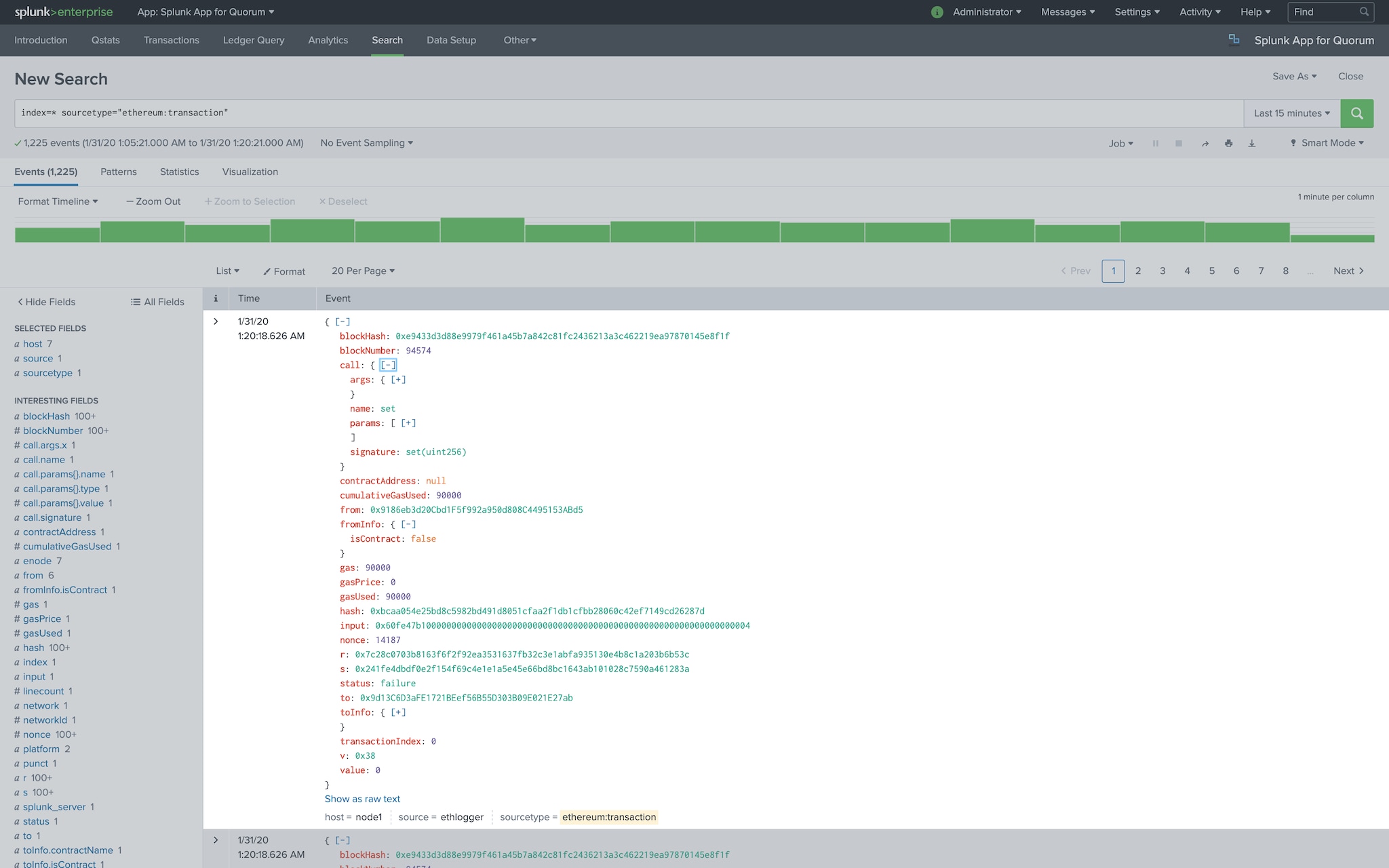 The Splunk search interface exploring Quorum transactions
Monitor the Health of Your Quorum Infrastructure
Adding application and system performance logs and metrics from Quorum nodes can provide even more visibility into your environment. Specifically, these are Quorum application logs, Geth metrics, RPC data polled from different Quorum node endpoints and more.
The Splunk App for Quorum comes with an example dashboard called Qstats providing an overview of system health from system metrics like CPU and memory, block height and latency and error logs when you drilldown. You can see in real time when public or private transactions are starting to back up or if a node is falling behind on blocks. This is just the beginning! Use the Analysis Workspace to explore other available geth metrics and add more panels of your own!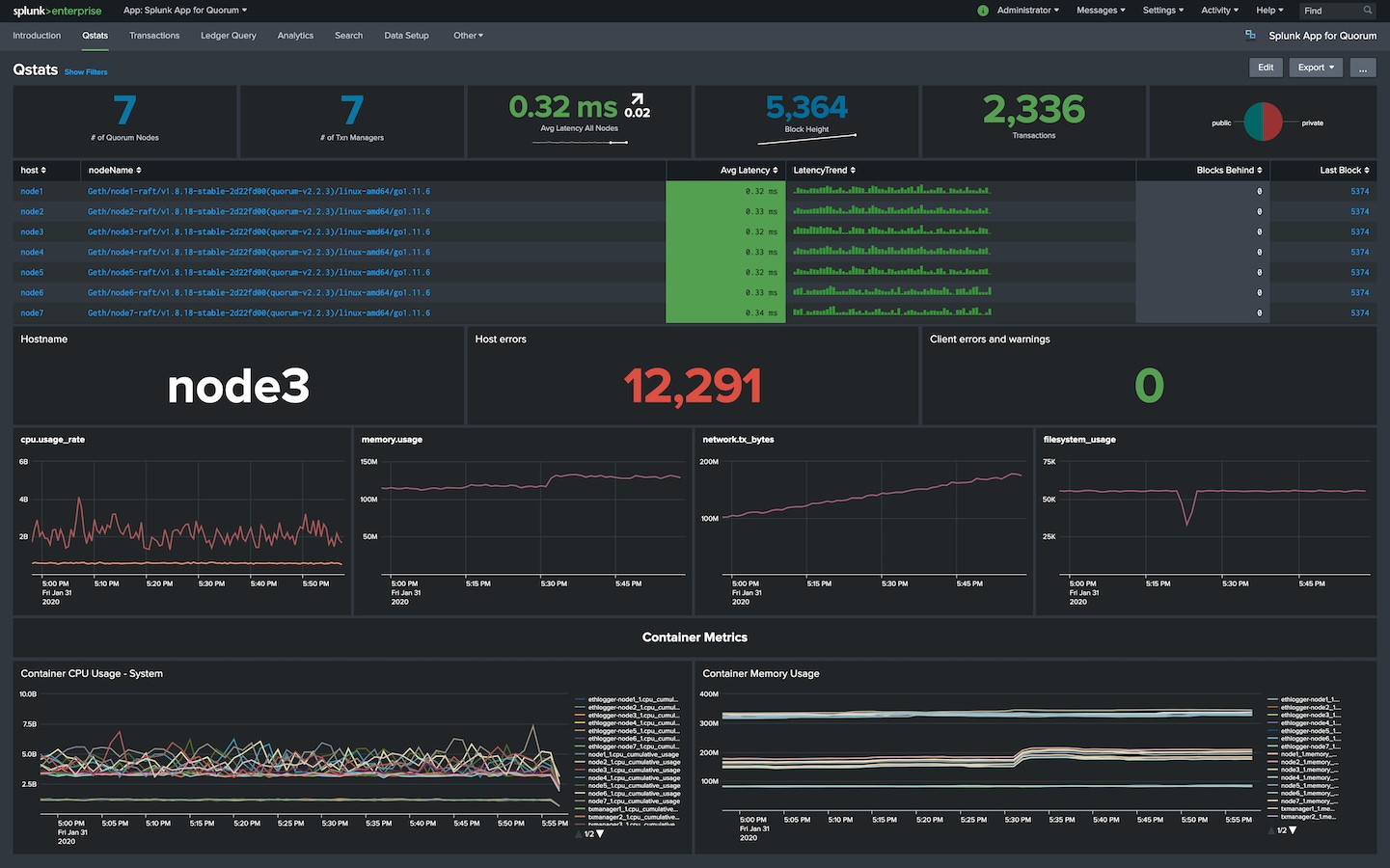 Qstats dashboard for infrastructure health and monitoring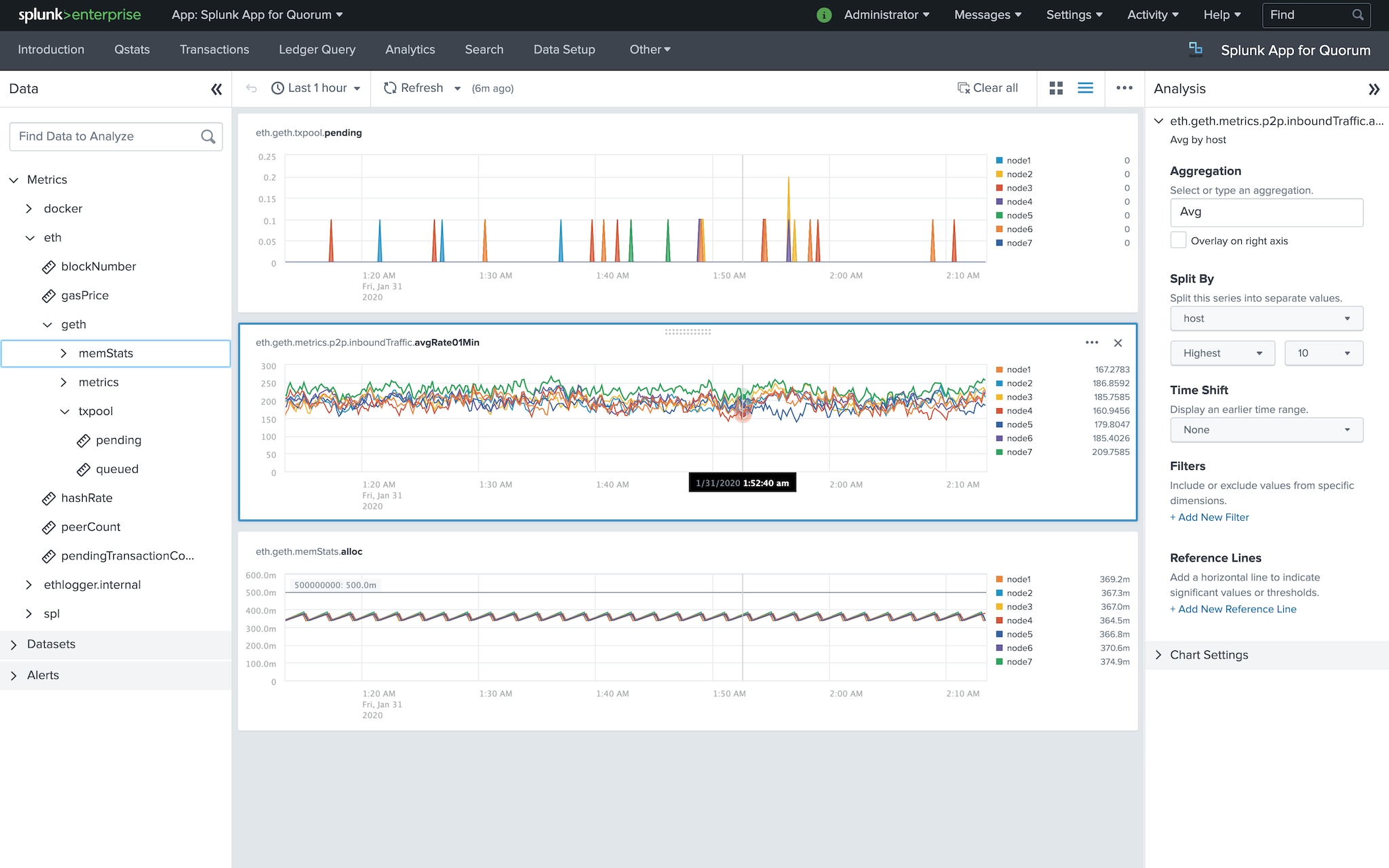 Analysis Workspace exploring geth metrics
Analyze Transaction Behavior
Real-time visibility into the transactions being written on the ledger is a key part of blockchain observability. With the Splunk App for Quorum you can see a breakdown of private vs. public transactions and analytics around addresses activity.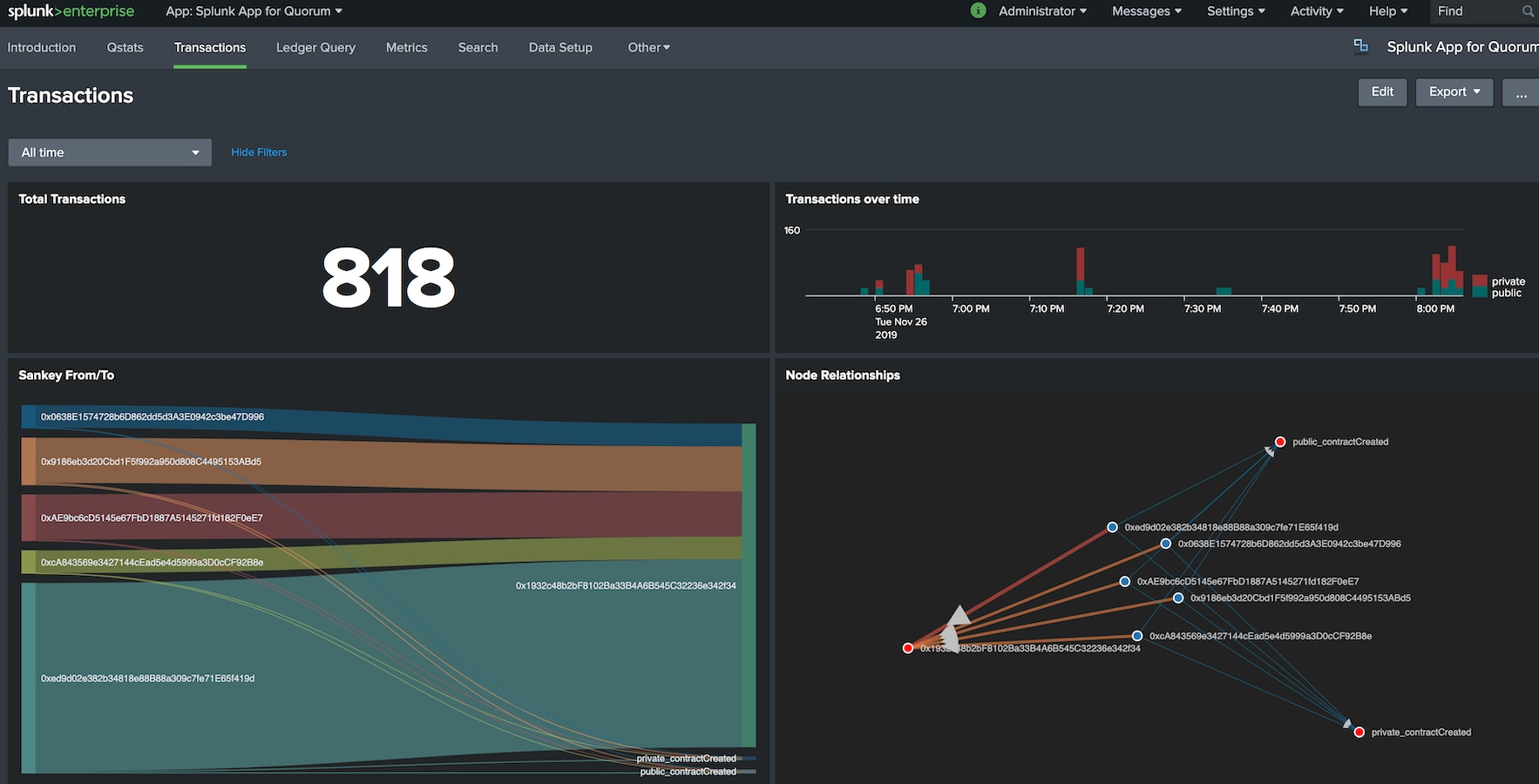 Transaction Analytics dashboard for Quorum
Want to try it out?
Download Splunk and install the Splunk App for Quorum if you haven't already.

Download Splunk Connect for Ethereum and follow the instructions to set it up on your quorum nodes.

Go to the Data Setup dashboard in the Splunk App for Quorum to validate data is coming in properly.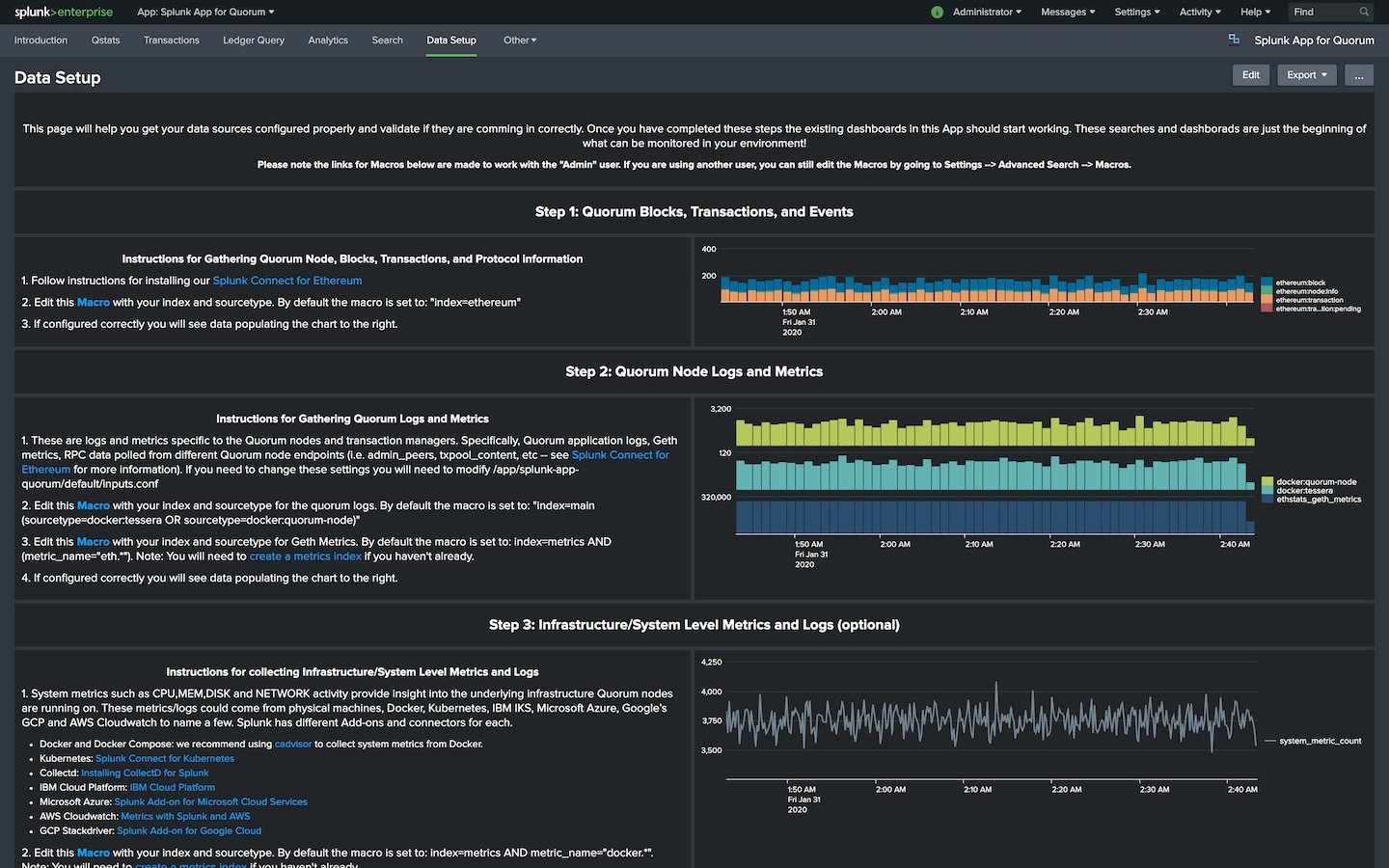 Data Setup dashboard
Need help or want to benefit from Splunk Blockchain solutions? Contact us to find out.
Happy Splunking!
Stephen
----------------------------------------------------
Thanks!
Stephen Luedtke