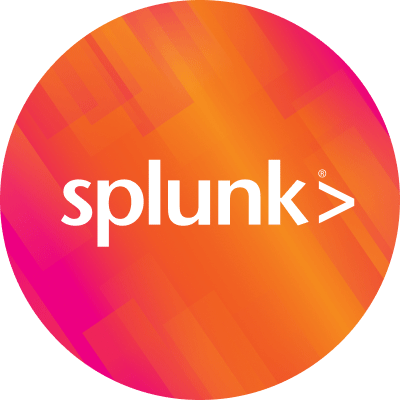 By Splunk February 27, 2020
ETHDenver connects developers, technologists, cypher punks, coders, crypto-economists, designers and makers to build on Ethereum, making it the perfect place to debut Splunk Connect for Ethereum. The use cases we saw added observability to blockchains like Ethereum mainnet and sidechains in real time. As the event went on, use cases and requests continued to pop up (which you'll see below); the app was used to index not just ethereum mainnet, but also sidechains such as xDai and OST Mosaic.
Splunk Connect for Ethereum made it trivial to analyze Buffidai (ETHDenvers' official cryptocurrency) and Buffidao XP (gained by completing numerous tasks or challenges). Just like last year, this included the food truck vendors and – new to this year – sponsors and the swag stores.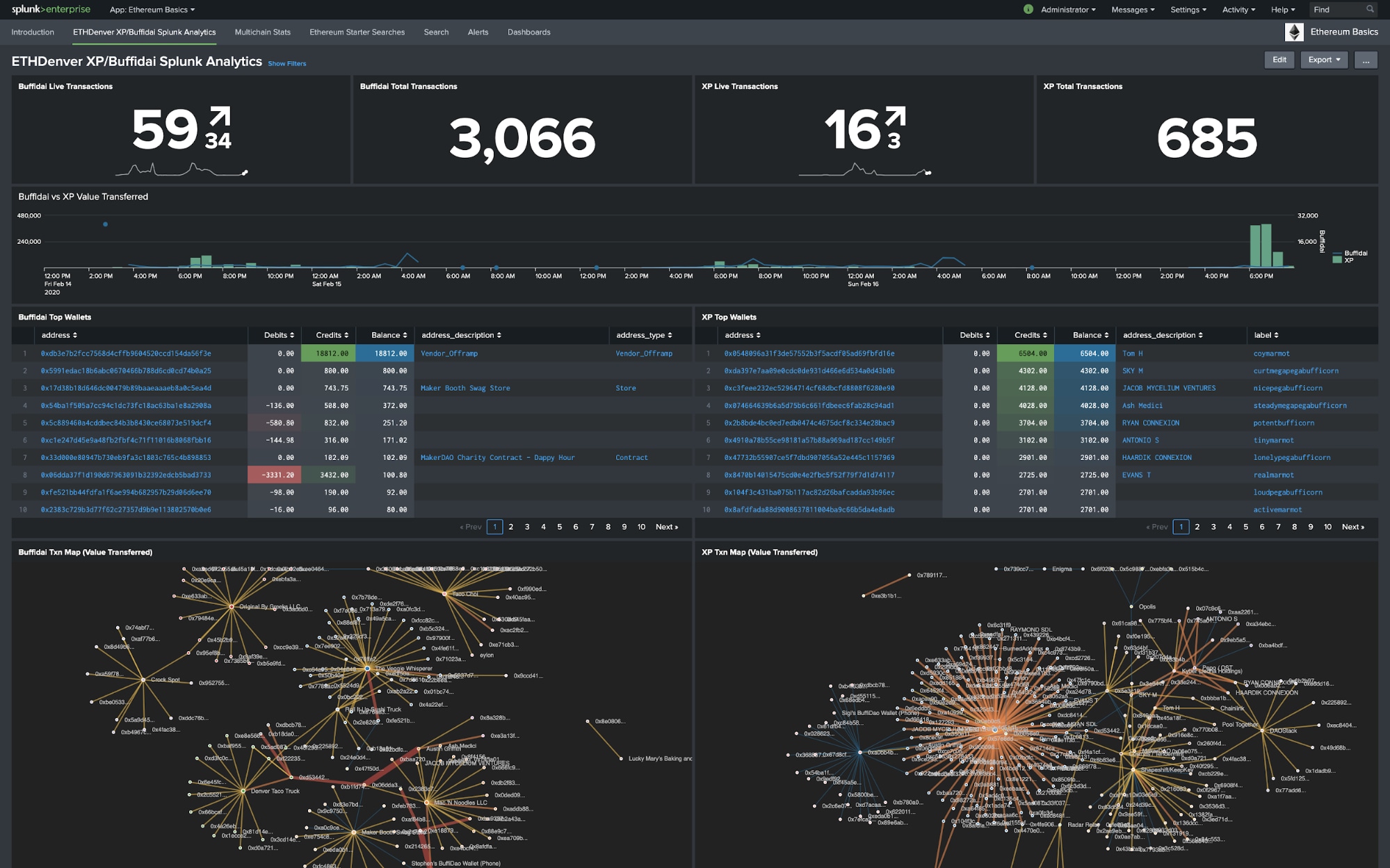 Throughout the event, Splunk showed the top 10 XP earners who were then awarded special prizes. Check out this video of @AustinGriffith explaining how it all works.
The MakerDAO team, who was running a swag store with the ability to donate to four different charities as you purchased items, wanted to be able to track donations made using Buffidai and display the results in real time at the store. Behold: the MakerDAO Donation dashboard!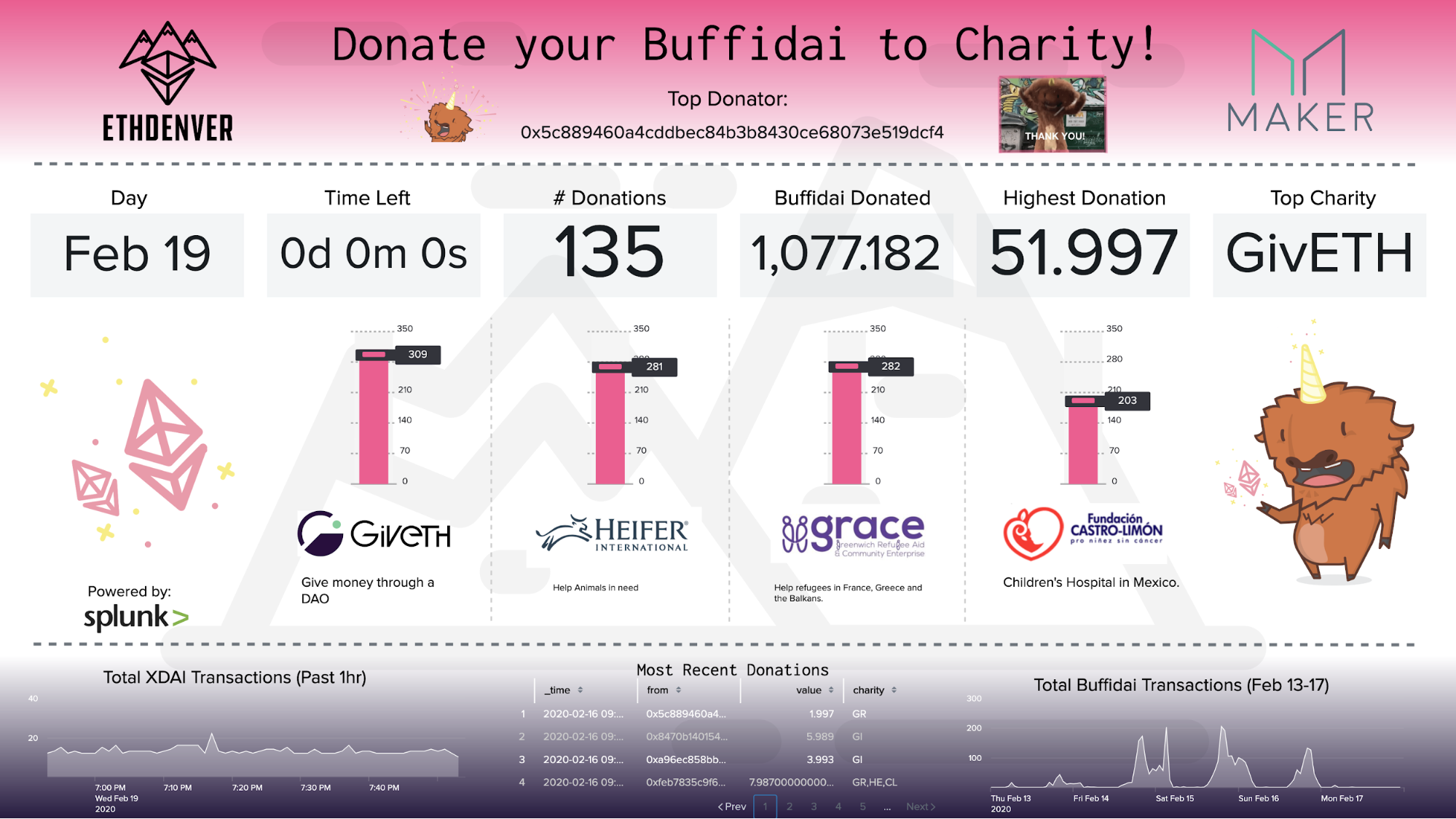 Next up were the OST folks who wanted to gain some insight around transactions involving their Pepo social platform.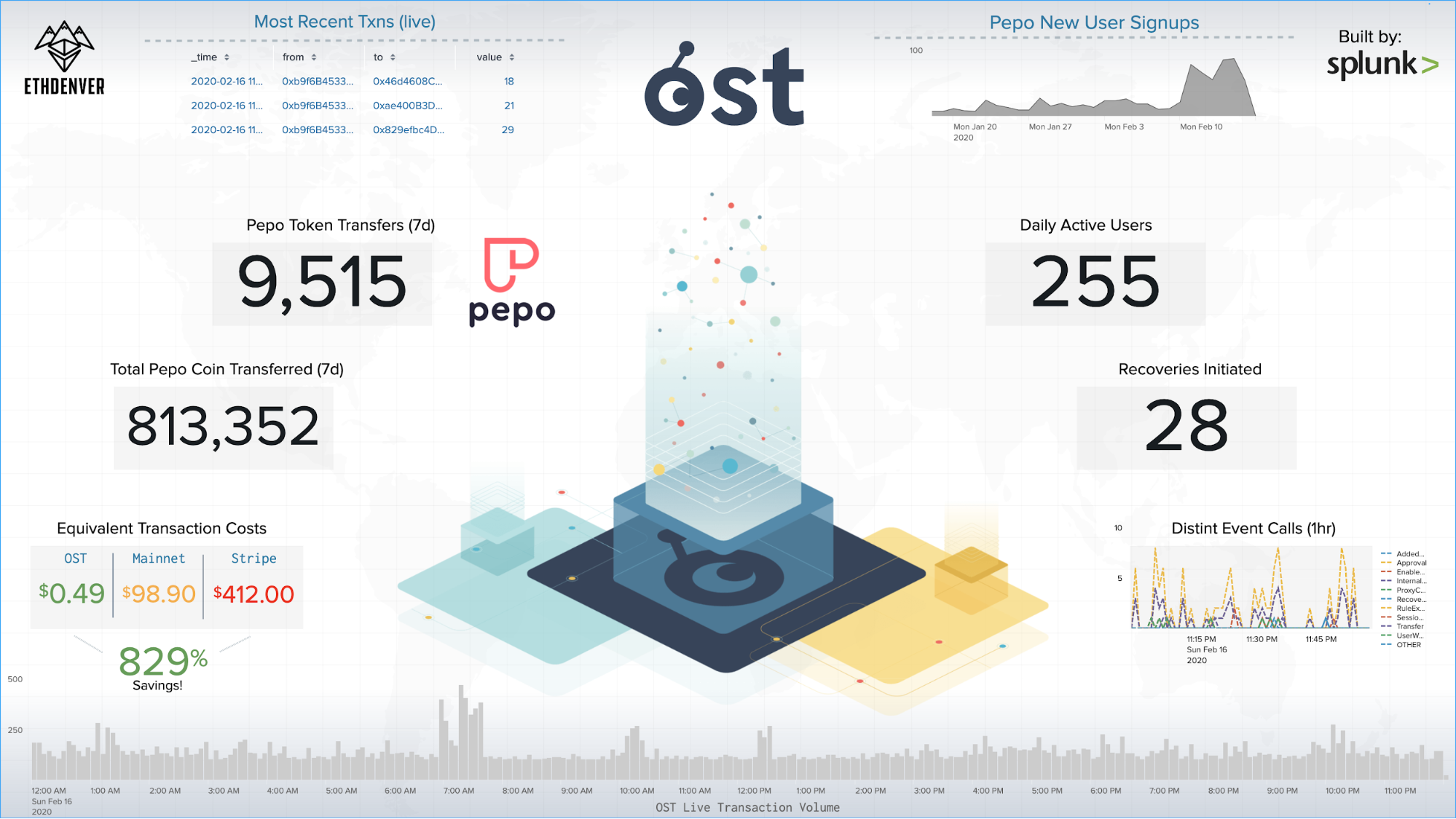 This dashboard added even more functionality by indexing off-chain information via webhooks, and combined it with on-chain data to analyze the profiles of the top media shares and pepo coin exchanges. The top Pepo earners' videos were displayed automatically and earning information in real time, causing more folks to transact in order to get on the dashboard during the after party!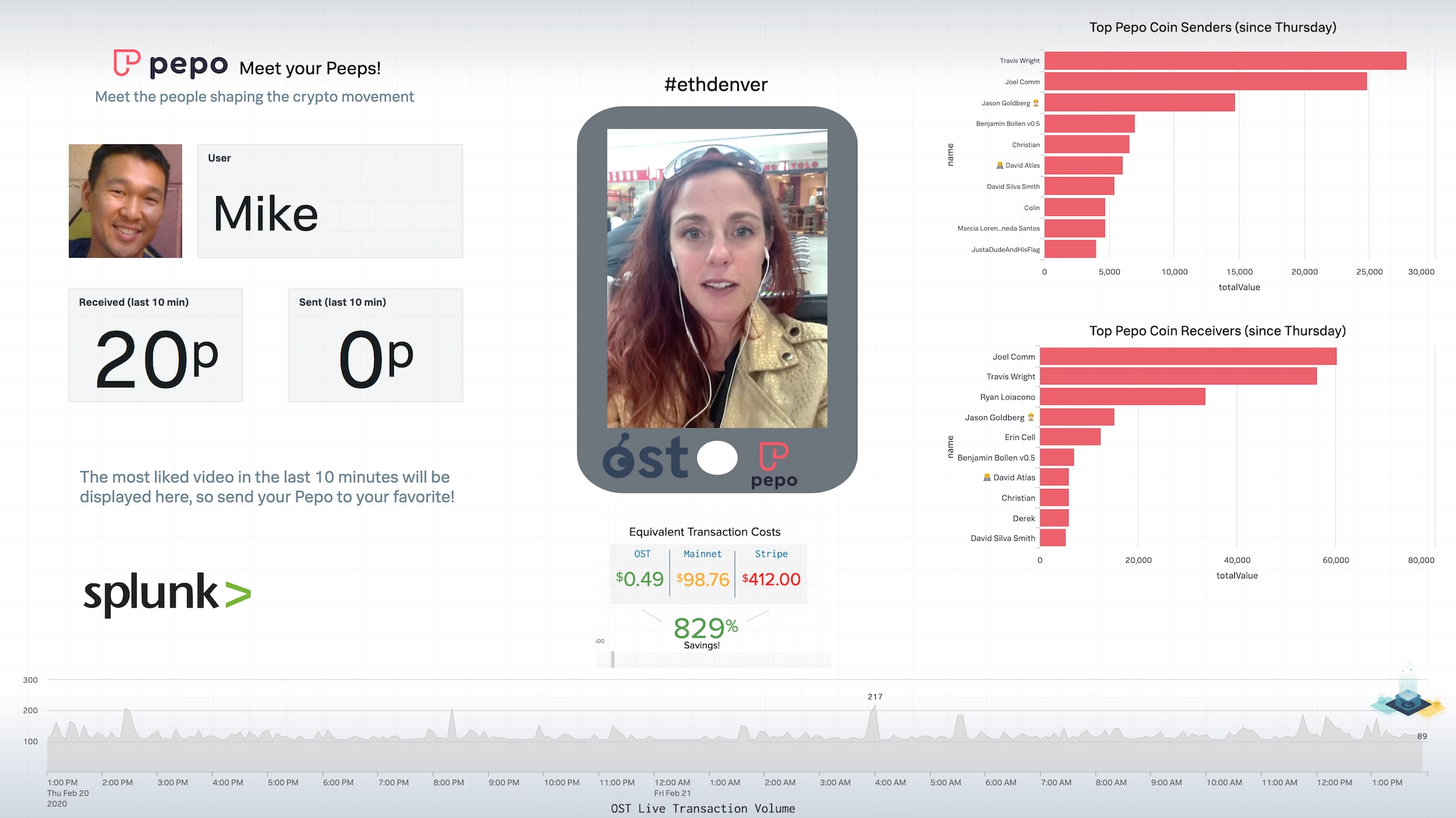 Lastly came the MakerDAO Dappy Hour. Similar to last year, the event provided an opportunity to analyze drink purchases and – new to this year – donations. Whilst there were a few non-Splunk technical difficulties at the venue, it didn't stop the Splunk team from bringing Data to Everything.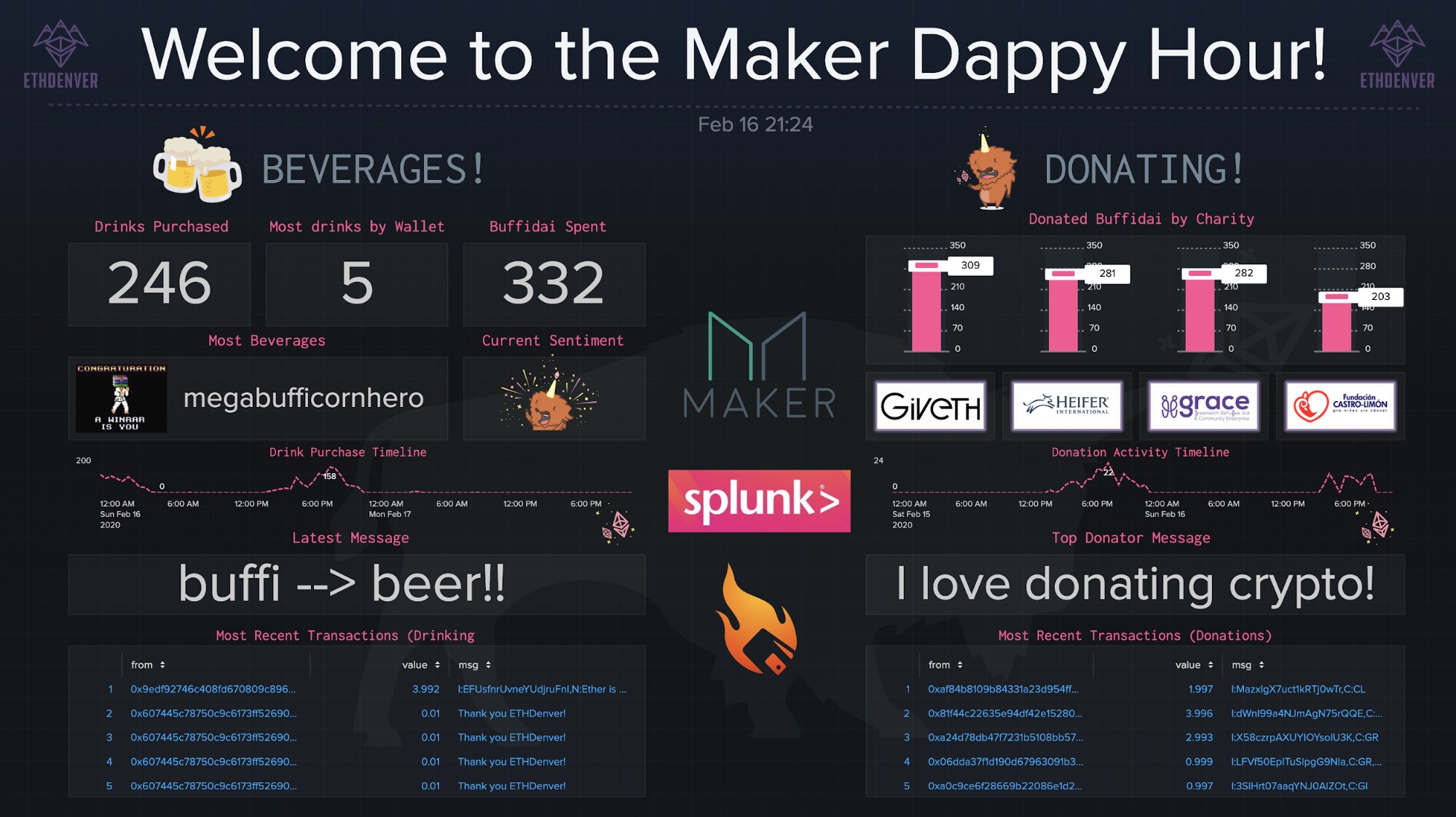 It's easier than you might think to start analyzing blockchain data in Splunk. A basic example is available using docker compose, Azure has a template that automatically deploys everything needed, and/or you can use the all new Whiteblock Genesis platform (check out their ETHDenver blog recap and video below) to deploy dev and test networks. If you don't want to run your own node, simply point the RPC endpoint to Alchemy or Infura for Ethereum mainnet and POA xDai endpoints for xDai. A big shout out to the Alchemy, Infura, and POA for making endpoints available. Alchemy alone processed 4.2 million requests with a median response time of only 7.9ms for the API key made available for ETHDenver attendees!
That's it for this year; as always, if you want to know more feel free to reach out to us at blockchain [at] splunk.com.
----------------------------------------------------
Thanks!
Stephen Luedtke