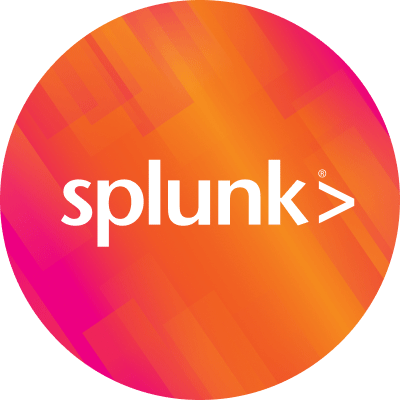 By Splunk October 28, 2020
Today, more than ever, mobilizing remote teams to triage and resolve outages separates is separating enterprises able to accelerate their digital initiatives from those who don't. Observability has elevated our ability to quickly detect problems and ask questions in our system to triage and reduce "time to clue" — an increasingly important metric. Moreover, organizations that pair observability with incident response are getting those problems in front of the right teams to find and fix them quickly. By automating the workflows that operations and developers use to collaborate, people can work quickly and using the tools they already have.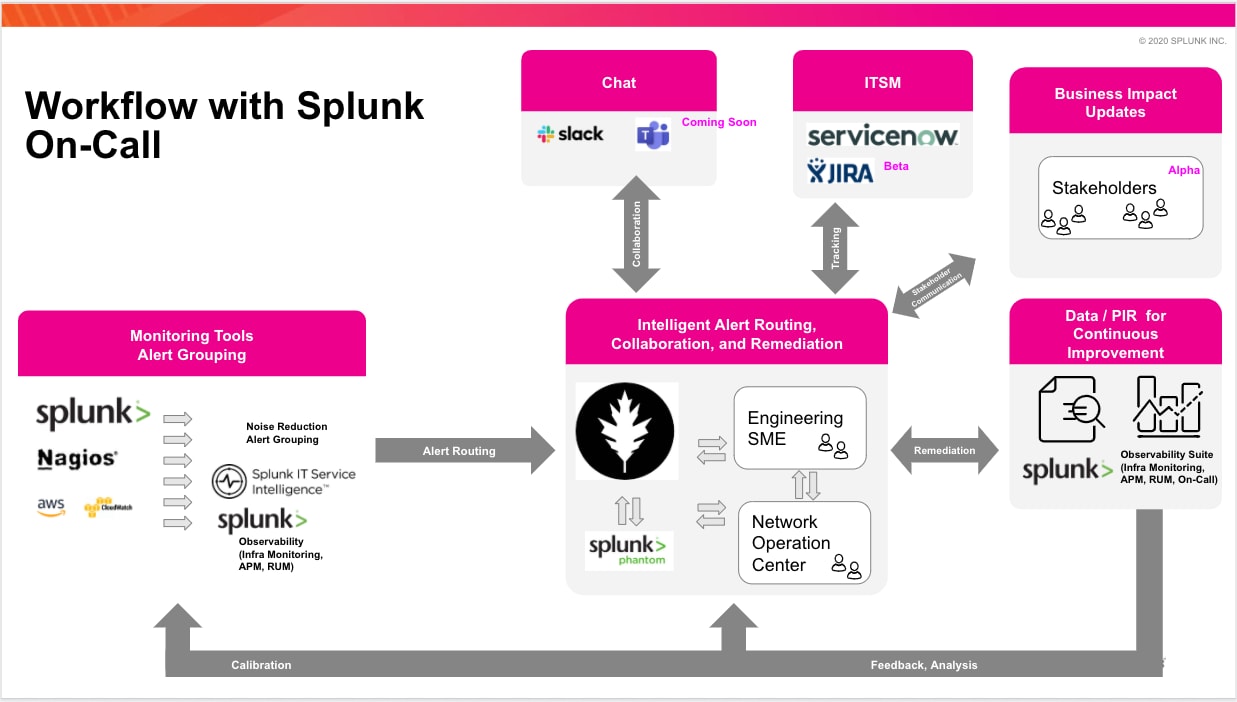 At .conf20, we made it clear that Splunk wasn't just talking about On-Call, but we had a lot to say about how it continues to improve and evolve. I'll briefly outline the most exciting updates in the blog.
New Name and More Features.
You might wonder, "Isn't VictorOps what makes on-call suck less?" and the answer is simple. The product formerly known as VictorOps is now known as Splunk On-Call.



Why did we update the name? While Splunk On-Call will be every bit as open (in fact, we have more integrations), across Splunk, we see Splunk On-Call as a critical component to reducing the time to resolve outages and want to embrace the Splunk name. As evidence of this, Splunk On-Call is part of the Splunk Observability Suite, which we announced at .conf.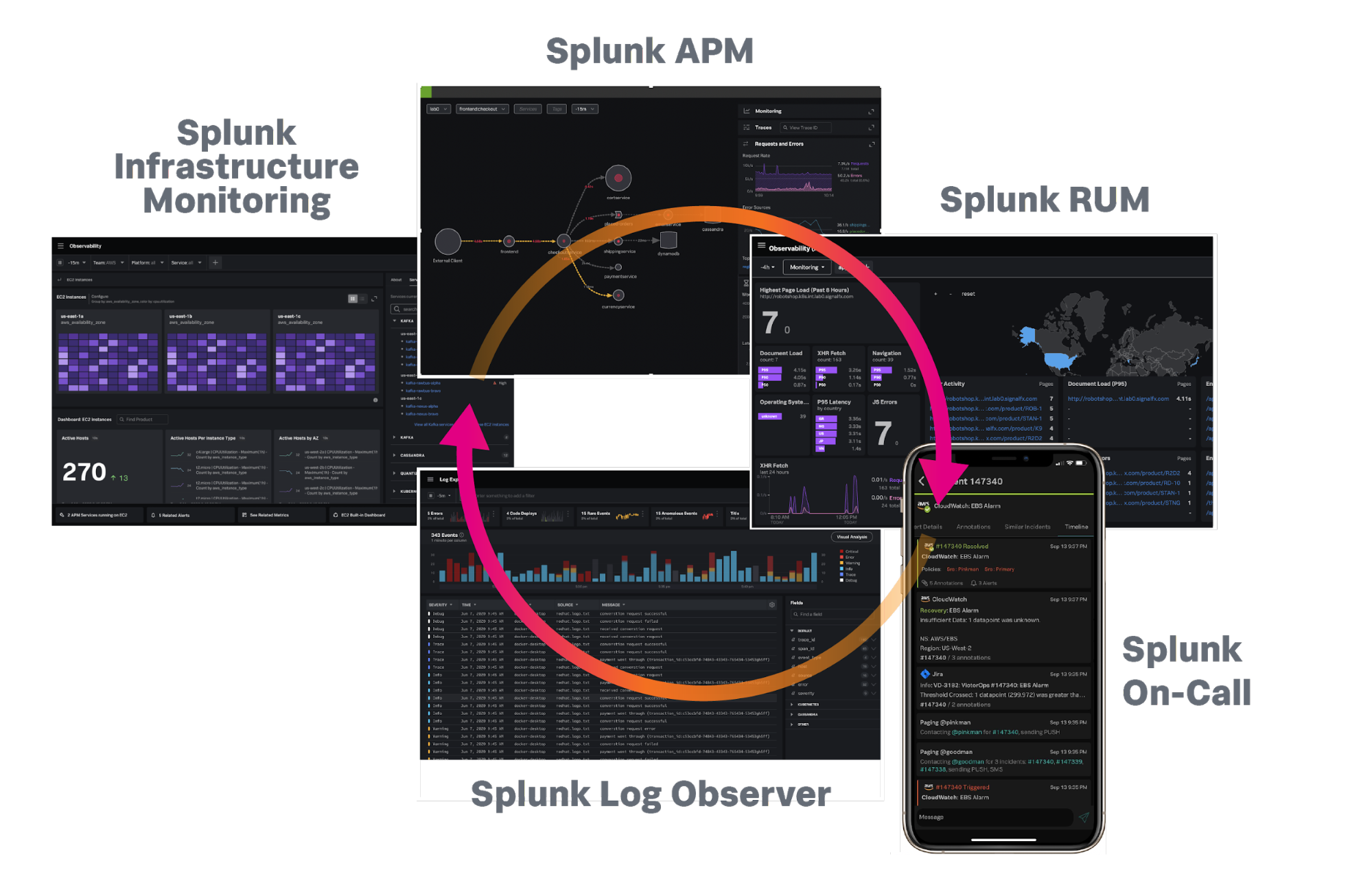 New Features
Splunk On-Call now has a number of new integrations and capabilities that you'll want to experience.
Improved Workflow Integrations
JIRA: New integrations with JIRA and Microsoft Teams synchronize communication between Splunk On-Call and JIRA so that your tickets are updated in real-time.
Microsoft Teams: Microsoft Teams and Splunk On-Call synchronize real-time communication across the people involved in an incident.
The net result is that developers and on-call teams can support multiple tools and processes, while Splunk On-Call has a single record of the incident and response. If you're a ServiceNow or Slack user, Splunk On-Call has robust integrations to synchronize communications across those platforms as well.
Improved Collaboration
Updated mobile app: the updated mobile app puts the on-call person at the center, with a summary of what you need to know. It's more accessible to read, and it's easier to do the tasks that someone who's on-call needs to perform. Whether it's acknowledging incidents or taking a teammates' on-call shift, you're ready to be on-call from wherever you may be working.
Team Dashboard and War Room: At a glance, you can see all the relevant incidents to your team, who has acknowledged them and can easily dive into the war room for that incident. The War Room offers a single source of truth on the incident and how teams and people respond to that incident. You can see the service desk tickets, Slack channels, even the conference bridge. You can easily add responders to the experience, and you can see the sources of evidence (annotations), so everybody is working on the same set of facts.

Stakeholder Engagement
Stakeholder Notifications: When outages strike, on-call teams jump on triaging and fixing the problem, but you may have hundreds of stakeholders inside the company who want to be apprised of status. With Stakeholder Notifications, you can quickly send a message to groups of stakeholders to keep them updated on the status of outages, giving on-call teams more time to focus on fixing outages.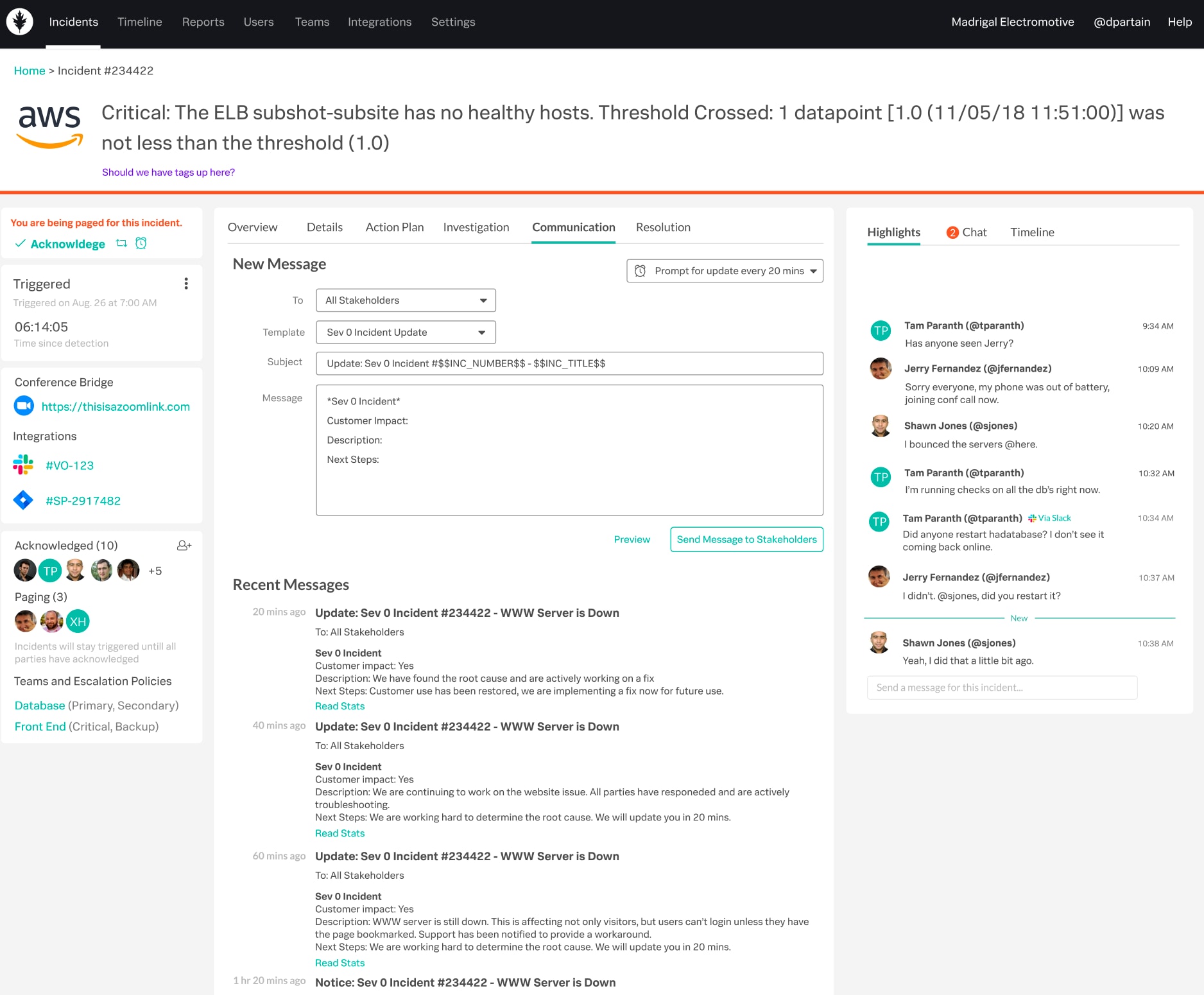 Splunk Dashboards: If you are using Splunk Cloud or Splunk Enterprise, we have maded it easier to generate dashboards based on incident response information with Splunk On-Call. The Splunk Add-On for Splunk On-Call enables easy acquisition of Splunk On-Call data and a range of dashboards that you can customize (or, you can create you own! And, since it's in Splunk, people that are not on-call can still gain insights into incidents and on-call.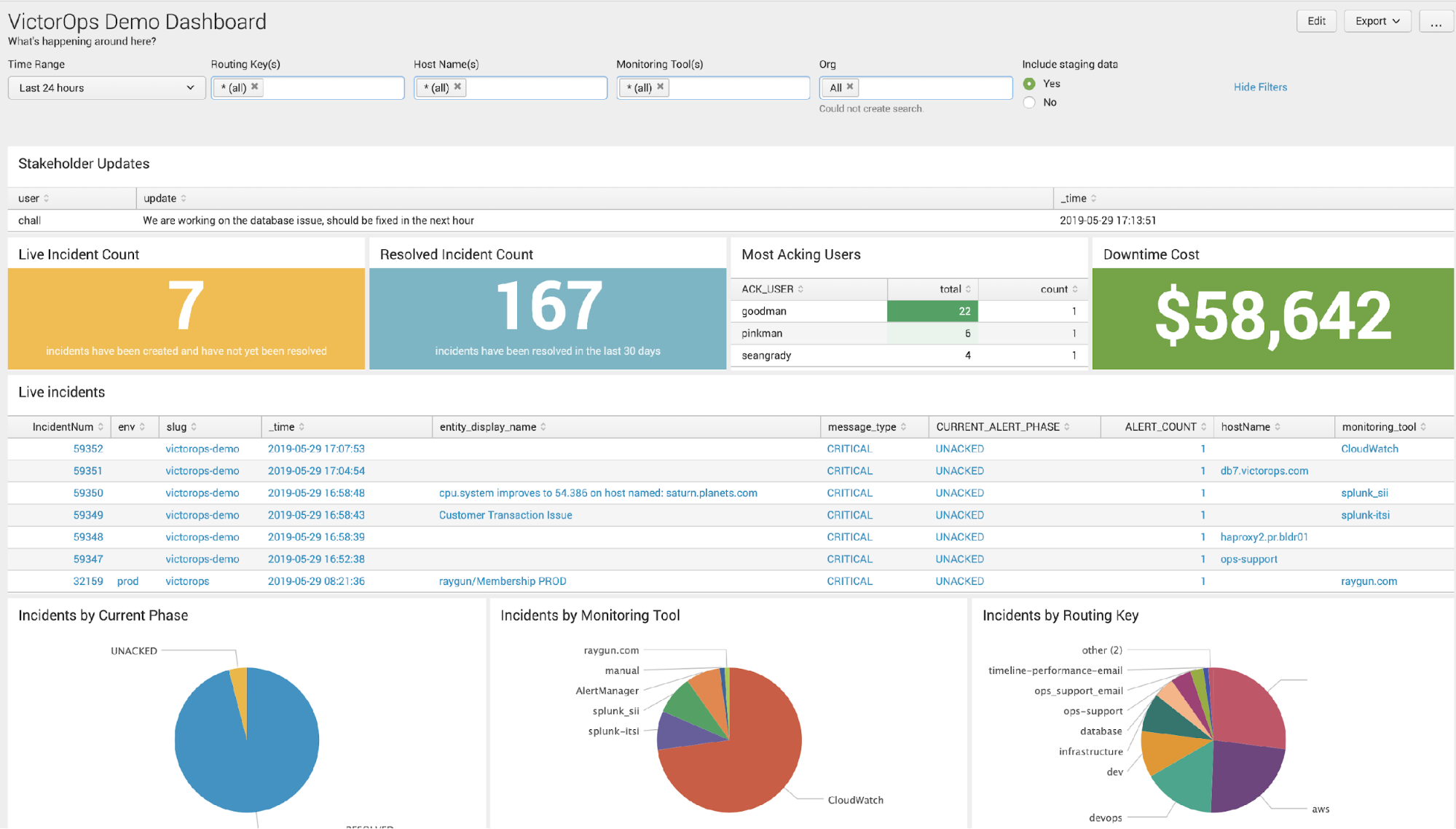 Administration
Splunk On-Call is pleased to announce major productivity improvements in administration, thanks to our partners, Okta and Hashicorp.
User Provisioning through Okta: With the new Okta integration, you can authenticate users to Splunk On-Call, as well as automatically provision and deprovision Splunk On-Call users from Okta. More details here.
Hashicorp Terraform: Using the HashiCorp verified Splunk On-Call Terraform provider, teams can fully automate the Splunk On-Call setup steps associated with an application. A common scenario our customers run into when deploying a new service is to also ensure Splunk On-Call is configured to page appropriate users with alerts related to the service. With Terraform, this can be fully automated in a declarative way, ensuring that the new service is properly monitored with Splunk On-Call from day one. Read Pavan Tummala's blog post, "Manage Splunk On-Call Using Terraform," for more about this exciting way of deploying Splunk On-Call
If you already have Splunk On-Call, we hope you're enjoying these new capabilities. If you would like to try Splunk On-Call, it's easy, requires no credit card, and you have access to all its features for 14 days! Start a trial today!
Happy Splunking,
Bill
----------------------------------------------------
Thanks!
Bill Emmett