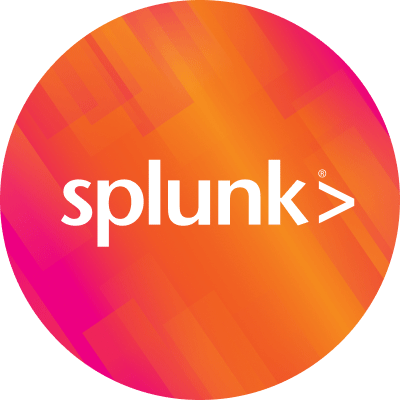 By Splunk October 29, 2019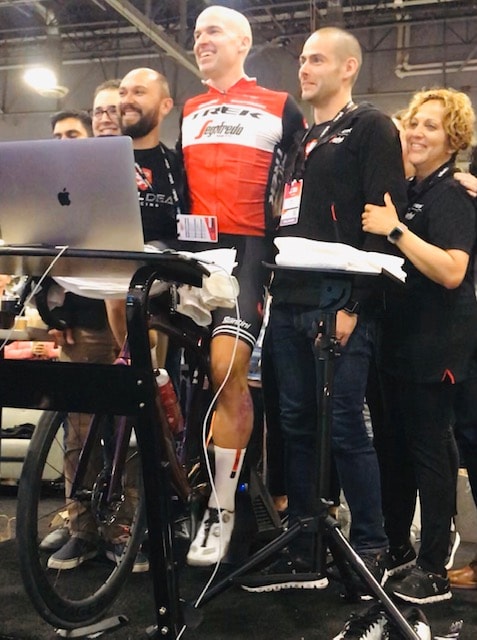 With 10 seconds left on the clock, Ed Veal allowed a grin to sneak through as he took the last few remaining pedal strokes of his epic endurance test. When he unclipped for the final time, the grin had given way to a full blown, ear-to-ear smile. Raising his hands in victory, in that moment, you would have thought he had enough energy for another 24 grueling hours on the bike.
All told, the Canadian professional cyclist rode 952.6 kilometers (592 miles) over the full day period, a little further than the distance from San Francisco to Splunk's .conf event in Las Vegas. That distance combined with the 566 miles produced by 260 participants at the event, means Splunk will happily be donating $30,000 to the PeopleForBikes Foundation.
The impressive numbers do not end there. Ed also broke a few records along the way, including the Zwift 24-hour distance record, the world record for 24-hour road cycle (556 miles) and the longest 24-hour cycling distance on a track (584 miles). Needless to say, it was an epic experience to watch a professional athlete push his mental fortitude and physical stamina through such a gauntlet of an endurance test. It was also amazing to see the community support he received, both on-site and online. From Poland to New Zealand, people from all over the world joined Ed virtually on Zwift to help draft for him and keep his spirits up.
We gave him a bit of well-deserved rest time and then sat down with Ed to chat about his experience.
So, Ed, first things first - how are you feeling?
Great, actually! Now that I've had some time to let my body recover and get some calories back in my system, I feel really good. In fact, I flew home from Las Vegas a day and a half later and actually got back on the bike.
I'm sorry, you did what?!?
Yeah, you know, it's all about habits and routines. I got home and was feeling pretty stiff from the plane ride and decided some time on the trainer would be just the remedy. Nothing crazy, only about 25 minutes, but I was able to get my pace up and my allow my body to stretch. It was great!
(*Dramatic pause of disbelief.*)
Ok, so walk us through your how you tackled this amazing challenge.
The strategy was entirely based on things we could control vs. things we couldn't control and how best to be prepared for those surprises along the way. The biggest thing I could control was pacing. If you noticed, during the ride my pace remained pretty steady between 220 to 230 watts to hit those checkpoint goals we had originally outlined. The second thing was really staying in the moment. A lot of people have asked what goes through my head on a ride like this and frankly, it's a lot of knowing exactly where I'm at in that particular minute and what needs to happen in the next minute to keep me where I need to be. Lastly, fueling my body, keeping up with my hydration and calorie intake was crucial.
*"Strava or it never happened"...If you'd like to take a look at Ed's complete Strava data, you can find it here.
Speaking of surprises, any unexpected challenges along the way?
Well, no matter how much you prepare, there are definitely going to be some things you weren't expecting. Like when we lost power for about two hours in the middle of the night. Sometime around 2am, the lights completely shut off in the demo hall for about 2 hours because they were on a timer system. We obviously kept going, but that was probably the hardest time period of the ride. It was great to have the team on-site who jumped on bikes to help me through, and of course, all the riders on Zwift who joined in to draft. That's what really kept me going. I also made the mistake of wearing brand new pair of bike shorts. I will spare you the details, but I won't be making that mistake again!
Now a lot of people didn't realize that were virtually riding an actual course and that the trainer adjusted for the course conditions, meaning hills are harder to climb because it adds resistance, wind is factored in, etc. Tell us how the people that road along with you helped you achieve this.
So very important...this was a complete team effort. From the on-site staff that jumped on when I needed a boost to the Zwift members that came from all over the world, this would not have been accomplished without them. Zwift factors in the effects of "drafting" just as if we were outside on the road. So, when riders join me to draft, they are basically shielding me from the system generated resistance and keeping me at a set pace. It can literally make the ride 30% easier on my legs, which was crucial for this. A giant thank you to everyone that joined me on this ride, especially in those late hours!
We've talked about a lot of the mental aspects of your time on the bike, but how about your body? How did it hold up over the 24 hours?
The first 8 hours were really fantastic. I felt great, we were at pace, and I was getting good breaks in. Somewhere around the 8 to 12 hour mark my stomach turned and the idea of eating became really unappealing. Still I needed to ingest about 800 calories an hour to keep up with what I was losing. From that point on, those were mostly liquid calories. That's also the point where the pressure on my hands, bum, and feet really started to take a toll. Eventually your feet start to get really hot and swell so, every time I took a quick break, my shoes would come off and go under a fan to cool off. Also, my saddle was one that I had never used before and it made all of the difference. One of the most comfortable saddles I've ever ridden with.
And when you were finally able to get off the bike, how'd you feel? What was recovery like?
Hands down one of the best moments of my life! I mean, of course, your body is exhausted at that point, but the adrenaline from accomplishing this goal, along with all the cheers and support from the crowd...I felt great. In fact, you'll notice in my biometric data that my heart rate shoots straight up right at the end. I was so pumped! Thanks to everyone who came out to support me. After I was wheeled off the source=*Pavilion floor, I went straight to my room where I devoured a rather large pizza. I took some time to call my family and girlfriend and then took one of the hottest and longest baths of my life. From that point, it was all about sleep. I think I closed my eyes around 5pm and didn't open them again until 9:30am the next morning. And while I woke up a little sore and still, overall I felt really good.
Ok, so when are we doing this again? What's next?
I love this. Truthfully, when I got off the bike, the last thing I wanted to hear about was potentially doing it again. But yes, I've already thought about bigger, better, longer, faster. The experience I had with the team and everyone involved was hard to put into words. I was completely overwhelmed. Yes, 24 hours was extremely challenging, but I honestly really enjoyed it. I would love to do this again, especially when it involves a good cause. As for what's next, I'm back on the bike next week for a tandem race with a blind athlete at the para-world championships on the road to qualify for the Tokyo Olympics.
All we can say is "wow"! Special thanks to Ed, the on-site team, all of the .conf attendees who cheered him on and the Zwift riders who kept him going. Like he said, this was a huge community effort and we couldn't have done it without you. The data and evaluation by the on-site adjudicators is currently being reviewed and verified at the Guinness World Record headquarters in London. Check back for continued updates!
---
Catch up on all the conversations from #splunkconf19!