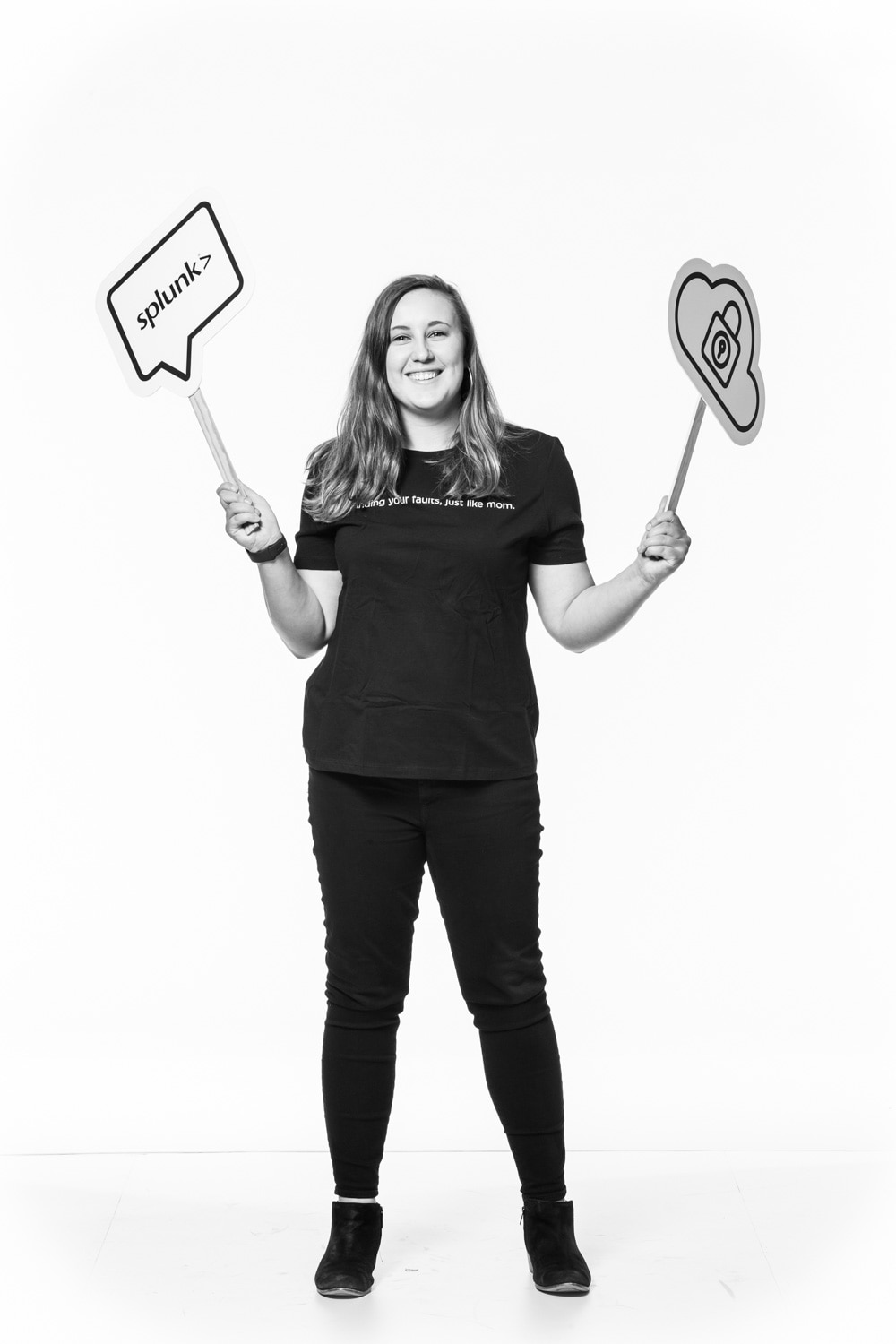 By Annie Wilson September 10, 2019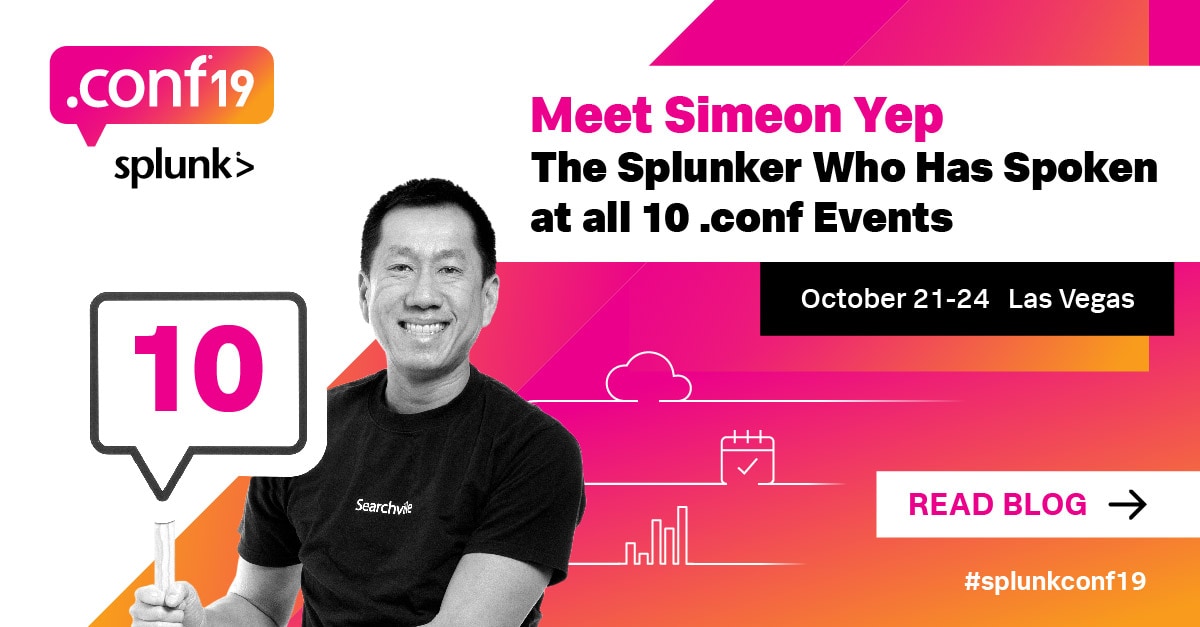 It's the 10th anniversary of our biggest event of the year, Splunk .conf19! If you've joined us before, you know this event is filled with hundreds of technical sessions given by Splunk customers, employees and product experts teaching you how to turn data into doing. We'll have our top partners there, as well as opportunities to learn new skills and over 350 speaking sessions.

Simeon Yep, Splunk's Area Vice President of Sales Engineering, is a .conf speaking session champion. Seriously—he holds the trophy as the only person to speak at each and every .conf since its conception. Simeon will be joining us this year for his speaking session, "Understanding Splunk Performance to Make Hardware and Platform Choices." Here's more from him on what his Splunk and .conf experiences have been like through the years.

What has your Splunk experience been like for the past 10 years?
I've been working at Splunk for 11 years + 4 days. When I started, I was a Senior Support Engineer, helping our customers with their technical requirements and support. I would answer the phone for customer support. Today, I'm the AVP of Sales Engineering for Global Partners. Part of what I own is the tech strategy for what we do with partners—but essentially any time we do something with partners that is related to technical selling, my team and I have a stake in helping the partner.

How has .conf changed from 2010 to now?
Certainly in size. I can't recall the exact numbers, but I think number of attendees used to be in the low hundreds. One of the biggest changes is that it's a destination event for our users, and grown into this thing where "you have to go to .conf!" In the first year, we were figuring out "How do we even have .conf?" and "How do we get our customers this information?" From there, the community really developed at .conf events, and it's grown to serve more people who not only use but also manage Splunk adoption in their organizations. .conf has changed, but it's the same in many ways. I have come to meet a lot of Splunk employees and users, but I meet new people every year. .conf has been like a reunion for the majority of us who have been around awhile. There aren't many conferences that feel that way.

What have your past speaking sessions been about?
In 2010, I was probably speaking to architecting and sizing, as well as best practices for deploying Splunk. Those two sessions were co-delivered and built with one of our Senior Services team members—we were known as large scale experts sharing what we did for large scale deployment, as well as what not to do. There were, and still are, many misconceptions about how you should run Splunk. We explained why you did or didn't do certain things. A lot of the existing architectural guidance and documentation stem from these early presentations. There are a lot of fundamental similarities across the presentations about architecture and scaling best practices, and this really sets the foundation for the sessions being presented today. This was hard to communicate back then, so it's cool to see it translate.

What will this year be about?
This year, Brian (or as I like to call him, B-Woo) and I are doing a presentation on Understanding Splunk Performance to make Hardware decisions. After you purchase Splunk, we give you general guidelines for what hardware to buy. In our session, we intend to give you a deeper understanding of how to make choices that fit your use case and most importantly the why. Also, we want to tell people what partner offerings might fit into certain use cases and how they can make the hardware/platform choice much easier.

Do you have any recommendations for attendees this year?
It can be hard to pick what you want to go to because there are so many great options. I would encourage folks to do their homework and read through the session catalog to understand what information they want to get. If you just show up and expect to go to everything, you're probably missing 80% of what you could get value form. Talk to Splunkers who know .conf, or folks who have been before, and ask "What should I go see?" Make sure to leverage the .conf learning paths, you should go to something about the new products, a partner presentation of something that could be beneficial to you, or something that is a customer story—one you don't know anything about.

Tell us about the Partner program at .conf this year. What's the benefit for .conf partners?
We're going to elevate the .conf experience for partners. You'll see a lot more community-oriented activities and ways to interact with the Partner community. We're going to reimagine the Partner+ lounge to have resources throughout the show including partner sessions, access to networking, topic-based discussions and meet ups, and an FTR (First Time Run) experience for those who've never been. Also—if you haven't already—check out the newly launched Partner learning paths for our partners who are Developers, Sales Engineers, Business Executives or Consultants!
You can catch Simeon's session "Understanding Splunk Performance to Make Hardware and Platform Choices" on Tuesday, October 22, from 1:45pm – 2:30pm. Check out our technical session catalog for more opportunities to hear the latest and greatest from Splunk at .conf19!
---
Follow all the conversations coming out of #splunkconf19!