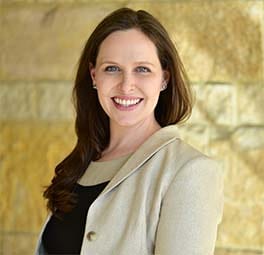 By Anna Mensing October 21, 2019
Imagine this scenario. You head into your office for another day of analyzing and monitoring your Splunk environment (a.k.a. changing the world with your Data-to-Everything Platform). When you get to your desk, you have an email from Splunk. You open the email and are excited to see Splunk building on the use cases you had initially discussed during the discovery phase of the sales cycle with the Sales Engineer. It includes suggestions on how to continue your journey with other ways to use the data you already have loaded for new, high-impact issue resolution and use cases for a whole new group of users! It also includes a link to upcoming events that would be helpful for your users with their enablement, specific best practices to improve issues that have actually occurred, and tips to continuously enhance the overall user experience.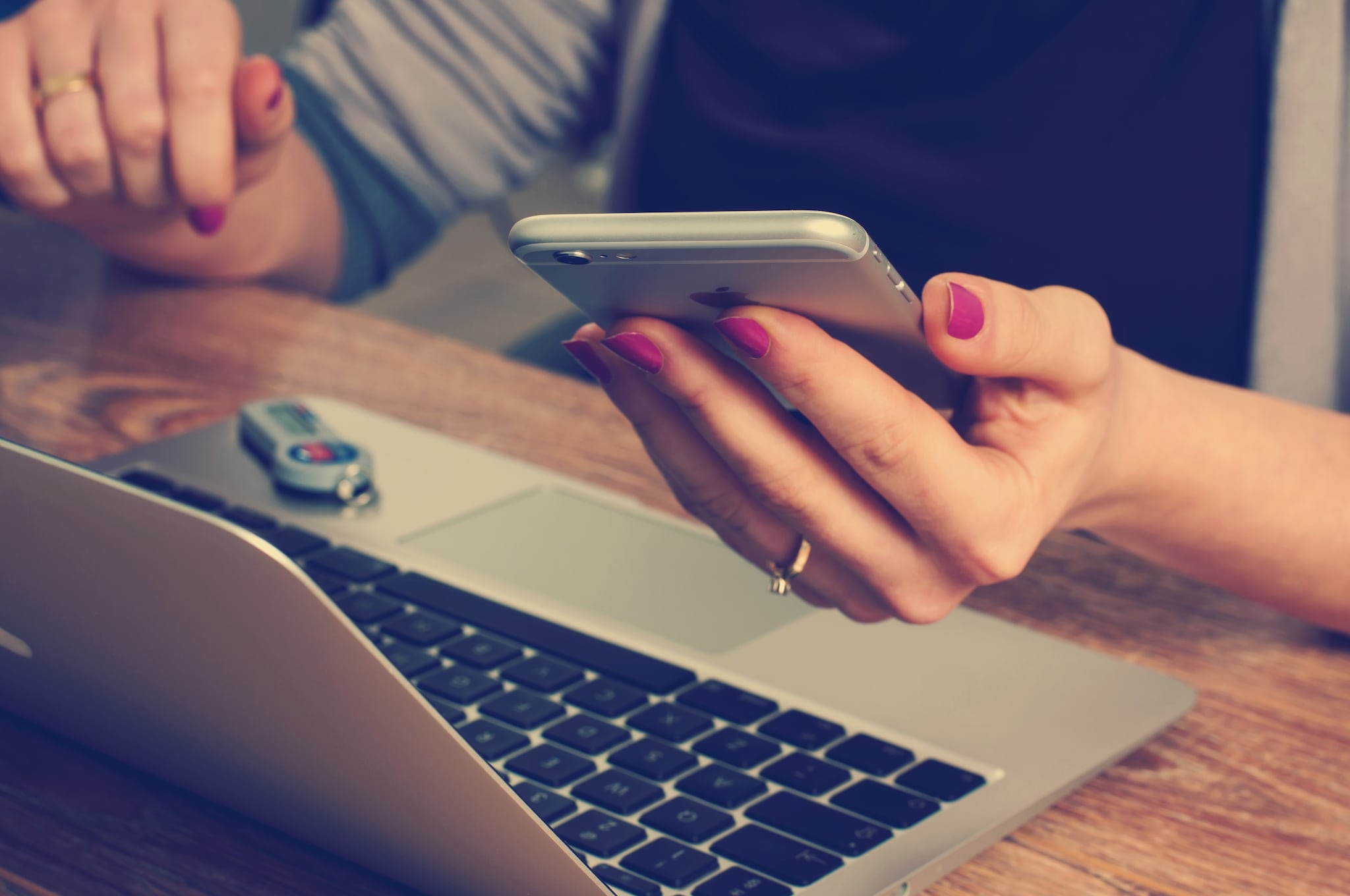 The best part? Splunk also sent an upgrade plan — specific to the versions you're running — that guides you through the considerations and sequence of events to successfully upgrade your entire Splunk platform and ensure you are taking advantage of the latest version's enhancements. You just saved hours of time and your business gained tremendous value!
You don't have to imagine it. Splunk has improved usage data collection to guide you on your data-to-everything journey. From onboarding to use cases and upgrades, Splunk can use product usage data to make recommendations for a richer experience with your Splunk solutions, provide best practices to accelerate maturity, proactively recommend improvements in technical health, and help you deploy, manage and support your deployment most effectively, thereby increasing your time to value with your Splunk investment.
Just like our customers, we at Splunk are also on a great data journey. Product usage data helps us analyze usage patterns of Splunk features and improve products and services for our customers. Usage data has already allowed us to significantly improve product performance and scalability. With more accurate test environments and quality assurance processes, Splunk is able to prioritize enhancements that are relevant to scenarios used by 80% of our customers. If you're attending .conf19 this week, you can learn more on "How Splunk Uses Product Telemetry Data to Improve Our Products and Services."
How do I get started with my guided journey?

By sharing product usage data, you'll enable Splunk to notify you of imminent issues, accelerate troubleshooting, improve your Splunk implementation, and keep you informed of patches, upgrades and product functionality relevant to your Splunk usage and environment. Splunk is ready to guide you on this journey, but you have to take the first step by opting in to send telemetry data.
To share product usage data, take action via UI or command line on one search head in each cluster and on each non-clustered search head.
Via UI in Splunk Web:
If you have previously removed the edit_telemetry_settings capability from the admin role, in Settings > Access controls > Roles, add the edit_telemetry_settings capability to the admin role. Users with this role can now access telemetry opt in settings.

Go to Settings > Instrumentation.
Click the gear icon next to Usage Data.
Toggle Aggregated Usage Data and Support Usage Data on.
Via command line:
Navigate to $SPLUNK_HOME/etc/apps/splunk_instrumentation/local/telemetry.conf

Set all config "send" stanzas to true:

"sendAnonymizedUsage = true"
"sendLicenseUsage = true"
"sendAnonymizedWebAnalytics = true"
"sendSupportUsage=true"
Please verify your network configurations:
In order for the primary instance in your deployment to send data to Splunk, it must be connected to the internet with no firewall rules or proxy server configurations that prevent outbound traffic to https://quickdraw.splunk.com/telemetry/destination or https://*.api.splkmobile.com. If necessary, whitelist these URLs for outbound traffic.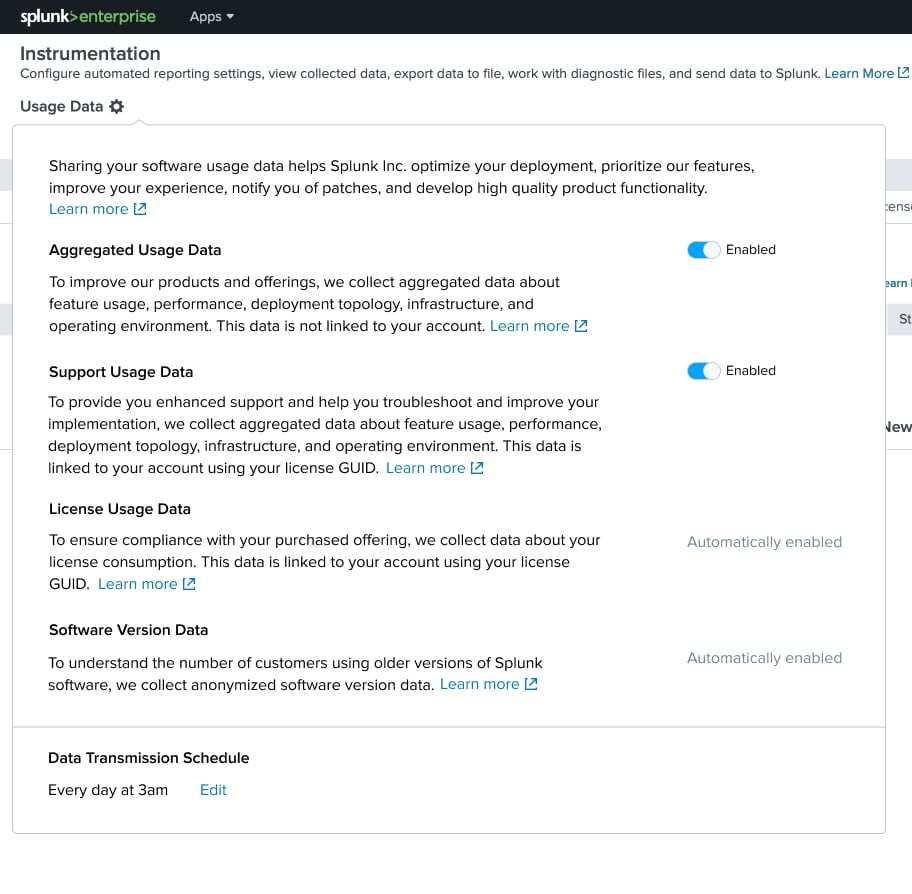 What Data is Collected?
Examples of what we collect include feature usage, deployment topology, infrastructure/operating environment and performance. For details on data elements we collect, how it is securely transmitted to Splunk, and how it is securely stored and used, please refer to our documentation.
Splunk is committed to enhancing products and support to guide your customer experience. We look forward to sharing more details soon.
---
Follow all the conversations coming out of #splunkconf19!
Tune in to the livestream at 9am PT on Tuesday, Oct. 22, and Wednesday, Oct. 23, to watch the Day 1 and Day 2 keynotes.