Explore. Enrich. Export.
Integrating structured data from relational databases with data in Splunk® Enterprise can drive deeper levels of operational intelligence for IT operations, security and business analytics. Splunk DB Connect delivers reliable, scalable, real-time integration between Splunk Enterprise and relational databases.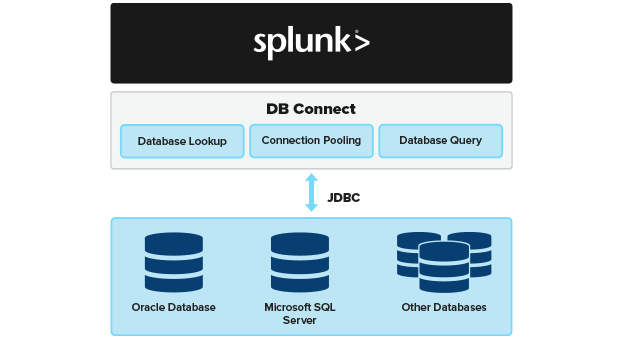 Enrich Splunk search results with structured data from relational databases
Explore and browse database schemas and tables
Import and index data from relational databases for analysis and visualization in Splunk
Export Splunk data to relational databases
Dive Deeper with DB Connect Analytics
With Splunk DB Connect you can combine structured data from relational databases with machine data in Splunk to drive deeper levels of analysis and operational intelligence.
Search Language Extensions
Use Splunk commands to execute database queries from the Splunk Enterprise user interface.

Two-Way Integration With Relational Databases
Data integration with IBM DB2, Microsoft SQL Server, MySQL, Oracle, PostgreSQL, SAP, Sybase and more.

Fast Performance
Splunk DB Connect includes connection pooling and caching for faster performance.

Access Rights
Grant users' permissions for database access and restrict connections to read-only mode.