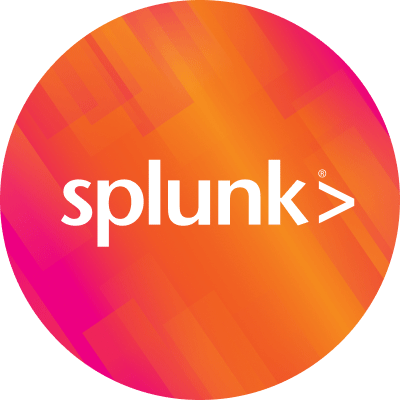 By Splunk February 27, 2018
Ten-year-old CJ has an ambitious goal—to claim the title of Girl Scout Top Cookie Seller. Last year's top San Francisco seller sold 3,925 boxes so CJ is determined to sell more than 4,000 boxes by March 4th.
Luckily this Girl Scout has a secret weapon... Splunk!
Over the past four weeks, CJ has spent more than 60 hours selling thousands of boxes of cookies throughout San Francisco. She's using Splunk to understand her customers in ways that may surprise you. For example, CJ knows...
61% of her in-person cookie sales are Thin Mints and Samoas
People are twice as likely to donate boxes late in the day
Box per hour sales vary dramatically by neighborhood by time and day of week
The first Friday and Super Bowl Sunday are her top sales days
Online sales are 5x larger than in-person deals; 50% include a donation
The ability to extract business insights from high volume sales data is essential to CJ's success. The average Scout sells 150 to 200 boxes of cookies each season. Selling thousands of boxes of cookies within a brief 5-week window brings unique challenges:
Time Constraints – Full-time students have limited hours for selling, especially when you factor in studying, homework, sports, and an 8:30pm bedtime.
Cookie fatigue – The market quickly becomes saturated with 29,000 Girl Scouts across Northern California selling cookies on every corner.
Manual Tracking – More than 90% of sales are in-person, cash-based transactions, making it incredibly time-consuming to track sales trends/forecast.
Inventory Management and logistics – With 8 cookie varieties, maintaining adequate inventory is an ongoing challenge exacerbated by limited pickup windows and cookie shortages.
Before cookie season started CJ worked with the Splunk4Good team to harness the power of machine data as part of an analytics-driven sales strategy.
I want to prove to myself that I can achieve scary ambitious goals. A girl has to work hard to earn what she gets and also should help others who are not as fortunate as her.
Cookie Sales Efficiency Metric: Boxes per Hour
The first step for this young entrepreneur was to decide how to track progress in reaching her goal. Given time constraints, our cookie-seller-in-chief identified boxes per hour as her most important indicator of success. Since CJ doesn't leave the house without bringing boxes to sell—whether she's walking the dog, running to the library, or going to school—the team decided to measure boxes per hour in 15-minute increments.
Splunking Girl Scout Cookie Data
Next, CJ needed a way to rapidly record high volume cash sales. Many Girl Scout troops use Square to process debit and credit card transactions. Splunk4Good met with Square's Developer team to explore customizing the Square Point of Sale (POS) app while CJ and her parents committed to tracking 100% of in-person sales—cash and credit—with Square.
After solving the in-person data collection challenge, the team needed to get this data into Splunk. Square developers helped Splunk4Good understand the POS API and how access to data from the mobile POS device (aka CJ's mom's iPhone). Only simple transaction data—number of boxes, varieties and time stamp—is provided to Splunk. Card information is encrypted at the moment of swipe and customer-specific data is not stored on the device after the payment has been processed.
But what about sales from CJ's Digital Cookie website? CJ's parents created a spreadsheet to manually capture online sales plus booth times and inventory pick-ups. Finally, Splunk4Good leveraged the Google Maps Add-on for Splunk Enterprise to provide real-time location information that can be correlated with transactional data based on timestamp.
The Splunk4Good team set up a REST modular input to collect data sources in Splunk and the team was ready to dive in.
The Splunk4Good team created an Executive Dashboard to track CJ's Key Performance Indicators and set up triggered alerts that email CJ's parents when inventory on any cookie variety falls below 10% of the initial order.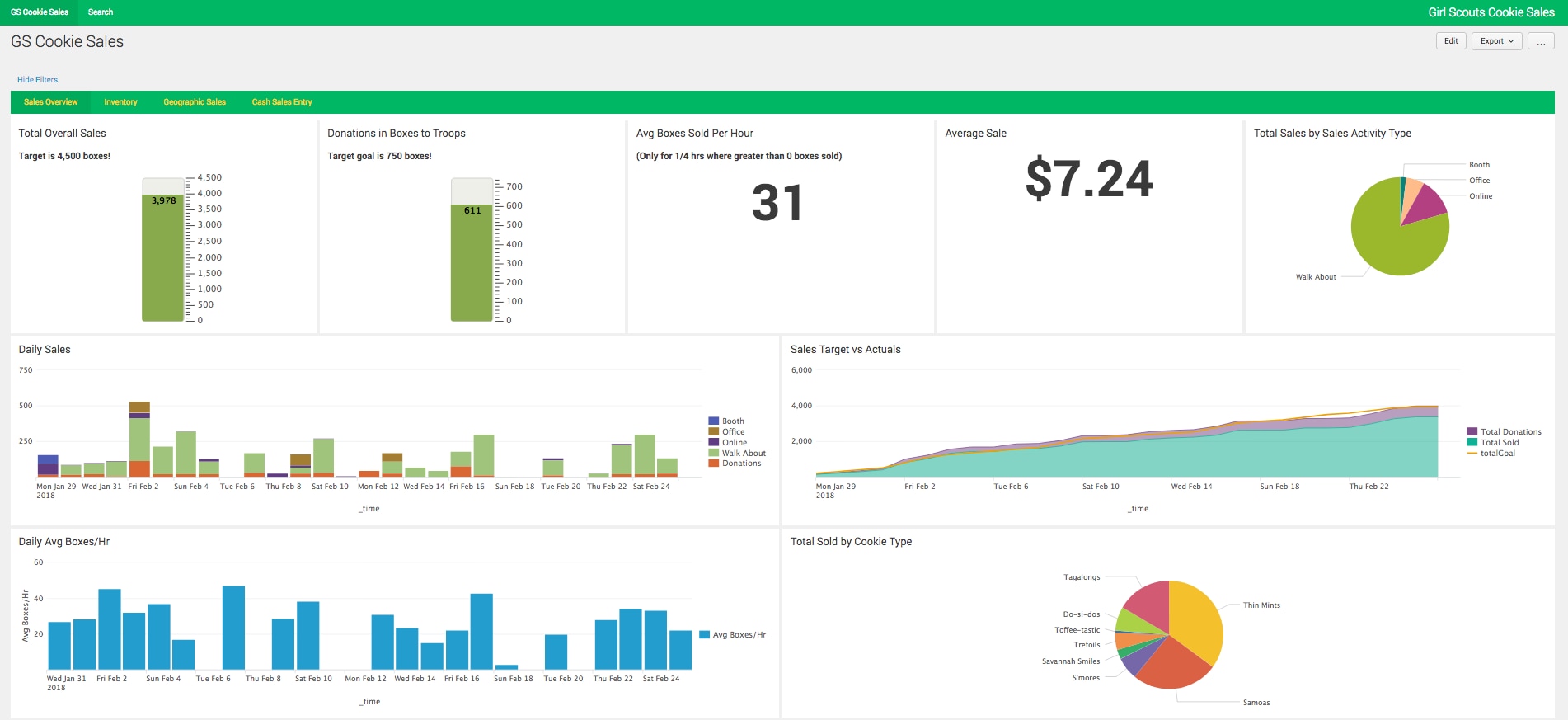 The Experience: A Data-Driven Strategy Enables Informed Decisions
CJ is shaking up the 101-year old time-honored tradition of Girl Scout cookie sales. Having a comprehensive, visual view of sales trends and inventory empowers this 5th grader to take control of her business.
Over the first four weeks of cookie season, CJ found that...
Thin Mints are her top seller (35%) followed by Samoas (26%) and Tagalongs (17%). Do-Si-Dos (7%), S'mores (6.7%), Trefoils (5%) and Savannah Smiles (2.8%) are far less popular.
87.5% of her sales are in person, primarily via neighborhood walkabouts
CJ averages about 31 boxes per hour but hourly sales almost tripled during Super Bowl halftime
Online transactions are about 5x larger than in person sales (10 boxes vs. 2 boxes)
49% of online sales are donations
Donations are 2x higher in the early evening versus mid-day
Top sales days are the 1st Friday of cookie season followed by Super Bowl Sunday
These data-driven insights have helped CJ make informed decisions about when, where and how to sell. Specific areas of impact include:
Sales Efficiency – Tracking sales by hour enables CJ to maximize her limited time. After realizing that early evening neighborhood walkabouts yield a higher BpH than booth or afternoon sales, CJ cancelled booths and focused on exploring neighborhoods. She also tried waking up early when she noticed that selling near a coffee shop on the way to school was particularly effective.
Geographic Targeting – CJ can pinpoint neighborhoods and even specific blocks that have yielded the highest cookie sales on specific days. Sometimes the results surprised her – several trendy, busy neighborhoods generated the lowest BpH of any areas CJ sold in. Using her limited time wisely is critical as she plans her strategy for the final week of cookie season.
Inventory Management – At a glance CJ knows her remaining inventory by cookie type and which cookies she's most likely to run short on.
Sales Effectiveness – Having a deep understanding of current sales results has changed how CJ engages her customers. For example, CJ initially hoped to donate 300 boxes of cookies to deployed troops and veterans but quickly blew past that goal and raised her goal...twice! She tells prospective customers how much has been donated to date before asking for their help to sell the final boxes needed to achieve her daily target.
Results: 3,978 boxes sold and counting!
In the first four weeks of cookie season CJ sold more a thousand boxes of cookies a week, raising about $3,000 for her local Girl Scout troop. She also collected $3,055—including more than $1,500 in cash!—to donate 611 boxes of cookies to active duty U.S. service members and veterans.
CJ is deeply proud of what she's accomplished—she is on track to meet her goals and is excited to join Girl Scouts San Diego's Operation Thin Mint Sendoff Celebration. She's been invited to join multiple birthday celebrations, provided snacks for a local film crew, and received more than a dozen tongue-in-cheek job offers. She's also been inspired by the generosity and warm encouragement of local businesses and strangers from around the world.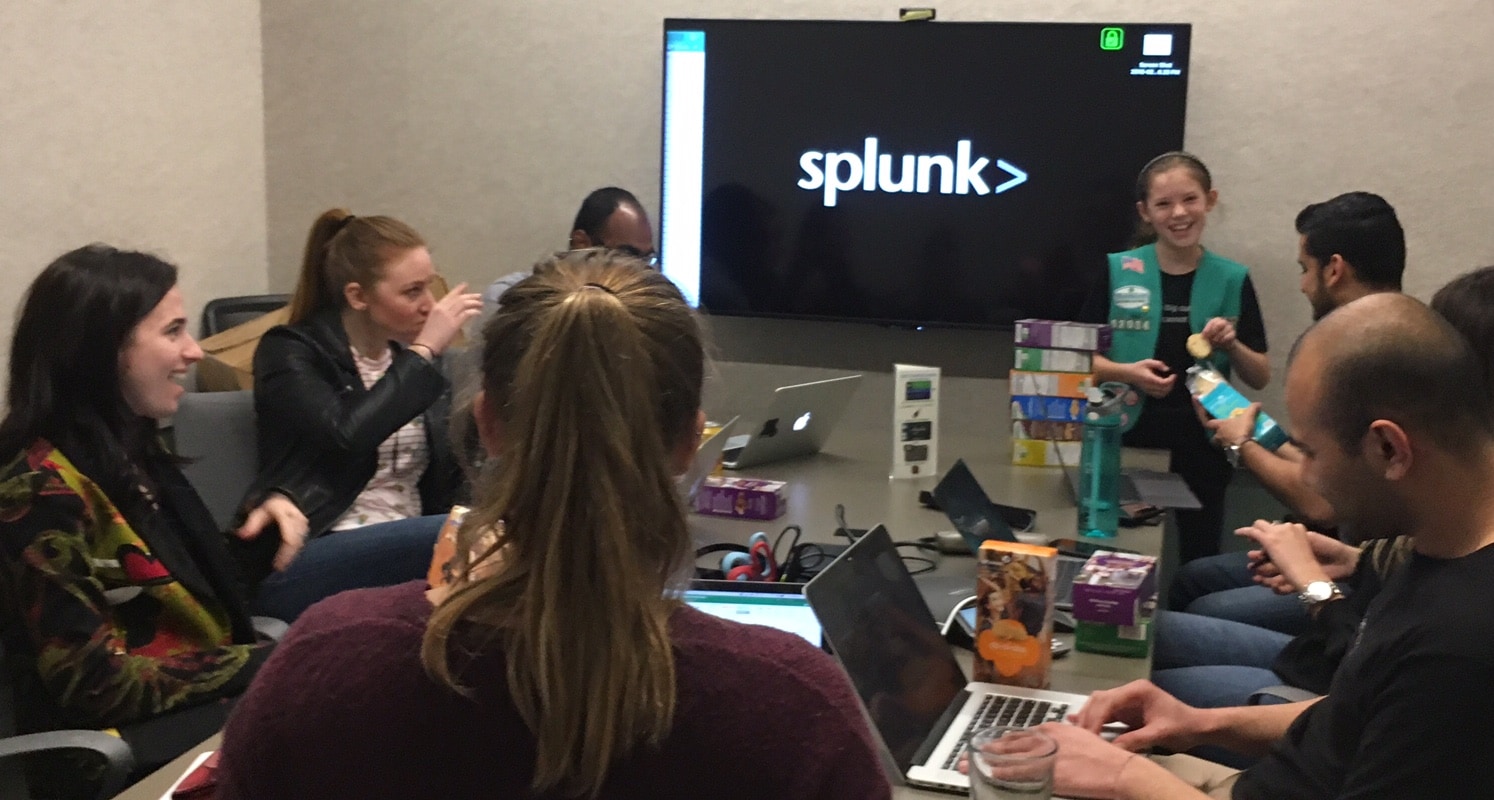 In addition to learning sales skills, how to build a business plan, and financial literacy, she's seen first-hand the power of a data-driven strategy that uses analytics to uncover customer insights. She's even gained leadership skills managing a team and keeping know-it-all grown-ups in line.
Most important, CJ has proven to herself that with hard work and planning she can meet even the most "scary ambitious" goals.
About the Girl Scout Cookie Program
2018 marks the 101st anniversary of the Girl Scout Cookie Program, the largest girl-led entrepreneurial program in the world. Last year in Northern California approximately 44,000 Girl Scouts across 19 counties sold over $20M worth of cookies (4,000,000+ boxes) in just 5 weeks. All of the net revenue raised through the Girl Scout Cookie Program—100% of it— stays with the local council and troops.
CJ belongs to Troop #62084 which is based in San Francisco's Tenderloin neighborhood. Troop goals for the cookie profits include multiple camping trips, a swim party, sponsoring an elephant in Africa, and a community service project to restore Camp Ida Smith. With teamwork we're confident these girls will achieve these goals and more.
To learn more or find a local cookie booth check out Girl Scouts All About Cookies.
----------------------------------------------------
Thanks!
Friea Berg