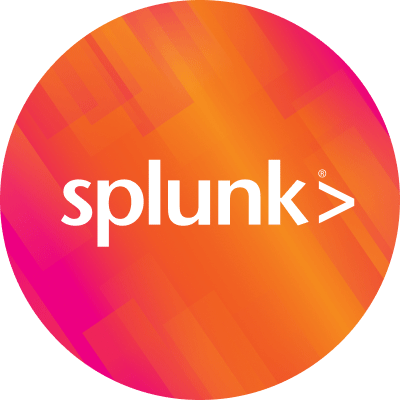 By Splunk November 11, 2020
Is this the real life? Is this just fantasy? You might be asking yourself these questions after seeing the awesome new announcements made by the Splunk Connected Experiences team at our .conf20 event. For those that may have missed it — or those that are hoping to learn more — we've rounded up the highlights below. Across each of the products, the takeaway is clear: we're making it easier than ever to access your Splunk data in new and innovative ways.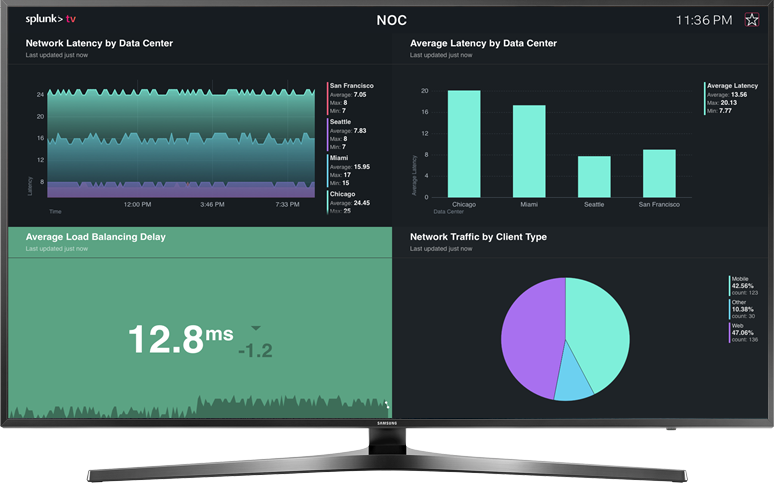 Not only does Splunk TV now support Android TV and Fire TV (in addition to Apple TV), but the new Splunk TV Companion app will allow our users to control multiple television sets at once, anywhere in the world. So whether you manage a SOC or are managing a remote team, you can share data and dashboards on the big screen even if the TVs are not on the same wall, let alone in the same room. Even better, the TV companion also allows operators to split dashboards for new and improved ways to view their Splunk data. Regardless of the TV platform you prefer, you'll experience a consistent and unified look and feel.
Next, the Splunk Augmented Reality (AR) team introduced two new features taking us one step closer to bringing data to life. The Splunk AR technology has evolved so that barcode scanning will soon be a thing of the past. With new object detection, Splunk AR can identify and detect assets using meshes, beacons, and geolocation, which means users can now deploy multiple assets without a tag or QR code. Even better, once an object has been identified, the new remote collaboration feature will enable users in two different places to interact with a single environment through a shared experience so a remote person can actually "walk through" and interact with the same AR environment that an onsite worker has shared. This will make it easier than ever for experts to advise on issues without needing to travel to a worksite.

Not to be confused with AR, Splunk Virtual Reality (VR) is now generally available (GA)! Splunk VR enables users to find the data they need by comparing data at scale through visualizations over a unique 3D spatial experience. The Home Room feature allows users to walk around and place panels on walls or tables, giving users a "home base" to display their most important dashboards and presenting them with a holistic overview of their system. With Splunk VR, understanding patterns and relationships between objects becomes more intuitive than ever before.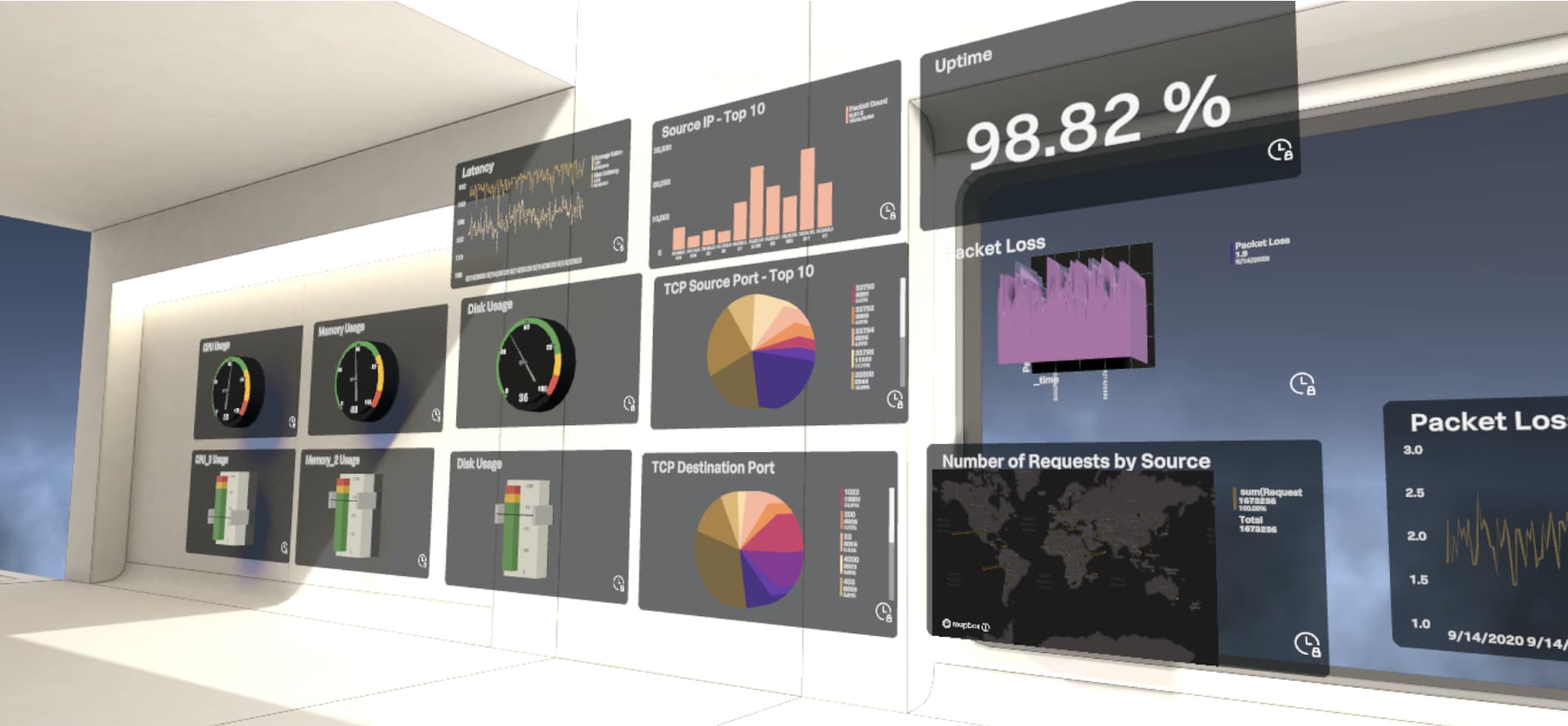 Of course, enabling these great products would not be possible without the significant updates we've made to our backend infrastructure, Splunk Secure Gateway. New performance enhancements, admin features, and a redesign will give Splunk admins the choice to easily register AR, VR, TV, and Mobile devices or add companion apps based on their needs.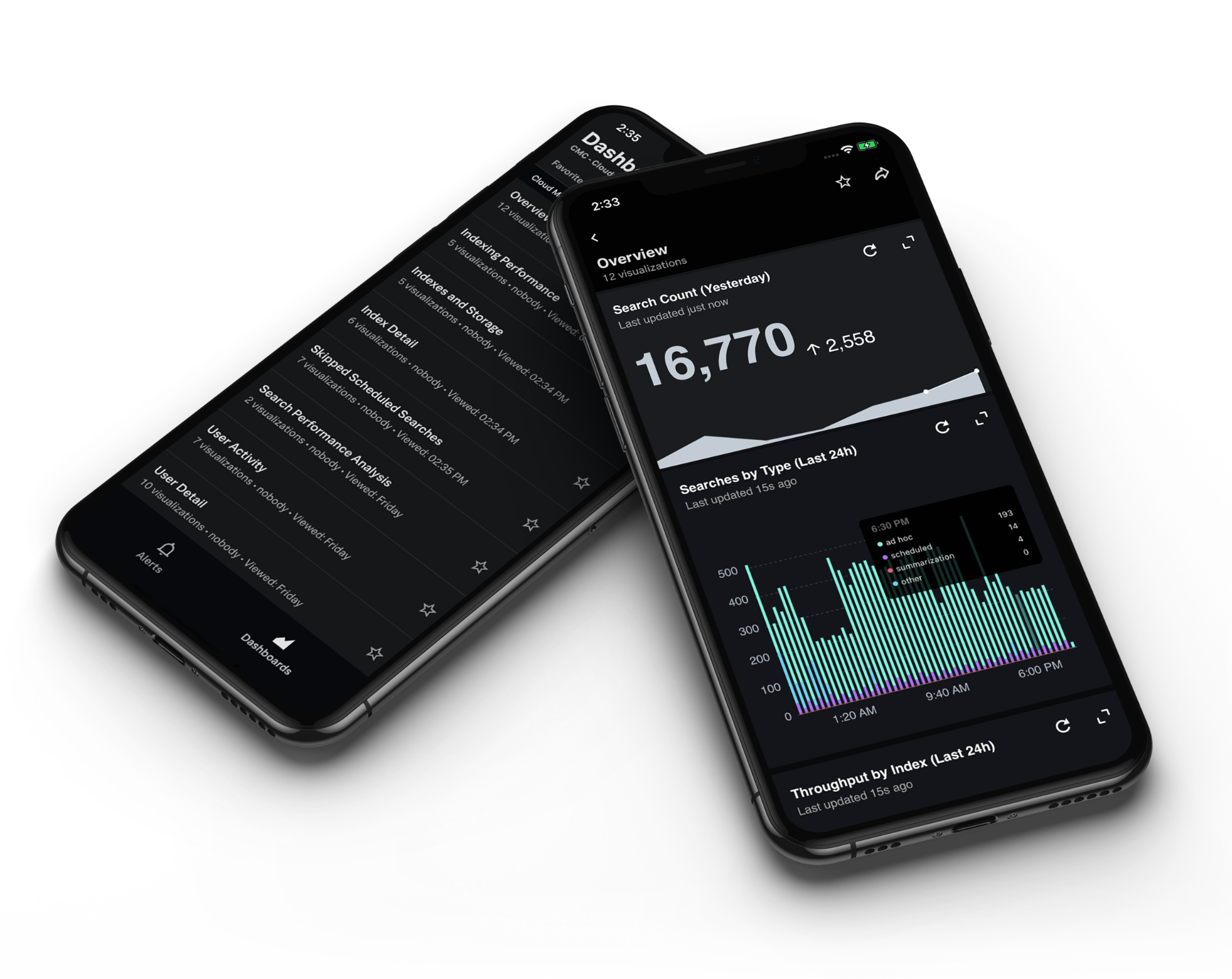 And we'd be remiss to not mention all of the great new features on the Splunk Mobile app! Splunk Mobile allows users to now view all standard Splunk dashboards on mobile devices, with support for Trellis, Tables, Maps, and other chart form factors. Users will also now have the ability to group and snooze notifications based on relevancy. Additionally, the Splunk Cloud Monitoring Console (CMC) will also now be generally available on mobile, with the ability to view dashboards and get alerts on the go. We've also been increasing support for Mobile Device Management (including Microsoft Intune, MobileIron, and VMware Workspace ONE) so you can manage thousands of devices connected to your Splunk instance and easily scale Splunk Mobile in your organizations. SAML authentication is now also available with Splunk Cloud so customers can use single sign-on (SSO) for authentication.

Connecting to your Splunk data is now easier than ever — no matter where you are working! For users who want to access data on the go, Splunk Connected Experiences extends the capabilities of Splunk beyond the desk for a seamless way to get insights from anywhere. Now this is the real life!
---
This article was co-authored by Richard Shum, Director of Product for Mobile & Connected Experiences, and Jesse Chor, Head of Mobile Engineering.

----------------------------------------------------
Thanks!
Jesse Chor