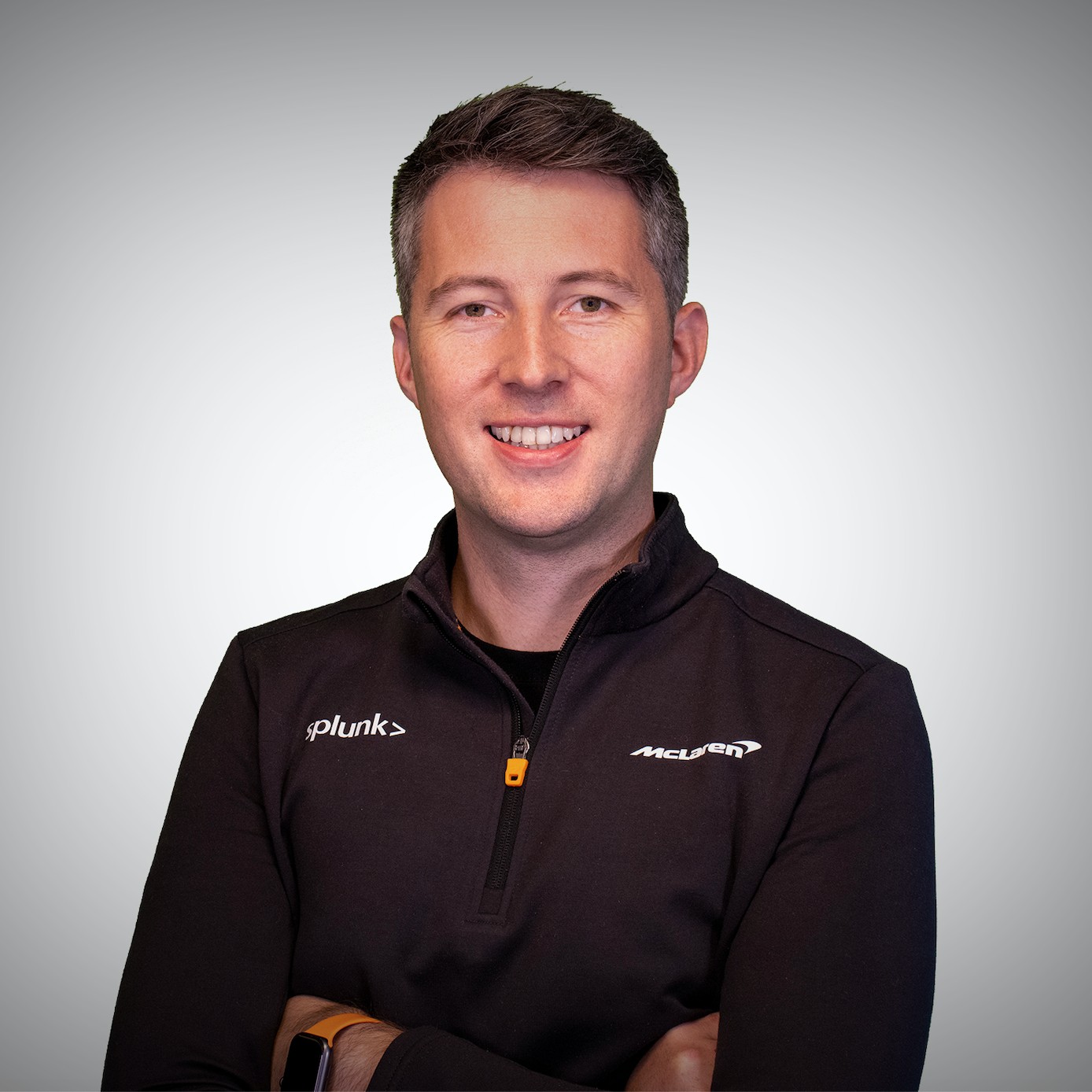 By James Hodge June 11, 2020
Last weekend saw the F1 Virtual Esports Grand Prix series head to the streets of Baku for its penultimate round ahead of real-world racing beginning on the 3rd of July. With Lando Norris retaining his seat, this week he was joined by new McLaren Shadow ambassador Ben Daly, winner of a number of F1 Esports races. This presented an interesting lineup of Professional F1 driver vs. Professional Esports driver, on a tight street circuit, generating lots of data for our Splunk dashboards to describe how the race unfolded.
Lando Secures Best Finish Yet
From the first dashboard, you can see that Lando finished in 4th, his best finish in a Virtual Grand Prix to date, while Ben Daly passed the chequered flag in 8th, with both drivers climbing four places during the race.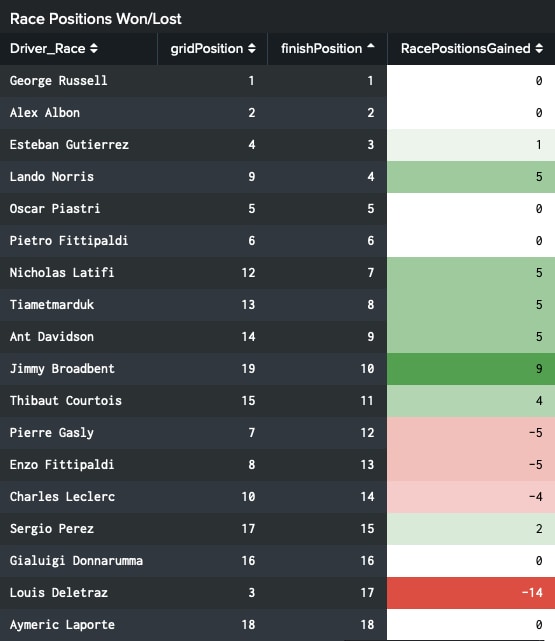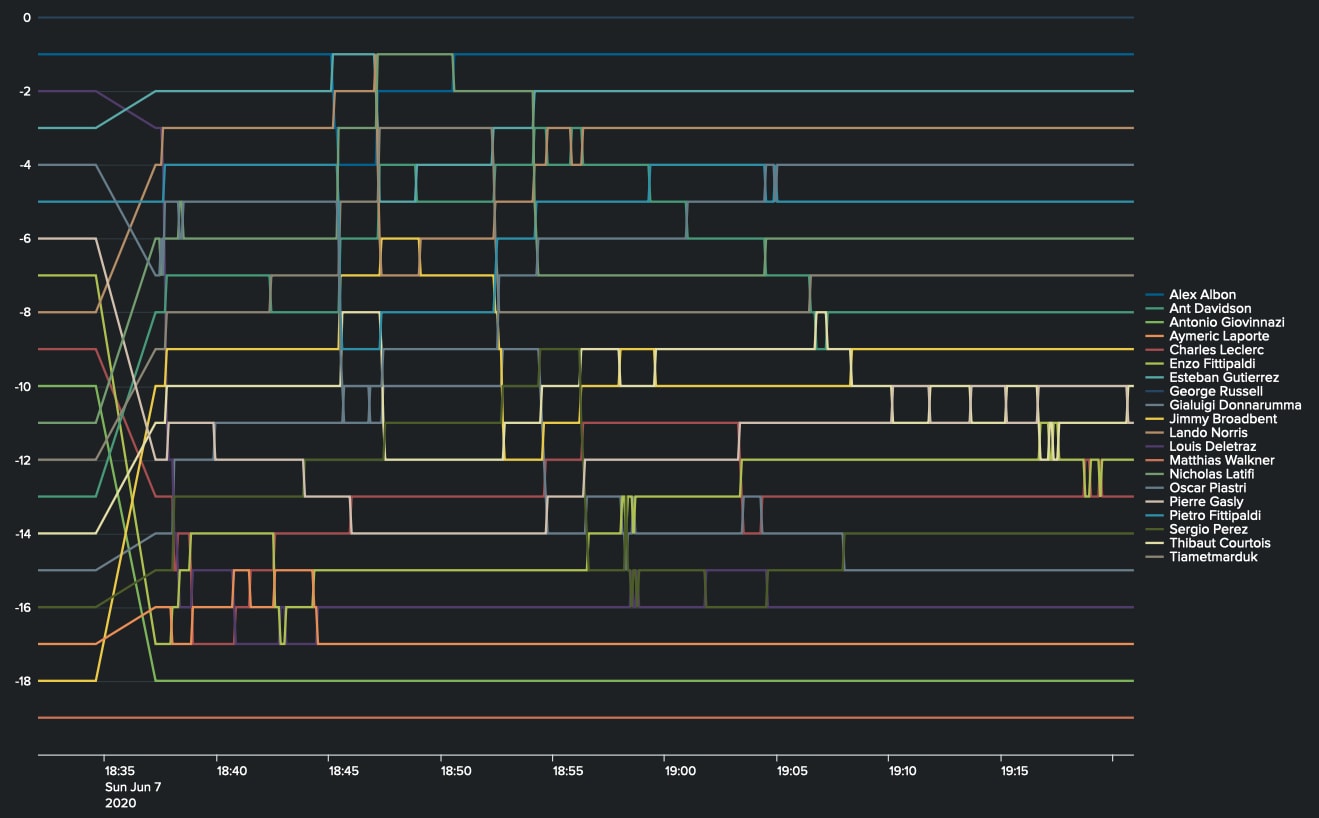 Analysis From The Pit Wall
The race was dominated by a couple of key points as Randeep Singh, Head of Race Strategy, McLaren Racing explains:
"The Baku Virtual Grand Prix was a 1 stop race, which mirrors the real race in Azerbaijan last year, although there was a greater variety of strategies in the Virtual Grand Prix than in real life. One of the reasons it was a 1 stop race is that typically tire degradation is very low – which means because the tires don't slow you down as much as they get older, you're less incentivised to make additional pit stops which cost you time. Interestingly the degradation last year in Azerbaijan was low on the Medium and Hard tires, but on the Soft tires was very high (and much higher than observed in the Virtual Grand Prix). You can also see that the one stop strategy applied to everyone bar Louis Deletraz and Charles Leclerc who both had to pit due to early incidents as well as towards the end of the race.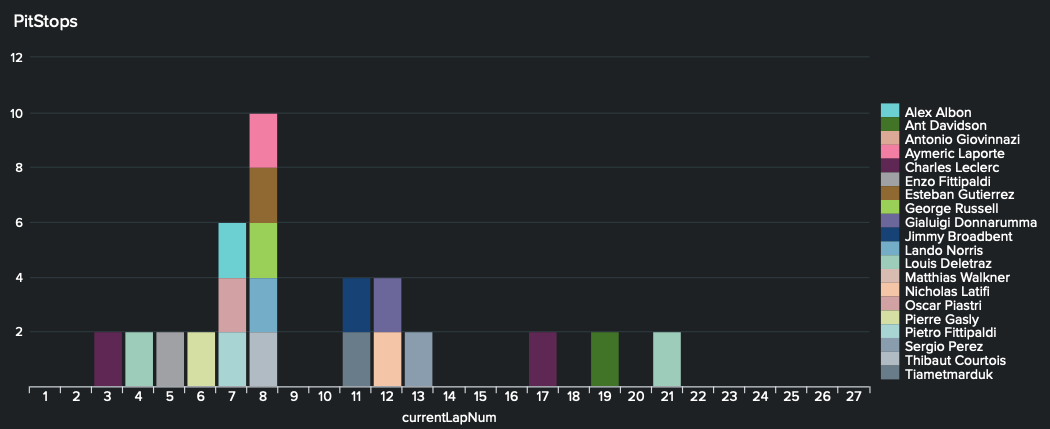 The importance of track position was shown nicely by Williams Racing driver George Russell, who started on pole, raced in clean air in the first stint and delayed his pit stop so that he would not fall into traffic. He was able to spend the whole race in clean air, leading from start to finish, and had very consistent lap times throughout. The below dashboard shows how far each driver was falling behind the race leader.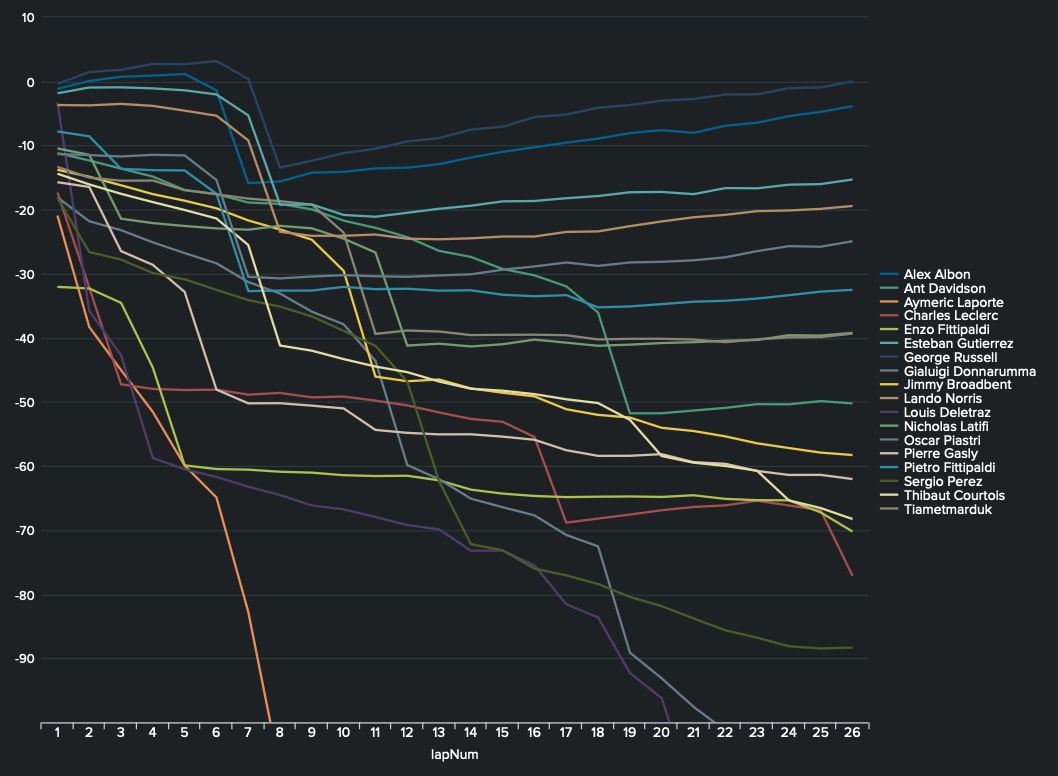 Lando wasn't as quick as George but taking a look at the below dashboard comparing lap times, it can be seen that once Lando makes it into clean air he does a good job of matching George's lap time– this shows the importance of qualifying, being able to run in clean air and having a trouble-free race in Baku. Louis Deletraz backed up his earlier Formula 2 Virtual Race win with a fastest lap on lap 22, when running on new tires and lower on fuel, but incidents earlier in the race meant he wasn't in the running for a podium place.

When comparing lap times between Ben and Lando, the data shows that Ben was quicker through Sector 1, but significantly down in Sector 2, even adjusting for the length of each sector. Given where the sector line is, this could be due to pushing a little too hard for braking (which helps you in S1 then punishes you in S2). Ben did a good job of getting close to Lando's lap times however."

The Series Concludes
It's been great to see how the Virtual Grand Prix series has unfolded through Splunk dashboards, with Head of Race Strategy, Randeep Singh, providing analysis.
The final official F1 Virtual Grand Prix takes place this Sunday in Canada, before the focus turns to the restart of the F1 racing season in Austria from the 3rd of July. Canada is a very different circuit to the street-tracks of Baku and Monaco, so it will be interesting to see how the drivers get on. We look forward to bringing you all the data insights next week!
Tune in at 6pm BST on Sunday 14 June where the race will be streamed live on McLaren's Facebook page, as well as Formula 1's official channels on YouTube, Twitch and Facebook.