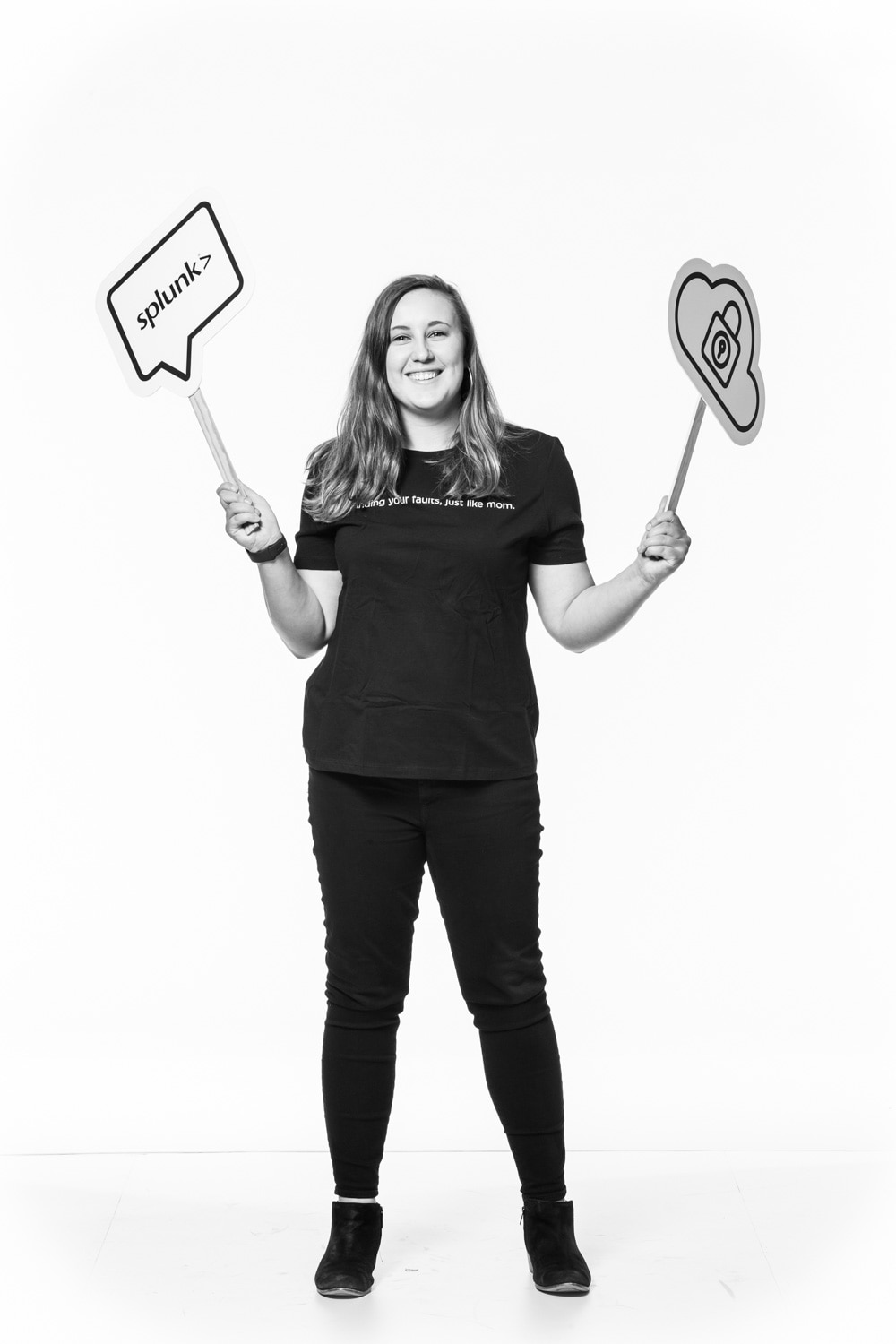 By Annie Wilson October 02, 2019
A lot has changed since the very first .conf in 2010. What was once a fledgling conference with only a few hundred in attendance has blossomed into a multi-day affair, brimming with eagerly anticipated product launches, high-octane keynotes and informative sessions that attract thousands from across the globe. Yet through it all, there's one thing that hasn't changed: the curiosity, inventiveness and dedication of our amazing .conf attendees.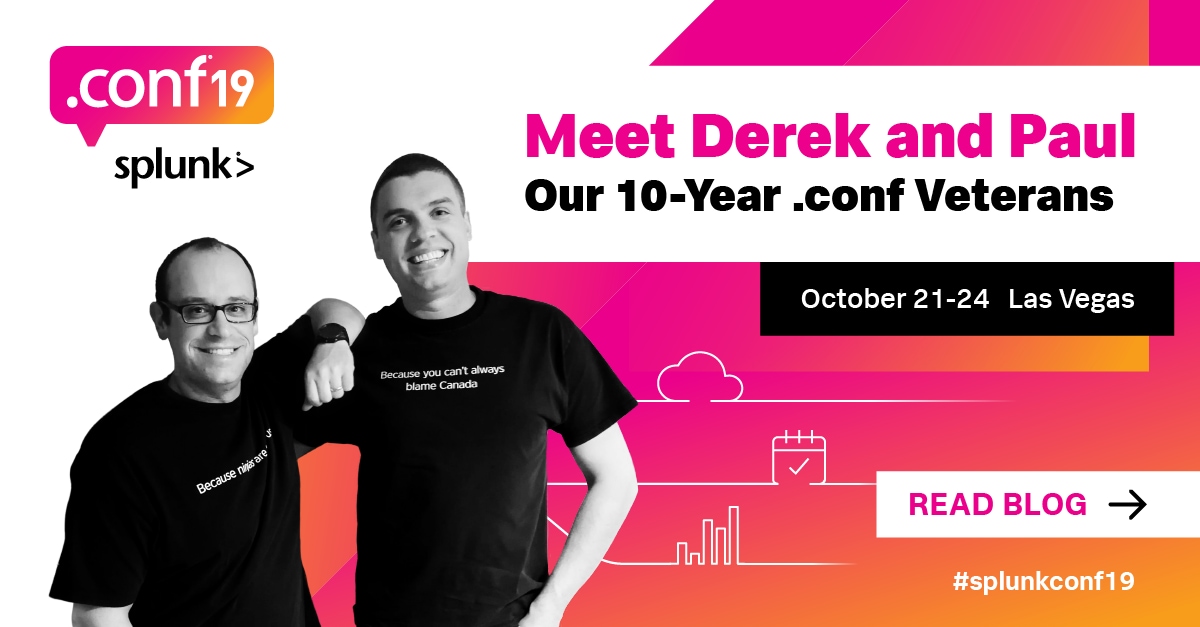 To celebrate our 10th anniversary of .conf, we're paying tribute to the Splunk devotees that have been with us since the beginning — from the early days in San Francisco to the bustling Las Vegas Strip. Today we're shining the spotlight on 10-year .conf attendees Paul Johnson and Derek Mock, who will share a unique glimpse into .conf history, as well as their insider tips for making the most of .conf19.
So Paul and Derek, tell us about yourselves.
Paul: My name is Paul Johnson. I'm the president and co-founder of Discovered Intelligence, which is a services delivery company specializing in professional services and solutions development in and around the Splunk platform. I started using Splunk back in 2009 while I was working at GE, and I met Derek at .conf2010. After a few years of building our expertise, Derek and I teamed up with Josh Diakun, whom we also met through Splunk, to start our company in 2013. I've been doing Splunk services and solutions development ever since.
Derek: And I'm Derek Mock, the co-founder and VP of development of Discovered Intelligence. I started using Splunk around late 2009. I was responsible for all software development at Ceryx, my employer at the time. We had just implemented Splunk and started to use it for centralized log collection and reporting. I was amazed by Splunk's technology and wanted to learn more about it, so I received approval to go to the very first .conf in San Francisco. That's where I met Paul — and the rest is history.
What prompted you to attend the very first .conf back in 2010?
Paul: When I was at GE, I was responsible for building and maintaining the Splunk platform for the global information security team. I was new to the platform and wanted to learn more about it. The conference was very grassroots at the time. The sessions were great, and I learned a lot of best practices that I brought back to GE. After building my knowledge in the Splunk platform over the following year, I actually came back to present at .conf2011, explaining how to scale Splunk for enterprise-level visibility and security.
Derek: Ceryx was a fairly small company, and we were starting to use Splunk more and more. I convinced my boss to send my colleague and me to .conf, as we knew it would be valuable for learning more about Splunk, meeting other customers and getting involved with the community. Attending back in 2010 was an opportunity to get in on the ground level, and the access to the people and community has helped us grow exponentially.
What inspired you to attend .conf every year?
Paul: Well it's changed throughout the years. I was new to Splunk at the time of the very first .conf, so it was a great learning experience for me. Now in the later years, it's more about relationship building. I have a lot of experience in the platform now, and we run our own company specializing in Splunk, so it's less about learning what Splunk does and more about making new connections, seeing old connections, presenting sessions and showing people what you can do with Splunk.
Derek: I kept coming back for a lot of reasons, but one of the biggest is the community. We've made life-long friendships at .conf. Many of the people we've formed long-term bonds with have been to many conferences, which allows us to strengthen relationships with them year in, year out. We know that when we get to .conf, there will be people we're excited to see, whether it's Splunk engineers, other Splunk team members or customers.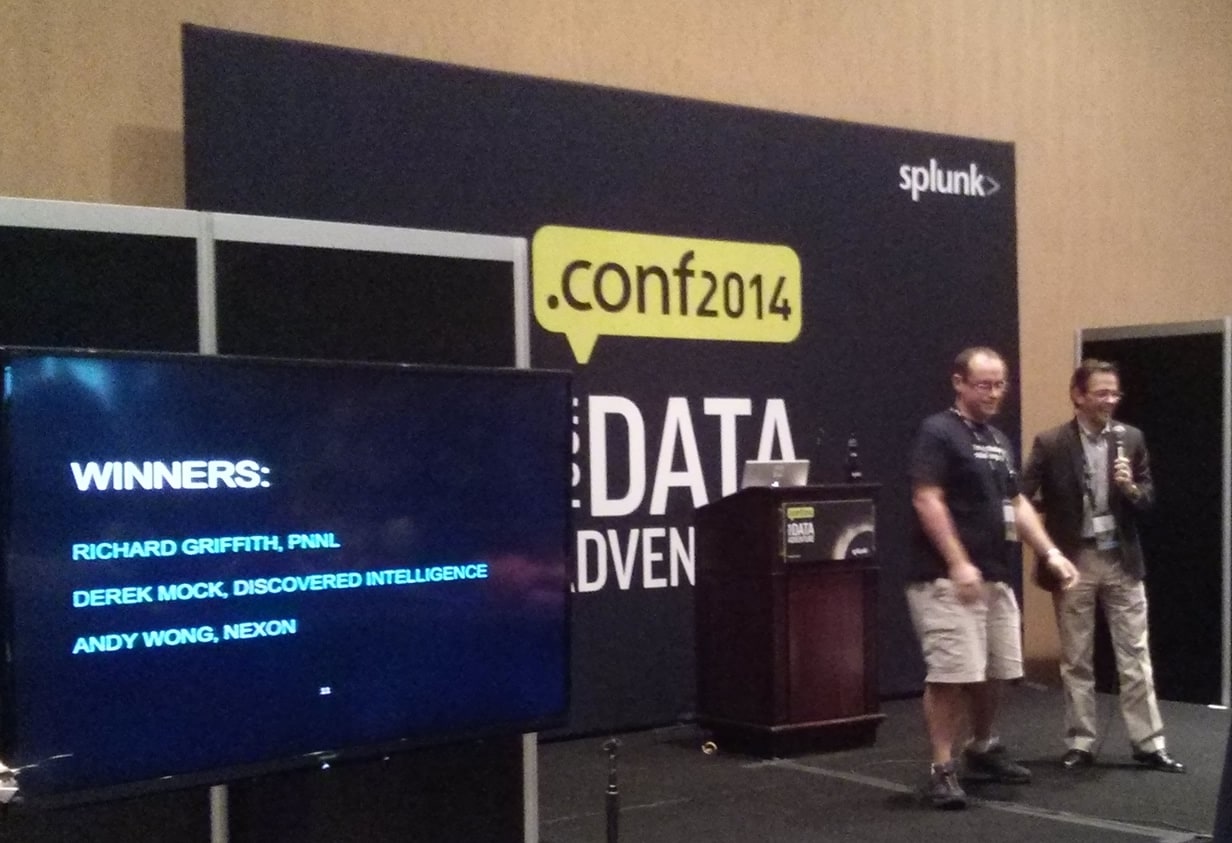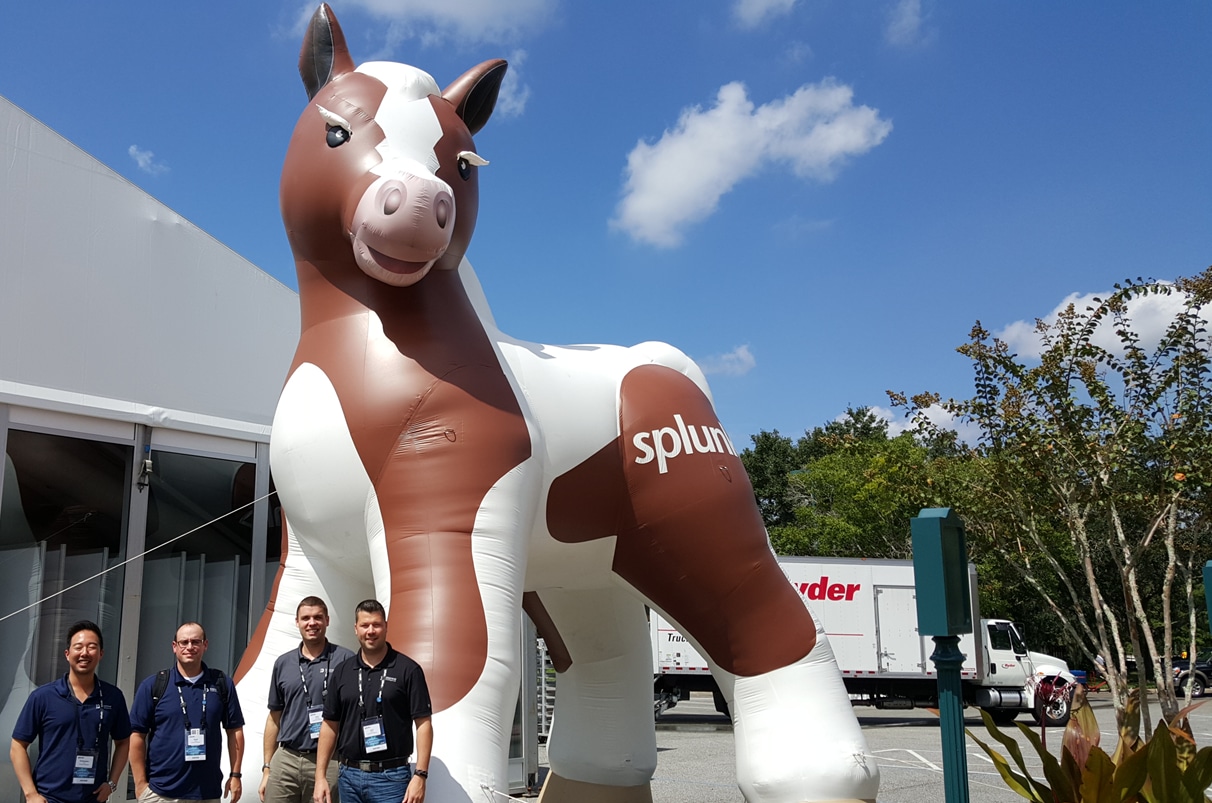 What differentiates .conf from other conferences you've attended?
Derek: I haven't been to any other conferences that have the kind of engagement that .conf does. There's a rare ability to get in the weeds and talk about very specific things or very generic things. People's overall level of technical expertise is amazing, and the access that Splunk provides throughout the conference is unique. I've been to lots of other conferences, and you just don't get the same kind of excitement from people that you get at .conf.
Paul: As Derek was saying, the .conf community is really unique. There's a camaraderie that happens every year at .conf time. We've made friends there from around the globe, including Europe, Australia and New Zealand. When we're all back at .conf, it's a great opportunity to catch up and share Splunk stories.
What are some of the highlights of .conf throughout the years?
Derek: I've always enjoyed the app showcase where Splunkers show off different apps and functionality, and I'm able to ask product managers and engineers some of the harder technical questions. Especially as Splunk is launching new features and products, it's really cool to talk to the people that helped bring them to fruition.
Paul: I would say the keynotes. They're punchy, engaging and always a good way to get everyone excited. It's definitely different from many other conferences and great to see so many people electrified about what's upcoming. The other exciting part for me is the more technical sessions about people doing advanced things with Splunk. The platform has come a long way, and there are things you can do in Splunk now that are far beyond anything that could have been done 10 years ago.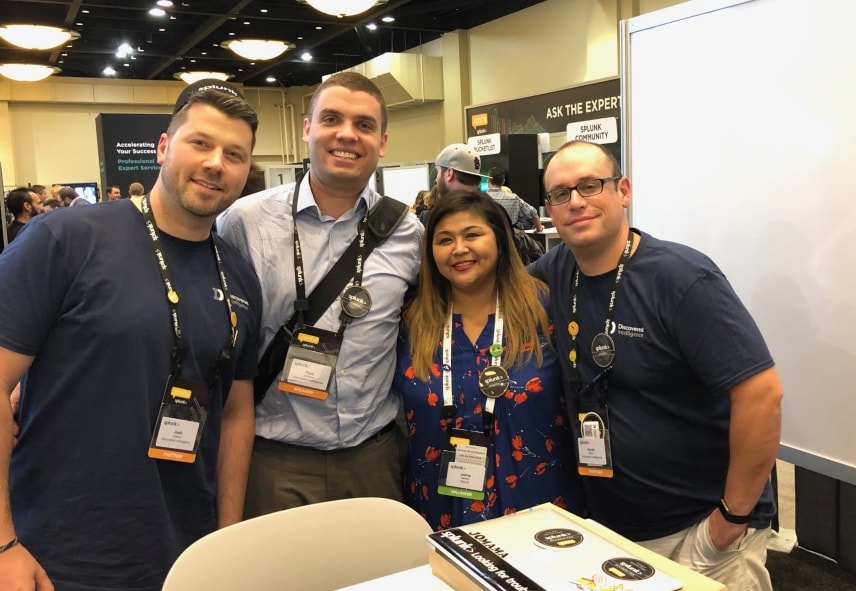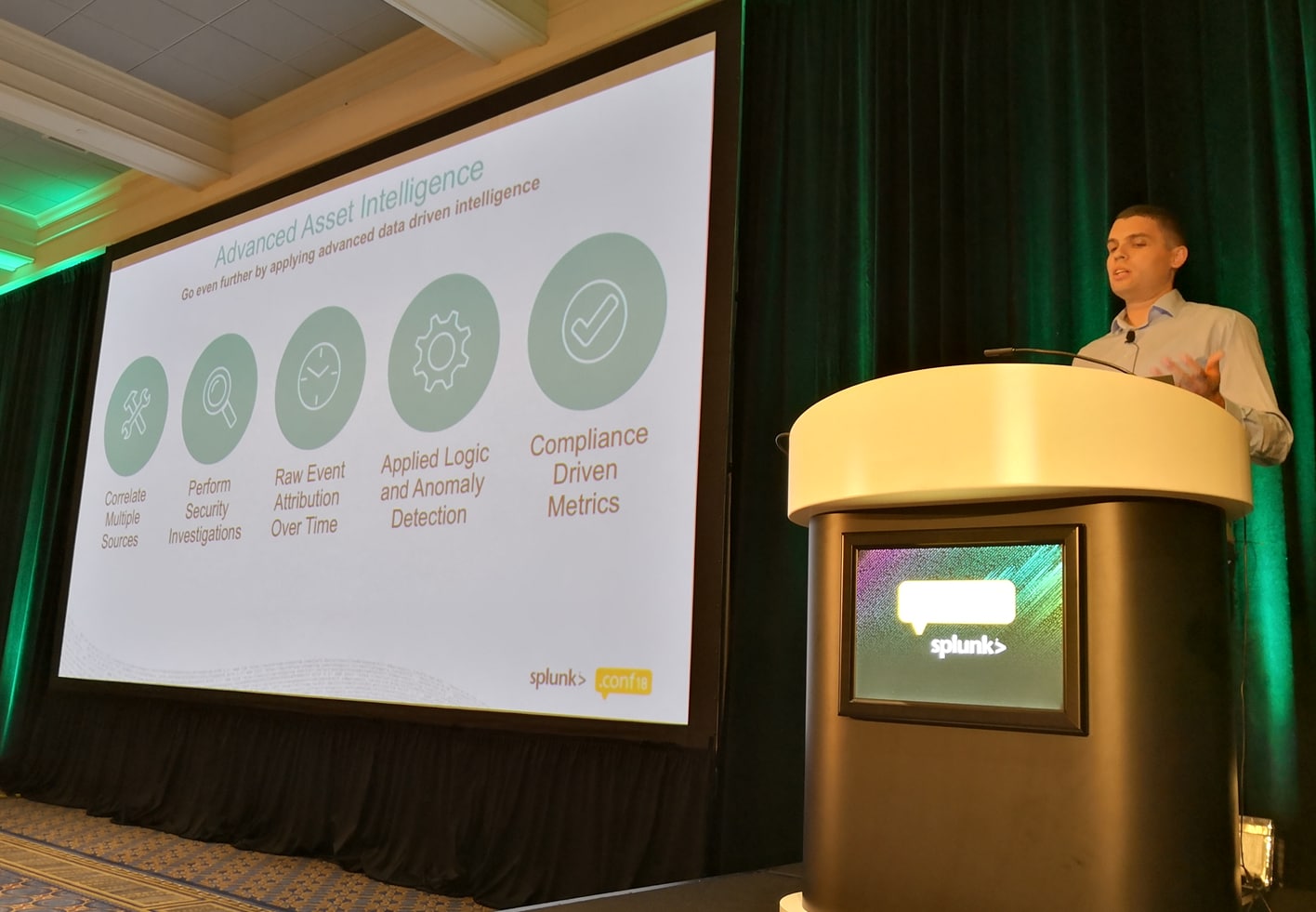 What would you say to someone who is considering attending .conf for the first time?
Derek: Yes. You must go! There isn't another conference that we've experienced that's like this. .conf really helps both new and old customers, as well as anyone considering the platform. The variety of sessions accelerates your skills in a way that far exceeds the cost of going. It's not money wasted.
Paul: For anyone new to Splunk, .conf is a very quick way to get some really good content about what Splunk is, what it does and how other customers are using the platform. Because there are so many tracks, my advice for first-timers would be to spend some time understanding the sessions and which ones really apply to you. Some of the more popular sessions get pretty busy, so it's important to get locked into the sessions you find most important.
What are you most excited about for .conf19?
Paul: I'm really excited about the DSP and DFS products coming out. Those are solutions we've been waiting for. These technologies will give us an enterprise-ready platform for getting data into Splunk and allow for very large-scale searching and intelligence across Splunk. It's great to see these types of technologies coming into the platform.
Derek: I'm really excited about the app development side of things. From a job point of view, we deal with some very large, complex customers, so we're always looking for improvements on scalability, availability and performance.
Do you have a favorite Search Party! over the years?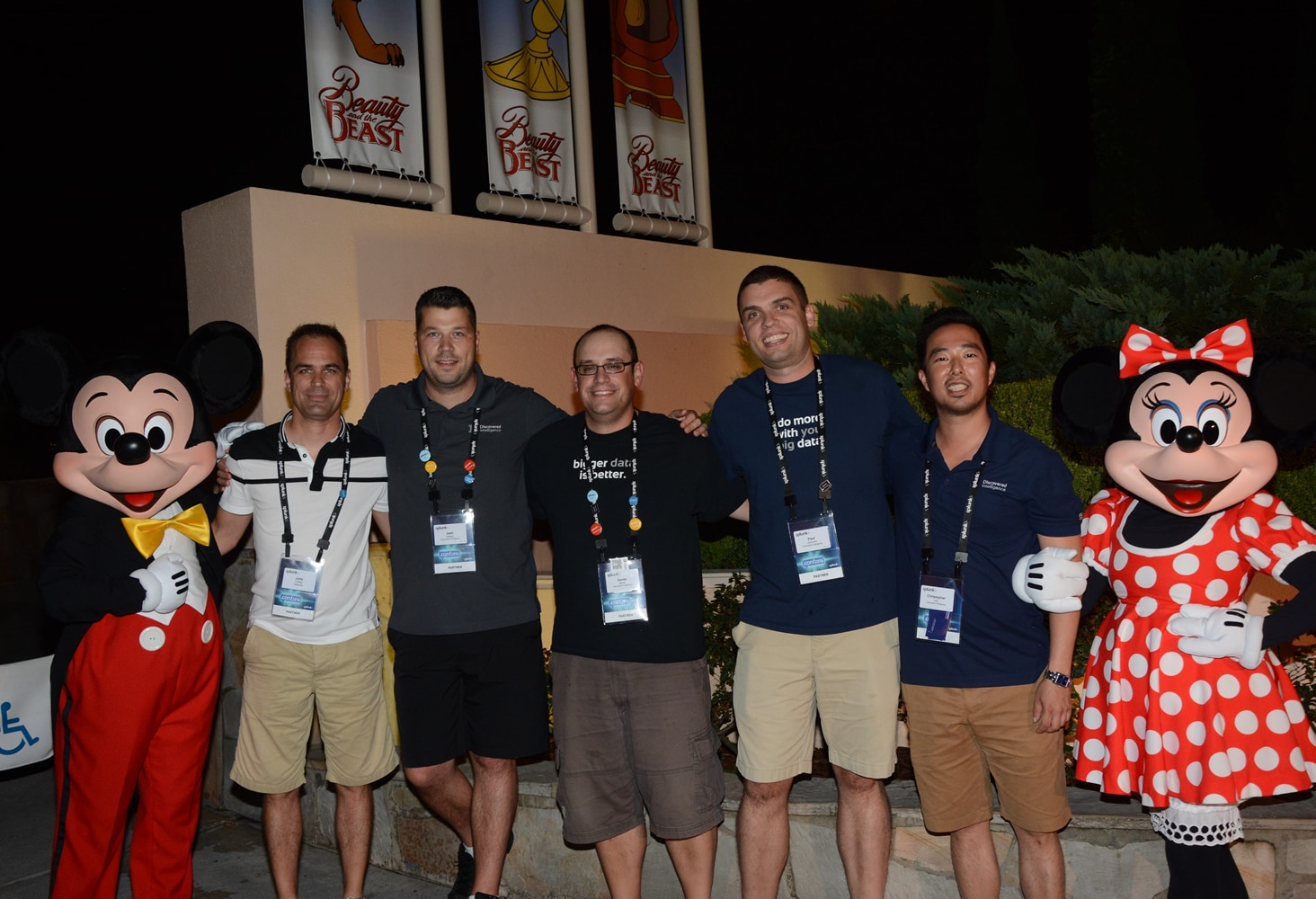 Derek: The year we did Hollywood Studios was obviously fun, as was the very first Search Party! where we went to the Exploratorium in San Francisco. I remember walking around doing all these things at a science center with all these new friends I'd just made — half Splunkers, half customers and others. It was pretty cool.
Paul: The early days in San Francisco were great, from the Exploratorium to the Academy of Sciences. There's always excitement about the Search Party and what it's going to be. I remember one time there were all these circus acts, including dancers and a guy with a monkey. It was so much crazier than I could have imagined!
What's your favorite Splunk t-shirt?
Derek: It's got to be "Finding your faults, just like Mom."
Paul: "Because you can't always blame Canada." Living in Canada, it's amusing to me that people think it's funny, and it always gets wheeled out when there are Canadians in the room.
---
Follow all the conversations coming out of #splunkconf19!