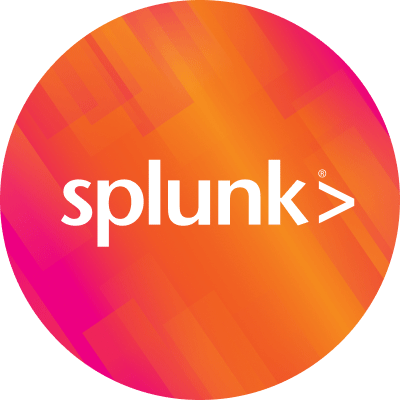 By Splunk December 04, 2019
During the month of October, Splunk was one of 40 Silicon Valley companies to participate in the TechWomen program. Founded in 2011 by former Secretary of State, Hilary Clinton, TechWomen pairs women leaders in science, technology, engineering and mathematics (STEM) from Africa, Central and South Asia, and the Middle East with professional counterparts in the U.S. for a five-week mentorship and exchange.
This year, the TechWomen program hosted 106 women from 21 countries. Myself and three other female Splunk colleagues had the honor and privilege to co-mentor Lara Eido from Lebanon. Having personally been fortunate to work with many amazing mentors in my career, I did not hesitate to volunteer when this opportunity came up.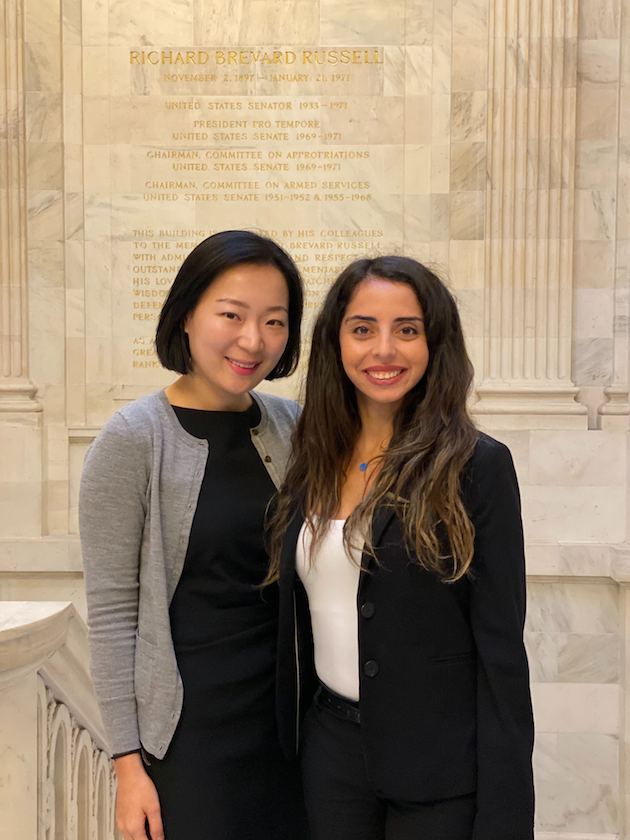 With TechWomen fellow Lara Eido (right)
Lara spent her month at Splunk working on her TechWoman Impact Project, specifically aimed at tackling homelessness and food insecurity for refugees in Beirut. Given her interest in the intersection of technology and strategy, she met with Splunkers across many functions to learn about topics ranging from product management, finance, building a multi-year strategy framework, to how to enable collecting and analyzing devices data in the field.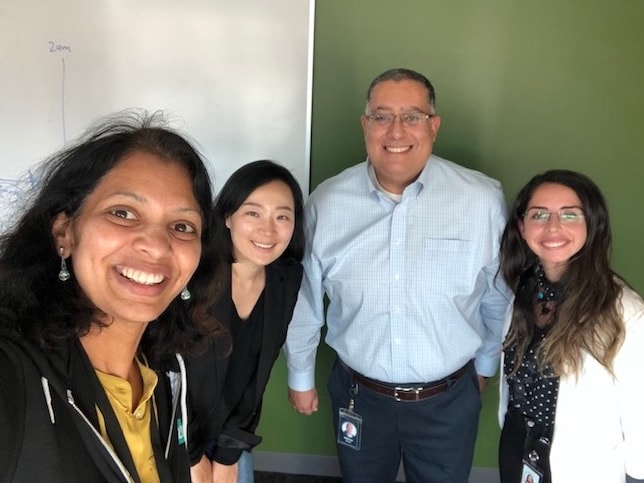 Splunk strategy & vision session with Ammar Maraqa, SVP of Strategy and Corporate Development
The culmination of the exchange was several mentors and all 106 Emerging Leaders spending four days in Washington D.C., including visits to the World Bank Group, mentee's embassies, and the U.S. Department of State.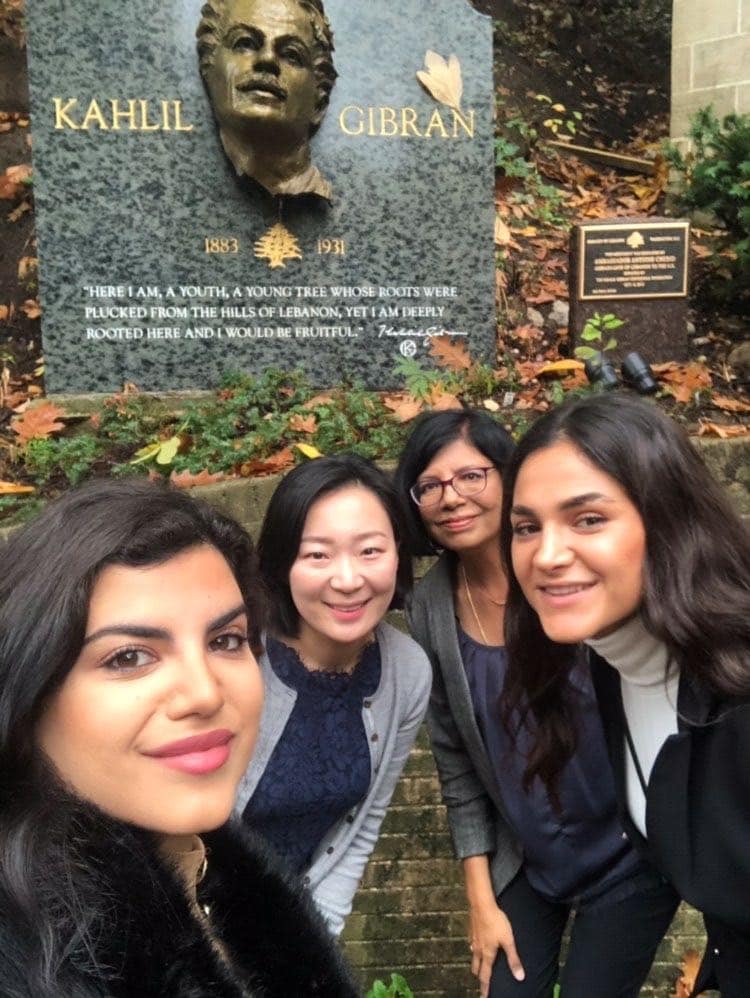 With TechWomen fellows & mentor in front of the Lebanese Embassy
As I reflect on my engagement with the TechWomen program, there are several highlights I'd like to share.
Women Are Controlling Their Own Destiny
At the World Bank Group, we had a mentor-only session on improving gender equality in the technology sector—specifically around pipeline, retention and leadership. My fellow mentors shared what inspired them to get into the STEM field, as well as best practices for ensuring female talent retention. I was also able to share my thoughts, including 1) the need for more women in Boardrooms and the C-suite to show successful paths for female leaders, and 2) driving women to think about their career not in the terms of today's salary, but as maximizing potential future earnings.
In that last point, I have personally found inspiration in the Skimm Podcast featuring Hope Taitz of ELY Capital, where she stated "women tend to get off [the 'work train'] before they've made real money… because they are not looking at the right financial model… Investors don't value a company based on Sales / EBITDA of today, [they] base it on future."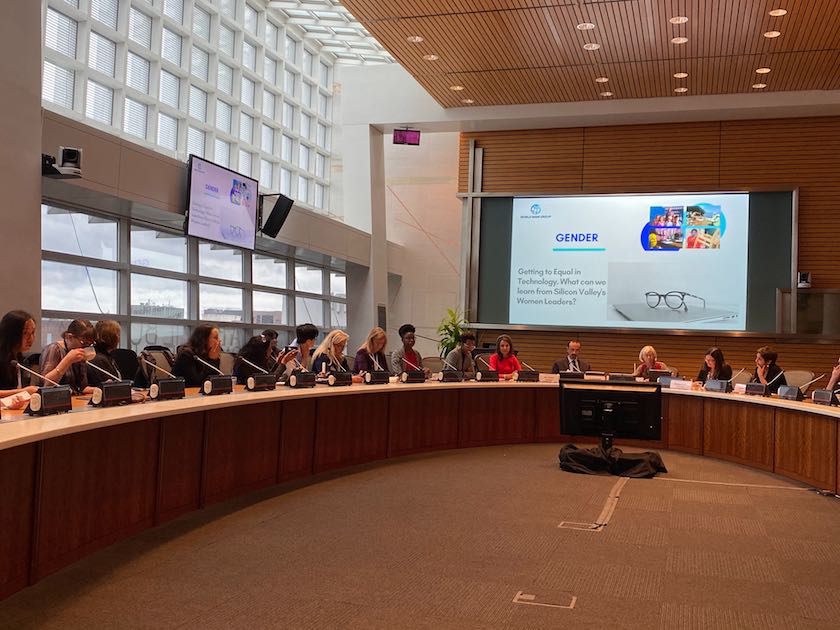 Discussing gender issues in tech at the World Bank Group
Women Can Be a Novelty or a Threat (or Both)
The TechWomen group also had the opportunity to hear from U.S. Ambassador, Harriet Elam-Thomas who served as the Ambassador to Senegal from 1999 to 2002. Hosted by the Women's High Tech Coalition in the Russell Senate Building, Ambassador Elam-Thomas shared her career journey as a female, African-American diplomat. Specifically she reflected on how to maneuver as a female in a high-stakes diplomatic discussions, saying "sometimes our gender makes us a novelty or a threat. What's most important is knowing when to play which one and that goes beyond diplomacy... Always be prepared, but maintain your composure and grace – and soldier on with grit, gravitas and grace."
In Silicon Valley and across many sectors and industries, women leaders must continue to "soldier on" if we want to make a real change towards gender equality.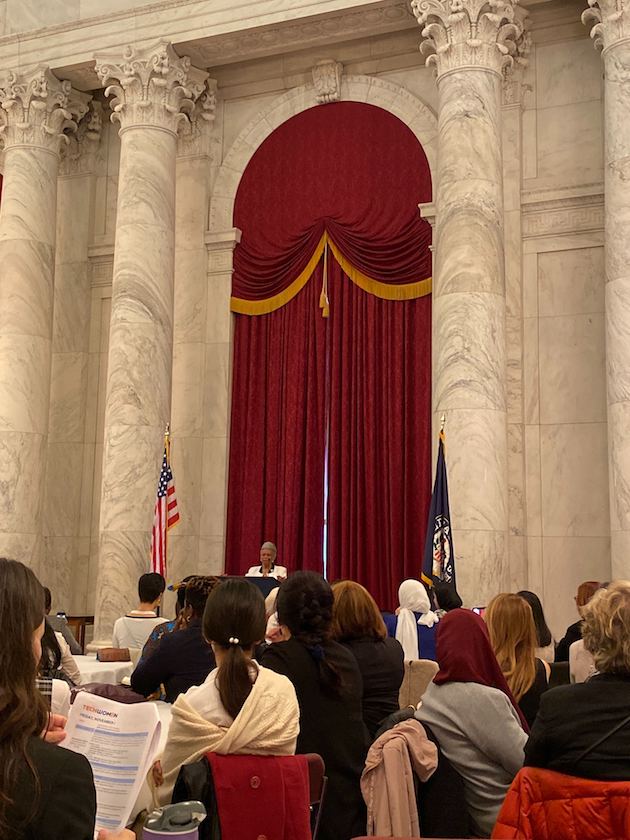 Listening to U.S. Ambassador Harriet Elam-Thomas at the Russell Senate Building
As I reflect on my time as a TechWomen Professional Mentor, I realized that I learned far more from these amazing Emerging Leaders — now fellows — than I was able to teach them. These women were all so accomplished in their own right. Their passion, energy and ambition to do something extraordinary with their lives, both in career and beyond, is just as bold as mine, but they are starting from even more challenging circumstances, which makes their accomplishments all the more impressive.
In the end, I was able to walk away from the program with a feeling of kinship with my fellow female leaders, and the realization that whether a potential mentee is sitting down the hall or around the world, women leaders owe a commitment to help lift others up and maximize our collective opportunity. Additionally, I'd like to emphasize how important it is to have men advocate and support women. Special thanks to Ammar Maraqa, Abhi Pandit, and Chris Grisanti for taking time out of their schedules to take part in the program.
Countless studies show that diversity fuels innovation. I'm proud that Splunk stands by this and our commitment to diversity has been reaffirmed by the support and sponsorship I received through the TechWomen program. I walked away from the program with a renewed sense of dedication to give back and full of gratitude for those who made the program a huge success at Splunk.
Here's to women onwards.
(Special thanks to my co-mentors Lakshmi Shekaripuram, Richa Mehta and Nidhi Shrivastav)
----------------------------------------------------
Thanks!
Hari Won