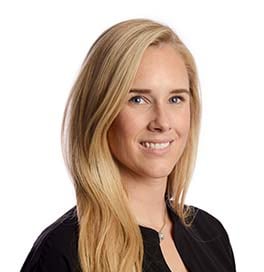 By Katia Ratkovich September 23, 2019
As the Manager of Splunk's University Recruiting program, my team and I have unique opportunities to partner with universities and organizations to bring the next generation of talent to Splunk. One of our favorite events is the Grace Hopper Celebration of Women in Computing (GHC), where we've been a sponsor for the past three years.
I recently had a chance to speak with Splunker Korryn Resetar, who we met at GHC 2018. Korryn joined our Splunktern program the following Spring, before becoming a full-time Splunk employee this Summer. Here is more about Korryn's story, as well as some tips about interviewing with Splunk:
What is your name, what office do you work out of, and how long have you been at Splunk?
I'm Korryn Resetar, and I've currently been with Splunk for a total of approximately 6 months (3 as an intern, 3 as a full-timer) out of the SF office.
What is your current role at Splunk? What does a typical day look like for you?
I'm a UX designer for the Machine Learning team! A UX designer works closely with engineers and Product Managers (PMs) to design the visual architecture and flow of a project (varying in size) to address user pain points and improve overall experience. My work is iterative in nature, so my schedule changes depending on where in the process we are in designing. If I'm in the "design" stage, usually I'm working outside of meetings on whatever I'm creating; when in the other stage, "reviewing", I meet with the team on my project to walk through my designs and gather feedback/critiques. I do consistently stand-ups twice a week with the entire team, along with a meeting at the end of every sprint (2 weeks) to see what the engineers have been working on.
How was your experience at GHC?
No exaggeration whatsoever, it absolutely revolutionized my perspective as a student and a woman in tech. I attended GHC when I was a junior in university. At the time I was second guessing my place within Computer Science; I knew I identified as more of a hybrid between CS and design, but when I looked around and went through my classes, I didn't see space for me. I didn't want to just code and move onto something new, and I wanted to ask questions about not just how we were building software but why.
Grace Hopper is where I realized there was somewhere I belonged, both as a woman (being in a room filled with 18,000+ women in tech is ASTOUNDING and EMPOWERING), and as someone who wasn't looking to just code. Almost every single keynote speaker talked about having intersectional identities in their lives and careers at large, advocating to not give that up and to embrace passion and move forward with it no matter what. Not only hearing this but seeing it reflected by companies who were recruiting motivated me to press on, not second guess, and be confident in my path.
What attracted you to Splunk? How did you find our booth? Did you know about the company before GHC?
Splunk was actually one of the last booths I visited on my last day. I had no idea what Splunk was, but because of this (and its unique name), I wanted to learn about it. The recruiters I talked to were some of the most welcoming I had talked to at the conference, and after we chatted about the company for awhile, the conversation moved onto what they looked for in a job, in culture, and happiness in their career. I had such a great time just chatting with them, and their answers told me all I needed to know the Splunk experience, so I submitted my resumé!
Why did you choose Splunk?
From a high level, I wanted to work at a company that was technical at its core, but was making moves towards valuing design and user experience. After GHC, I looked into Splunk and knew that it was a good technical fit.
Design-wise, I was still unsure. What changed my mind about this was my second interview. There were many small things that clued me into the design culture, but the designer that was interviewing me was actually the person that picked my resumé out of the pile because of a project that caught his eye. This particular project only had two lines of text on my entire resumé, and the fact that there had been so much care and time taken to actually look at what I had written, I knew that the design organization was somewhere that I wanted to be as an intern. Once I experienced the company culture myself, saw how the design vision was shifting, and worked collaboratively with so many people, I knew I wanted it to be my first full-time job.
What are 3 Tips you can share about how to ace your Interview with Splunk?
1. Be willing to learn.
Splunk is a product you're not going to be able to know the ins and outs of since it's an enterprise (business to business) software. Have some familiarity with its use cases, our current and emerging markets, and acquisitions (which tell you a lot about where the company is going!), but don't drain yourself or stress if you're still confused about it. A huge part of being a full time Splunker is learning the product as it is when you start, and also learning the new parts of it as new things are developed (which is one of the coolest things about Splunk, in my opinion).
2. Don't be afraid to show your personality.
No matter what position you're interviewing for, you're going to have to work with others. Being genuine in who you are as a person lets you feel out if you're a good fit for Splunk culture wise, and can show you things about the company you didn't know about from other questions. This may not be a priority for everyone, but working at a place where you can't relate to others is not fun at all.
3. Having things on your resumé or portfolio that don't obviously relate to your job isn't a bad thing.
A lot of people in tech talk about the importance of side software/job related projects in setting you apart from other candidates. While you do need experience here, don't downplay the importance of other activities or projects have had in forming you as an employee / creator / human. These examples can speak to things like discipline, patience, collaboration, and attentiveness in ways that more applicable projects might not. Embrace all parts of yourself!
As you can see Korryn has had a great experience at Splunk, and it all started at Grace Hopper! If you'd like to start your Splunk story, please visit the Splunk University Recruiting careers site. And if you're attending Grace Hopper 2019, please stop by the Splunk booth (#1150) and say hello!