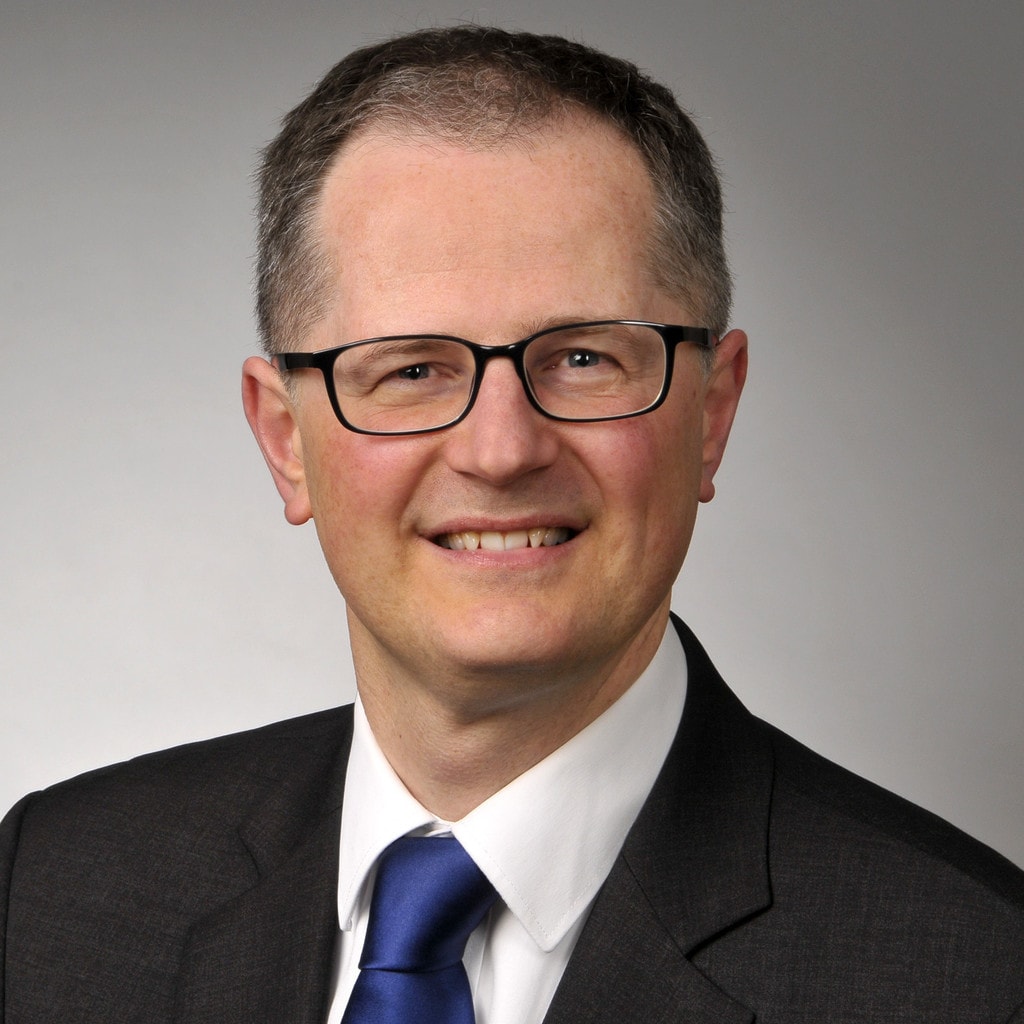 By Ewald Munz May 07, 2020
For those of you with some gray hair working in the manufacturing business, remember when order intake plunged suddenly by more than 40%? Remember when CFO and Controllers ruled the company, driving painful cost-cutting programs to counter double-digit business losses?
It was the time of the Economic and Financial Crisis 2007/08, which forced manufacturing organizations to stare in the abyss. The German company Trumpf, leader in lasers for industrial manufacturing for example, witnessed FY08/09 revenue melt by 23% and order intake decline by 35% compared to the prior year.
And for those of you with even more gray hair — remember when textile manufacturers in Asia were forced to massively slash prices by more than 20% to ensure they did not go out of business?
It was the time of the Asian Crisis 1997/98 when multiple Asian currencies collapsed. The Indonesian Rupiah, for example, depreciated by 70% against the US Dollar. Export-oriented textile manufacturing organizations, which had started to enjoy the early fruits of being globalization pioneers, were drawn into crisis.
Manufacturing in Crisis Mode: A Historical Perspective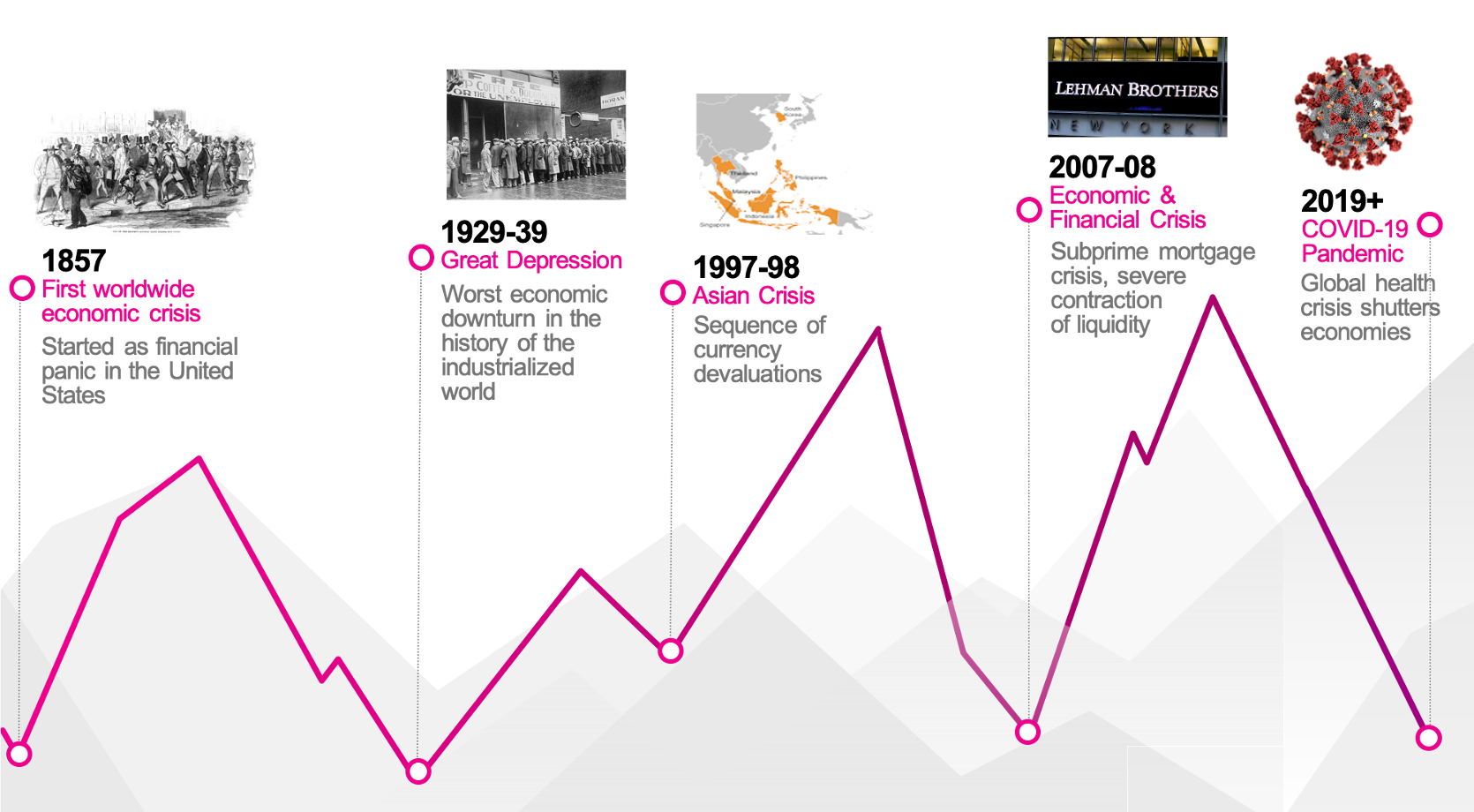 Economic and financial crises, regardless of cause, impact the manufacturing industry and lead to manufacturing downturns. The first worldwide economic crisis from 1857 forced many companies of the flourishing US railroad industry to declare bankruptcy whereas the notorious Great Depression caused steep declines in global industrial output. Most importantly, there are two key lessons learned from a historical perspective:
Manufacturing downturns do happen relatively frequently. However, many manufacturing managers today have only experienced The Golden Decade of Manufacturing after 2009. They are only used to manage a growth business with linear expectations in mind and the current crisis comes as a shock to them.
Manufacturing downturns do end and although they always seem unprecedented, who in the year 2007 would have dared to predict a V-shaped recovery?


Manufacturing in the COVID-19 Crisis
COVID-19 is a humanitarian health crisis with implications well beyond economics or the manufacturing industry in particular. However, manufacturing provides a useful lens into the interconnectedness of our global economy and each of its respective industries. Global manufacturing output as shown by the Manufacturing PMI in the chart below has fallen sharply and nobody knows if this is the bottom yet. Supply chains are being disrupted on a global scale and 75% of companies have had negative or strongly negative impacts on their businesses according to Accenture.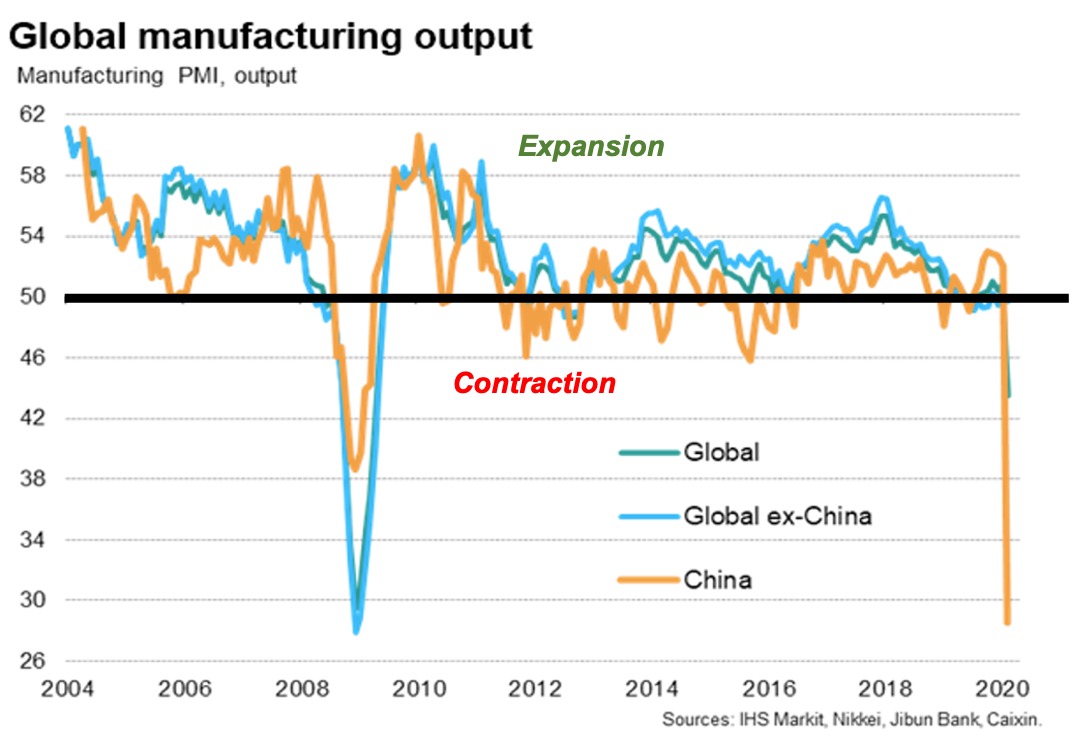 Global Manufacturing Purchasing Managers' Index (PMI)

A PMI above 50 represents an expansion whereas a reading under 50 represents a contraction, and a reading at 50 indicates no change.
Most major automotive OEMs world-wide have initially completely shut down production whereas other manufacturing companies have changed production to much needed ventilators and masks to support the efforts of fighting the pandemic. Others have moved to short-time work. China's manufacturing business which had been hit first by the pandemic seems to be already on a recovery mode and claims a V-shaped recovery.
Manufacturers' Response to Crises
Manufacturers' response to crises have been relatively similar throughout history as shown in the overview below. However, the big difference in this crisis is that a new arsenal of data-driven tools is available to make informed decisions to protect people, customers and partners and as such ensure business continuity. This generation of manufacturing managers may largely not be experienced in managing economic crises but they are unequivocally experienced in working with data and digital tools.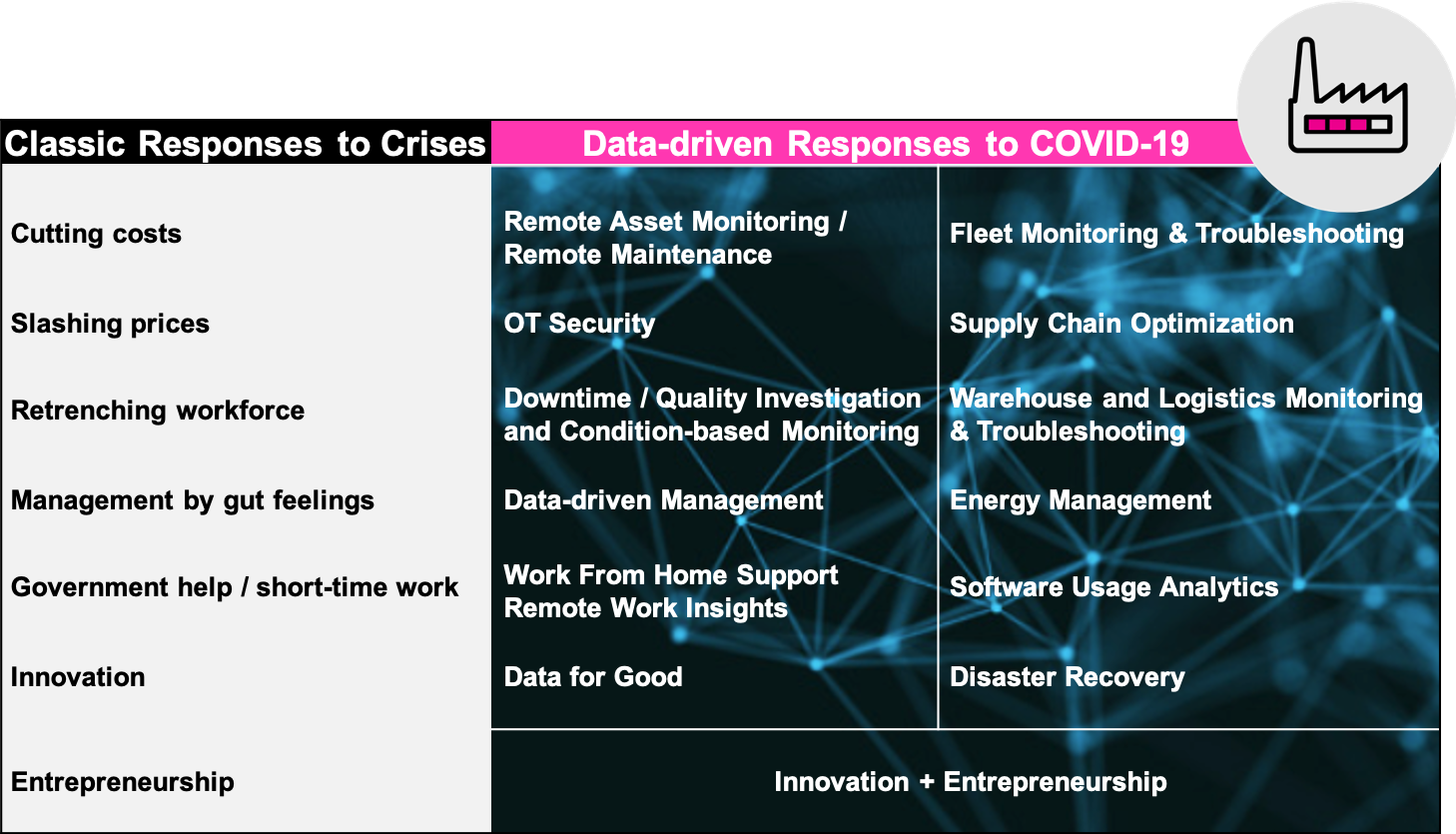 How can data power help manufacturers to fight COVID-19? There are multiple examples of data-driven responses:
Remote Asset Monitoring / Remote Maintenance for Machinery and Plants: The need for remote asset monitoring and remote maintenance increases as key resources and vendors that previously were on site can no longer be there.
OT Security: Hand in hand with the remote asset monitoring and maintenance goes OT Security due to increased exposure for remote access from vendors and support staff.
Downtime/Quality Investigation and Condition-based Monitoring: Plants are running (very) hot or cold right now. Those that are hot are pushing capacity at limits they have never reached before.
Fleet Monitoring & Troubleshooting: Trucks are delivering mission critical supplies. Fleet management is essential right now.
Supply Chain Optimization: Disrupted supply chains need to be re-build from scratch and data mining helps to optimize the processes behind for operational efficiency, agility and flexibility.
Warehouse and Logistics Monitoring: The need for warehouse logistics has grown significantly as different products are being prioritized, as different protocols have been put into place and staff is sparse.
Energy Management: A data-driven energy management helps to cut down energy costs, especially with peak-management control.
Software Usage Analytics: To monitor software license costs usage in the company can be tracked to understand places that could be trimmed.
Disaster Recovery: Watch this demo to see how Splunk can be used to gain real-time insights into disaster recovery operations and deliver better services to citizens impacted by a natural disaster.
Data for Good: The Tech Community's Response to the Coronavirus Pandemic: Read this summary from the U.S Chamber of Commerce to learn how technology companies are stepping up and leveraging their data, computing power, and other resources to combat the coronavirus. Many in the tech community are already using big data analytics, machine learning, and artificial intelligence (AI) to help mitigate the impacts of the virus. In addition, those in need can explore "the Power of Data" with free licenses available on splunk.com.
Work from Home Support – Remote Work Insights: Interestingly, the need of remote work and the evolving tools and paradigm shifts behind have been a major accelerator of the digital transformation. Splunk solutions to support a remote workforce provide real-time visibility across multiple disparate systems, such as VPN and Microsoft 365, alongside executive level dashboards to boost productivity and ensure high performance of critical business activities.
Outlook
Equipped with both classic response tools and the new arsenal of data power manufacturing continues to navigate through uncharted waters. The COVID-19 pandemic has long-lasting implications and by all means the smart usage of data will be a critical success factor to weather the storm. Imagine, how data power is building long-term resilience not only to overcome the current crisis but also to manage future manufacturing challenges.