By guest October 22, 2018
The following is a guest blog post from Shan Noyes, Technical Analyst at SaskTel.
When people in Saskatchewan, Canada need a new phone, lightning-fast internet, TV service or business communication solutions, they turn to us at SaskTel, the region's leading Information and Communications Technology (ICT) provider. At SaskTel, our wireless mobility and corporate security teams use Splunk Enterprise for infrastructure monitoring and security investigations. I'm a Technical Analyst on the corporate security team, and we're also the computer security incident response team. I use Splunk Enterprise for everything from security investigations and writing Splunk queries to security consulting on SaskTel projects.
I also use JAWS (Job Access With Speech), a screen reader developed for computer users with vision loss, and a Braille display. When I'm reading logs, sometimes it's easier to remember numbers when I can physically read (or feel) them.
I like the Splunk interface—how it brings back results in a table format. I have always been able to read that information quickly and move things around. Then, when the enhanced editor with Splunk Enterprise 6.5 was released, it was taking me two to three times longer to do queries.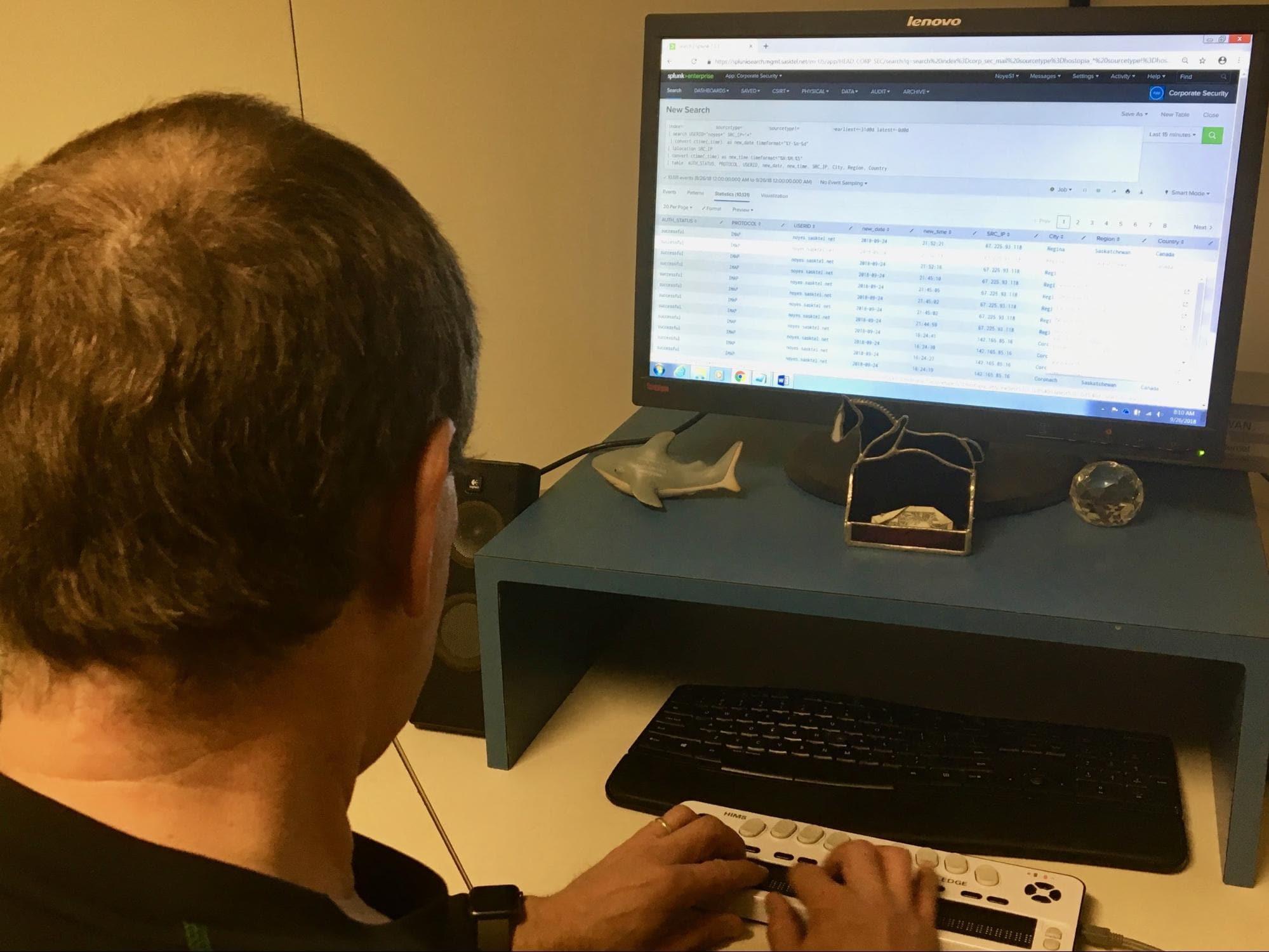 My colleague David Yaffe—another SaskTel Technical Analyst—and I shared with David Cain, our Splunk Customer Success Manager, that we missed the previous editor and relied on its capabilities. David Cain took our concerns back to a Splunk Product Manager, and we were invited to participate in a Splunk Enterprise beta program. The beta program allowed me to test the next release and also share my feedback.
Splunk listened to my feedback, and I am impressed that the accessibility improvements included with Splunk Enterprise 7.2 demonstrate the results of our partnership. Once again, I'm able to work with a screen-reader friendly editor in Splunk Enterprise 7.2, which enables me to edit SPL (Splunk's search processing language) in the search bar. For others who are interested, you can use the toggle button to select the screen-reader accessible version in preferences.
Everyone wants to be as efficient as possible and use tools that are truly accessible. The power of Splunk is that when I ran into accessibility issues, Splunk—as a vendor—sat down with me and fixed it. That's important because I can continue to do my job. Now I can determine whether we are under attack or there's simply a misconfiguration. I'm back to getting alerts, doing investigations and resolving issues in minutes, as efficiently as I was before.
Thanks,
Shan Noyes
Technical Analyst, SaskTel