Over the winter, we convened a special project, pulling together six writers from a variety of subject areas to document what you need to know if you have recently taken over a Splunk Enterprise deployment and you are trying to figure out where to start.
The suggestion to do this came from customers like you. One of the great things about attending .conf is the chance to talk with people whose experience ranges from novice to expert, and whose use of Splunk software spans every feature and every imaginable use case. Last year, at the doc team booth, we heard from a special class of customer: experienced system administrators who had recently taken over their company's Splunk deployments. On the positive side, this was exciting to hear about. Splunk software is established in so many companies--and departments within companies--that the responsibility for administering it is getting transferred from one person to another, or even one team to another. The days when it was someone's pet project are long behind us!
On the negative side, the reason these customers were coming to the documentation booth was to ask us if we had any information specifically for them, and we didn't. Over and over, we heard comments like "The docs are great, but you have so much information. I am just trying to understand what I need to know to keep Splunk running. Then I will get to take classes and really learn the product." And the truth was, we didn't have good content targeted to the growing number of customers in this situation.
But now we do. We talked to our colleagues in Professional Services, on the Customer Advisory and Success Team, and in Customer Support. We drafted a new manual and asked the Splunk Trust to review it in addition to our internal reviewers. With all that feedback incorporated, I am pleased to announce that today, with the general availability of Splunk Enterprise 6.6, we are publishing Inherit a Splunk Enterprise Deployment.
If you are a system administrator who has inherited the responsibility for a Splunk software deployment, use this manual to gain an understanding of your deployment's network characteristics, data sources, user population, and knowledge objects. This information will help orient you to the essential aspects of the Splunk platform running in your environment. It includes specific suggestions for how to discover what is running, how well it is running, who is using it, and where to go for more detailed information.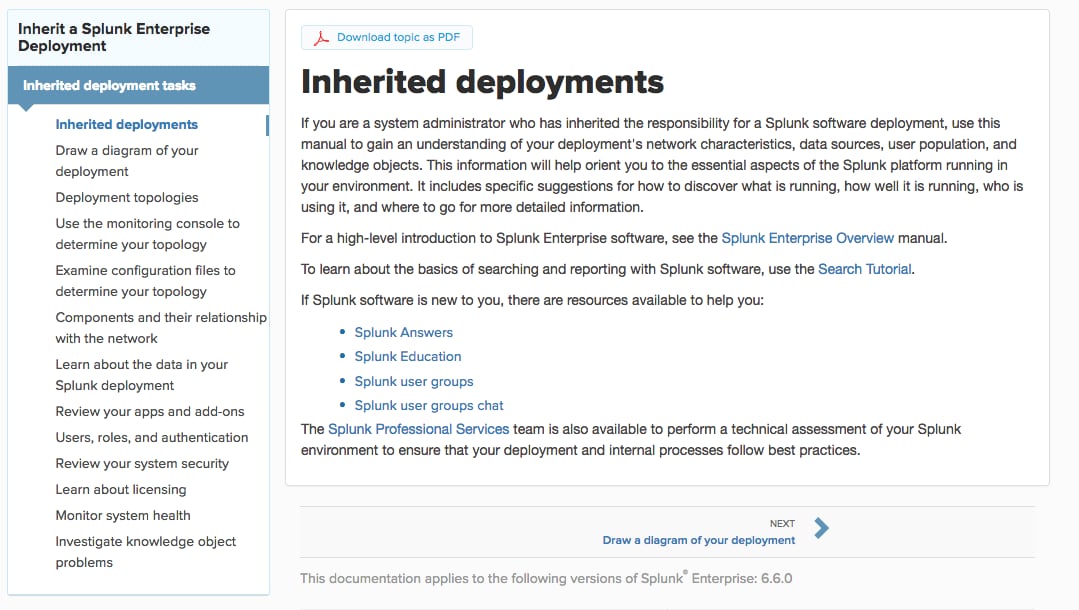 We think the new manual will help. As always, if you are using the documentation and you have a comment, complaint, or suggestion, use the feedback form at the bottom of any topic. When we hear from you, you can count on our reply. Your input and engagement is what helps us make our content great!