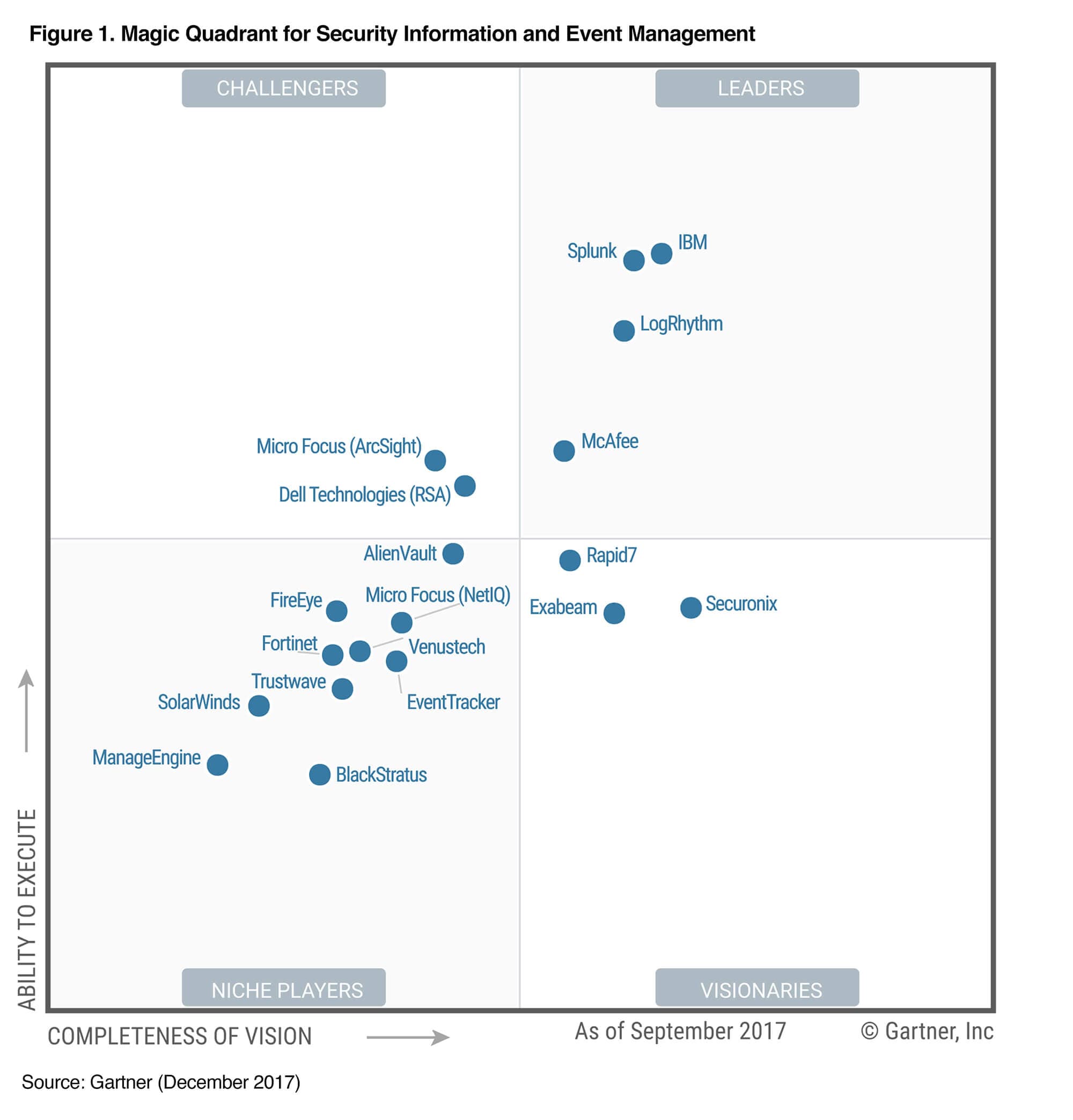 Gartner veröffentlichte kürzlich den Magic Quadrant (MQ) 2017 für Security Information and Event Management und stuft Splunk darin als führendes Unternehmen im Bereich Security Information and Event Management (SIEM) ein. Unternehmen auf der ganzen Welt nutzen Splunk Enterprise Security (ES) als SIEM-Lösung für das Sicherheits-Monitoring, die Erkennung komplexer Bedrohungen, Forensik und Incident Response sowie eine Vielzahl von Anwendungsfällen für Sicherheitsanalysen.
Die auf Machine Learning basierenden, komplexen Sicherheitsanalysefunktionen von Splunk stehen Kunden in einer Vielzahl von Verteilungsoptionen zur Verfügung, die auch lokale, cloud-basierte und hybride Modelle umfassen.

Die Produktsuite aus sicherheitsorientierten Lösungen ermöglicht es Benutzern, Splunk als Plattform zu nutzen, und unser umfassendes Partner-Ökosystem bietet eine einfache Integration in heterogene Ökosysteme. Die Sicherheitsbedrohungen nehmen immer weiter zu, und Splunk gehört zu den wenigen Anbietern, die veraltete SIEM-Systeme ersetzen und zukunftsfähige Security Analytics-Lösungen bereitstellen können.

Splunk-Sicherheitslösungen: Genießen weltweit Vertrauen
Gartner "Magic Quadrant for Security Information and Event Management" von Kelly Kavanagh, Toby Bussa, 4. Dezember 2017.
Diese Magic Quadrant-Grafik wurde von Gartner, Inc. im Rahmen einer umfangreicheren Untersuchung veröffentlicht und sollte vor dem Hintergrund des Gesamtberichts ausgewertet werden. Der Gartner-Bericht kann von Splunk angefordert werden.
Gartner unterstützt keine der in seinen Untersuchungsergebnissen dargestellten Anbieter, Produkte oder Dienstleistungen. Ebenso wenig rät Gartner Technologieanwendern zur Auswahl der am besten bewerteten Anbieter. Die veröffentlichten Gartner-Untersuchungen enthalten die Einschätzungen des Marktforschungsunternehmens Gartner und sollten nicht als Tatsachenangaben angesehen werden. Gartner schließt alle ausdrücklichen oder stillschweigenden Gewährleistungen hinsichtlich dieser Untersuchung inklusive Tauglichkeit oder Eignung für einen bestimmten Zweck aus.
GARTNER ist eine eingetragene Marke und Dienstleistungsmarke von Gartner, Inc. und/oder seinen Tochtergesellschaften in den USA und international und wird hierin mit Genehmigung verwendet. Alle Rechte vorbehalten.