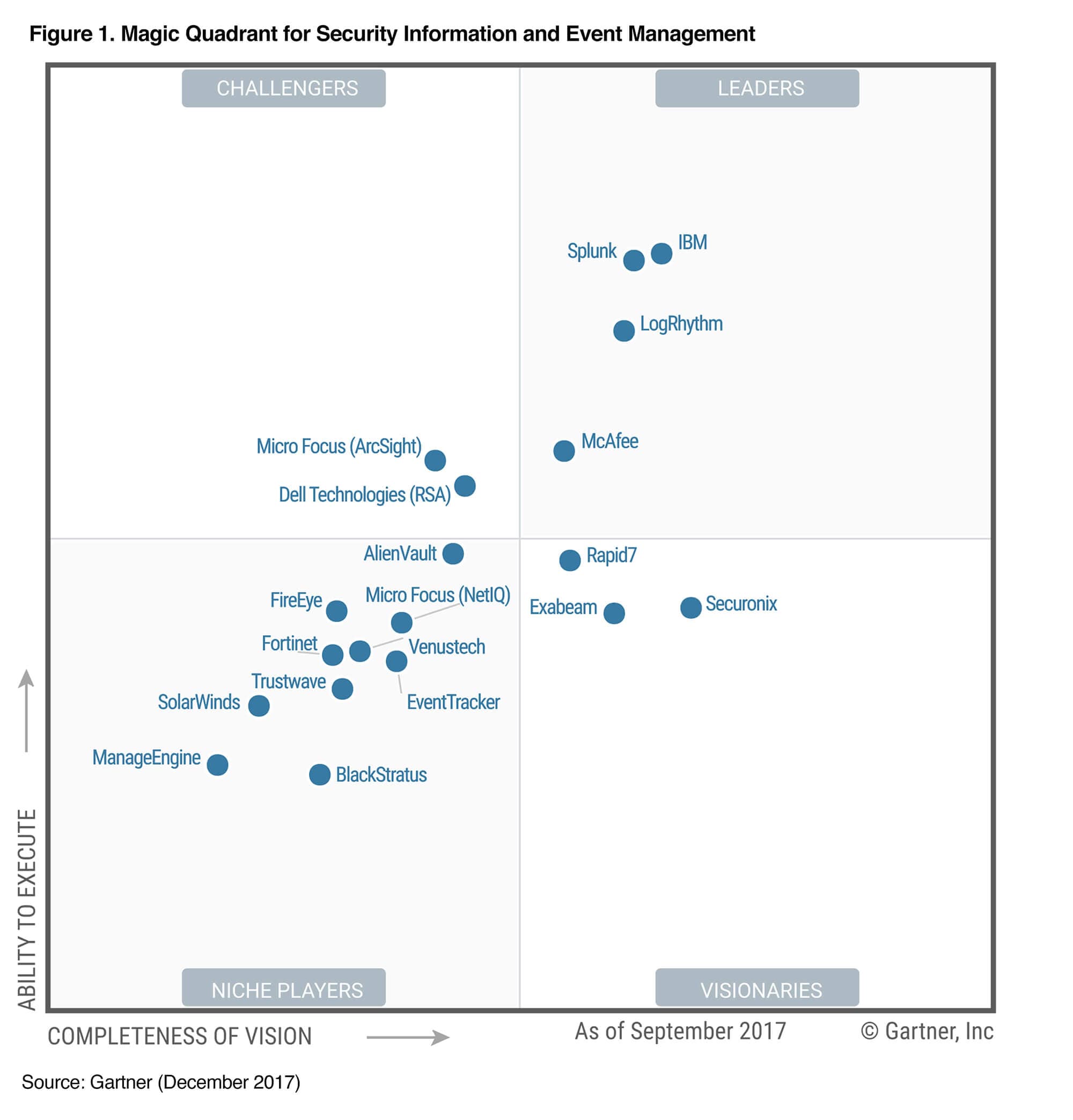 Gartner a récemment publié son Magic Quadrant (MQ) 2017 pour le SIEM (Security Information and Event Management), et a désigné Splunk comme leader sur le marché du SIEM. Dans le monde entier, des entreprises utilisent Splunk Enterprise Security (ES) comme SIEM pour toutes leurs activités de surveillance de sécurité, de détection des menaces avancées, d'enquête et de réponse aux incidents, ainsi que dans un grand nombre d'applications de l'analyse de sécurité.
Les clients bénéficient de capacités avancées d'analyse de sécurité grâce au machine learning, et bénéficient de différentes options de déploiement de Splunk : on-premise, dans le cloud ou selon un modèle hybride.
En offrant une suite complète de solutions de sécurité, Splunk devient une véritable plateforme qui s'intègre facilement aux environnements hétérogènes grâce à notre vaste écosystème de partenaires. Les menaces de sécurité sont en perpétuelle évolution et Splunk fait partie des rares solutions capables de remplacer les SIEM obsolètes et de délivrer une solution d'analyse de sécurité évolutive.

Solutions de sécurité Splunk : le monde entier leur fait confiance
Gartner "Magic Quadrant for Security Information and Event Management" par Kelly M. Kavanagh, Toby Bussa, 4 décembre, 2017
Le graphique du Magic Quadrant a été publié par Gartner, Inc. dans le cadre d'un rapport de recherche plus vaste et doit être interprété dans le contexte de ce rapport. Le rapport Gartner est disponible sur demande auprès de Splunk.
Gartner ne cautionne aucun fournisseur, produit ou service décrit dans ses publications de recherche et ne conseille pas aux utilisateurs de technologies de sélectionner uniquement les fournisseurs présentant les meilleurs scores. Les publications de recherche de Gartner reflètent uniquement les opinions du cabinet de recherche de Gartner et ne doivent pas être interprétées comme des affirmations de faits objectifs. Gartner décline toute garantie, exprimée ou implicite, concernant cette recherche, y compris toute garantie de valeur marchande ou d'adéquation à un usage particulier.
GARTNER est une marque déposée et une marque de service de Gartner, Inc. et/ou de ses filiales aux États-Unis et ailleurs dans le monde, et son emploi ici a été dûment autorisé. Tous droits réservés.