Industrial Data and the Internet of Things
Instant Insights
Splunk software provides a scalable and versatile platform for machine data generated by all of the devices, control systems, sensors, SCADA, networks, applications and end users connected by today's networks. Use Splunk for use cases such as industrial operations and maintenance, security, safety and compliance, and device analytics.
Customer Success Story
New York Air Brake
Telematics Data Enhances Transportation Safety and Fuel Efficiency
New York Air Brake (NYAB), a leading provider of rail technology, is using Splunk software to gather operational insights from the big data produced by train management systems.
Read the Case Study

Sensor Data Insights Improve Energy Efficiency
McKenney's, a leading mechanical contracting and engineering firm, is using Splunk to provide its customers with business insight and operational intelligence from the machine data generated by sensors, mechanical systems, smart metering systems and energy management software.
Read the Case Study

Splunk Helps iRhythm Measure KPIs and Performance
Splunk has played a key role in enabling iRhythm to validate its business processes and measure KPIs and product performance. iRhythm's operations and executive teams rely upon Splunk software to track efficiency levels, monitor output and productivity.
Read the Case Study Watch Video

Optimizing Systems With Splunk
Large German industrial company Bosch is using Splunk to optimize its systems and identify software and hardware issues, among other uses. Bosch is hoping to use Splunk to analyze behavior of patients using its "Health Buddy" appliance.
Watch Video
Previous
Next
Why Splunk for Industrial Data and the Internet of Things?
Splunk software provides real-time insights into machine data generated by devices and control systems.
Download the Solution Guide
Operations and Troubleshooting

Measurement and Verification
Helps ensure that devices in the field operate as intended.


Root-Cause Analysis
Helps you understand the cause of a failure on a device to improve efficiency.

Capacity Planning
Monitor and track unplanned device or system downtime.


Anomaly and Outlier Detection
Identify outliers and issues in device production or deployment.

Security, Compliance and Safety

Cybersecurity
Helps protect mission-critical assets and industrial systems against cybersecurity threats.


Safety and Compliance
Gain visibility into system performance or set points that could put machines or people at risk.

Business Analytics

Customer Intelligence
Better understand customer engagement and behavior by monitoring interactions with connected products.


Device Intelligence
Gain real-time insight into device availability, utilization, and consumables, recognize patterns and trends, and support proactive and intelligent business operations.

Connecting Splunk to Industrial Data

Kepware's Industrial Data Forwarder for Splunk, a plug-in for its KEPServerEX platform, provides Splunk software with real-time streaming data collected from over 150 industrial protocols, including BACnet, Modbus and OPC sources, as well as industrial devices and applications from General Electric, Honeywell, Siemens and more.
Learn More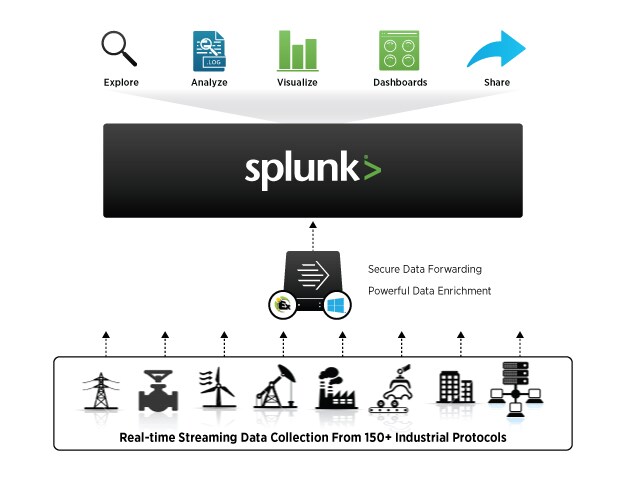 Connecting Splunk Software to the Internet of Things
There are many free apps and add-ons developed by Splunk and the Splunk developer community that simplify the connection and collection of data from both industrial systems and the Internet of Things.
Ask an IoT Expert
Brian Gilmore
Expertise: Interconnected device and sensor systems, SCADA, DDC and other industrial application management
Contact Us