Do more with your data with award-winning Splunk® Enterprise
Our straightforward pricing plans make it easy for you to use our software across your entire organization. Choose the plan that matches your business needs and works best for your environment.
Splunk Enterprise
For the full-featured version of Splunk Enterprise, pricing is based on the amount of data indexed per day.
No charge for the number of users
No charge for the number of CPUs, cores or nodes
No charge for data sources or data types
No charge for the number of searches, alerts or volume of data searched
No charge for the total amount of data you store in Splunk Enterprise
Once you license Splunk Enterprise there is no limit to the number of users, searches, alerts, correlations, reports, dashboards or automated remedial actions. It's all included—at no additional cost.
Perpetual and Term Licensing
There are two options for licensing Splunk Enterprise:
Perpetual license:

Includes the full functionality of Splunk Enterprise and starts as low as $4,500 for 1GB/day*, plus annual support fees.



Term license:

Provides the option of paying a yearly fee instead of the one-time perpetual license fee. Term licenses start at $1,800 per year*, which includes annual support fees.
Significant Volume Discounts
Customers receive significant volume discounts with larger licenses (higher daily indexing levels). As shown below:
Index
Volume
Perpetual License
(per GB)
Annual Term License
(per GB)
Volume Purchase
Discount
1GB
Per Day
$4,500
$1,800
0%
10GB
Per Day
$2,500
$1,000
44%
50GB
Per Day
$1,900
$760
58%
100GB
Per Day
$1,500
$600
67%
>100GB
Per Day
Contact sales
for custom pricing with additional volume discounts
The data above reflects pricing for Americas customers only. Pricing for Splunk products varies in EMEA and APAC regions.
The More Data You Index, the Less You Pay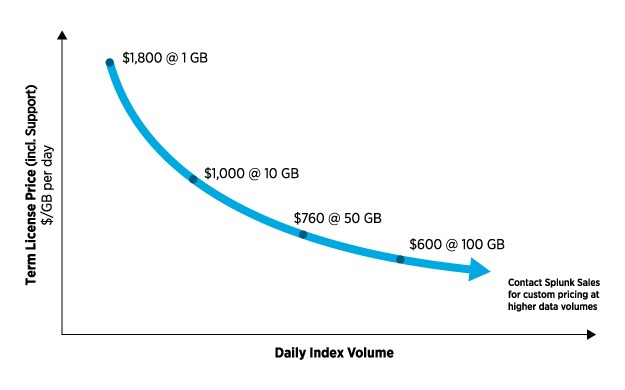 Enterprise Licensing
For organizations that choose to standardize on Splunk software as their enterprise-wide platform for machine data, we offer Enterprise Adoption Agreements (EAA's) with customized pricing tailored to your specific needs. Contact Splunk sales for more information.
Hunk®: Splunk Analytics for Hadoop and NoSQL Data Stores
Hunk® pricing is based on the number of TaskTrackers (Compute Nodes in YARN) in your Hadoop clusters. U.S. pricing for a one-year term license of Hunk starts at $2,500 per Hadoop TaskTracker or Compute Node with a minimum of ten TaskTrackers or Compute Nodes*. Contact Splunk sales to learn about pricing for our streaming resource library connections to NoSQL and other data stores.
*International pricing varies
Splunk Cloud™
Splunk Cloud is the only cloud service for machine data that's backed by a 100% uptime SLA, with subscription plans starting at $675 per month**. Splunk Cloud offers access to all the features of Splunk Enterprise including support for apps, APIs, alerting and role-based access controls.
Get Started with Splunk Cloud.
**Billed annually
Splunk MINT™ Express
Splunk MINT Express has a range of pricing plans, including a free plan for personal use, that is based on Monthly Active Users (MAU). For more information on Splunk MINT Express pricing, please visit the Splunk MINT Express pricing guide.
The Added Benefit of Flexibility
Even the best-run environments can experience unanticipated spikes in their daily data volume. That's why Splunk Enterprise customers can exceed the daily indexing amount specified in their license up to four times per rolling 30 day window. You will receive a warning each time, but your data will continue to be indexed and all of the product features will continue to work. If you exceed the daily licensing limit five times in 30 days, your data will continue to be collected and indexed. But in order to access the search capability and other standard product features, you will need to contact Splunk to arrange for additional license capacity, or wait until you have fewer than five warnings in the previous 30 days.
Learn More About Our Products
Splunk Enterprise
The industry-leading platform for operational intelligence turns your machine data into valuable insights.
Learn More
Apps and Add-Ons
Extend the power of Splunk software with over 600 apps and add-ons.
Learn More
Splunk Cloud
All the features of Splunk Enterprise. All the benfits of SaaS.
Learn More
Hunk: Splunk Analytics for Hadoop and NoSQL Data Stores
Explore, analyze and visualize petabytes of raw data in Hadoop and NoSQL data stores.
Learn More
Contact Sales
If you want to learn more about Splunk, contact our team with your questions. We're here to help.
Contact Sales