Splunk Cloud™
Available in 10 AWS Regions Worldwide, Including AWS GovCloud (US)
If you're looking for all the benefits of Splunk® Enterprise with all the benefits of software-as-a-service, then look no further. Splunk Cloud is backed by a 100% uptime SLA, scales to over 10TB/day, and offers a highly secure environment. It makes life easy so you can go home early.

SaaS Platform for Operational Intelligence
Splunk Cloud delivers all the features of award-winning Splunk® Enterprise, as a cloud-based service. The platform provides access to apps including the Splunk App for Enterprise Security and Splunk App for AWS and enables centralized visibility across cloud, hybrid and on-premises environments.
Instant: Instant trial and instant conversion from POC to production.
Secure: Completed SOC2 Type 2 Attestation*. Dedicated cloud environments for each customer.
Reliable: 100% uptime SLA. All the features of Splunk Enterprise, including apps, APIs, SDKs. 10TB+/day scalability.
Hybrid: Centralized visibility across Splunk Cloud (SaaS) and Splunk Enterprise (software) deployments.
* SOC2 Type 2 Attestation is complete for Splunk Cloud customer environments provisioned for data ingest over 50GB/day.


Enterprise-Ready Cloud Service
Your business runs 24x7. So should your Operational Intelligence.

100% Uptime SLA
Splunk Cloud is backed by a 100% uptime SLA.


Reliable Performance
Dedicated cloud environments help ensure your service performance is not impacted by the actions of another customer.


Enterprise-Class Security
Splunk Cloud provides isolated environments for each customer. Splunk Cloud has completed SOC2 Type 1 and SOC2 Type 2 attestations*.


Up to 10x Bursting
Splunk Cloud supports up to 10x bursting over licensed data volumes**.

* SOC2 Type 2 Attestation is complete for Splunk Cloud customer environments provisioned for data ingest over 50GB/day.

** 10x bursting refers to Splunk Cloud infrastructure's technical ability to temporarily accommodate unexpected expansion of indexing volume up to 10 times the licensed amount, as verified in internal testing on 100GB/day plans. Splunk Cloud pricing includes sufficient storage to support 90-day retention of licensed daily index volume but additional storage can be purchased. Retention and storage of additional data resulted from unexpected bursting is not included in our standard service.
SaaS or Software—Your Choice
Choose SaaS or self-managed software deployments to meet your business requirements - without sacrificing single-pane-of-glass visibility. Seamlessly use Splunk Cloud alongside a Splunk Enterprise deployment and maintain a single, centralized view across all of your machine data. You get the flexibility you need at the pace that works for your business.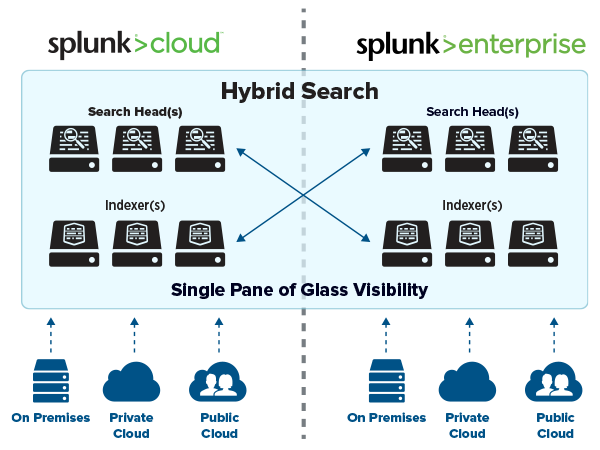 "Splunk Cloud has widened our user base. Our operations folks use Splunk, our application people use Splunk and our security people use Splunk. Splunk Cloud gives you applications that let you get a huge amount of value from your data."
-Sr. Director of Information Security
Largest independent regulator of securities firms in the US
Watch the Webinar
Ask a Splunk Cloud Expert
Need help with your environment and requirements? Send us your questions and we will get back to you as soon as possible.
If you need an immediate assistance, check out our community forum, Splunk Answers.
Contact Us