Updated 2/19/2021: Splunk MINT is no longer available for purchase as of January 29, 2021. Customers who have already been paying to ingest and process MINT data in Splunk Enterprise will continue to receive support until End of Life, announced as December 31, 2021 for all MINT products: App, Web Service (Management Console), SDK and Add-On.

---
We're at .conf2014 and it's been a blast so far. We've had great attendance and lots of positive interactions! In our keynote this morning, we announced our first mobile intelligence offerings since our acquisition of BugSense last year—Splunk MINT. MINT, short for "mobile intelligence," gives insight into what users are experiencing and doing with your mobile apps. Clint Sharp, our Senior Director of Product Management spared no dramatics in letting the audience know how important mobile intelligence is to Splunk and our 7,900 customers.
Panos Papadopoulos and I will walk through these products in our breakouts on Tuesday (2-3p.m.) and Thursday (2:15-3:15p.m.). You'll also get to see Splunk MINT in action. The conference app is enabled with Splunk MINT, and we'll have it on display at the booth.
Today's news
Here's what we announced:
1) Splunk MINT Express offers a fast path to mobile app intelligence. Developers can quickly instrument mobile apps and view app performance and usage information in an easy-to-use, cloud-based service. Splunk MINT Express is major upgrade based on our proven BugSense technology, which is already receiving a billion data points of mobile app operational insight per day. Try Splunk MINT Express out! We're offering a free 15-day trial, and all it takes is inserting a line of Splunk MINT SDK code in your apps. Once your Splunk MINT apps are deployed, dashboards, like this one, start populating in real time.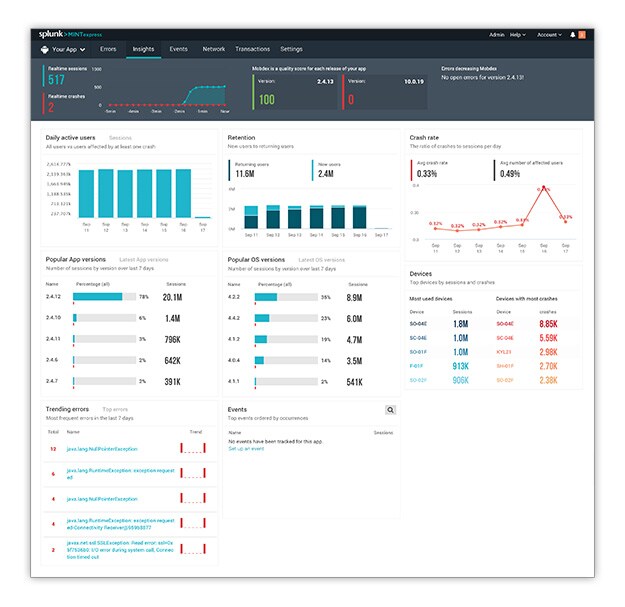 2) Splunk MINT Enterprise (Beta) provides the ability to collect, index and present mobile intelligence information in Splunk Enterprise or Splunk Cloud. By adding mobile intelligence information to Splunk, you can create end-to-end correlation on mobile app transactions and create insight spanning both mobile and non-mobile channels. We will start accepting requests for the beta program this month.
Stay tuned!
You'll hear much more from us about mobile apps, Splunk MINT and why understanding the mobile experience is so critical to organizations of all types. But for now, it's time to get back to the conference. With over 4,000 people, all the booths, great networking, and over 160 breakout sessions, there's so much to see here! I'll try to keep you updated via my twitter account in the meantime!