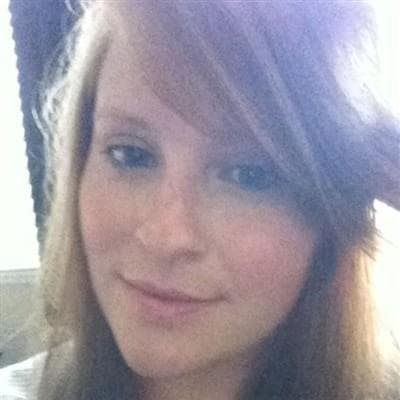 By Courtney Gannon November 19, 2021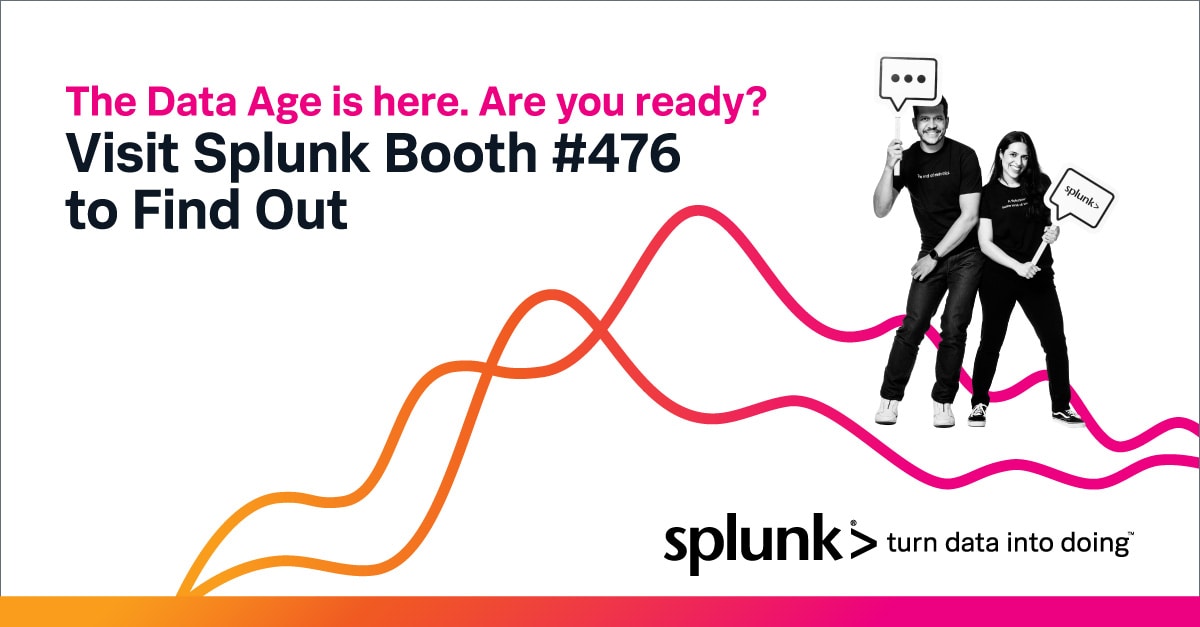 Splunk is excited to wrap-up the fall conference season as a Diamond Sponsor for AWS re:Invent and celebrate 10 years of cloud innovations. Visit us in-person (Booth #476) or attend virtually (it's free!) to discover how the power of AWS and Splunk can help your organization accelerate digital transformation and drive better business outcomes with data access, powerful analytics, and automation. No matter what your business objectives are, Splunk has solutions to help secure, operate and innovate faster across your multi-cloud and hybrid environment.
Meet Us In Booth #476
Splunk IT, Security, and Observability experts will be available throughout the conference to answer all your questions, see a live demo, grab some swag, and enter to win some very cool prizes. We'll also have live Q&A with Splunk Executives, so come pick up a full conference schedule of in-booth events after you check-in for the conference.
The Splunk and AWS Partnership
Splunk joined the AWS Partner Network (APN) in 2012 and have collaborated and co-innovated on solutions to empower organizations. With Splunk and AWS, customers can innovate with confidence, migrate and modernize existing environments, and scale without limits. Splunk has been recognized with 8 AWS Competencies, 3 Services Validations and is a Premium AWS Marketplace Seller and a top AWS ISV Workload Migration Partner.
Splunk Sessions at AWS re:Invent 2021
We know why you're here at AWS re:Invent – to learn something new. Join us for two great Splunky breakout sessions and lightning sessions!
Powering Security Operations with Analytics and Automation; Monday, November 29 at 2:30 pm in the Cristal Ballroom 7 at the Wynn: Join Jane Wong, VP of Security Products, and Wissam Ali-Ahmad, Lead Solutions Architect, to learn how high-performing security teams detect and respond to threats early and quickly. Dive into Splunk's deep technical integrations and offerings on AWS to start saving hours and weeks during data onboarding and configuration.
In AWS, Details Matter: Why Full-Stack Observability Wins; Tuesday, Nov 30 at 12:30 pm in the Murano Room 3306 (Level 3) at the Venetian: Join Steve Flanders, Director of Engineering, Morgan McLean, Director of Product Management at Splunk and Co-founder of the OpenTelemetry Project, to learn the key features required of a full-stack observability solution and how Splunk Observability Cloud can help you provide more reliable applications and better customer experiences.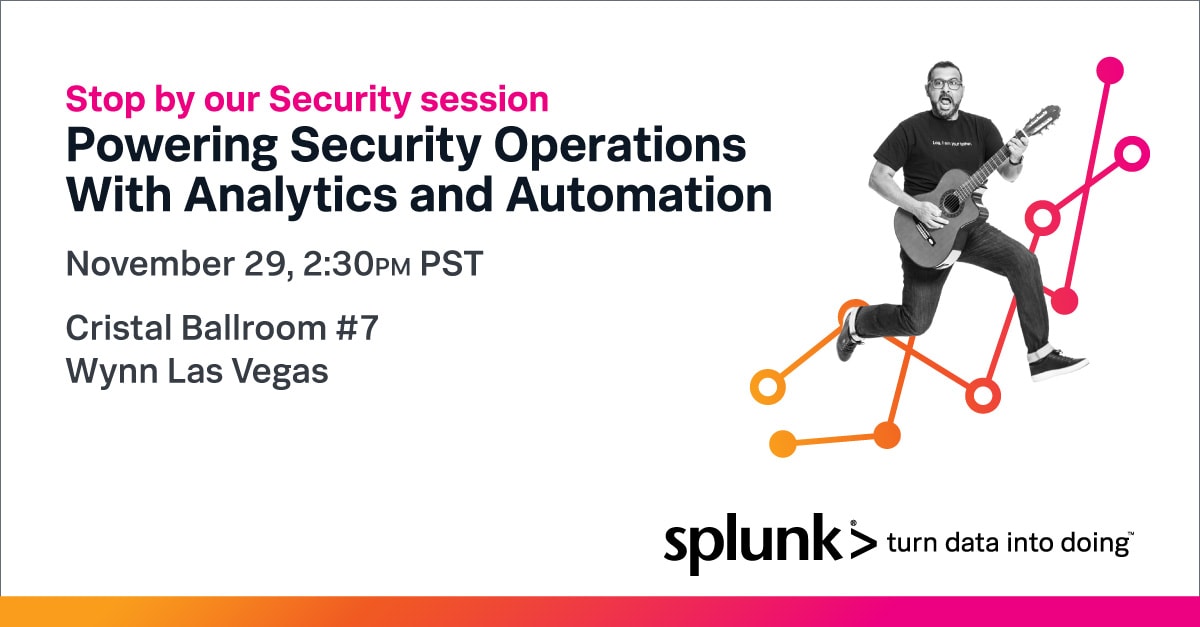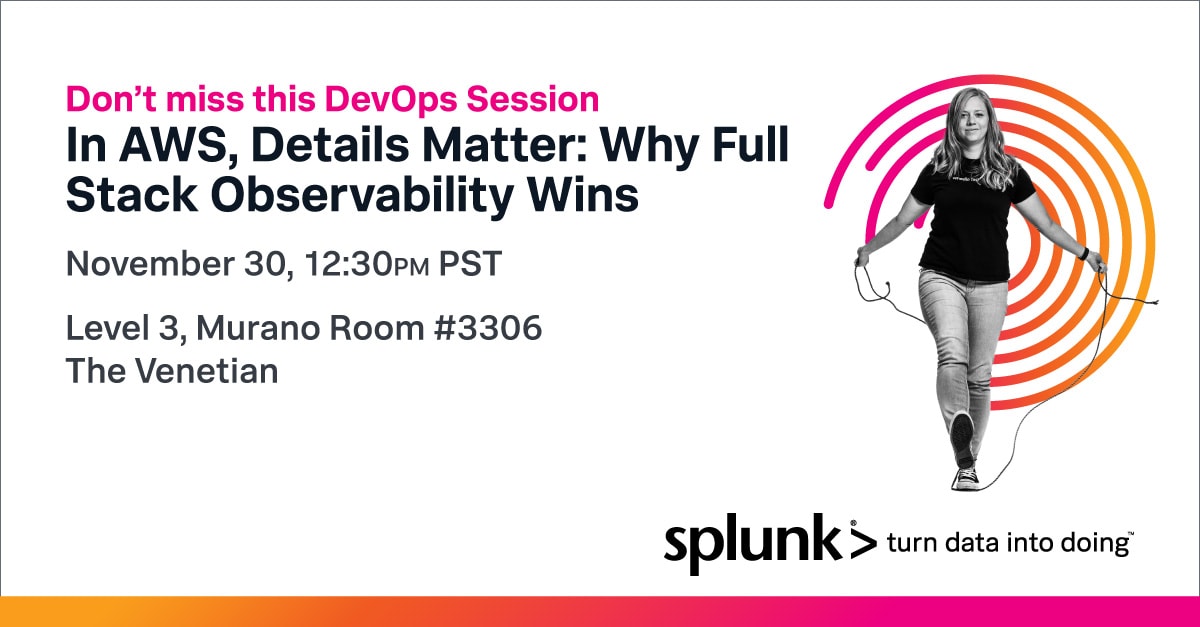 Lightning Talks
Visit us in our booth (#476) to hear more exciting talks from Splunk's Observability, IT, and Security experts and other cool events, daily Tuesday through Thursday from 10 am PT- 6 pm PT. Stop by the booth for the event schedule.
Data Drivers: The Race To Observability: IT Modernization is a journey; why not use a McLaren to get there? Learn how Splunk Observability Cloud helped McLaren Shadow Esports bring Observability to esports like never before with Splunk Cloud in AWS.
Data Drivers: Racing as a Service: Splunk believes that every problem has an answer in data and esports racing is no different! Join this session to see how Splunk partnered with McLaren Shadow Esports to bring critical insights to the services that matter most in SIM racing with Splunk Cloud in AWS.
Splunk's Boss of Ops and Observability: A Capture the flag event powered by Splunk and AWS: Join us for an overview of Splunk's BOO (Boss of Ops and O11y) capture-the-flag competition. Find out how this event run on AWS can help you become the BOSS of your IT and DevOps world using Splunk, win cool swag, and gain bragging rights, with a FREE event on December 8th.
Five things everyone needs to know about their AWS environment that they can't see from Cloudwatch: At Splunk we love AWS, and we love all things Cloudwatch... it's a great source of data to collect and correlate. Sometimes we get asked, "Why do I need Splunk when I have Cloudwatch dashboards?" What a great question! Join this session to learn about five critical insights about your AWS environment that you'll never get using Cloudwatch alone. Behold the power of Splunk's search and analysis platform!
Time Travel with Splunk and AWS: Time Travel is possible! Well, at least for data in Splunk. Learn how and why we use AWS Lambda, Splunk smart store, and Amazon S3 to move data into the future in the behind-the-scenes look at Splunk's Boss of Ops and O11y capture the flag competition.
Metrics and Logs Sitting in a Tree, Lowering your MTT*s: We all know by now that the exponential increase in cloud complexity has required a shift in traditional monitoring. These major changes lead to major challenges. Most environments are becoming more and more difficult to predict outages and determine root cause. There is a need for both real-time monitoring and alerting, as well as a way to flexibly dig into your data to determine true root cause. Introducing the hottest new couple: metrics and logs. Come see how this duo can help speed up cloud adoption, future-proof your cloud monitoring, and lower MTTD and MTTR.
Observability for IT with Splunk: ITOps and DevOps are so tightly coupled today that it's harder to tell where one begins and the other ends. That's why here at Splunk we are bringing Observability to IT so teams managing complex, mission-critical applications can ensure great quality, service, experiences in well-run hybrid clouds.

Live In-Booth Demos
Observability Solutions for IT and DevOps: Accelerate your AWS journey with full-stack, real-time monitoring, and analytics driven observability from Splunk.
Splunk for Security: Accelerate threat detection, investigation, and response for security teams with Splunk for Security and AWS.
Splunk & AWS: For those looking to better understand Splunk, and Splunk with AWS, we provide an overview of Splunk products and a quick way to get started with AWS and Splunk.
Splunk Contact Center Analytics for Amazon Connect: Amazon Connect is a cloud-based contact center offering provided by Amazon. Splunk Contact Center Analytics ingests operational metrics/logs from the Connect service to give IT and Contact Center managers deep insight into the performance of that service. Combined with other IT data sources, like VPN and Amazon WorkSpaces, used by remote operators, this offering helps IT and contact center admins successfully operate their Connect contact center deployment.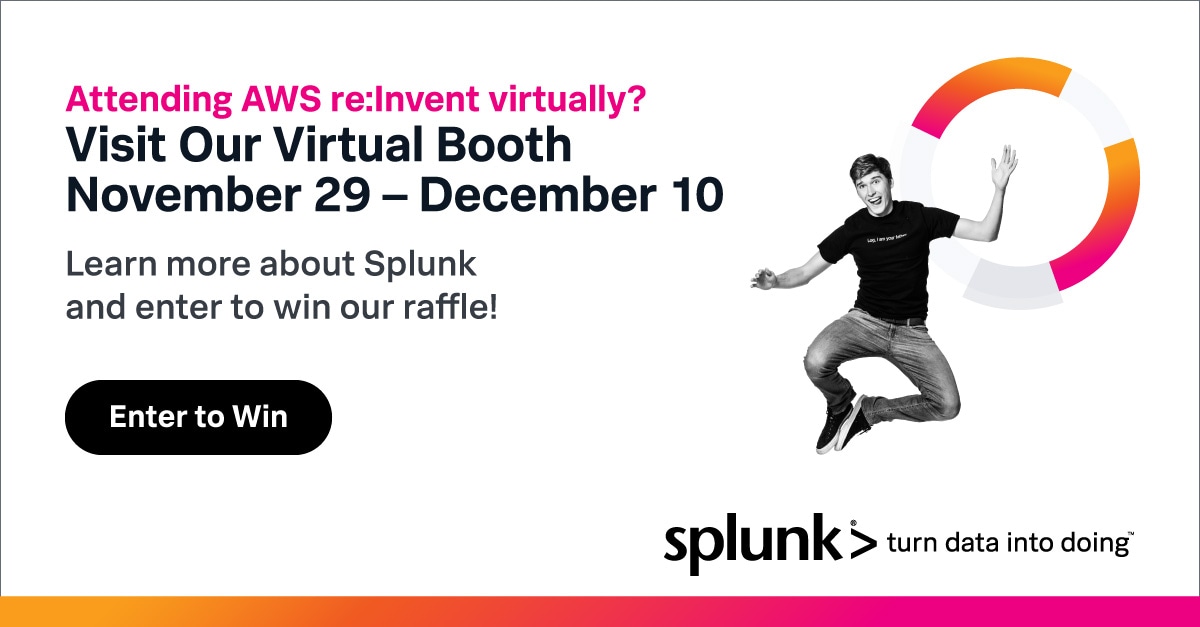 You can also schedule time to meet one-on-one with Splunk Solution Expert to see a custom demo and talk in-depth about your needs. Stop by the booth or contact your Splunk Sales Rep or Customer Success Manager to book a time that works for you.
For more information about Splunk at re:Invent here. We're looking forward to meeting you all next soon in Las Vegas or in our virtual booth.