Simplify IT Operations
Gain operational efficiencies, transform IT spend
and unleash operational intelligence
How TrueCar Gains Actionable Insights with Splunk Cloud | Oct. 18, 2017
Redefine IT Operations Monitoring with Splunk IT Service Intelligence
Splunk IT Service Intelligence delivers machine learning-powered analytics to simplify operations, prioritize issue resolution and provide visibility into critical services.
Learn More
.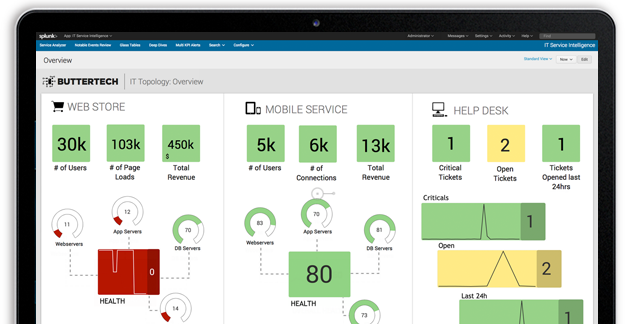 Accelerate End-to-End Insights With Apps and Add-Ons
Rapidly access role-relevant operational insights with a prebuilt collection of dashboards, reports and saved searches using data harnessed from business services and technology tiers in your IT infrastructure.


"Splunk enables us to connect our technical and business metrics and see the correlations between site performance and the customer experience. The real-time dashboards we've built with Splunk provide information that can't be obtained any other way."
-Ideeli

"Splunk is an important tool for us to simply and quickly identify, analyze and fix problems such as failures, work processes and delays. Furthermore Splunk helps us with achieving our KPIs through identifying the actual system stability and performance. Splunk is an indispensable tool in our daily work."
-Otto Group

"By standardizing and consolidating with Splunk, we are assisting areas such as grocery, direct and international businesses in all our regions in mapping process flows and visually representing transactions in dashboards with associated alerts. We are already starting to see similar benefits to what we have experienced in application support and development at Tesco.com."
-Tesco
Previous
Next
Splunk Quick Start Bundles
Complete with a Splunk license, a selection of Splunk Apps and Add-Ons, professional services, education credits, and user conference passes, a Splunk Quick Start is your one-stop shop for Operational Intelligence.
Ask an IT Operations Management Expert
Need help with your environment and requirements? Send us your questions and we will get back to you as soon as possible.
If you need immediate assistance, check out our community forum, Splunk Answers.
Contact Us