Splunk MINT™ Express
Better performing, more reliable mobile apps
Splunk MINT Express offers developers a fast path to mobile application intelligence. Now you can quickly instrument mobile apps and view their performance and usage in an easy-to-use cloud service. No need to hold your breath.

Real-Time Mobile Operational Analytics
Gain deep visibility into mobile transactions and accelerate the development of your mobile apps.
Visualize the quality, performance and usage of your mobile apps in production
Get insights on performance, stack-trace information for crashes, versions in production, and key events and transactions
Simply sign up and add a line of code to your mobile app from the Splunk MINT SDKs and start seeing results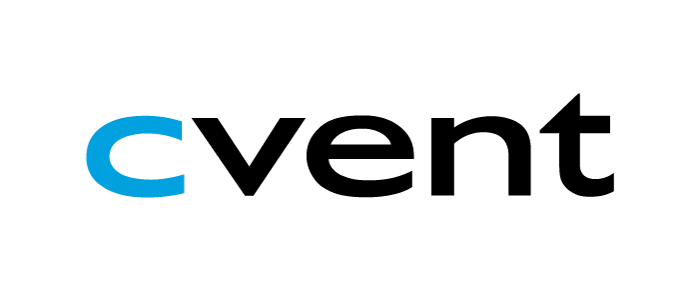 "Splunk MINT Express will help us identify unusual app performance issues before they impact our mobile users and gain new insights into user engagement, so we can continuously improve the customer experience."
-Al Funk, Director of Mobile Product Development, Cvent
What's New?
Improve the performance and reliability of your mobile apps by monitoring their usage and performance in real time.

Network Monitoring
Know when networks affect your mobile app performance.


Real-Time Transaction Performance
Understand which transactions are performing well.


Insights at a Glance
Keep track of app usage and pinpoint issues that need to be addressed.


Real-Time Error Reporting
Know when and why your apps are in trouble.


Track User Trends
Measure what users do in your app and track trending events.


Developer Integrations
Secure SDKs that are lightweight and securely cross-platform.

Product Tour
Dashboards

Error Reporting

Event Analytics

Transactions

Network Monitoring
Dashboards
A dashboard you can really use.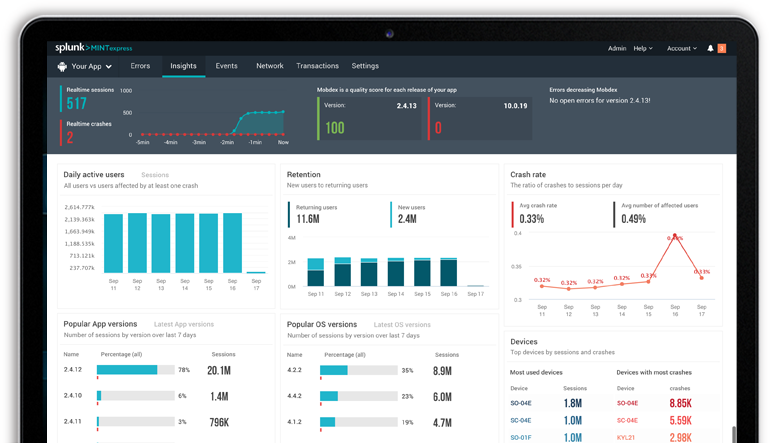 Error Reporting
Real-time visibility of your app's issues.
Event Analytics
Define and measure activities in your mobile apps.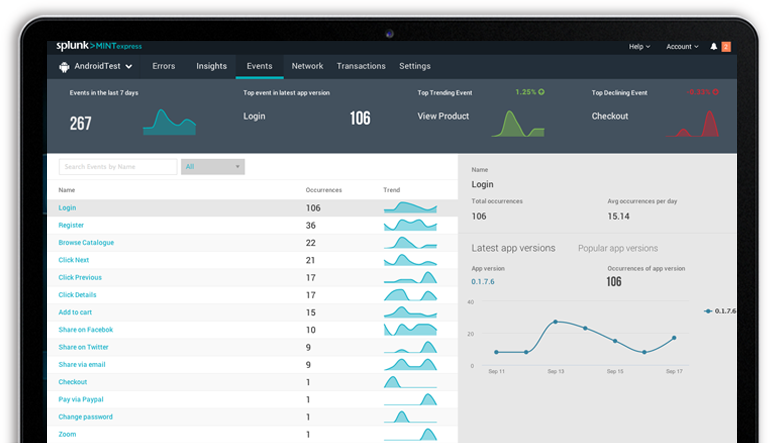 Transactions
Real-time insight into end-to-end performance.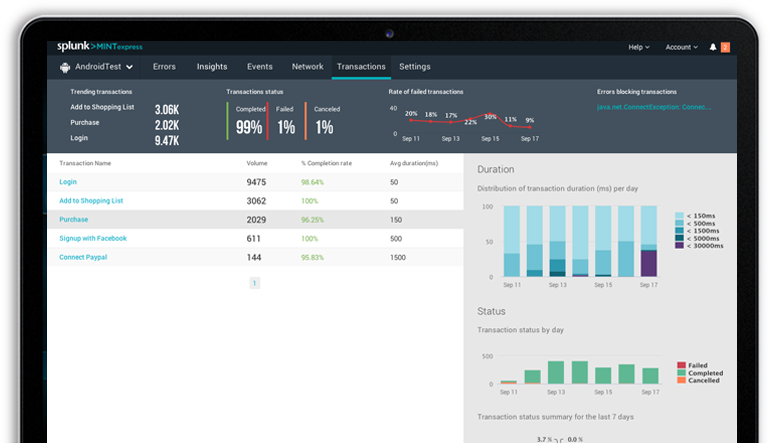 Network Monitoring
Understand the mobile network's role in application performance.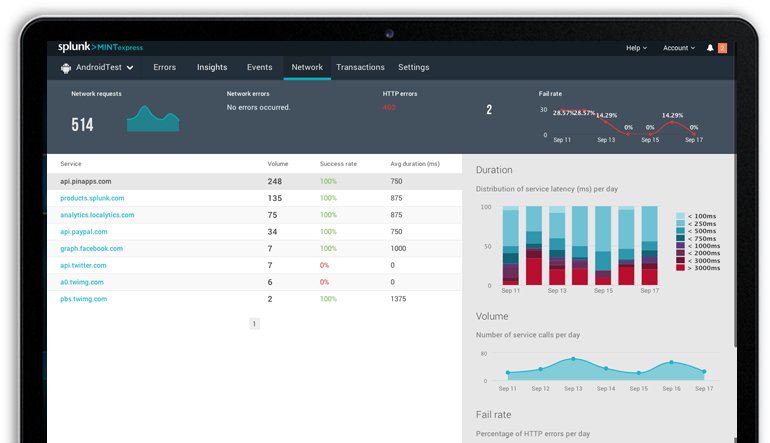 Contact Sales
Need help with your environment and requirements? Send us your questions and we will get back to you as soon as possible.
If you need immediate assistance, check out our community forum, Splunk Answers.
Contact Sales