The breakaway
Cyclist Kiel Reijnen on the Value of Data (and a Good Pair of Socks)
Trek-Segafredo rider Kiel Reijnen grew up on Bainbridge Island, near Seattle. He credits a teacher who was a cycling aficionado for getting him interested in the sport, an interest that grew while he was in college in Boulder, Colorado, which has "a big biking scene." He started racing professionally after graduation, and is now in his fourth season with the Trek-Segafredo team. We asked Kiel about the essentials of cycling, from the clothes he wears to the data he uses to improve his performance.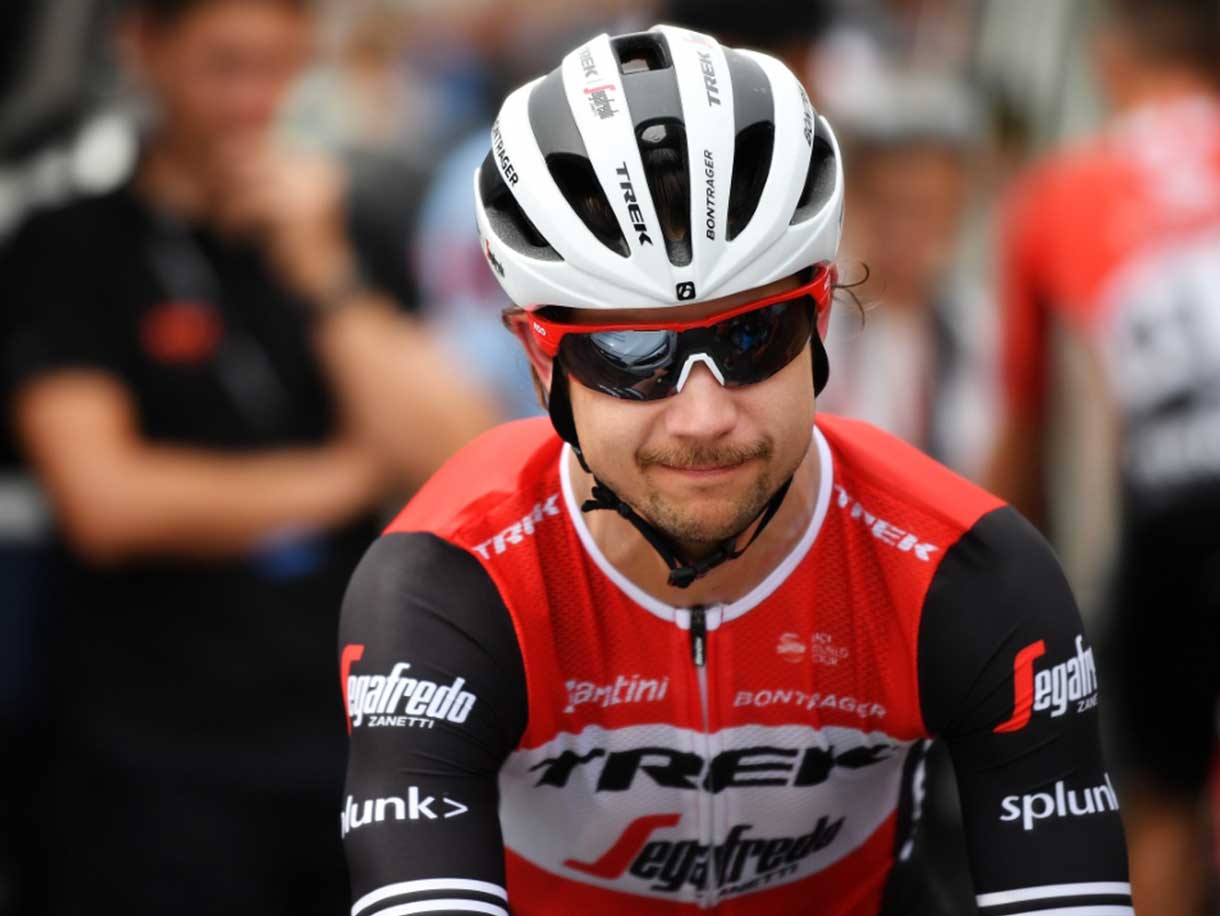 What's a piece of gear you can't live without?
The bike! I also like wool socks and jerseys — I like everything wool. It rains a lot where I'm from, and the technology in cycling has come a long way, everything from the bike itself to shoes, helmets and sunglasses, including clothing. And there's a place for all of that awesome tech clothing, but when I'm home training, I like wearing wool.
What do you find most challenging about racing?
It's an incredibly dynamic sport because it happens all over the globe. We're constantly interacting with different cultures, foods, places, temperatures, and you have to be adaptable. Being that adaptable is difficult, especially when you're trying to fine-tune your body. You can do all of the right training, but when you have to fly from the U.S. to Japan for a race, it's hard to know how jet lag is going to affect you that particular time. The ever-changing environment is one of the hardest things in cycling. Then, there's weather — sometimes we're racing in the sun, and then the next day we're in the snow.
Do you have a favorite race?
Flanders
. There are only two places in the world where the crowds are that good: Basque Country and Belgium. It's the worst place to ride a bike — it's not flat, but there are no real climbs. It's gray, raining, there are beat up cobblestone streets, cracked pavements, gutters and road furniture. There's nothing about it that screams "ride your bike here," but people love cycling there more than anywhere in the world. Having the crowds electrify the roads we race on makes the experience fun for us, too.
What data insights would you like to have about racing or your performance that you haven't been able to get yet?
I've been doing this for 10 years, and I'm still not 100% sure what kind of race or course suits me. I have an idea, but it's hard to quantify at the finish of a race. If you didn't have enough in the end, was it because your sprint wasn't good enough? Or because you were too tired going into the sprint, or bad tactics? Or the wrong tire pressure? There are so many variables, and if we can take those inputs and digest them into something comprehensive, then we might stand a chance at picking out the one variable that was holding us back. So I think in a sport like cycling, in a heavily tactical situation, it can be difficult to pick out the thing that went wrong.

There's an overwhelming number of data points and variables that go into a six-hour race, so it would be great to consolidate that information into something palatable.
Are you looking forward to the partnership with Splunk enhancing your data insights?
Yes. Being able to narrow things down with data analysis would be a huge step forward for us. Being able to analyze a course ahead of time and know that the best bike to choose would be the
Madone
with four wheels because we ran the calculations and whatever you lose in weight you're going to make up in aerodynamics, or maybe it's that with the crosswinds, it's better to use a shallower wheel. And depending on your role, too, your equipment choices could change. Taking out some of the guesswork is what I'm most excited about with this partnership.