The Breakaway
Cyclist and Survivor: Markel Irizar Looks Back After Final Race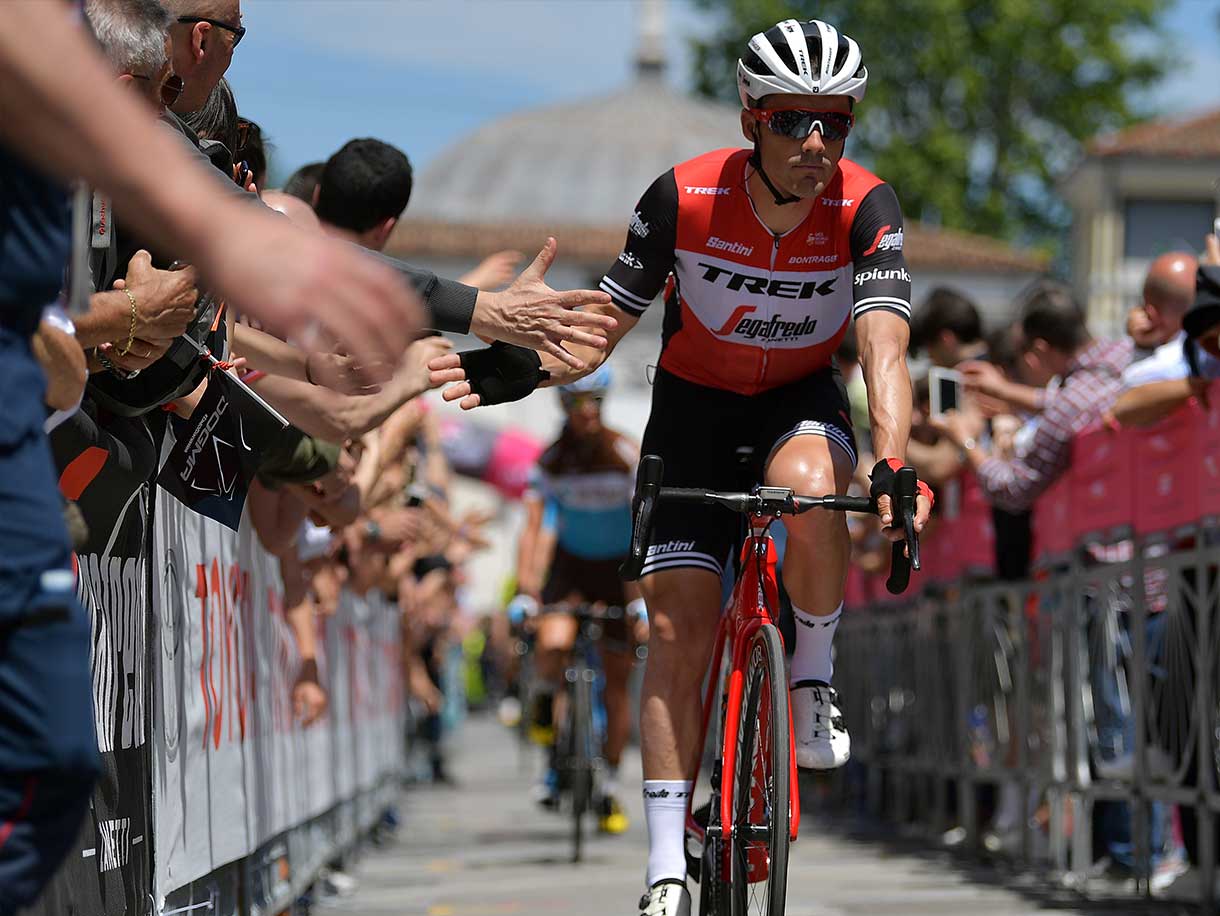 Markel Irizar nears the start line at Stage 19 of the 2019 Giro d'Italia.
Credit: Getty Images
Ask anyone on the Trek-Segafredo cycling team and they'll tell you Markel Irizar is more than just a racer. He's a role model. A husband, a dad, a friend. And a survivor. Standing six feet tall with closely cropped brown hair and a disarming smile, he earned the nickname "Radio Basque" because of his effortless ability to strike up a conversation and fill it with great stories.
The 39-year-old Spaniard spent nine years of his 16-year professional cycling tenure with the Trek team as it's evolved over the last decade. The 2019 season, however, is his last. After the 2019 Clásica San Sebastián on Aug. 3, he retired in a ceremony that honored his commitment to the sport and his team.
Irizar discusses the discipline and camaraderie that define his approach to cycling.
Irizar dedicated the majority of his career to being a domestique, supporting his teammates as the driving force that propels them forward so they can cross the finish line faster. In short, he dedicates himself to putting his teammates, rather than himself, on the podium.
"My goal is to help the leaders, especially the young ones," he says. "We train so much, we do everything that we can to help someone else, to achieve his goals. He's going to be on the podium, he's going to have the win. We're going to support him, but that's going to make us happy."
A long, bumpy road
Irizar attributes his success and longevity in the sport to everything he has lived through off the road.
It hasn't always been a smooth ride. In 2002, at the age of 22, Irizar was diagnosed with testicular cancer. Facing dozens of radiation and chemotherapy treatments, he decided that he was going to beat the disease. And he was going to keep cycling through it all.
"I told the doctor, 'Do whatever you need to do, do whatever you want, but I have a list this long of things I want to do,'" he recalls.
As long as he was physically capable, he was going to continue to ride. During treatment, Irizar won his first cycling race on June 3, 2002 — his parents' 25th wedding anniversary.
Watch Irizar relive his first professional victory, in his native Spain.
A year later, he officially became a professional cyclist.
"I arrived at this point where my mind and mentality were much stronger than if I had a normal life," he says. "I don't know if it has made me better, but 100% different. And now I think I'm able to appreciate the good things in life. I know the difference between the good and the bad things. And the important things."
A great ride
To say Irizar is a consummate giver is a bit of an understatement. On any training or race day with his Trek-Segafredo teammates, he can be found pulling back a breakaway or making sure the team leaders have everything they need to forge ahead full tilt.
One of Irizar's biggest successes was helping one of the strongest team leaders, Fabian Cancellara, win at both the Tour of Flanders and Paris–Roubaix in 2013, and then achieve victory again at Flanders the following year. Irizar was also critical in teammate Chris Horner's overall victory in the 2013 Vuelta a España.
Yet while Irizar usually takes on a more altruistic role in cycling races, he still has a few strong wins under his belt. He was the general classification winner of the five-day Vuelta a Andalucía stage race, placing second in the prologue when he took the lead and held it until the final stage.
His final season was a busy one for Irizar, racing all over Europe in preparation for his final Grand Tour, the Giro d'Italia, before finishing his career with the Clasica San Sebastian near his hometown of Oñati, Spain.
And what's to come after retirement? For one, he plans to do more skiing and camping — things he couldn't do during long months on the road as a pro cyclist. He'll also be able to spend more time with his wife and three boys, ranging in age from seven to 12. His two older sons, he says, are burgeoning cyclists themselves.
Irizar recalls his first bicycle — his grandfather's.
He will also keep busy running his own bistro, dubbed Bizipoz Kafe, a Basque word that roughly translates to "live life to the fullest." The cafe displays Irizar's first bicycle, given to him by his grandfather before he passed away. "I always say that 'we are bizipoz,' so that means that everybody who comes to our cafe needs to have a happier life or be in a good mood," he says. "This is what we try to give to our customers."
In that same spirit, Irizar has very few regrets about anything he's experienced up until now, even the things that have tested him to his limits.
"Everything that I have learned has been worth it. Everything I have learned has been really useful to be happier and to enjoy life," he says. "And I am someone who wants to enjoy every single second of his life."