The breakaway
An Uphill Climb: Women's Fight for Parity in Cycling
In recent months, the women of Trek-Segafredo have taken competitive cycling by storm — without any signs of slowing down.
During the May Emakumeen Bira race in Spain's Basque country, Trek rider Tayler Wiles took a Stage 3 solo win in what has so far been the biggest victory of her career, achieving a breakaway and then coming in strong on the second-to-last climb of the course. In the same race, Elisa Longo Borghini made headlines when she broke away at the end of the final stage, strategically increased her lead on the descent, and then managed to hold off the pack long enough to win the race by a nail-biting four seconds ahead of the chasers and two seconds overall.
In the world of professional cycling, women are continuing to excel and break records, garnering much-deserved attention from the media as a result. And it hasn't gone unnoticed by Trek, which has made strong investments in the 13-member women's racing team.
But the path that these women riders have forged to get to where they are hasn't been easy. In addition to long hours of daily training and months on the road away from home, women riders have faced challenges such as the inability to access to major international races, lack of media coverage and a disparate wage gap. And while they've gained a lot of ground, they still have a long way to go to achieve true equality as professional cyclists.
"I think Trek finally realized it was worth it to invest in women's cycling," says Ina Teutenberg, Trek Segafredo head director of the women's team. "I know we're going to progress a lot. There are big steps to be made. We've been successful, but there has to be more to come."
An Uphill Battle for Equality
One of the biggest battles for women in professional cycling is also one of the oldest — simply gaining access to the same races and media coverage as the men.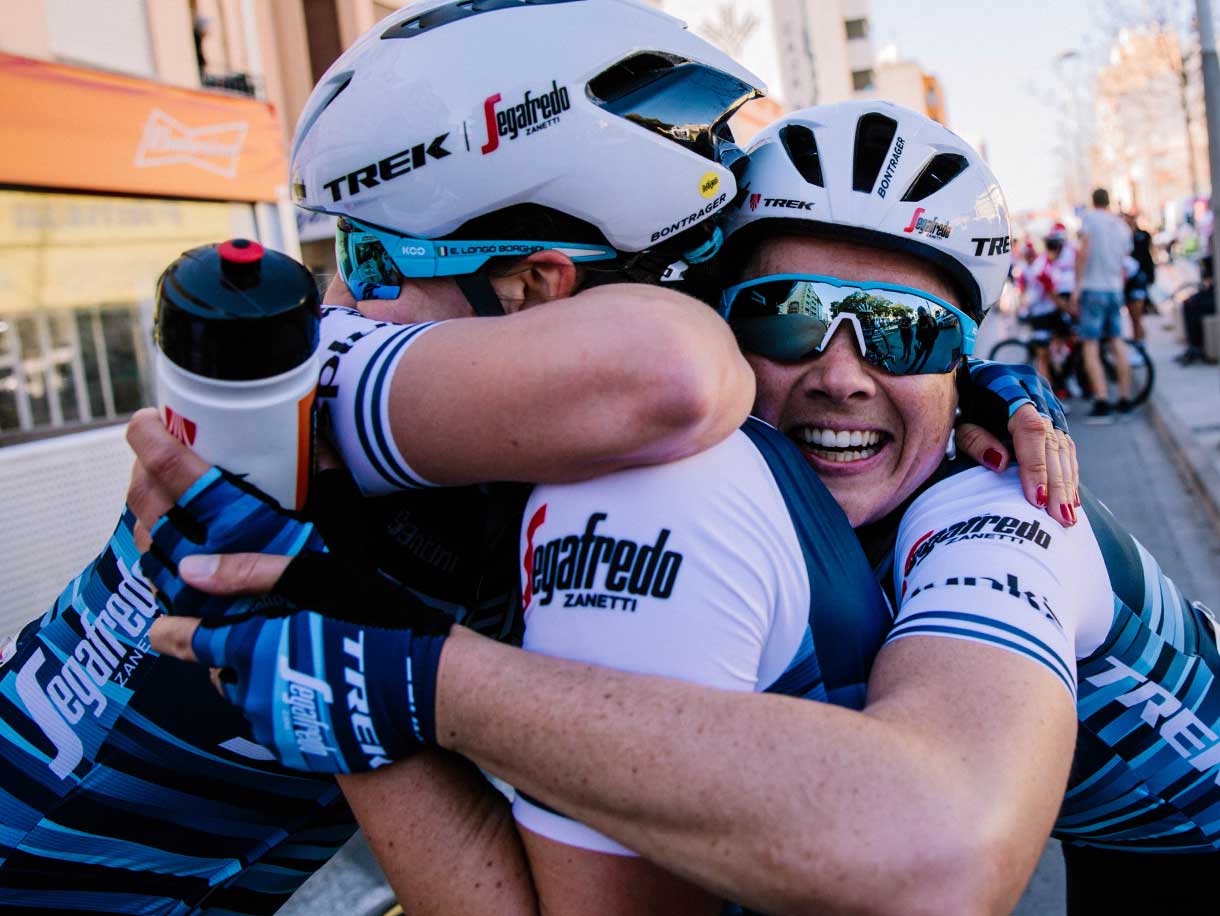 Audrey Cordon-Ragot embraces Ruth Winder (center) after Ruth's Stage One win at Setmana Ciclista Valenciana.
Credit: Velofocus
While many high-profile races now include a separate women's race, often the women's events are shorter, or entail a different, less difficult course. The Tour of California women's race, for example, is three days instead of the full seven for the men's race. The Giro Rosa, the women's counterpart to the men's Giro D'Italia race, is only 10 stages compared to the 21-stage, three-week men's event. And La Course, a small circuit race for women held at the same time as the renowned Tour de France, is held on one day.
Yet many cyclists, activists and advocacy groups feel that for women to garner the respect and recognition they deserve as professional athletes — and get paid equitably — they also need equal access to the races.
"There is no difference between the sacrifices that the men are making and the sacrifices that the women are making," says Giorgia Bronzini, Trek women's team sports director. "So I would like to see the sport be treated equally."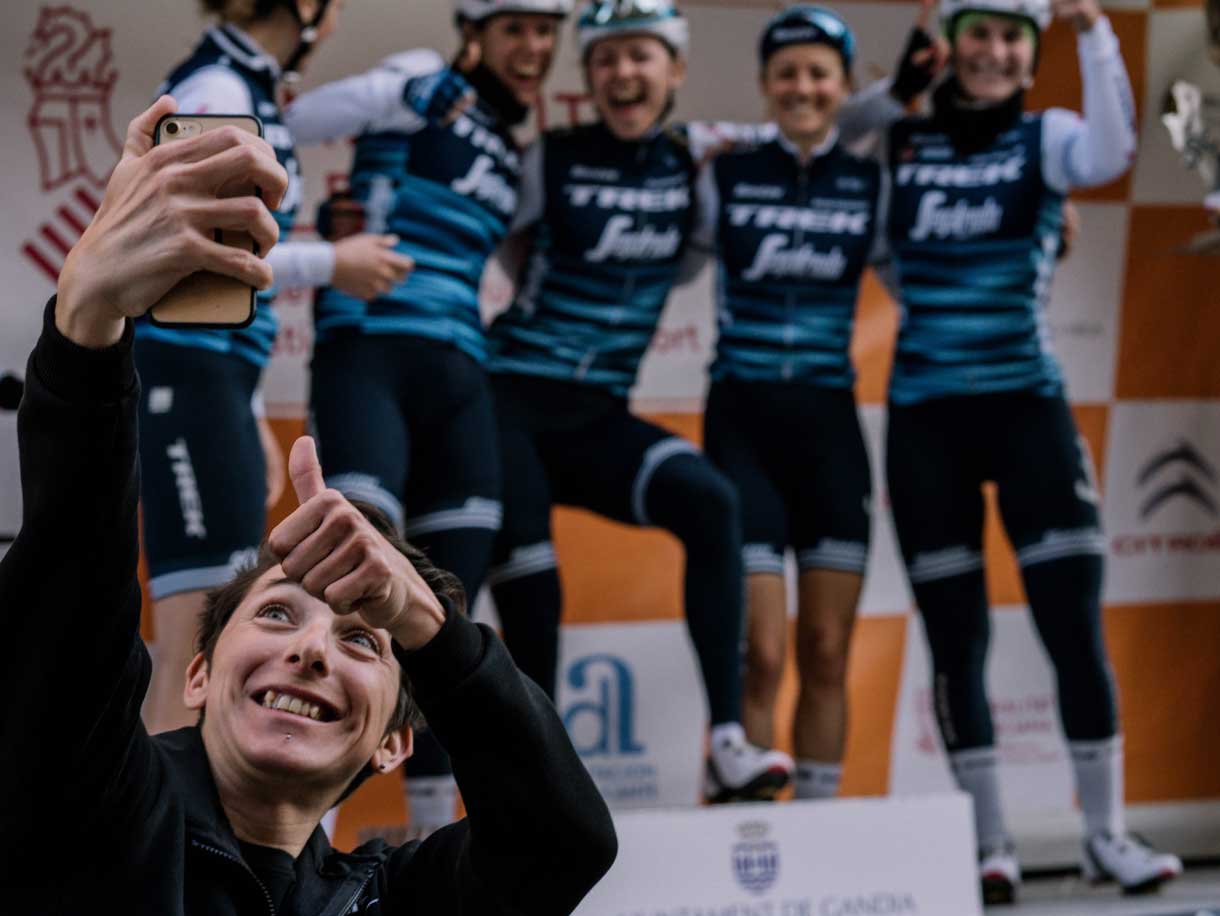 Co-director Giorgia Bronzini takes a team selfie at Setmana Ciclista Valenciana in February.
Credit: Velofocus
It's a concept that's not entirely unprecedented. From 1984 to 1989, the Tour de France Féminin, a little-known women's version of the Tour de France, spanned three weeks and ran in parallel with the men's race. The women rode similar — albeit slightly shorter — courses, finishing each stage about two hours prior to the men. Different iterations of a women's Tour de France, with various names, lengths and formats, ran intermittently until 2009, when the women's race was permanently discontinued.
"People say that with road closures and permitting, extending the women's race could never work, but it did," says Kathryn Bertine, former pro-cyclist and activist for women's equality in cycling. "It doesn't take a whole lot of work to pay for the road closures. It doesn't take a whole lot of work to extend a race for two hours so that both men and women can compete."
The ability for women to access a race goes hand-in-hand with other aspects of equality, such as equal media coverage — an issue that was thrown into the media spotlight in May when Tour de France owner and organizer Amaury Sport Organization (ASO) declined to commit the required 45 minutes of live TV coverage for the Flèche-Wallone and Liège-Bastogne-Liège races as part of the Women's WorldTour (WWT). Because WWT guarantees at least 45 minutes of live television coverage as part of its terms, ASO's decision effectively eliminated two of its prestigious, one-day women's races from the WWT calendar, unleashing a firestorm of criticism from cycling professionals and advocacy groups alike.
And it's not that women's races aren't watched. The first La Course race in 2014 was broadcast in more than 120 countries, 50 different networks and more than 10 different languages. Also, according to Daam Van Reeth, a sports economic researcher and professor at Belgium's Katholieke Universiteit Leuven, women's cycling audiences are growing significantly, passing
90 percent
of the men's viewership.
Bridging the Pay Gap
Where women's cycling recently made important headway, however, has been in closing the pay gap between men's and women's professional cycling teams. After extensive lobbying, The Homestretch Foundation, Bertine's nonprofit organization dedicated to helping equalize pay disparity, achieved its goal of establishing an equal base salary for women cyclists.
That said, it will take three years to implement. Union Cycliste Internationale (UCI) the global governing body of the cycling industry, maintains that immediately mandating a comparable base salary for the women would be difficult for the respective teams to factor into their budgets, and possibly create unnecessary financial headaches.
"I'm thrilled about the progress, but the progress is slow," Bertine says. "We're talking about something that's roughly the equivalent of about $40,000. Now if this were a minimum salary of seven figures, that's different. But we're talking about something that's very, very basic."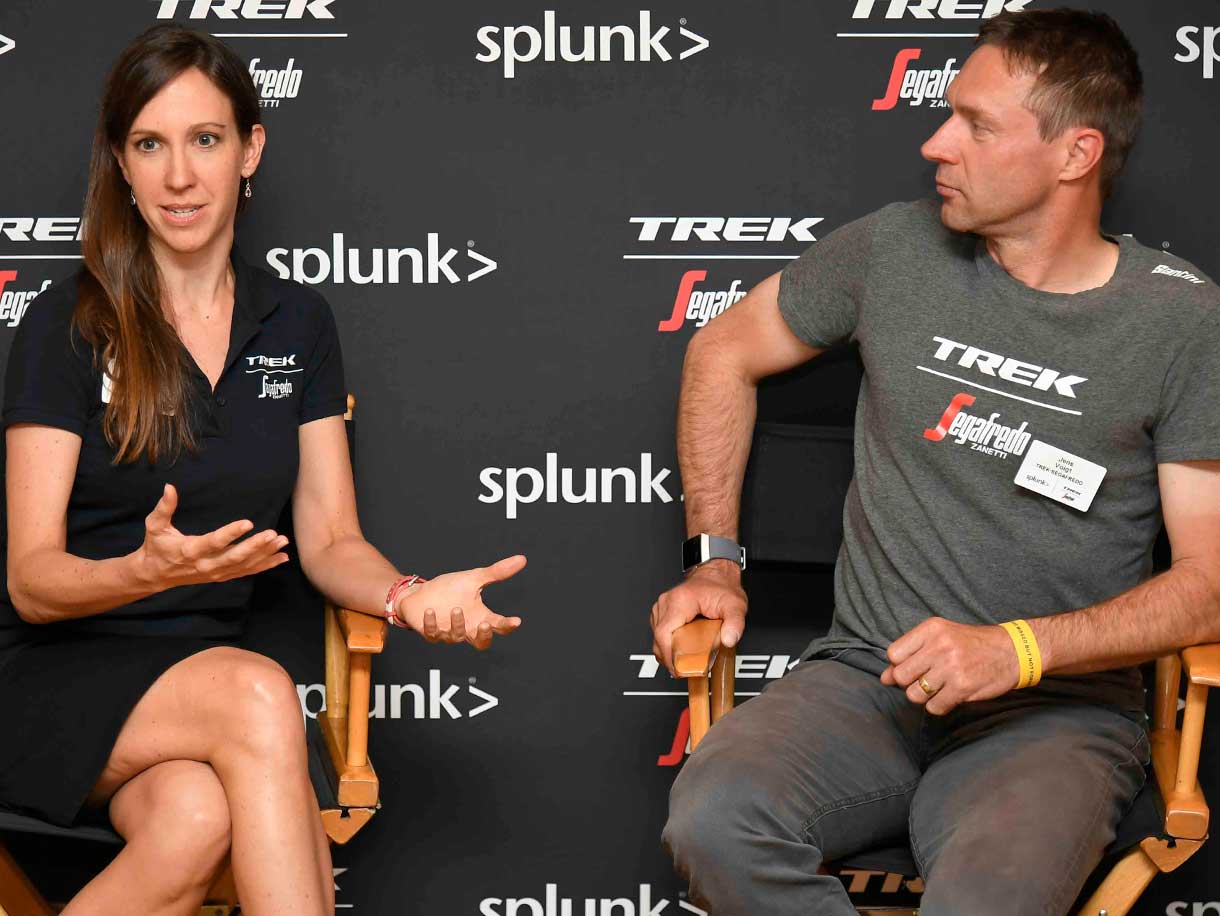 Trek Ambassador Kathryn Bertine campaigns for equality in women's cycling. Here, she shares a stage with former Trek cyclist Jens Voigt.
Credit: Velofocus
Even still, the new financial ground rules represent a milestone for women in terms of parity, and one that comes as a welcome achievement for women cyclists.
"We'd like to see more teams that pay all the women," Teutenberg says. "It means the women can concentrate on training. If they can concentrate on the sport, it gets more interest, and it gets more revenue for the team. I think that it's going to get better year after year."
For the women of Trek-Segafredo, who already receive equitable pay on the team, the new global mandates set the stage for a new industry paradigm — one that could ultimately facilitate better access to races, more coverage by the media and positive recognition from the industry. And looking ahead, they can hope to move forward in a sport that will support and validate their success as they continue to win races and take women's cycling to new levels.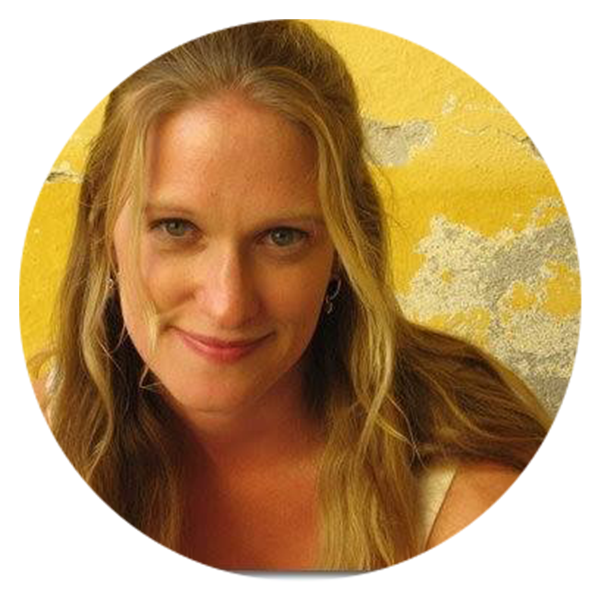 About the Author
Stefanie Hoffman is associate editor of the Splunk-Trek newsletter, The Breakaway. She covered the Tour of California live at the Morgan Hill and Pasadena stages.