Unlock the Value of Machine Data for All Users
Insights from machine data can be incredibly valuable, but how do you give business users access to these insights from their existing analytics software? The Splunk ODBC Driver provides industry-standard connectivity between Splunk® Enterprise and third-party analytics tools, such as Microsoft Excel or Tableau Desktop. Now you can gain dynamic access to valuable machine data and combine it with other data in the organization, delivering powerful new visibility and insights.
With the Splunk ODBC Driver, you can:
Make it easier for business users to gain machine data insights
Correlate machine data with structured data sources for advanced business analytics
Leverage interactive visual capabilities to gain new insights
Why Splunk ODBC Driver?
Retrieve data from Splunk Enterprise with existing business applications using standard ODBC-based connectivity.
Role-Based Access
Leverage role-based access controls provided by Splunk Enterprise to control access to sensitive machine data.
Machine Data Isolation
Use saved searches in Splunk Enterprise to read machine data so only this data is accessible.
Machine Data Integrity
Preserve data integrity—machine data access is read only and can never be modified, overwritten or deleted when accessed by Microsoft Excel or Tableau Desktop.
How It Works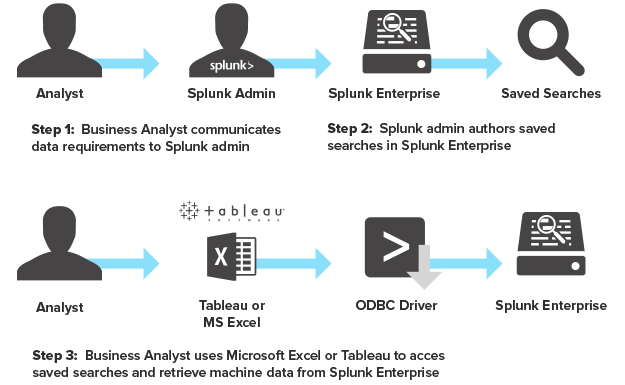 Product Requirements
Operating Systems
The ODBC Driver is available and supported on the following Microsoft Windows operating systems:
Windows 7
Windows 8.x
Windows Server 2008 R2
Windows Server 2012
Windows Server 2012 R2
Splunk Versions
Splunk Enterprise 6
Splunk Enterprise 5.x
Supported Third-Party Tools
Microsoft Excel 2010
Microsoft Excel 2011
Tableau Desktop 8.x
Other Requirements
Client computer running the Splunk ODBC Driver requires Microsoft Visual C++ 2010 Redistributable Package.
Ask an ODBC Expert
Sharad Kylasam
Expertise: Monitoring and management of enterprise infrastructure that use Microsoft technologies
Contact Us