ANALYST REPORT
Splunk Expands AI and Machine Learning Capabilities to Deliver Predictive IT Service Intelligence
Predictive Intelligence capabilities help IT teams identify problems, take preventive actions and avoid service impacts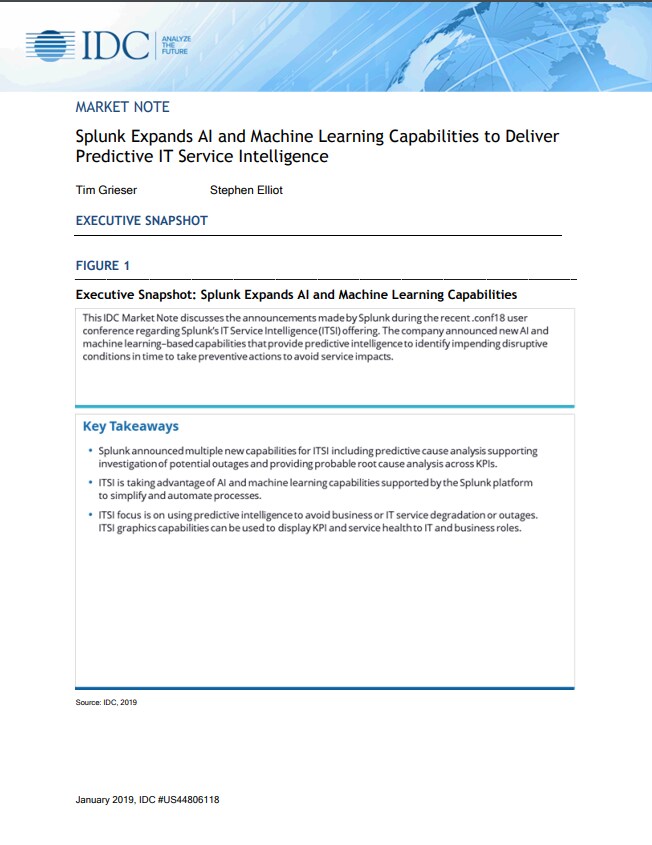 This IDC Market Note discusses Splunk's announcements during the .conf18 user conference regarding Splunk IT Service Intelligence (ITSI). Splunk announced new predictive intelligence capabilities leveraging AI and machine learning to identify potential problems before they arise and affect business. IDC also comments on some ITSI 4.0 features, including:
KPI Predictions
Predictive Cause Analysis
Integrations with VictorOps and Splunk App for Infrastructure
Register for this report to learn:
How Splunk ITSI's new KPI Predictions and Predictive Cause Analysis to support investigation of potential outages, preemptive action and remediation
How Splunk ITSI is leveraging artificial intelligence and machine learning, supported by the Splunk platform, to automate processes and make IT operations simpler
Valuable information and recommendations for IT Executives looking to evaluate Splunk and these capabilities
Splunk IT Solutions: Trusted Around the World
Source: Market Note, Splunk Expands AI and Machine Learning Capabilities to Deliver Predictive IT Service Intelligence, Tim Grieser, Stephen Elliott; Jan 2019. IDC #US44806118
This Market Note was published by IDC and should be evaluated in the context of the entire report. The Gartner report is available upon request from Splunk.