Splunk Ranked #1, With 34.9% Market Share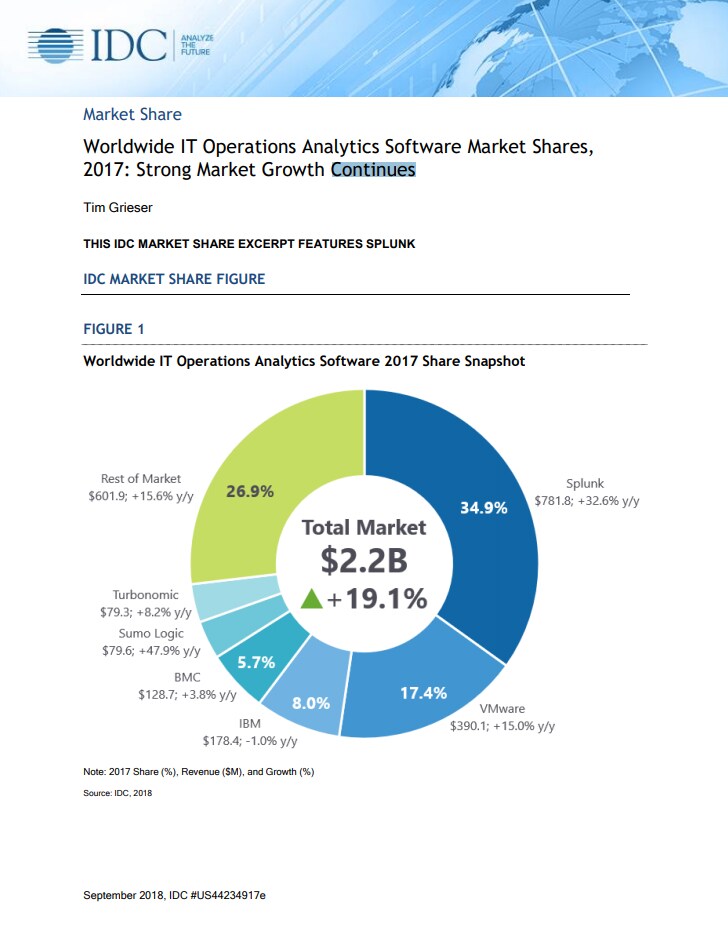 To meet the ongoing demands of digital business, companies continue to turn to big data technologies and particularly those that leverage things like machine learning, predictive analytics, and dynamic forecasting, according to IDC's report, Worldwide IT Operations Analytics Software Market Shares, 2017, which ranked Splunk as the #1 company/vendor based on market share for the fourth year in a row, with 32.6% growth, $781.8 million in revenue, and 34.9% market share.
IDC attributes Splunk's rapid growth to our expansion on capabilities in core log management and IT service management and analytics capabilities.
"Leading vendors gained increased revenue on the strength of their offerings in log management and analysis for troubleshooting complex problems across applications and infrastructure as well as support for machine learning of operational characteristics and predictive solutions for preventing future problems," says Tim Grieser, Research Vice President, IDC's System and IT Operations Management Software.
Register for this complimentary report and learn:
Key considerations for operations analytics when investigating modern tools

Total worldwide market revenue and growth rate; revenue, market share and growth rate of leading vendors

Significant market developments of 2017