Analyst Report
Gartner® Top Trends in Data and Analytics for 2023
To help leaders anticipate change and transform uncertainty into opportunity, the mission of data analytics is clarifying from one of managing data resources and creating analytic insight to delivering value.
This need to deliver provable value to the organization, and to do so at scale, is driving a variety of trends across the data and analytic function. These can be grouped into three themes: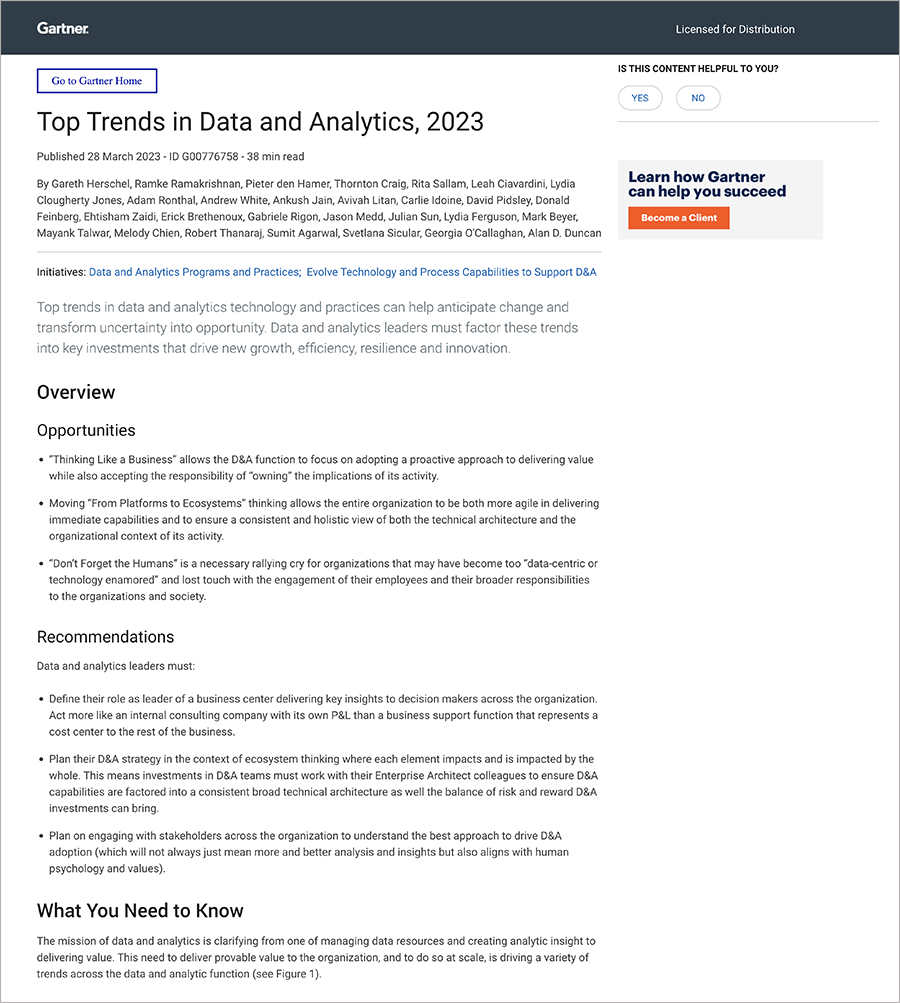 Think like a business

From platforms to ecosystems

Don't forget the humans

Read the ​​Gartner® report "Top Trends in Data and Analytics, 2023" to learn more about how to factor these trends into key investments that drive new growth, efficiency, resilience and innovation.
GARTNER is a registered trademark and service mark of Gartner Inc. and/or its affiliates in the U.S. and internationally and is used herein with permission. All rights reserved.

Top Trends in Data and Analytics, 2023, Gareth Herschel, Ramke Ramakrishnan, Pieter den Hamer, Thornton Craig, Rita Sallam, Leah Ciavardini, Lydia Clougherty Jones, Adam Ronthal, Andrew White, Ankush Jain, Avivah Litan, Carlie Idoine, David Pidsley, Donald Feinberg, Ehtisham Zaidi, Erick Brethenoux, Gabriele Rigon, Jason Medd, Julian Sun, Lydia Ferguson, Mark Beyer, Mayank Talwar, Melody Chien, Robert Thanaraj, Sumit Agarwal, Svetlana Sicular, Georgia O'Callaghan, Alan D. Duncan 28 March 2023