E-book
Splunk Emerging Technology Predictions 2021
Our experts weigh in: Which hot technologies will shape the Data Age?
In 2020, digital acceleration went into overdrive as the global pandemic pushed us faster, and further, into the Data Age. In a world of digital interconnectedness, new possibilities emerge, and these technologies will lead the way: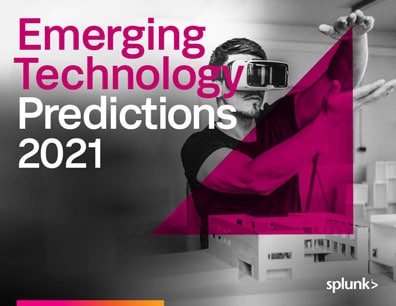 AI/ML: Machine learning is great — until bad guys start lying to your machine. What's ahead?

AR/VR: Augmented reality is ready for launch. Someone should take virtual reality's pulse, though.

Blockchain: Key challenges limit efficiency gains, but … things are about to get really wild. Explore Splunk for Blockchain.
Explore these and other trailblazing technologies like 5G and edge computing that will make an outsize contribution to organizations' success in 2021 in the full report.