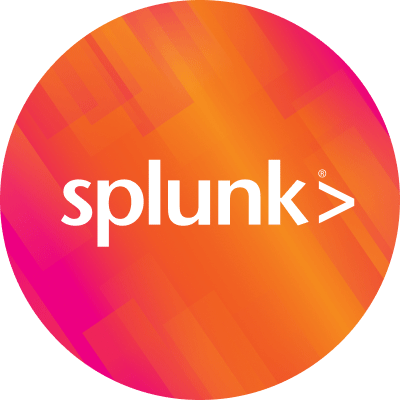 By Splunk February 02, 2016
It was a crazy idea to begin with, having a webinar for overworked IT professionals and having that webinar in the middle of that busy workday. Well, much to our surprise, a ton of people showed up! But, because of the nature of your jobs, a bunch of you couldn't. DUH! What were we thinking? But the response was so positive that we wanted to give you other overworked souls a chance to learn how to make your lives a little better (at a price you can afford). So here are the highlights you can read while running from one IT fire to another,or during the only breaks you really get during the day. I think you know what I mean…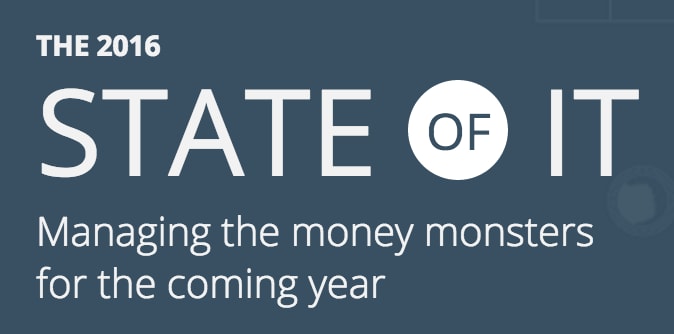 Thanks to our friends over at Spiceworks and their State of IT Report for 2016 we can confirm that the IT picture in 2016 is not going to be a pretty one (apparently there are only 3 certainties in life – death, taxes and flat IT budgets). The highlights of the report are:
While companies are making more money, IT budgets will remain relatively flat
IT staff will not be increasing
At the same time security attacks are increasing
You've got a lot of technology end-of-life work coming up
By the way when they said "budgets will remain relatively flat" they meant you would be getting, on average, $2,000 more to spend on hardware, software and services (w00t?). Hey you can finally get that Alienware 18 you've dreamed about (assuming you get the "stripped" model) except you won't have any time to play with it.
So the net-net is more work, with basically no more resources. So now you know what you need to spend that $2,000 on. Stuff that gives you the ability to do more with less and doesn't necessarily require any hardware. Let's pick the problem apart a little more to see where you should focus.
Back in my IT support days I found an interesting variation to the 80/20 rule. 80% of my time was spent figuring out the problem and 20% of my time was spent implementing the fix. So the real way to get time back is to attack the 80% of the time you spend figuring out the problem. This is where automated log search and analysis plays a critical role because it is solely focused on the analysis phase and a key part of that analysis phase is looking at the logs.
In the webinar we detailed the key requirements of a proper log search and analysis tool to help reduce that 80%:
Universal log collection – A large portion of the analysis phase is spent just getting all the data in one spot to analyze it. Oh and its not just about finding and collecting it but normalizing it.
Sophisticated search with statistical analysis – OK, now you've got everything together it's time for some math of your own that revolves around finding patterns, understanding frequency and out-of-band behaviors.
Easy to create reports – You should be able codify my searches so you can glance at them throughout the day (or night, or weekend – comes with the territory) with the latest information loaded.
Proactive alerts – In an ideal world the system finds the problem before you do and tells you about it or at least gives you an early warning indicator. It does the correlations for you and, here is the extra credit part, moves to automate resolution whenever possible. So it doesn't just tell you there is a problem, it tells you that it has already been fixed.
Next we showed a demo of how log search and analysis using Splunk Light can help IT ops, sysadmins, and dev ops personnel improve mean-time to resolution. In fact according to one Splunk Light customer, an IT department at a small private college, they were able to reduce their log checking time by over 75%.
Just a quick fun fact about the demo. We actually got many in the audience to shake their smart phones in a contest to see who could shake it the fastest and hardest. And competed by state. No kidding, here is a snapshot of the actual data collected in real-time: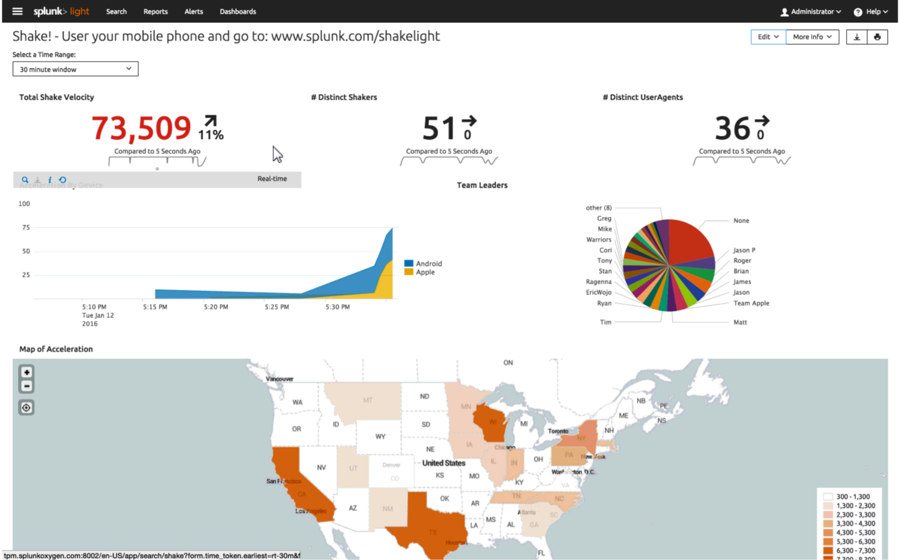 The best part about this webinar? The solution demoed starts at $3 per day* (both on-prem and cloud versions are available) which, coincidentally, fits nicely into that extra $2,000 you are getting this year. And since there is a cloud option there is no new hardware expenditure either, which leaves you money to spare. True, not enough for the Alienware 18, but definitely enough for an Oculus Rift.
So assuming you've got some spare time (and spare change) to learn how to save time, check out the recording of the IT Deeds Done Dirt Cheap webinar (co-sponsored by Spiceworks) and get your free download of Splunk Light. Or try it in the cloud.
Marc Itzkowitz
Director of Product Marketing
Splunk Light
*The $3 per day price is based on an annual license fee of US $900 for indexing up to 1 gigabyte of data per day using Splunk Light Software, and an annual subscription fee of US $1,080 for indexing up to 1 gigabyte of data per day using Splunk Light Cloud Service.
----------------------------------------------------
Thanks!
Marc Itzkowitz