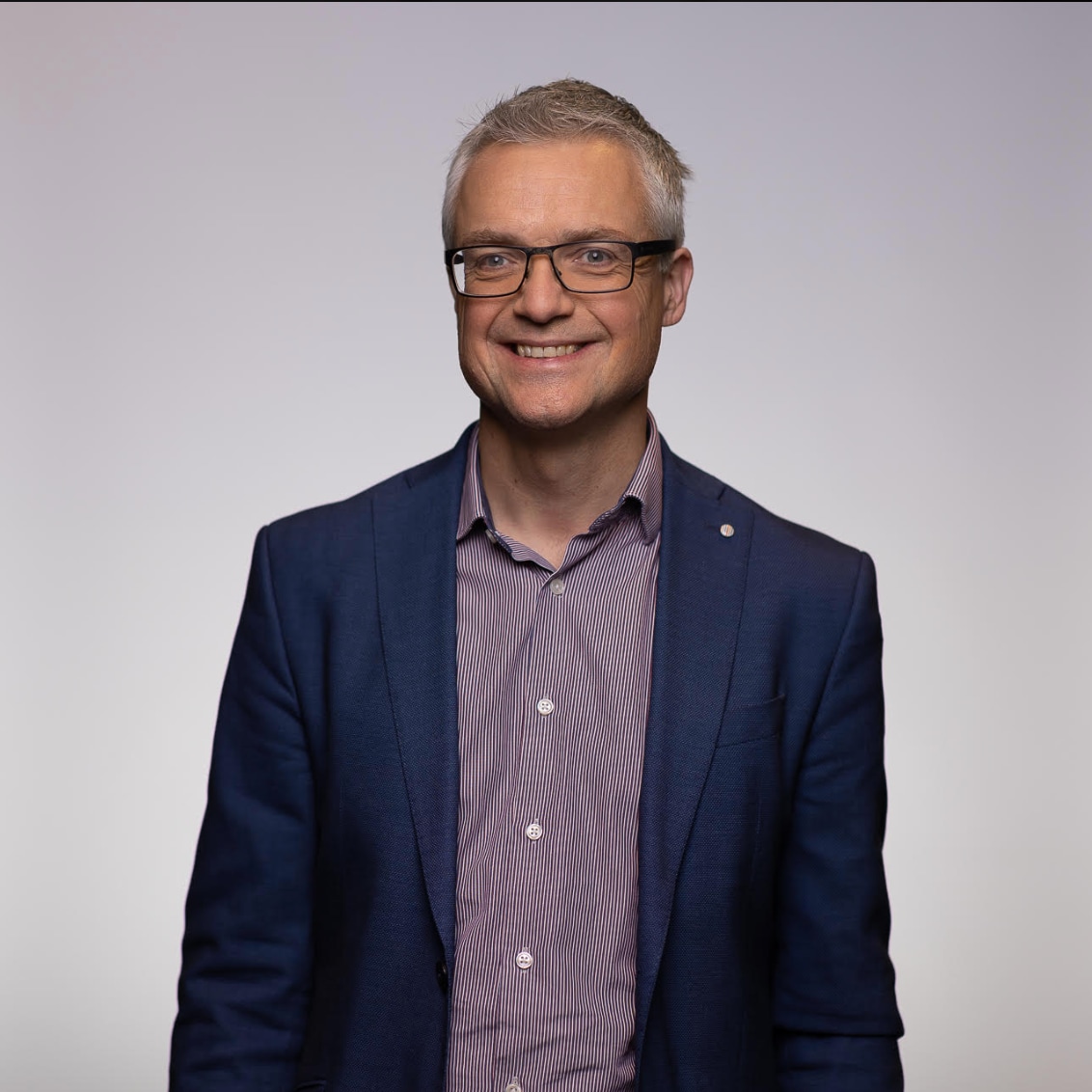 By Charles Adriaenssens January 20, 2016
I spoke at the Nimbus Ninety Ignite conference late last year, which is recognised as having one of the most influential audiences in the areas of business innovation and transformation. My presentation focussed on how all organisations can unlock the business value in their data in order to be successful, regardless of whether they are a data-driven digital start up or an established player with complex legacy systems.
Reflecting the importance of having a data-driven culture, analytics has recently been quoted as the No. 1 priority for CIO's by Gartner. It is clear that data – be it Big, not Big, structured, semi-structured, or unstructured – is on the mind of every business right now. And quite rightly so!
The reason for this is the availability of increasingly large quantities of data from a growing number of sources. Gartner predicts that the volume of digital data is going to double every two years and that there will be 5 billion sensors capturing data by 2020. In a very short time, any brand that is not able to exploit this explosion in data volumes will be uncompetitive.
The Splunk CTO Snenal Antani opened the Ignite conference by talking about how having access to business data in (near to) real time was the key to the success of GE Capital Bank. Following this, Tom Martin of Hewlett Packard highlighted the increasing number of companies who have successfully used a data-driven strategy to disrupt a market sector.
While it is true that established brands are at a disadvantage compared to new entrants in the race to become data-driven, the experiences of Snehal prove that established brands can compete. This is largely due to the ability of software to correlate and analyse large volumes of data from disparate sources – providing companies with the opportunity to generate the insights they need, at the time they need them.
It is the ability to react quickly that is now the key to business success. Brands are starting to recognise that creating a Single Customer View is not always possible or desirable, and they are instead starting to focus on being able to correlate all relevant data sources to get a holistic picture of the performance of their business.
Snehal recalled one key use case from his time at GE Capital, where he was able to establish whether the inflow of savings balances was significantly above or below the expected level at any point during the working day using alerts. When an alert was triggered one day due to low inflows, a quick scan of the competitive landscape revealed that a disruptive new offer had been launched which was attracting customer funds. Thanks to this alerting process, GE was able to react swiftly; without it, they could have lost significant revenue.
According to research conducted by Gartner among companies who have already invested in Big Data, the areas they are looking to focus on are:
Customer experience (mentioned by 64%)
Business processes (47%), and
Targeted marketing (47%)
In the same way that we can correlate multiple data sources to provide a real time view of overall business performance, we can also start thinking about aligning two of these priority areas to generate a holistic view of the impact of business processes on customer experience.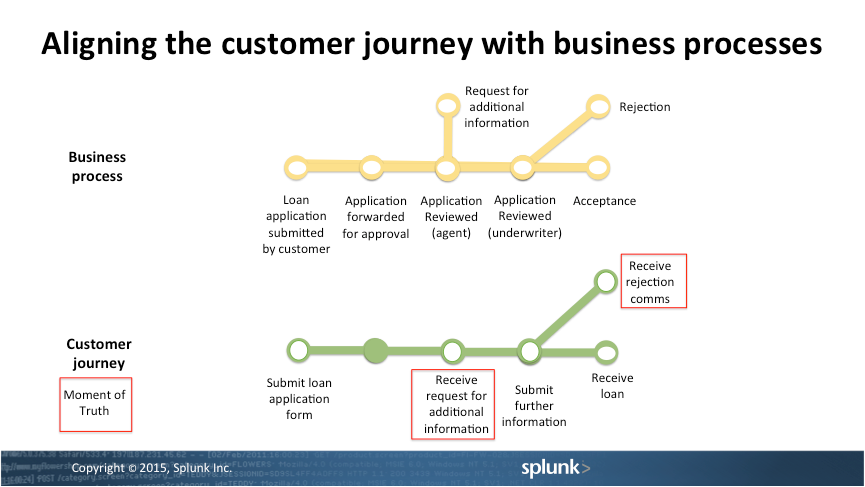 An example of how we can start to do this is shown above. The upper half of this graphic shows a simplified version of a personal loan application, mapped as a business process. The bottom half shows the same process, but from the perspective of the customer. The red boxes, meanwhile, show the phases of the process that customers regard as the most important, the so-called 'moments of truth'.
The point of this diagram is to demonstrate that it is a brands' operational performance drives the customer experience, i.e that these two areas are naturally linked. Data correlation allows us to establish not only how well any phase of any business process is performing, but also how it impacts on the customer. Taking this idea one step further, as every customer experience drives an emotional reaction, we can start to evaluate the impact of business processes on how customers behave and interact with brands.
In the future, it is likely that customer experience programmes will invest more heavily on understanding moments of truth and / or where business processes are not performing effectively – and focus less in other areas.
The future of insight generation is likely to take place in an environment where the 'what' of data analytics can interact with the 'why' of market research. Both disciplines have been moving towards providing (near to) real-time feedback for a number of years, and we are now at the point where we can correlate key data to derive 'in the moment' insights that will improve business performance.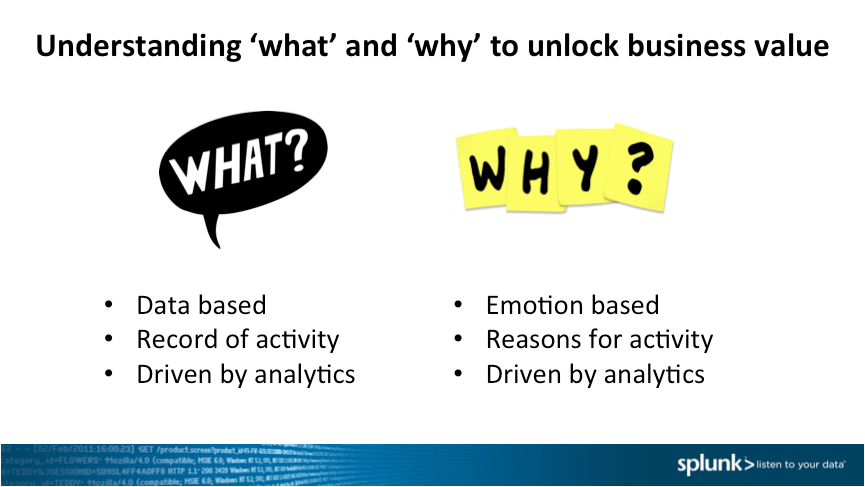 In conclusion, it is now possible for any brand to correlate multiple data sources in an agile way to improve business performance. But it is those who do so quickly who will have a significant competitive advantage.
The race to deliver real time business analytics is on!