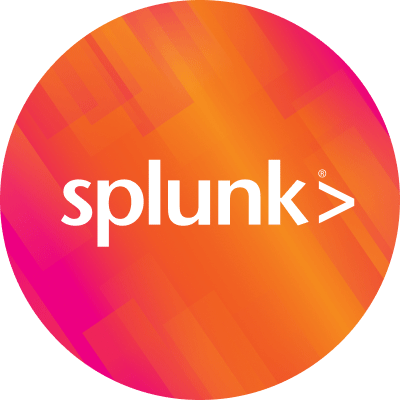 By Splunk April 17, 2015
This post is the first in a series analysing social data about the UK General Election 2015.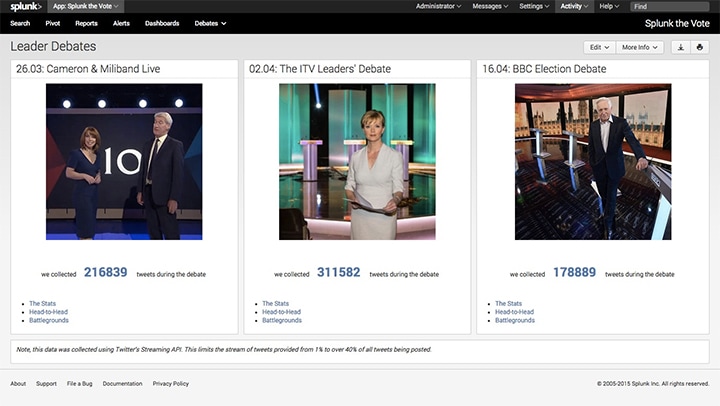 The third official debate has come and gone – this time without Cameron and Clegg. Perhaps this is why we saw the fewest tweets (179,000) collected during the debate compared to the previous two debate (216,000 & 312,000).
But how did the two leaders compare to those in the five opposition leaders who took part in the debate?
In the third part of my #SplunkTheVote series I took to Splunk to find out.
Analysis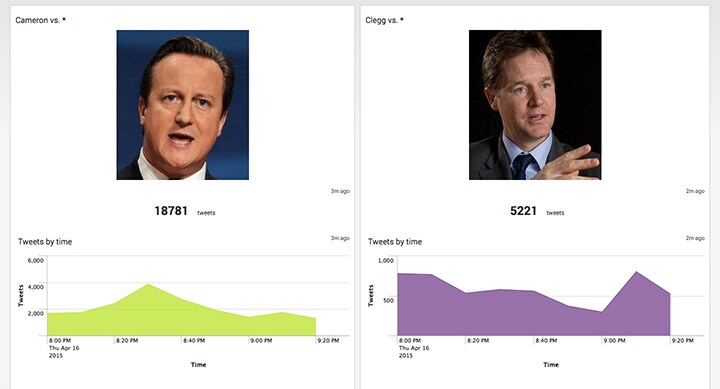 4 key findings:
Twitter was still talking about Cameron. We collected 19,000 tweets mentioning his name despite his absence.
There was a big spike in negative sentiment for Farage when he branded the audience as "left-wing".
Miliband had the highest overall sentiment from Twitter users with only 8% of tweets being negative.
Clegg faired paticulalary badly during this debate with the most negative tweets posted (26%).
The numbers
Ed Miliband (Labour)

Tweets: 25,596
Overall Sentiment:Positive (92%)

Nigel Farage (UKIP)

Tweets: 25,839
Overall Sentiment: Positive (86%)

Nicola Sturgeon (Scottish National Party)

Tweets: 22,380
Overall Sentiment: Positive (88%)

Leanne Wood (Plaid Cymru)

Tweets: 4,446
Overall Sentiment: Positive (81%)

Natalie Bennett (Green)

Tweets: 8,723
Overall Sentiment: Positive (87%)
David Cameron (Conservatives) – absent from debate

Tweets: 18,781
Overall Sentiment: Positive (88%)

Nick Clegg (Liberal Democrats) – absent from debate

Tweets: 5,221
Overall Sentiment:Positive (74%)
The data
If you want to build some cool stuff with this data, grab the data set here and let me know what you find.
I extracted this data from my Splunk instance with the following API request:
>curl -k -u admin:changeme https://0.0.0.0:8089/services/search/jobs/export --data-urlencode search="search index="ge2015" source="rest://twitter_hashtags" #bbcdebate earliest="04/16/2015:20:00:00" latest="04/16/2015:21:30:00" | fields _raw" -d "output_mode=csv" > 1604leadersdebatetweets.csv
----------------------------------------------------
Thanks!
David Greenwood