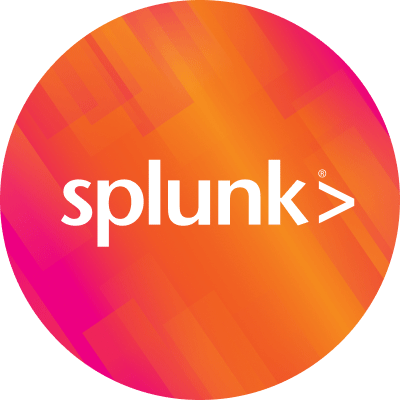 By Splunk June 09, 2011
I was fortunate to be given the opportunity to present to around 300 entrepreneurs, developers, and technologists at the June edition of the Boulder/Denver New Technology (@BDNT) meetup. The event took place at the University of Colorado at Boulder Law School on Tuesday, June 7th. It was really great to get to visit Boulder for the first time and speak to a room full of energetic technophiles.
These meetups occur every few weeks, rotating between locations in Boulder and Denver, and are where the "local community gets together to network, socialize and show-and-tell new technology."
The format of the meeting is well tuned to the modern attention span: a total of 6 presenters, usually representing start-ups seeking funding and feedback, get 5 minutes for their pitch/overview/demo and 5 minutes for Q&A directly afterwards.
I ended up in one of the anchor slots, so I got to watch 4 companies present before me. They included:
I jumped up to the front for my turn, and I immediately let the audience know that I felt like a ringer. Splunk is a pretty big company these days, especially when compared to three of the first four presenters. Taking a show-of-hands poll, maybe 20 people in the audience had previously heard of Splunk.
After reviewing the company history, I tried to present my theme using one metaphor (icebergs at sea representing the big data problem) and avoided some of the more traditional corporate eye chart slides that personally I can't stand when being presented to.
I posited that old business data paradigms have failed because:
Data is tough to get to
Data is trapped in silos
Data is not standardized
Data is too big to scale
Data is not secure
If you are familiar with Splunk, you already know that we help solve all of those problems. However, the point of my presentation was that these are only the surface problems, and that really the old business data paradigms had failed…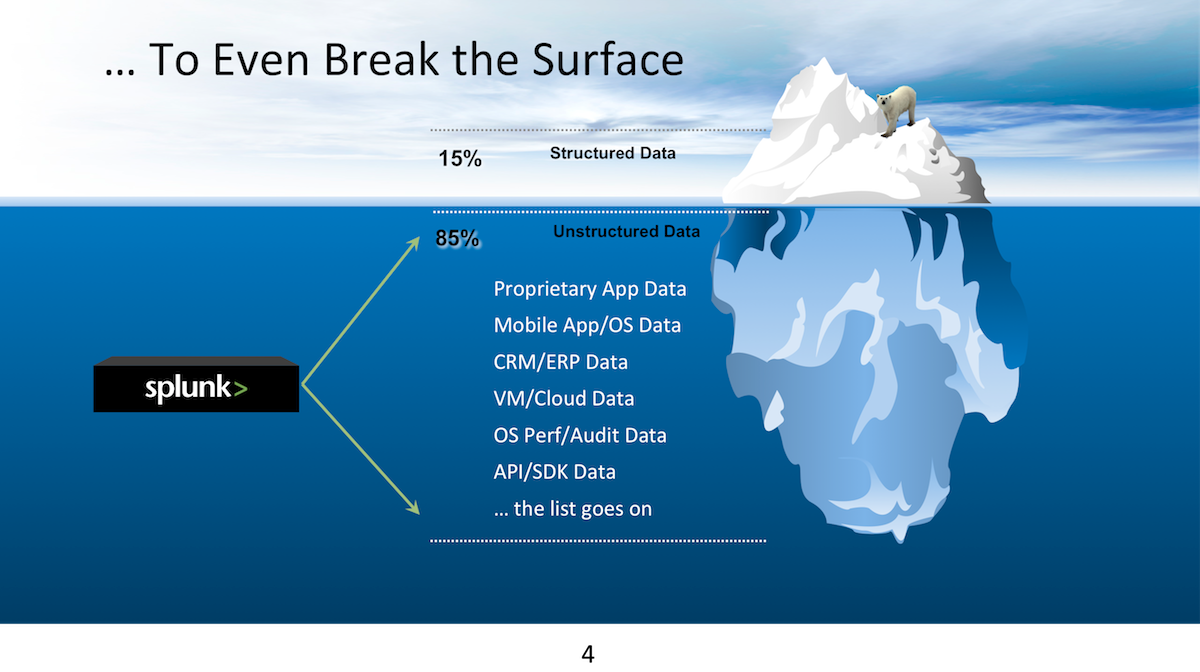 I wrapped it up by mentioning some of the core technologies such as map-reduce that differentiate us, and had around 30 seconds left to show the Splunk Web interface before it was time for Q&A.
There were some excellent questions about Splunk from the audience that I had the opportunity to answer while my colleagues Maureen Boyle and David Millis, who represent Splunk in the region, threw around some Splunk schwag (including the new Splunk eco-totes, one of which I snagged for future grocery runs).
My impressions of the event were as follows:
The BDNT community and meetups are unique among other communities and meetups that I have encountered in my travels in terms of both size and enthusiasm

I especially enjoyed well-informed references to taxonomy/folksonomy and even ontology (taking me way back to my undergraduate philosophy days)

I received a large amount of positive feedback about my presentation and Q&A session as well as some constructive criticism, both of which are always greatly appreciated
Some members of the BDNT community were not so happy that a "big" company like Splunk was present, and questioned our intentions for being there

I understand that folks involved in smaller start-up oriented communities are naturally suspicious of larger corporations, but I wonder why nobody asked the same questions of PhotoBucket, an older and more well known start-up who made a quite obvious pitch for their new social strategy?

A few members of the BDNT community took issue with the "high-level" nature of my presentation

Splunk is a large, fairly complex product with many use cases, and as such really doesn't lend itself to five minute technical presentations
If someone wants to know more about Splunk at a lower level, they can download it and try it for free for themselves
All that said, I had a great time! Thanks to Robert Reich (not the Secretary of Labor, but another Robert Reich) and Laura Lee Hullinghorst for having us out to present. BDNT really has an authentic, diverse, and vibrant community and is a great opportunity to network with folks in the Boulder and Denver markets interested in technology and entrepreneurship.
----------------------------------------------------
Thanks!
Alex Raitz