We're at level 4 of Operational Intelligence adoption (feel free to catch up level 1, level 2 or level 3) where data gives an organisation real-time insight in order to make key business and IT decisions.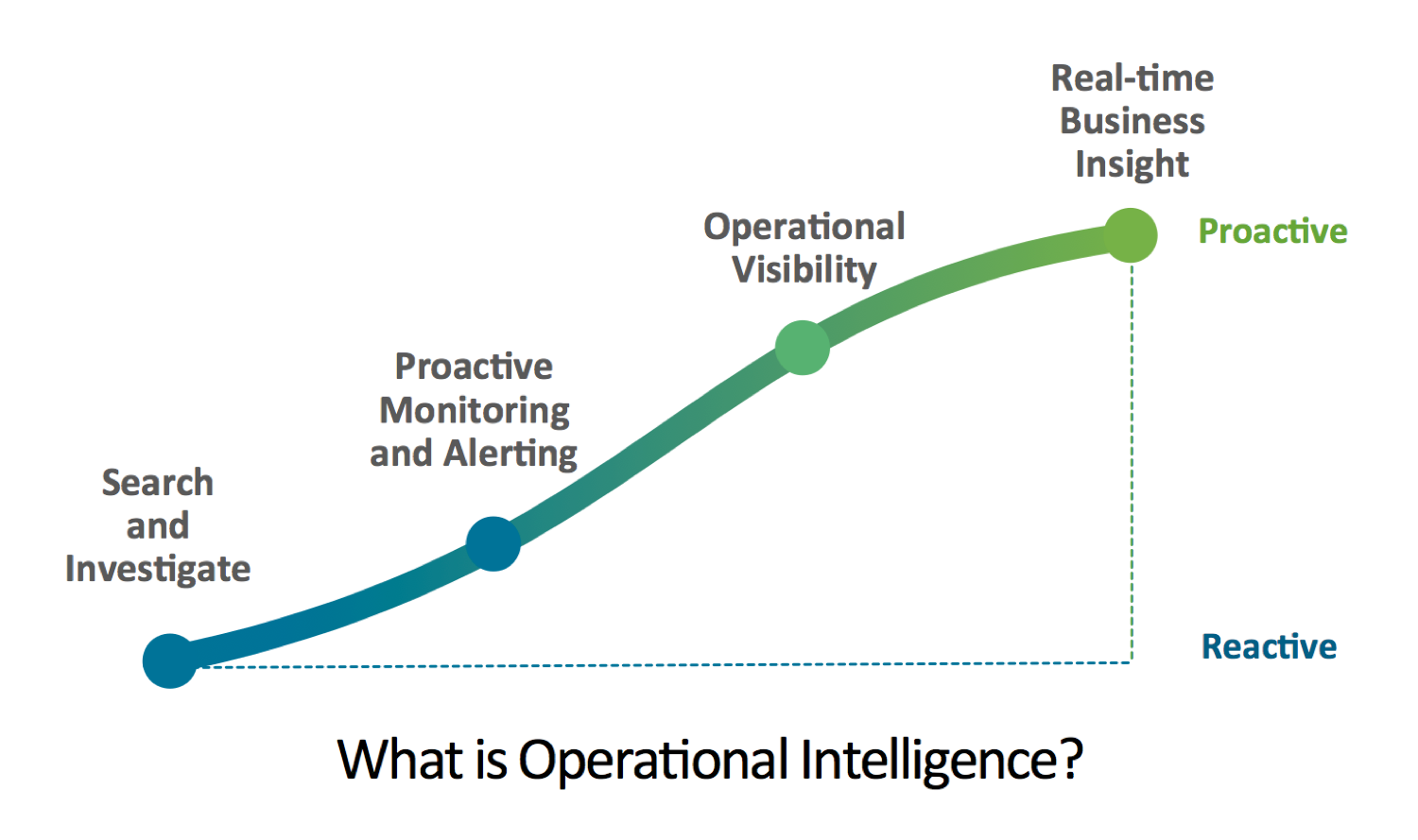 At level 4, Operational Intelligence will be delivering value to many parts of a company and giving real-time analytics to support business decisions and planning. The amount of data may well be "big data" from potentially hundreds of different sources used for multiple use cases (IT operations, security and customer experience). The machine data generated by an organisation will be augmented with other data – relational sources, mobile devices and social network information. Operational Intelligence level 4 enables a data driven approach to transforming a business.

IT Ops
You're delivering real-time business insights from what could be classed as big data from IT and application machine data combined with information from other sources. You have base-lined what normal business operations for key IT Services look like and have democratised the underlying data to support key business decisions. A lot of organisations at OI level 4 have combined unstructured machine data from IT (including mobile, Infrastructure-as-a-Service, Platform-as-a-Service and Software-as-a-Service) with structured data from ERP, CRM and customer records. You're likely to have real-time, interactive dashboards across the complete enterprise or business unit. The next level of insight is reaping the benefit of combining IT data with security and customer experience.
Security
You're likely to be delivering contextual security analytics in the form of interactive dashboards and sophisticated security data visualizations for real-time risk scoring. This real-time security intelligence probably relies on the analysis of large data sets, potentially terabytes of data per day. You will have broken down silos of security data and realised that all data is security relevant. Your real-time security posture will give an end-to-end unified, hybrid view of security from on-premises and cloud infrastructure and applications. Your security team will be including mobile device activity to help identify security threats. You may be looking to augment or replace existing SIEMs to help identify increasingly sophisticated, unknown attacks and using statistical analysis for Advanced Persistent Threat (APT) detection. Your organisation is likely to be adopting the "kill chain" methodology to detect and hunt for these APTs. You will have implemented sophisticated security processes that include automated remediation and actions when attacks and breaches are detected. The next step is real-time fraud detection in business services and building new security-centric applications.
Customer Experience
You're likely to be delivering rich, interactive real-time business dashboards that inform key sales and marketing decisions. You're probably differentiating yourself from your competition through customer experience. By combining unstructured machine data with structured information from CRM tools, data warehouses and product systems you benefit from a 360-degree view of customer. This will often be combined with mobile device and app analytics to deliver true omni-channel customer experience. Business dashboards and self-service analytics allow your customer focused teams to improve customer experience for increased customer loyalty. Additionally, the insights could be used to target promotions and actions based on real-time customer activity and behaviour. The next step is to start to use the data, insights and intelligence you have to personalise a customer's experience and offer new, innovative data-driven customer applications to drive engagement.
If you want to see Operational Intelligence in action then feel free to watch the demonstration video below or download our "Guide to Operational Intelligence".
I'll be back next week with some customer examples of leading organisations transforming their machine data into Operational Intelligence.
As always thanks for reading…