In part one of this blog series we went through Operational Intelligence level 1 from the perspective of IT Operations, Security and Customer Experience.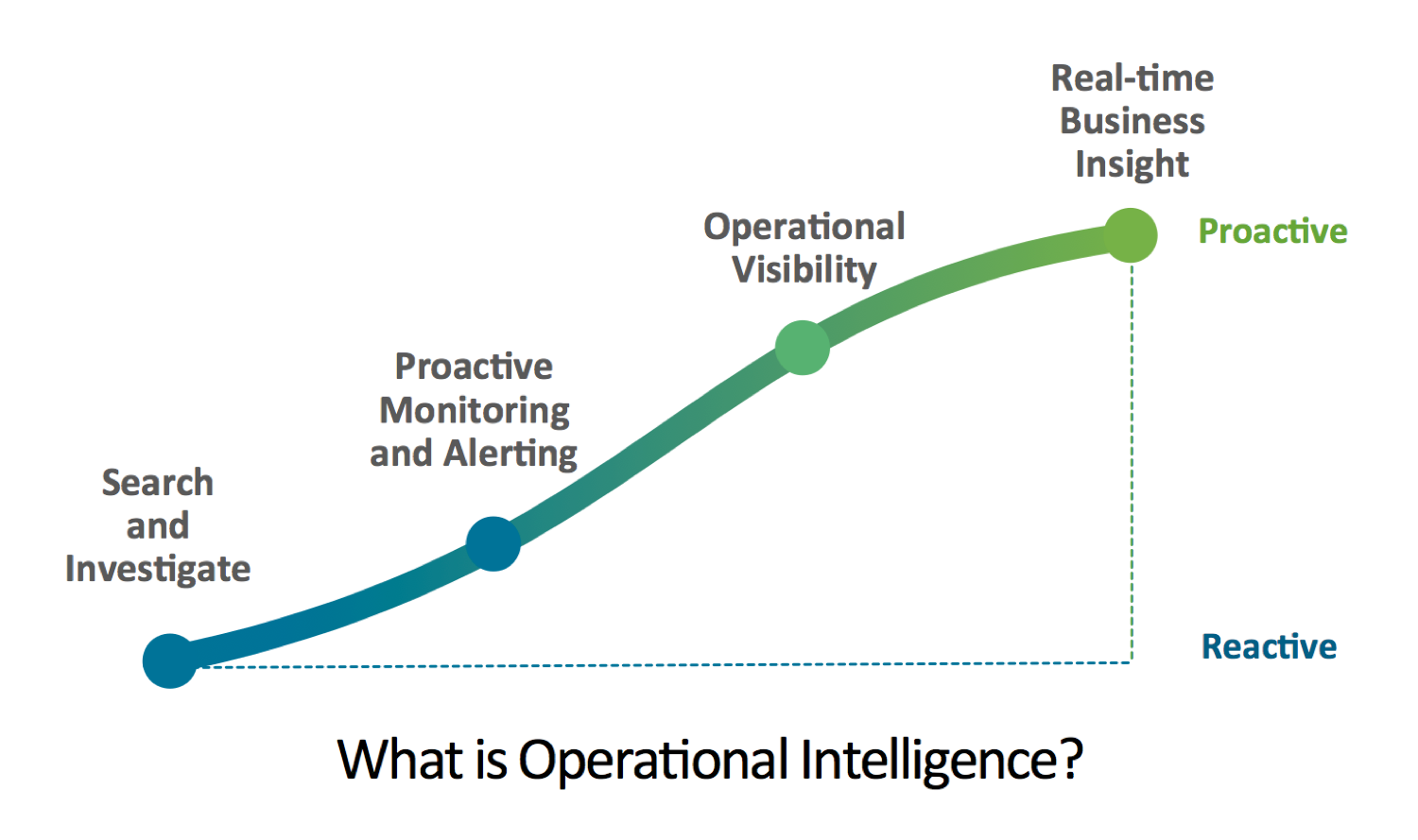 As organisations discover the benefits of searching and investigating their data, they start to see how they can become more proactive and start to see issues before they arise. This typically means seeing a pattern of data that indicates something outside a "normal" baseline and setup notifications and alerts when unusual collections of events start to happen. This is Operational Intelligence adoption level 2:

IT Ops
You've moved beyond collecting data and reacting to issues by searching for the cause. You're likely to be monitoring most, if not all of your IT and application estate, in order to run searches across of all your machine data to detect issues and deliver contextual alerts. This allows you to monitor for specific conditions, trends and complex patterns in your data. This will help you reduce mean-time-to-resolution (MTTR) when issues arise in production and help accelerate time-to-market for application releases in support of DevOps practices like continuous integration and continuous deployment. At the next stage of OI maturity, organisations move on to deliver IT Operational Analytics (ITOA) by viewing the entire IT and application estate as services to managed and monitored.
Security
You're protecting your organisation with advanced correlation of data to spot unusual behaviour and potential threats. Your security team has gone beyond reactive forensic investigation and is delivering continuous security monitoring and evaluation. You monitor for all known threats and aggregate threat intelligence feeds to power sophisticated alerts around suspicious looking patterns in the data. Your organisation has probably started to break down security data silos and include external threat data to augment security intelligence. Centralised visibility means you benefit from understanding the end-to-end implications of security threats. You may have started to offer a single pane of glass for security insights and real-time, threat-based security posture. You are likely starting to use the data to improve your security processes and coordinate emergency response. At the next level of OI maturity, most organisations start to deliver context-driven situational awareness and build out scalable security investigation processes.
Customer Experience
You're likely to be proactively monitoring for customer experience events. You probably look for complex patterns in data collected from multiple relevant sources and have set alerts based on variances. This could include events such as purchases, abandoned shopping carts and products being removed from baskets. You may also have started to monitor customers' end-to-end transactions to highlight any issues that lead to a poor experience. A lot of organisations get real-time insight into quality of service, degradation of online performance and drop in customer engagement. At the next level of OI, most organisations start to deliver business dashboards, customer journey modelling and multi-channel analytics.
See you tomorrow for Operational Intelligence adoption level 3.