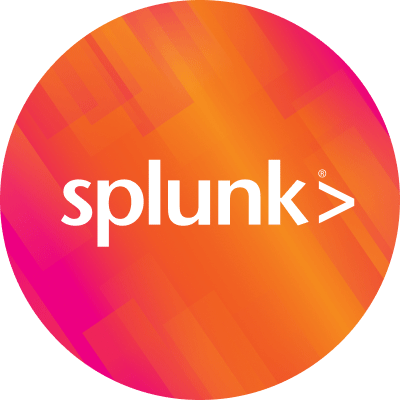 By Splunk October 28, 2014
Updated 2/19/2021: Splunk MINT is no longer available for purchase as of January 29, 2021. Customers who have already been paying to ingest and process MINT data in Splunk Enterprise will continue to receive support until End of Life, announced as December 31, 2021 for all MINT products: App, Web Service (Management Console), SDK and Add-On.

---
At .conf a couple weeks ago, we announced Splunk MINT —two offerings focused on mobile app developers and operations teams. Our web service offering, Splunk MINT Express is based on BugSense, but is also a massive upgrade.
BugSense was acquired by Splunk last year, and has continued to build a large customer base. In fact, the highly secure and scalable BugSense infrastructure receives over 25,000 data points per second from over 200 million monthly active users. Here's a great blog from Leena Joshi that talks about BugSense.
So, why did you rename BugSense to Splunk MINT Express?
Ah, good question. First, some background: Splunk MINT was named with an eye on disrupting the role of mobile operational insight. When you collect the data that your mobile developers, mobile operations teams and business stakeholders can all benefit from, you get breakthroughs in understanding what experience your mobile apps deliver and how they're used. To that end, we dramatically updated our Insights dashboard, which gives you an at-a-glance view of the usage, performance, and reliability of your mobile apps.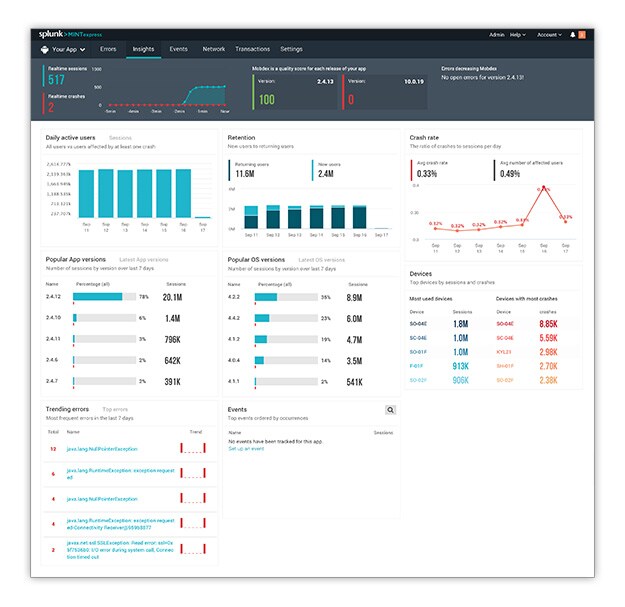 We believe mobile intelligence is about much more than crashes and basic usage stats. One very important capability of Splunk MINT Express is network monitoring, which provides insight on how the network your mobile apps connect to affect performance.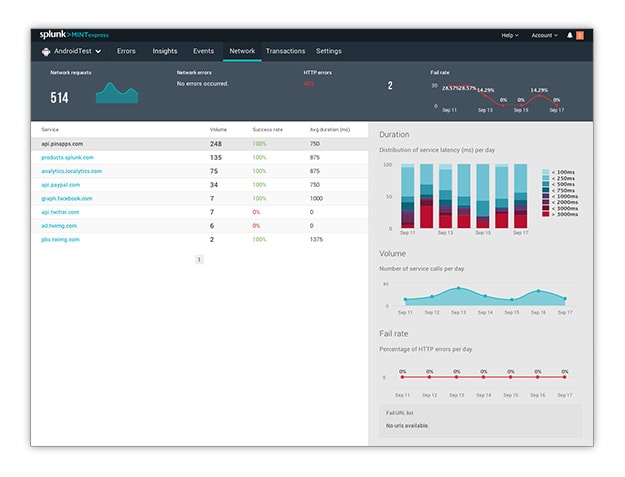 You can monitor specific transactions and events in a mobile app to get better insight on how your customers use it. That kind of information not only allows mobile app developers to build better apps, but it helps mobile operations teams understand where problems exist. It even gives product managers and business stakeholders better insight on how their mobile apps affect business outcomes.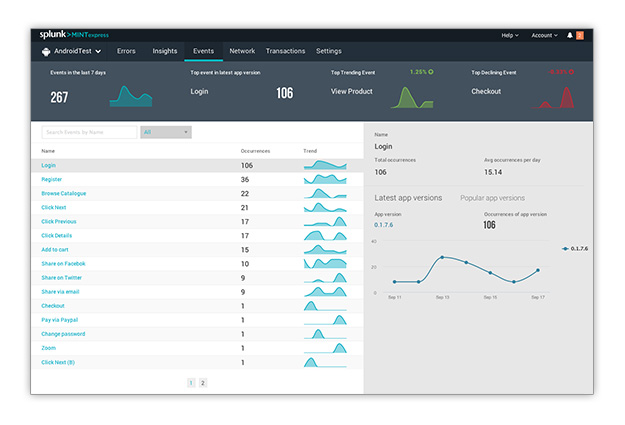 What's the difference between Splunk MINT Express and Splunk MINT Enterprise?
Splunk MINT Express is a major component of Splunk MINT Enterprise. Imagine getting all of your mobile operations information delivered in real-time, granular detail to Splunk Enterprise or Splunk Cloud. Once you have your data there, you can gain insight across all the infrastructure and applications that work together for mobile apps to operate successfully—from the app to the data center.
With Splunk MINT Enterprise, you can also correlate usage and performance information across mobile, web and other customer-facing channels. This is what many are calling "omni-channel analytics."
Simply put, we believe good mobile operational insight is about much more than capturing crashes and basic usage stats, and helps you get insight into how people experience your apps like you've never had before. This perspective on mobile intelligence is something Splunk is best positioned to deliver.
Try Splunk MINT today!
We're offering a free 15-day trial of Splunk MINT Express. If you already have Splunk Enterprise and want to analyze mobile intelligence and correlate it with other data you're splunking, let us know—you may be great candidate for the Splunk MINT Enterprise Beta!
----------------------------------------------------
Thanks!
Bill Emmett