As the Director of Talent Acquisition for Splunk's Product and Security divisions—and as a woman and a mom—I've got a front-row view of how we're working to hire, support, and enable women in tech at Splunk, and in the community at large. #PressforProgress
Here are three things I think we're doing well to foster an inclusive and successful team and workplace.
1. We're Listening
Perhaps the best example of how Splunkers work together to empower each other is our Women in Technology (WIT) group, which, with over 2,300 members, includes about ⅔ of all Splunk employees and is one of the largest and most active employee groups at Splunk. Comprised of both men and women employees, the group's mission is to attract more women to roles at Splunk, retain and develop women at all levels, and foster a community to support our Vision.
Spanning an intranet channel and several in-person working groups, the WIT group acts as a holistic communication platform for Splunkers to ask questions, share insights, and collaborate with one another to advance women in technology at Splunk. Recent intranet posts include profiles of individual Splunk women, highlights of regional company WIT meetings, and updates from Splunk working groups focused on things like mentoring, recruiting, and involvement in the greater women in technology community. I've found the Splunk WIT group to be inclusive and forward-thinking, and a great place to listen and be heard. I'm so proud of the work this group has done to create a platform for all voices, and the way the rest of Splunk has contributed.
2. We're Learning
While the Splunk WIT group has become instrumental in our mission to elevate Women in Technology at Splunk, we're also looking outside to glean insights from the community at large. By attending and sponsoring industry events such as the annual Grace Hopper Celebration and Women of Silicon Valley, we're learning best practices from other women technologists and technology companies, and integrating them into our own diversity and inclusion programs at Splunk.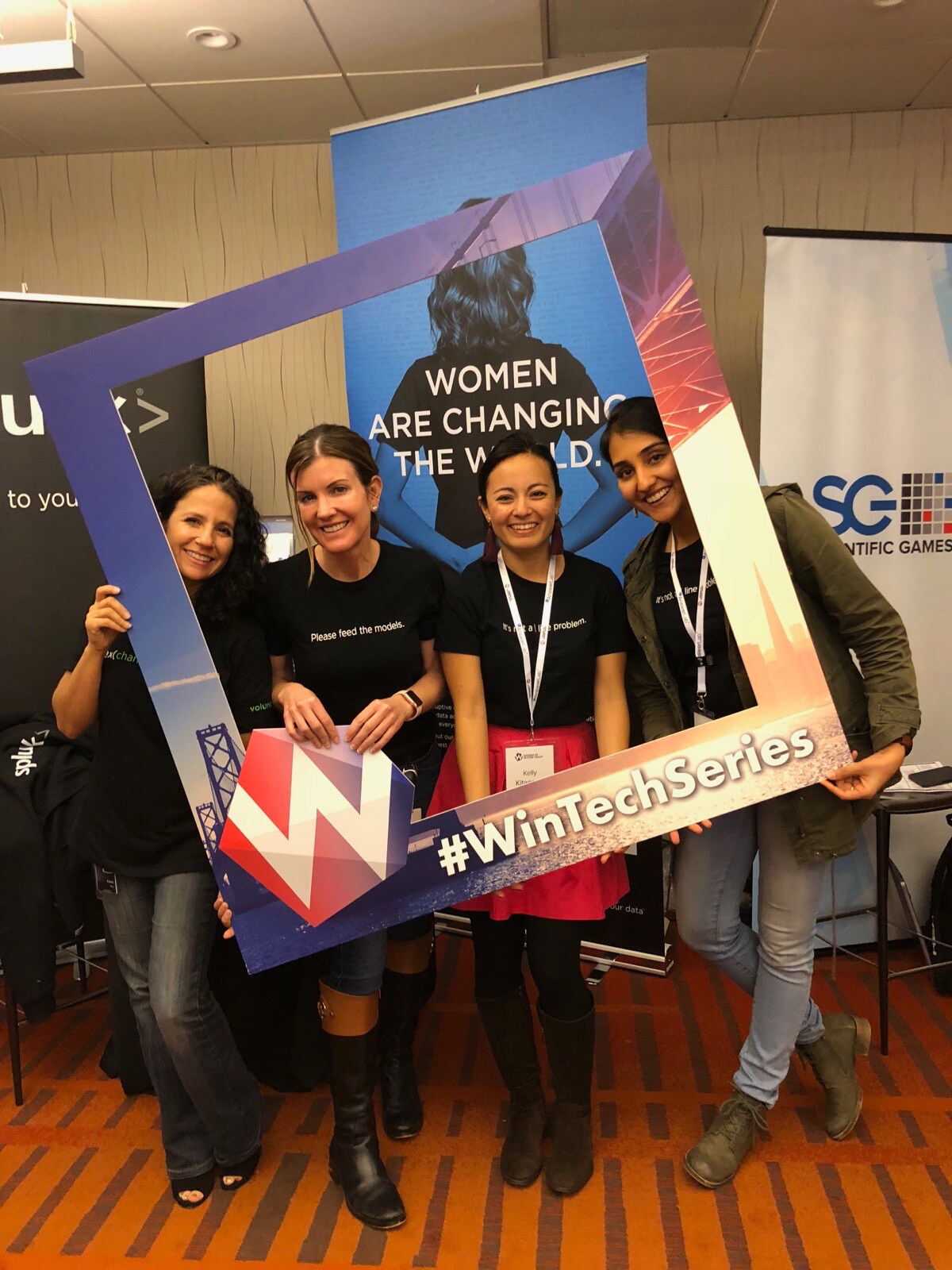 Karen Miller (Director of Talent Acquisition), Heidi Smith (Sales Recruiter), Kelly Kitagawa (Sales Engineer), Asmita Puri (Senior Software Engineer) at the Women of Silicon Valley (WOSV) event in March.
Our goal is to provide a best in class experience for women in technology whether they are our partners, employees, candidates, and/or members of the community. We've established programs to give back to the STEM/STEAM ecosystem, recruit women technologists and to help our employees grow as engineers, product managers, professionals and as humans.
We have some amazing leaders here at Splunk who push themselves everyday to listen, learn and grow so we can all be our very best, which is why it came of no surprise to me to see our leadership team embrace the launch of a company-wide unconscious bias training.
In partnership with the NueroLeadership Institute, we launched a global "Breaking Bias" initiative to combat unconscious bias in our work environment. The Breaking Bias program is a four-week long micro-learning sprint that teaches how to mitigate bias in the workplace by removing bias from processes using the SEEDs Model. We are already seeing behavior change around splunk. For example, one manager stated:
"I remind myself of the [SEEDS] model and try to solicit more diverse viewpoints, structure conversations differently, or flex/exercise my own brain to work in a non-habitual way. I love the confirmation that we are all biased, didn't realize it is programed in the brain and therefore we must have PROCESS to adapt."
We all know diverse teams create more innovative products, and we know we all have blind spots and areas where we need to learn, adapt and grow. What I love about Splunk is we embrace and address these blind spots head on; it could be something as simple as a "distance bias" that someone might uncover, and as a result we provide the tools (i.e #slack) to help unblock this bias.
From a recruiting perspective—to help us remove our own biases that may show up in how we write—we're using tools like Textio to convey our message more effectively; by providing a transparent communication platform, we're enabling Splunkers to aim our hiring and retention compass in an inclusive, growth-focused direction.
3. We're Adapting and Growing
This is just the beginning for us Splunkers. As we continue to build products that allow us to turn data into insights which empower us to solve some of the worlds toughest problems, we know it's critical for us to build a diverse team with a growth mindset. I'm honored and excited to be part of a team who continues to make a concerted effort to build a workplace focused on inclusion, empowering women in technology and pushing each of us to be the best we can be. It's comforting and inspiring to be surrounded by amazing people who understand how important it is to celebrate each of our unique stories and amplify our unique strengths. After all, each of us are a #MillionDataPoints with a unique story to tell and the ability to contribute a great deal when given the opportunity and support.
If you have a growth mindset and would like to be a part of our journey, I invite you to share your story and ideas, and to check out Splunk engineering, product management, and user experience career opportunities today.