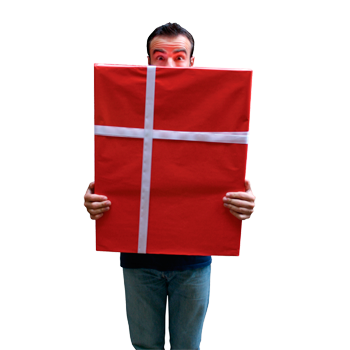 I hope everyone is getting ready for Christmas and nobody got injured in the madness that was black Friday. I've just got back from San Francisco where the festive season was in full effect. My Christmas shopping is nearly complete and the adoption of secret service level espionage tactics to hide presents from my children is underway. I'm fairly useless at keeping gifts a secret – I've nearly told my 8 year old son that he's going to get an army of Star Wars Clonetroopers a number of times. I think it is important to try and keep presents a surprise to recapture some of the magic of the festive period when I was growing up and to try and keep the mystery of Father Christmas alive as long as possible (deliberately vague in case my children read this and any grown up readers are looking forward to Father Christmas visiting in a couple of weeks…)
Just before I left, I was lucky enough to attend the V3 Awards at the May Fair Hotel in London. There were a number of categories from software to hardware, SaaS to security and storage to "best acquisition of the year". Splunk was nominated for the "Best Business Application" category. My colleague, Alice Crook (@AliceCrook), had nominated Splunk and it was then down to the readers of V3 magazine to decide who was the winner.
As the title of the blog post kind of gives it away, there's no point building up a sense of suspense. Splunk Enterprise was named the winner of the "Best Business Application" award. Our category was up first and Splunk were up against some fairly prestigious competition. When the master of ceremonies announced Splunk Enterprise had won, Alice was speechless with surprise and I did that bumbling Hugh Grant thing (that I appear to now be infamous with my American colleagues for) with the eloquent words "blimey, erm, crikey, wow, flipping nora, erm, crikey, erm, blimey". Luckily there was no need to do an acceptance speech as it probably wouldn't have been my finest moment thanks to a lack of sleep, half a glass of wine, a cold and Hugh Grant mode clearly engaged.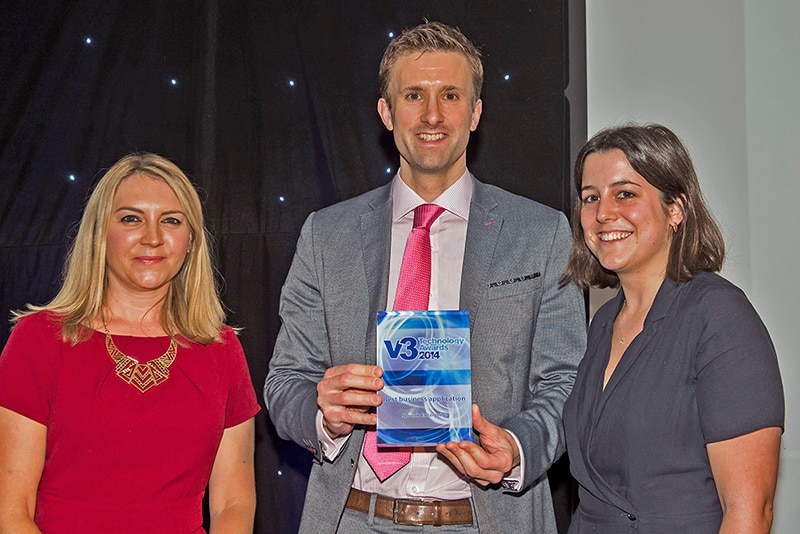 Without sounding like an overly emotional, fake Oscars' acceptance speech, I wanted to say a big thank you to all the readers of V3 magazine who voted for the award. Some of these things are decided by a committee of people "in the know" so when you get an award due to votes from readers of a magazine it does validate that real users, IT professionals and (importantly for this award) business people use Splunk, enjoy it and take the time to vote for you.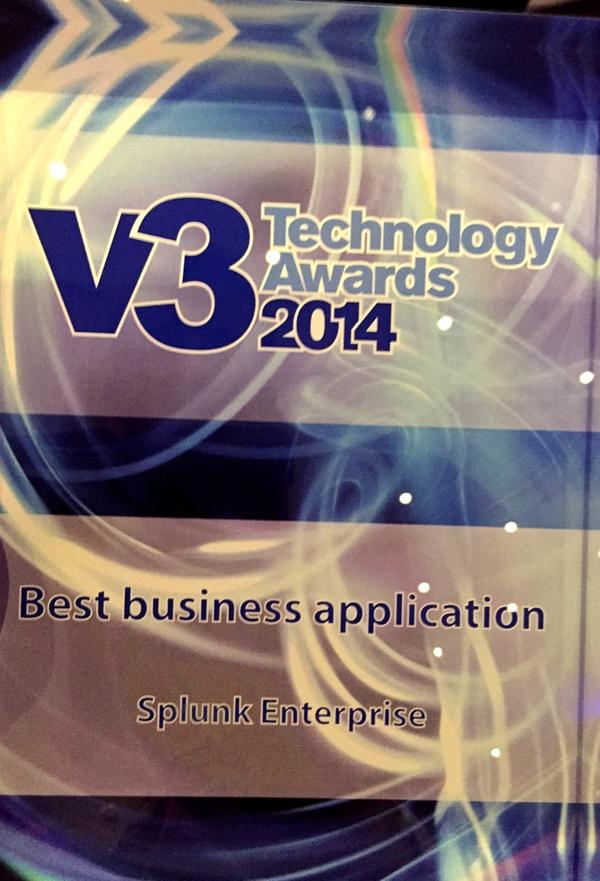 If you look back at Splunk's history, we started off as a tool for sysadmins and IT to find and fix problems. Splunk has grown a lot over the last ten years and IT Operations and Application Management/Delivery is still a huge part of what Splunk does – the IT guys and girls will always at the heart of Splunk and everything we do. It is interesting to see how Splunk as a platform for machine data, Operational Intelligence, ITOA, security and business analytics has additively grown Splunk into a genuine solution for non-technical business people. We've got a lot of use cases that show this but being voted "Best Business Application" by readers of a pretty significant publication here in the UK gives you a warm Christmassy feeling and taps into that happy reflective mood that I always get in the lead up to the holidays.
I started by saying that I'm trying to keep Christmas gifts secret from my children – I'm a firm believer that the best presents are the ones that are a surprise. This was certainly the case with the V3 award for Splunk. I dare say the look on Alice and my face when they announced the Splunk award for "Best Business Applications" wasn't too far away from Christmas day when my son sees his army of Star Wars Clonetroopers….