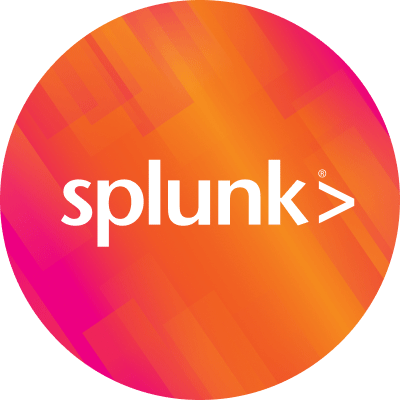 By Splunk November 19, 2013
This past Veteran's Day weekend, I was in Syracuse, NY with fellow Splunker Christy Wilson, attending the 3rd annual IT Girls overnight retreat at Syracuse University's iSchool. One of the goals of the retreat is to introduce the 100 selected high school girls from around the US to technology concepts, and to inspire them to pursue careers either in, or related to technology–but we were the ones who came away inspired.
The girls travel to the event from all over the country. Most are from neighboring cities including New York, Philadelphia, and the DC area, but the event is expanding its reach–some attendees were from further afield, coming from Texas and Georgia. Some parents also traveled to Syracuse with their daughters on buses chartered for the event.
The retreat started a little before we arrived, with a keynote speaker and workshops for the girls covering a variety of topics, but the main event for Christy and me was the overnight hack-a-thon/project. During this portion of the event every year, the girls are asked to work in groups of 5 to identify a social issue they want to highlight or address and to describe how they might use technology to do so.
Christy and I participated as representatives of Splunk>4Good, Splunk's social responsibility organization (headed up by Christy). Our task was to devise an introduction to data analytics, and to give the girls some inspiration around what they might accomplish with public data. With a LOT of help from our own Michael Wilde (aka the Splunk Ninja), we pulled together a Splunk dashboard that allowed the girls to search for terms in a static set of Twitter data from the time period of the US Federal Government shutdown at the beginning of October, and see the data broken out by gender and location. Here are a couple of screenshots of portions of the dashboard with the search term of "hope":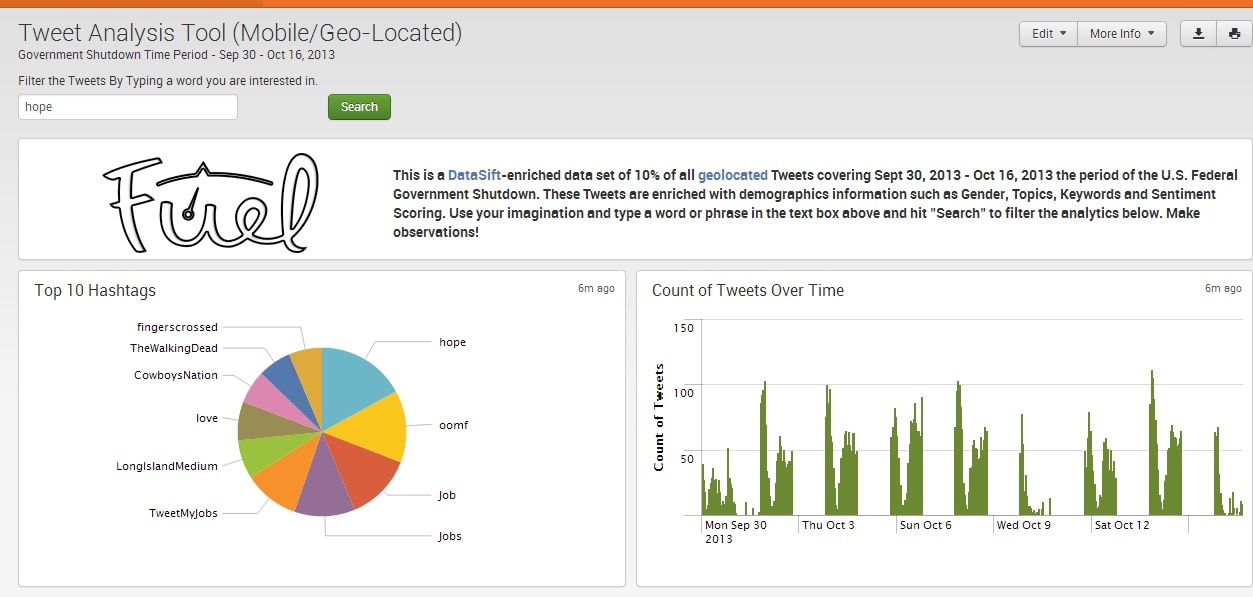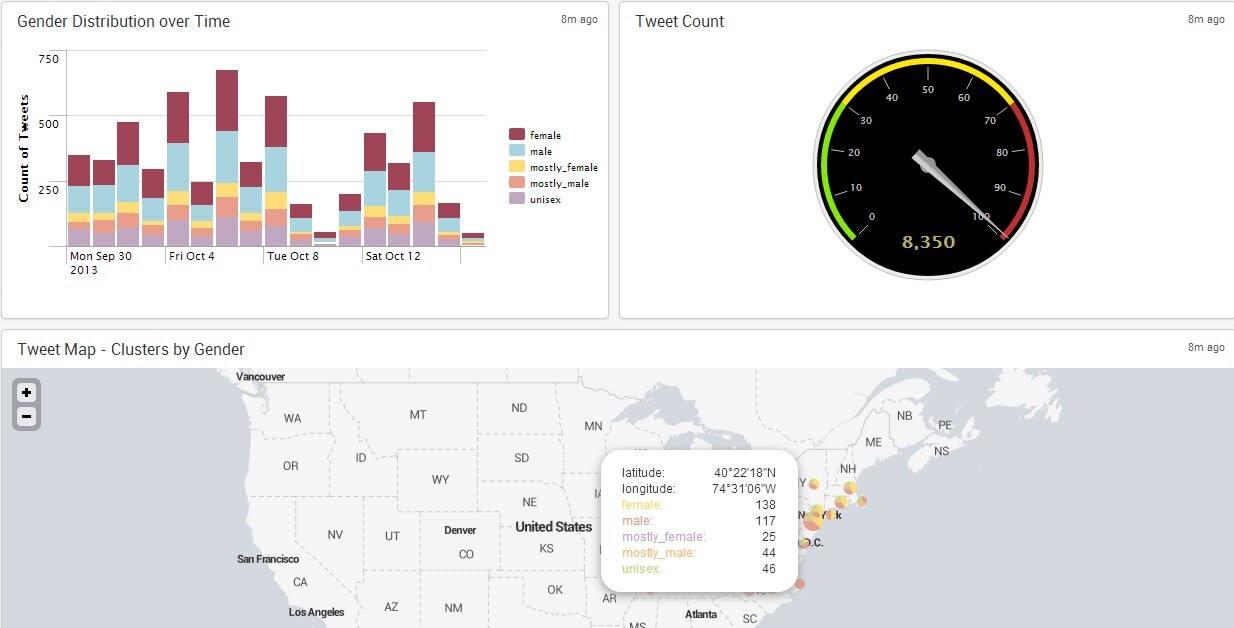 After introducing the girls to the dataset and giving them the credentials to access the dashboard, they broke out into their groups and dispersed throughout the iSchool building with laptops. Christie and I walked from group to group, chatting with the girls, and listening to them work with each other. Some amazing, hard-hitting projects were conceived–one group wanted to research the terms and prevalence of slut-shaming to draw attention to this issue, while at least one other group got busy designing an app to connect depressed, suicidal teens with one-another to allow them to provide support for each other safely and anonymously. Several other groups wanted to highlight and address issues around cyber-bullying.
Just an hour or so previous, these 15-17-year-old girls had been joking with each other about hitting the dessert bar after dinner, giggling and squealing while being serenaded by an all-male acapella group from Syracuse University, and applauding excitedly for TED-style "Flash Talks" from previous IT Girls. It was truly inspiring to experience their serious side–I definitely cannot remember being this aware of the troubles of the world around me at their age. As the night progressed, they expressed excitement and motivation at what they'd learned was possible with technology and public data. I answered a number of questions about careers in technology, and about my experiences as a woman in the software industry. It was really inspiring to get to talk with these girls, and I'm hoping to get to participate in this event again in the coming years.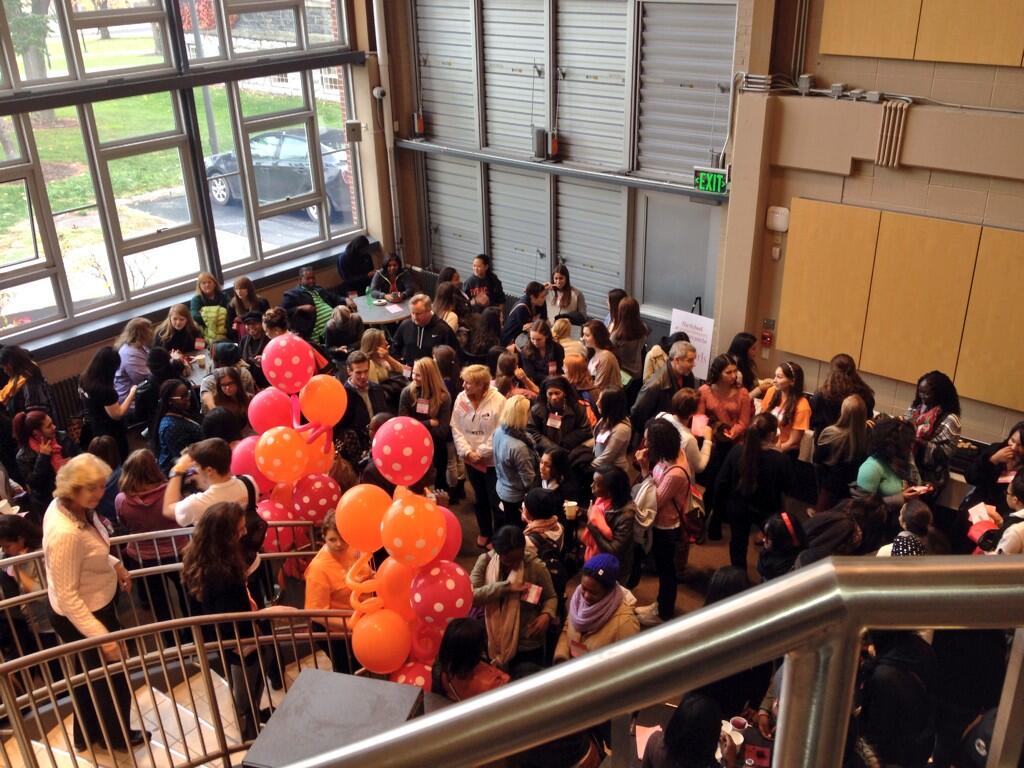 Thanks to Christy Wilson, Michael Wilde, and the Splunk>4Good program for giving me this opportunity!
All photos in this posting courtesy of the awesome @LizNgonzi. You can find more images from the event on her IT Girls Pinterest site.

----------------------------------------------------
Thanks!
rachel perkins